The 10 Best Music Editors (2023)
Music or audio editors are great tools for casual as well as professional use when working on music, video, podcasts, and-or audio-related projects. They allow you to shape the sound and tone as you like to convert the audio as you need.
Today, there are so many choices to go from basic to pro-level music and audio editors, which is why I have compiled this list for you to find the most suitable music or audio editor for your projects.
The Best Music Editors (2023) – At a Glance
Let's look at them in more detail:
1. Audacity
Top Pick
Easy-to-use, professional-level sound editing program for free.
One of the most popular music editors today is Audacity, a full-featured professional-level editor for free. With multi-track editing features as well as multi-platform support for Windows, macOS, and Linux, Audacity is a great program for any project, like editing podcasts, basic songs, and any kind of audio project.
Pros
Highly easy to use
Wide range of features
Free-to-use and open-source program
Compatible with almost all operating systems
Cons
Not the best-looking interface
Quite limited when compared to a fully-fledged DAW
The feature-packed program allows you to do whatever you like, such as recording live sounds, changing the pitch or speed of tracks, and taking different sound files to edit and customize them. Plus, you can add some plug-ins to make the program more versatile. 
Audacity is an open-source program, meaning anyone can contribute to developing the program further. The only drawback might be the old and kind-of-ugly-looking interface, along with the somewhat limited nature when compared to a fully-fledged DAW.
It is a great program for beginners to explore music editor programs thanks to it being free and easy to use when you stick to the basic features. But, exploring all the features may take time, as is the case with all music editors.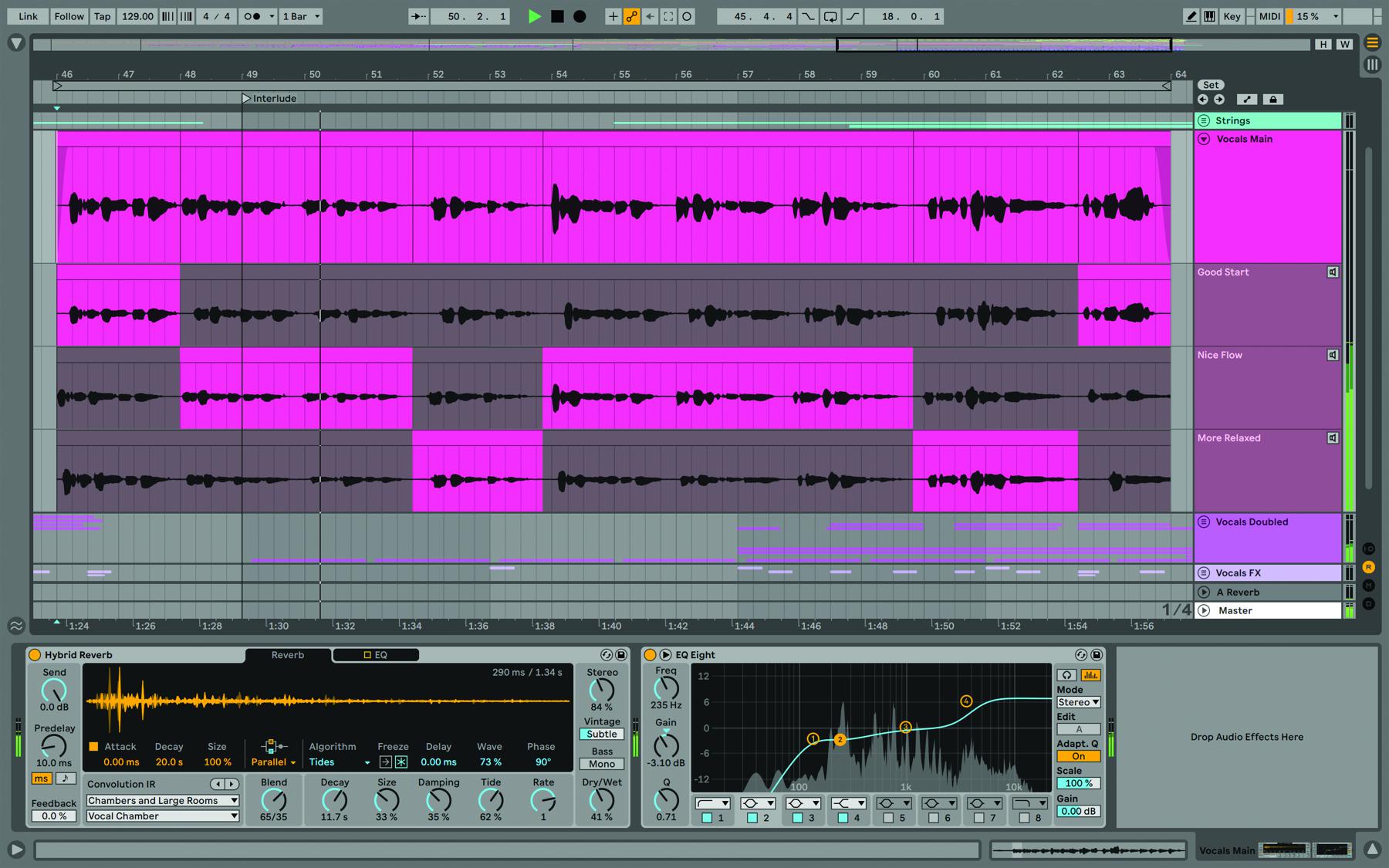 If you are looking for a music editor that can also act as a DAW for music production and live performances, Ableton Live is one of the best programs you can choose. With its wide range of features, Ableton Live offers so much, especially for DJs and electronic dance music (EDM) producers as well as bands and singers.
Pros
Great for recording live and creating your own music
Feature-packed program with rich effects and features library
Great for working with multiple tracks
Highly reliable in live performances
Cons
The Standard and Suite versions are a bit pricey
Steep learning curve
Ableton Live is a great DAW created for electronic music production and live performances, but it can also be used for audio editing for different projects. It has so many tools, features, and functions which makes the learning curve a bit steep, but it gives the user big control over the audio project.
There are three versions of the program and the Standard and Suite versions are quite pricey. The Lite version is a free version and offers good but a limited set of features like effects, different workflows, virtual instruments, and many functions for audio editing.
So, if you want to have the DAW features in your music editor and if you are into electronic music regions, Ableton Live might be the ideal program for you.
3. GarageBand
A great free music editor for Mac
Great music editor with a highly user-friendly design that comes free for Apple users.
GarageBand is one of the easiest-to-use DAWs, which was designed for Apple devices. It allows the users to create great music projects with an easy workflow and without an overwhelmingly high amount of features. Plus, it is free for Mac and iOS users.
Pros
Highly easy-to-use
Nice-looking design
Free for Apple users
Great for recording instruments and vocals
Cons
Not a lot of features for professional-level editing and production
Only available on Mac and iOS
It is the best free music editor, thanks to its highly easy workflow, great-looking interface, decent effects, virtual instruments library, solid list of editing functions, and great integration to the Apple ecosystem.
With Garageband, podcasters can quickly edit and mix their projects. At the same time, musicians can use more complex features to edit, mix and create their multi-layer complete music tracks with the help of effects and instruments loaded in the library.
The down part is that you will need a Mac to use this program. Also, it is a great program for beginners to explore the workflow of audio projects, but the features might be limited for professional use.
Soundtrap is an online music editor created by the famous Spotify. While it's not as versatile as the big DAWs in the game, it offers some great features, especially for beginner producers. The editor takes advantage of its online design with the addition of social and collaborative features, too.
Pros
Highly easy to use
Online music editor
Great library of instruments, beats, loops, and effects
Social and collaborative features
Cons
Not entirely free
Not the best option for professional use
Requires a strong internet connection
The editor has a simple design as well as an easy-to-use interface. It is a great first-time music editor or DAW for beginners to get familiar with music production workflow. Furthermore, it offers a great library of instruments, effects, beats, and loops, which increases the flexibility of the editor.
It has different modes such as Storytellers for podcasters, Capture for recording and creating tracks, and the Education mode, designed for teachers and students to use in the classroom.
Another great aspect is the social and collaborative feature side of Soundtrap. You can also edit your project together from different places and collaborate with as many artists as you'd like. The video chat feature helps you to keep in touch while editing.
On the down part, the app is not entirely free if you want to use all the features. Also, as it is an online program, you will need a strong internet connection to use it properly. And finally, while it is a great editor for basic projects, it may not be the best for professional complex music production processes.
Popular Choice
Highly popular and pro-level music editor for podcasts, videos, and audio projects.
View Price at adobe.com
Adobe Audition is one of the most popular audio editors when it comes to film-making, podcasting, and audio-related projects. Its professional-level features and effects offer so many tools for audio repair, mixing, and customizations to increase your audio quality significantly.
Pros
Highly powerful editor
Great audio repair, mixing, and customization tools
Pro-level effects and features
Plenty of guides to learn the workflow
Free trial option
Cons
High system requirements
Not very beginner-friendly
Subscription-based pricing
The editor is mainly used for improving audio quality, mixing, and mastering. It is often used by professionals in the cinema, video, and podcast sectors mainly to record multi-channel, reduce or remove background noise, add effects to make the sound stand out as well as mix and master tracks.
As this is a pro-level editor with so many features, it has a steep learning curve for beginners, but there are so many step-by-step guides on the workflow on the internet you can easily get familiar with it.
Another con is that you will need a powerful computer to fully use all the editor features. And finally, the pricing is subscription based, which may put a heavy load after a while on the account. But, there is a trial version for Adobe Audition.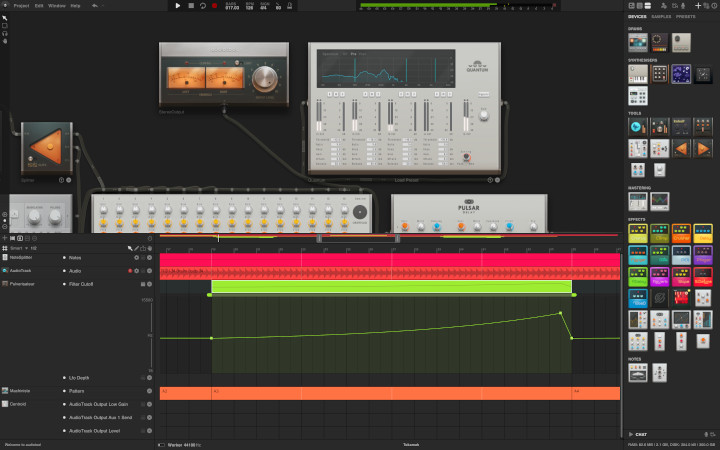 6. AudioTool
Great For Quick Projects
Powerful online music editor for quick editing and basic projects.
AudioTool is another great online music editor to use for quick editing audio projects. It is one of the best platforms for beginners as the interface is highly intuitive and easy to use, while the multiple samples and presets make the workflow quite fast and easy. 
Pros
Highly easy and intuitive workflow
Features multiple samples and presets for quick editing
Cloud production option
Free to use
Cons
Not suitable for deep editing complex projects
Requires strong internet connection
AudioTool is a free-to-use platform, another great plus for most musicians. It also allows you to produce or edit your music or project online from any device, thanks to the cloud production option. You can start your project through your smart device and continue later on your computer whenever you want or vice versa.
On the down part, as this is an online platform, you will need a solid internet connection for a proper workflow. Also, remember that AudioTool is best for fast editing and basic customizations as the editor can not really handle complex multi-layered projects and does not have many extra features that you are using from DAWs.
If you are interested in music and music production, you have probably heard about Pro Tools, one of the industry-standard programs for music production. Thanks to its extensive editing and production tools, as well as its ability to handle complex projects, it is used by countless professionals.
Pros
Pro-level editing and recording
Can handle large and complex projects
Extensive editing and production tools
Large plug-in library
Cons
Steep learning curve for beginners
Subscription-based pricing
Pro Tools by Avid offers a great selection of features for creating, editing, producing, mixing, mastering, and delivering professional-quality recordings with its large plug-in library and extensive features. But, the workflow is quite traditional to the Pro Tools ecosystem, so you will have to take your time to get used to it.
Also, you will have to pay a monthly subscription fee to have Pro Tools. There are Artist, Studio, and Flex versions, sorted from the most affordable to high-end. While Artist may be the best choice for beginners, experienced musicians should go with at least the Studio version to reach the large part of the plug-ins and features.
Best For MacOS
Popular and highly versatile DAW with a massive range of tools and features for macOS.
View Price at apple.com
Logic Pro X is one of the most-used DAWs in the music world thanks to its highly intuitive workflow and a massive range of sounds, plug-ins, editing tools, and effects libraries. Designed for Apple products, Logic Pro X only works in Macintosh OS, which remains the only letdown, as the DAW is super capable of handling any project.
Pros
One of the industry-standard and best-selling DAWs
Relatively easy to use with a user-friendly interface
Gigantic library of plug-ins, sounds, and effects
When you purchase the DAW, you get to reach more than 1200 sampled instruments and 14.000 loops, just to give you an example. The workflow is also quite easy for beginners, and the time you need to take control of any project is quite short. It has the traditional DAW interface with many parts made even more user-friendly.
There is a reason why many people, musicians, videographers, or podcasters, choose Apple computers just to have access to Logic Pro X. If you are serious about audio editing and music production, Logic Pro X is a great choice.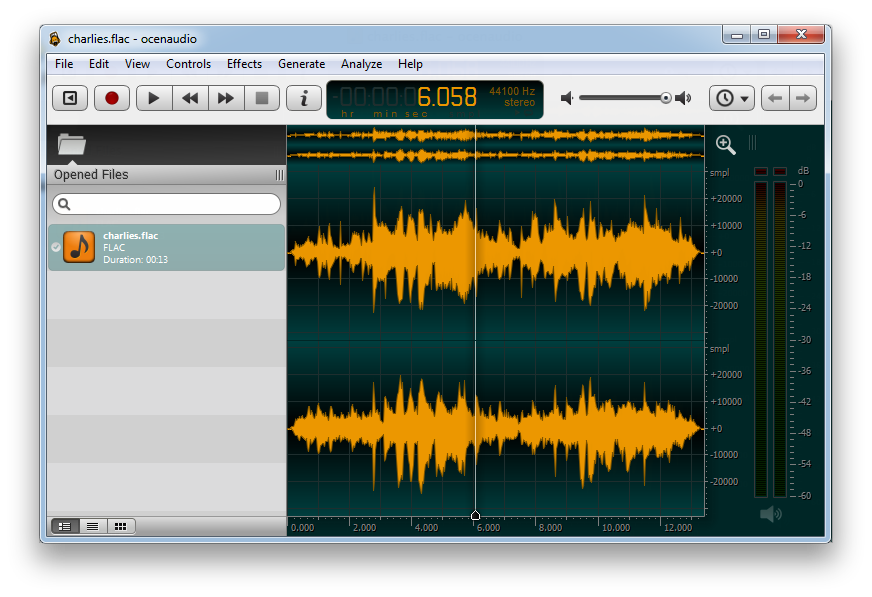 9. Ocenaudio
Great For Basic Projects
Free audio editor with a user-friendly design and some handy features for basic editing.
Ocenaudio is a free music editor designed for simple audio editing and customization. While it is not the best editor for complex audio tracks, its features and design make it a great program for basic projects. It shines with its great audio analysis tools and full spectrograms.
Pros
Clear and intuitive interface
Features complete spectrograms
Supports almost all audio file formats
Real-time preview of edited and customized partitions
Free to use
Cons
Does not support effect stacks
Can not handle large and complex pro-level projects
Another great touch that makes this one stand out from the rest is the real-time preview option for edited and customized audio parts. It saves so much time as you can directly listen to previews of changes when editing.
This program is great for podcasters and home musicians as it is totally free to use and has a simple and intuitive workflow. This program is a great starting point if you want to step into the audio editing and music production world. After, you can switch to a more complex DAW or editor if you want to take more control over your projects.
10. AudioLab
Best Mobile App
A basic audio editor for smart devices to use for simple and quick projects.
AudioLab is arguably the best mobile-friendly audio editor you can use on your smart device for basic editing and quick projects. The app can easily be downloaded from the Google Play Store for free and start using the editor immediately.
Pros
Mobile-friendly app
Great for quick and basic editing
Very easy to use
Supports almost all audio formats
Free to use
Cons
Highly basic editing
Limited tools and features
Only works on Android
The app is not for complex projects, as you may guess, but it is great for simple and quick editing for creating short videos, ringtones, or any kind of audio file project. It is very easy to learn the app as everything is built straightforwardly.
You can do the classic editing like trimming, removing noise, changing speed, adjusting the equalizer, adding audio to video or music to voice, or adding some basic effects. If you subscribe and upgrade your license, you can do more things like merging audio tracks, using the voice changer and text-to-speech feature, splitting and-or reversing the audio, as well as recording audio and video through your phone.
Conclusion
You can choose one of these great music editors without hesitation depending on your needs and ambitions. Most of them are highly versatile and can get the project done, whether it is a film-making project, a music piece, a podcast, or any audio-related work. From Audacity to Ableton Live to Adobe Audition, there is bound to be a program that works best for you.