10 Great Music Collaboration Websites and Apps (2022)
2022 is continuing to be a difficult time for musicians. To make it easier, it's certainly worth exploring your options to collaborate online and tap into a vast network of musicians and producers.
In the past, musicians were condemned to local band-mates and producers. This could be challenging, especially for those who live in more isolated areas. Not to mention that getting the opportunity to be heard by some major label was pretty much mission impossible!
Today, numerous websites and apps offer you an opportunity to connect with musicians from around the world and collaborate. You can easily find a producer that can make a difference. Finally, if you can show your music to the world, someone important will hear you for sure.
The Ultimate Guide for Self-Isolating Musicians and Producers
Here are some of the music collaboration websites and apps you should check out:
For more than a decade, Kompoz has been one of the leading platforms for online music collaboration. It is a perfect tool for producers who are searching for musicians and other producers to collaborate in real time, all around the globe. This website offers a lot of options but remains simple to use. No matter if you're a producer or a musician, you can apply to be a part of any kind of project. Of course, the one who initiated the project chooses the crew.

In addition, there are Community and Groups pages. The first one is a social corner where you can share your live performances, talk about music, future projects, and much more. The Groups page consists of numerous groups related to things like instruments, software, genres, etc.

The best thing about Kompoz is that you can sign up for free. Of course, there are a few upgrades, but you won't miss anything important if you stick to the free membership.
Even today, there aren't many apps like SoundBetter. This platform would be a great tool for everyone who makes music. Basically, it connects musicians with audio professionals, so they could get top-quality mixes that were reserved only for major record companies in the past.

The way the platform works is quite simple. You post the job, outline what you need, and then choose the one that seems like the best candidate. That should be the one with the best ratings. After the job is done, you can also rate and leave feedback to your collaborator. It's free to sign up and browse.
One of the Procollabs' best qualities is a huge community which includes producers, musicians, songwriters, lyricists, sound engineers, etc. If you are a producer, this is a great place to find some musicians to take part in your project. If you need background vocals, a guitar solo, or lyrics for your project, this is the place where you can find a collaborator.
On the other side, a good musician probably won't have problems with licensing his music for various projects in Procollabs. This is a great way to sell your musical skills.
You can sign up for free and later go for an upgrade plan if you need more online storage.
Compared to Procollabs and other similar platforms, Vocalizr is far more specific. If you are a producer, you probably know how hard it can sometimes be to find a decent vocalist.
On Vocalizr, you just need to post your project to audition and then choose the best candidate. The platform is beneficial for both producers and singers. There's no easier way you can make an audition with such a wide choice of candidates. On the other side, singers will get the chance to materialize their talent and even be discovered by a major player in the industry.
Melboss is a place that gathers musicians and producers. One of the best things about this platform is that you can easily connect with some of the industry professionals and get a review of your song or other work.
You can also use this platform to connect with potential collaborators, but the opportunity to get an opinion from someone who is a big name in the industry sounds even more amazing. Find your mentor and request a review of your work. You get mentoring sessions of a minimum of 30 minutes. The way it works is simple. Create a profile, search the platform, connect, and collaborate.
BandLab is the first app that gives musicians an opportunity to gather their favorite crew and record. Before this app appeared, there was no DAW that offered so-called mobile collaboration.
This one does. So, if your favorite singer and drummer are miles away from you, in any part of the world, just let them know that they can record with you no matter where they are. This cloud-based tool will give access to a mix to all of you. Amazingly, this app works on pretty much every operating system. You can use BandLab on a laptop, smartphone, or any other device, just get some interface that offers good audio quality. It can't get any more convenient than that.
Though producers are also welcome, I would say this is primarily a musician's corner. If you are a singer or play some instrument, here is the place where you can sign up for free and find your virtual bandmates. Once you've created an account, you can upload your work directly to the platform or link your YouTube videos, which seems like a better option. Choose your genre and you will get suggestions according to your musical taste. You can gather up to 29 more musicians to work on the same recording.
Of course, you record a private draft first and then make it public if you want. The great thing about this platform is that you can record not only sound but quality videos as well. The platform is very easy to use. Recording and publishing seem like a piece of cake. DJs and sound engineers can sign up too, and use this platform to produce their music.
Audiu is a really interesting music project. Basically, it is a kind of social network. It is a smartphone application which gives you the opportunity to become a part of the large community where you can find like-minded musicians, DJs, producers, etc.
It is a great way to share your projects, ideas and also get new knowledge that will help you to become a better, more open-minded musician. The app is compatible with both IOS and Android platforms. It is quite simple to use and works very fast.
Simple and straightforward, Vampr is one of the best apps for searching for new musicians to play with. Definitely one of my favorites. It is actually a 2-in-1 platform, both a music app and a social network where you can pick a stranger and start an exciting collaboration.
When creating a profile, you can select all the categories you want, so the platform can automatically suggest a musician you're looking for. Once you create your profile, you can start swiping. The app shows you a bunch of musicians according to your preferences and you swipe left or right. Once you find a person that seems like a perfect match, send a message, get in touch, and eventually arrange a collaboration.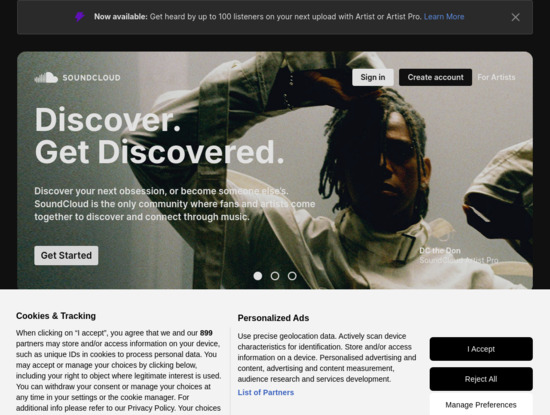 Finally, there is SoundCloud, a social network designed for musicians. The way of working is pretty simple. First of all, create an account and fill it with all relevant details, starting with biography, images, song titles, etc. Then you can publish your work and get some plays. Once you get followers, you can ask them for collaborations. The great thing about this platform is that you can find musicians of any genre.
SoundCloud has definitely proved itself as an excellent place to promote your music. Many musicians who started here ended as major artists. One of them would be Lil Pump. He started his career on SoundCloud a few years ago and now collaborates with Gucci Mane, the famous hip-hop artist.
Next Up: Read out guide on setting up a Home Recording Studio. Also, check out our great list of music making apps for iOS and Android.
Share this with fellow musicians
Inspire other musicians that you know to collaborate and create new music online. Share this page with them!
The Ultimate Guide for Self-Isolating Musicians and Producers