The Best MIDI Keyboard Software (Windows, Mac, Linux, Android, iOS)
MIDI Keyboard Software can be in the form of standalone apps, or as part of DAW software (such as GarageBand, Reaper, and Ableton Live). We take you through some of the best options for Windows, Mac, Linux, Android, and iOS.
If you want something very simple, then a standalone app might be the way to go.
However, DAWs are generally more versatile since they contain powerful music processing features that also allow you to apply audio effects, manipulate MIDI recordings, mix and master tracks, and export audio files.
MIDI Keyboard Software for Windows, Mac, and Linux (Free and Paid Options)
1. Garageband (Mac) – DAW
Garageband is an extremely popular music-making software that comes bundled with Mac devices and is also available for iOS.
It can be thought of as the younger sibling of Apple's flagship DAW – Logic, with a similar interface and workflow but with a more beginner-friendly feature set.
Garageband comes with a host of bundled MIDI instruments in a wide array of categories, from strings and drums to electronic FX and loops.
This makes it a fantastic inexpensive way to produce demos and scratch tracks or just experiment.
2. Synthesia (Windows, Mac) – Standalone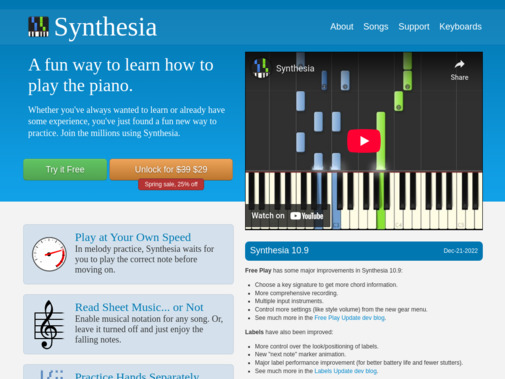 Synthesia is a great virtual piano application that aims at lowering the entry barrier for learning the piano or keyboard.
It's designed to be a song-playing game similar to Guitar Hero, where the correct notes to a song are displayed as falling notes which the user has to play at the correct time to score points.
The great thing is that it accepts any song in MIDI format, which is easily available. It supports connecting an external MIDI keyboard via USB to control it.
Factors like tempo and key can be adjusted to facilitate ease of use and learning.
3. Cakewalk by Bandlab (Windows) – DAW
Cakewalk (formerly SONAR) is a full-fledged DAW that is available for free for Windows.
It contains a multitude of software instruments and professional-grade plugin effects for full-scale music production.
It is optimized for touch devices and has sophisticated features like VST3 support and ARA integration.
Considering the amount and depth of features on offer, Cakewalk being free is an absolute gift for budding producers and music enthusiasts.
4. Piano 10 (Windows) – Standalone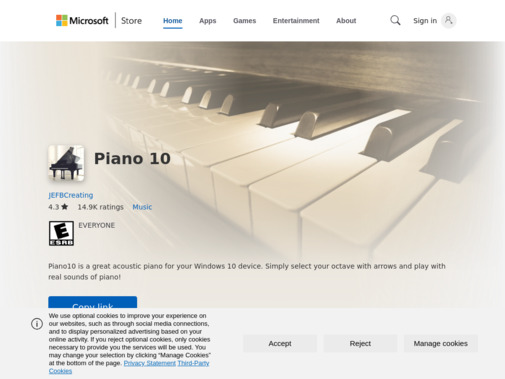 If you're not looking for a more serious music production-centric option like a full DAW, Piano 10 available on the Microsoft Store is a nifty virtual piano program that can be controlled with an external MIDI keyboard.
It supports polyphony up to 31 simultaneous notes as well as velocity-sensitive dynamics, all in a simple to use free package, great for hobbyists or those just looking to have some fun with virtual instruments.
5. Tracktion Waveform Free (Windows, Mac, Linux) – DAW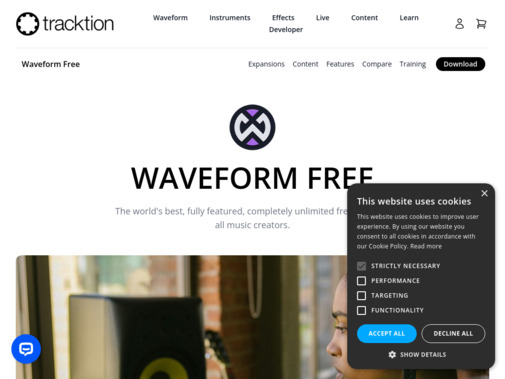 This is a fully-featured DAW that even supports Linux and Raspberry Pi environments in addition to Windows and Mac support.
It carries all the features you'd expect in a professional DAW, adding in some nifty features like an in-built MIDI-controlled drum sequencer and an innovative concept of "Plugin Sandboxing" to prevent malfunctioning third party plugins from crashing your entire session.
Enthusiasts who want to take their production to the next level then have the option of upgrading to Waveform's Pro version, which has even more sophisticated and deep editing and production capabilities.
MIDI Keyboard Apps for Android
Thanks to the increasingly powerful and affordable mobile technology of today, smartphones and tablets have significant music-making capabilities, which can be expanded by connecting MIDI keyboards and controllers to them.
There are several apps, both free and paid, catering to a wide range of skills and use cases for both Android and iOS.
We'll briefly cover some of the free options to get you started with mobile musical tinkering.
If you have an Android phone running Android 6.0 (Marshmallow) and above, then you can connect a MIDI keyboard to your phone and play through any of the hundreds of MIDI keyboard apps available on the Google Play Store!
Sorting through the vast collection of apps can be tiresome, so here are a couple of great free solutions which will transform your phone into a realistic sounding musical instrument:
1. Dreamhound Studios MIDI Keyboard – Standalone App
This is a simple piano app that accepts external MIDI input. It features an 88 key piano with adjustable velocities and note name display. It's simple to set up and use and sounds convincing enough. It's great for beginners, teachers, or musicians on the go looking for something quick and simple to jam ideas with.
2. Perfect Piano – Standalone App
Perfect Piano is a fun and surprisingly feature-rich piano app available for free on the Play Store.
It features an authentic-sounding 88-key piano, as well as other instruments like Music Box, Rhodes, and synths.
Besides, more "timbre packs" can be downloaded to expand the sound set to include violins, flutes, etc., which can all be controlled via an external MIDI keyboard.
Apart from the piano itself, the app also contains song learning features and games with adjustable speeds and difficulties. It also incorporates social media integration with which users can collaborate and share music online or even participate in online contests and challenges.
How to Connect a MIDI Controller to Android
Before you can start cooking up music on your Android, there are a few simple steps you need to follow to connect your MIDI keyboard to your phone.
1. Check your Android phone version.
You'll need at least Android 6.0 to have the ability to connect MIDI devices to your phone or tablet. Most devices bought in the last 3 years or so should meet this requirement.
2. Check the kind of port your phone has.
You will need an adapter to connect your MIDI keyboard's cable to your phone's USB port.
If your phone has a USB-C port, which is common in newer phones, you'll need a USB-C to USB-A OTG adapter, like this one.
If you have an older phone which still uses a micro-USB port, then you'll need a micro-USB to USB-A OTG adapter like this one.
3. Connect your MIDI keyboard to your phone.
Connect the micro-USB or USB-C end of the OTG adapter to your phone, and plug in your MIDI Keyboard's USB cable to the other end.
In case your MIDI Keyboard doesn't have a USB and uses the older 5-pin MIDI connection, then you will require another 5-pin MIDI to USB adapter in between to connect the keyboard to your phone.
Smaller MIDI keyboards tend to be powered over the USB connection itself, but a larger keyboard or synthesizer might need external power to turn on.
4. Check the connection
Once your MIDI keyboard is powered up and connected, it should register in your Android phone as a MIDI device. You might need to select the MIDI option from the USB configuration window that shows up when you connect the keyboard.
Open up your favorite MIDI app, and check to see if it registers the MIDI keyboard. Make any necessary input settings within the app and check that sound is produced when you press a key.
MIDI Keyboard Apps for iPhone and iPad
Apple's iOS system provides a very powerful music-making environment within iPhones and iPads. In fact, they can host professional-grade apps that are increasingly finding their way in recording studios and pro musicians' live setups. iOS also integrates well with macOS on Apple computers, giving you added flexibility and expansion capabilities.
The Apple app store also has a ton of free midi applications to explore for making music. We've covered two of the most popular ones for your perusal
1. Flowkey – Standalone App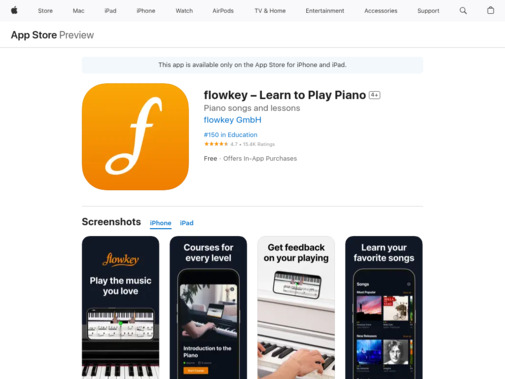 Flowkey is a mega-popular app for learning piano. It has full MIDI support for external keyboards and features an easy and interactive way to learn or practice piano tailored to various levels of expertise.
Flowkey can monitor the notes you play on your keyboard via MIDI or even via microphone for a real piano or synthesizer and help you learn new songs across various genres and difficulties. It even features piano courses and theory concepts to aid training across levels.
2. Perfect Piano – Standalone App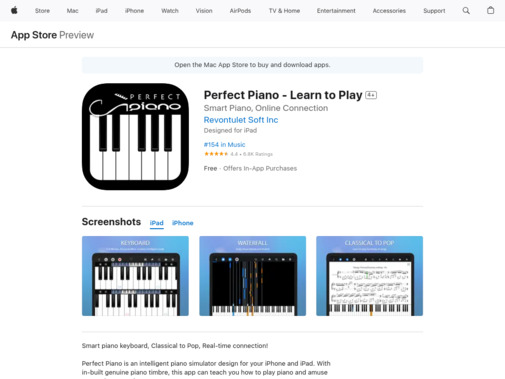 Just like its Android counterpart, this is a feature-rich program with a variety of sounds and modes to play, practice, record, share, and have fun with.
iOS devices support virtually any MIDI keyboard or controller. There are, however, a few different ways to connect MIDI keyboards to an iPhone and iPad, depending on the device you have and how you intend to use it.
For a comprehensive explanation of how to connect a MIDI controller to your iOS device, as well as recommendations for the best controllers around, check out this article.
Different Types of MIDI Keyboard Software
MIDI controllers cannot function meaningfully without software that accepts MIDI signals to produce sound. This software may be for emulating anything from pianos and synths to drum kits and full orchestras. To this end, we essentially have two options:
1. Standalone MIDI software, which runs independently of any host as a separate program on a computer or mobile phone. This is usually the easiest option, but it can be quite limited.
2. MIDI plugins hosted within a Digital Audio Workstation (DAW) software. This may be one of the stock plugins within the DAW itself or any number of third-party plugins available. Digital Audio Workstations (DAWs) are comprehensive production environments that integrate MIDI keyboards with a suite of tools for recording, editing, and arranging music.
Examples of popular DAWs include Ableton Live, FL Studio, and Logic Pro. Virtual instruments, also known as software synthesizers or VSTs, are standalone applications or plugins that generate sounds by interpreting MIDI data from the keyboard. These can range from realistic emulations of acoustic instruments to intricate, digital soundscapes.
As mentioned previously, the DAW option is the most feature-rich and flexible option as they are an all-in-one option that allows you to record MIDI, as well as mix, master, and export audio files.
Summary
MIDI keyboards allow you to trigger an almost unlimited array of sounds.
The only real limit is the features of the MIDI keyboard software that you were using.
If you want some very simple piano and synth sounds, then just a simple standalone app might be a good option for you. Whereas if you want to get more into music production, or if you want to unlock a much more versatile sound library, then check out some of these great DAWs that we mentioned above.
DAWs almost always allow you to hook in third-party pieces of software called plugins (such as VST, AU, AAX plugins), and these can greatly enhance the sound processing possibilities of the DAW.
If you have any other good resources for MIDI keyboard software, then please write them in the comment section below.