The 7 Best Budget Studio Monitors for Home Studios (2023)
Studio monitors should be at the top of your list when setting up your music studio. You need to be able to hear your music properly to make the correct production and mixing decisions. It's an absolutely vital part of music production!
When it comes to home studios, starting can be a pretty expensive venture. That is why it's good to look for budget options, especially when it comes to studio monitors. I'm going to show you 7 of the best budget studio monitors currently available. This is not a definitive list as there are many different brands and models of monitors out there.
My top pick is the JBL Professional 305P MkII. If you want very well-balanced sound and quality monitors, these are the top choice for a reason!
My budget pick is the Mackie Studio Monitor CR3 (Pair). If you want an even more affordable yet satisfying option then I suggest you give these a try, a pretty well-rounded set.
The 7 Best Budget Studio Monitors (2023)
Let's compare these in more detail.
JBL 305P MkII is a great, mid-range, powered studio monitor for all purposes. It comes as a single monitor device, so beware that you would need to buy two to get a pair. You can get these with 5", 6", and 8" woofers, depending on what you need. For the connection, you can use XLR and TRS inputs which are balanced.
You can also control input sensitivity with a switch on the back where you will also find an HF TRIM switch to adjust your sound even more if need be.
Also, boundary EQ can be used to adjust the sound when the speakers are close to walls or other objects. On the front, JBL's own Image Control Waveguide will give you a large sweet spot in which you can listen to the sounds this baby provides. All in all, this is a great, mid-range monitor that will last you for years.
Mackie CR3 is usually priced as the most affordable monitor out of this list, but it has its value as a studio monitor. It comes with a 3" woofer and a 1" tweeter. You can also buy other models in different sizes, but we're presenting to you the smallest one in the group.
These monitors come in a nice, black-green combination that will sit beautifully with every desk.
As for the connectivity, they have the standard 2 TRS inputs as well as the RCA on the back, with headphone input and a volume knob on the front of the speakers.
They present a really nice, clean, straight sound that is great for music and video editing in particular, as it allows you to hear everything just the way it was recorded.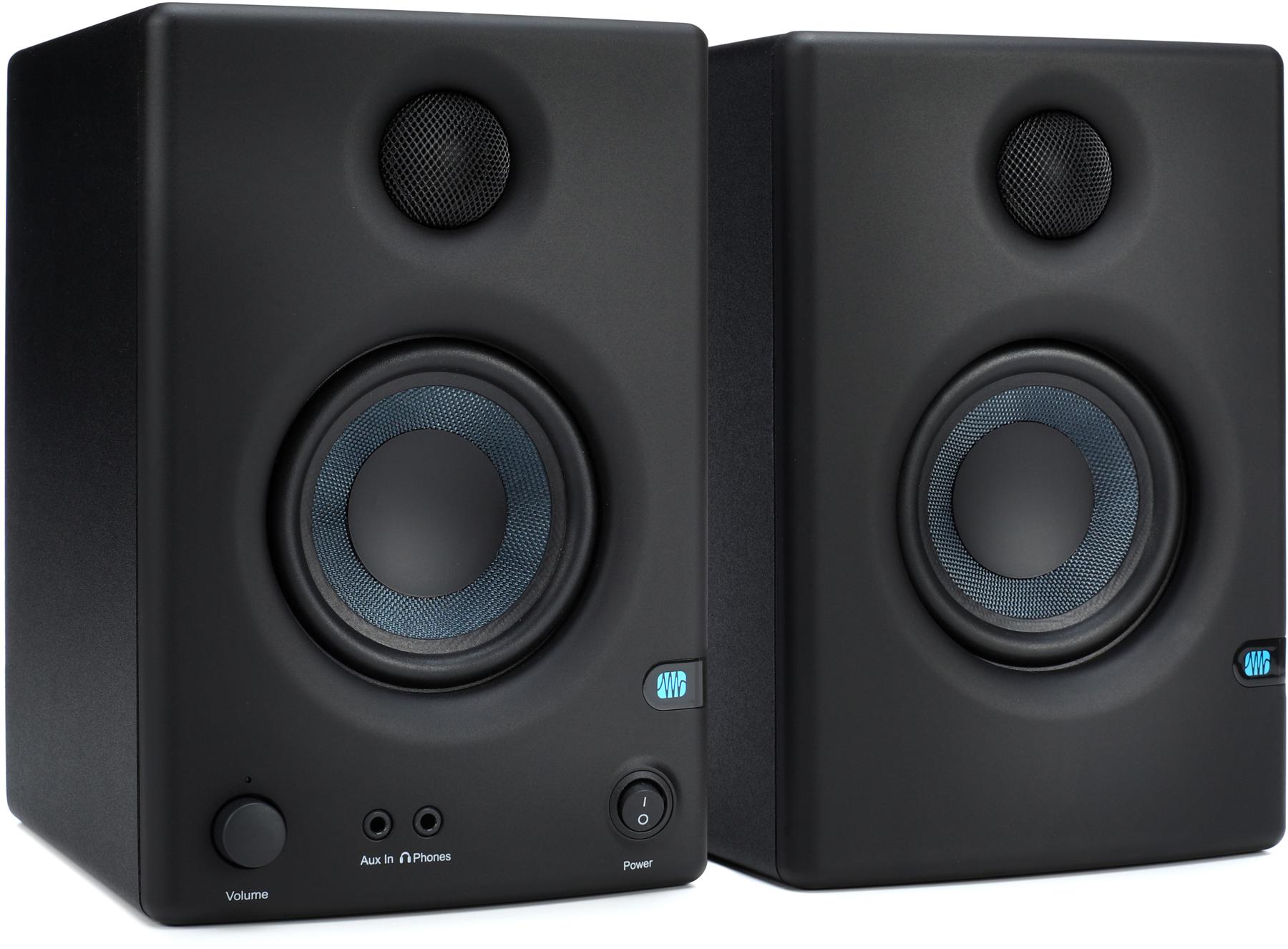 PreSonus Eris E3.5 is a great example of a quality, affordable, small studio monitor that will equip you with great sound output. In this package, you will get two speakers, as well as the cables you need to connect them properly.
The monitors themselves have 3.5" woofers as well as the 1" tweeter in front, together with headphone and aux inputs, a volume knob, and a power button. On the back, you'll find RCA input and two ¼" jacks, as well as the knobs for the acoustic tuning.
Acoustic tuning is rarely found in this category of monitors and allows for more pristine sound output, even though these monitors are not full-sized studio monitors.
They can pack a punch if you want them to since they have a 25-watt power output. All in all, this is a great buy for anyone looking to get quality small studio monitors for a great price.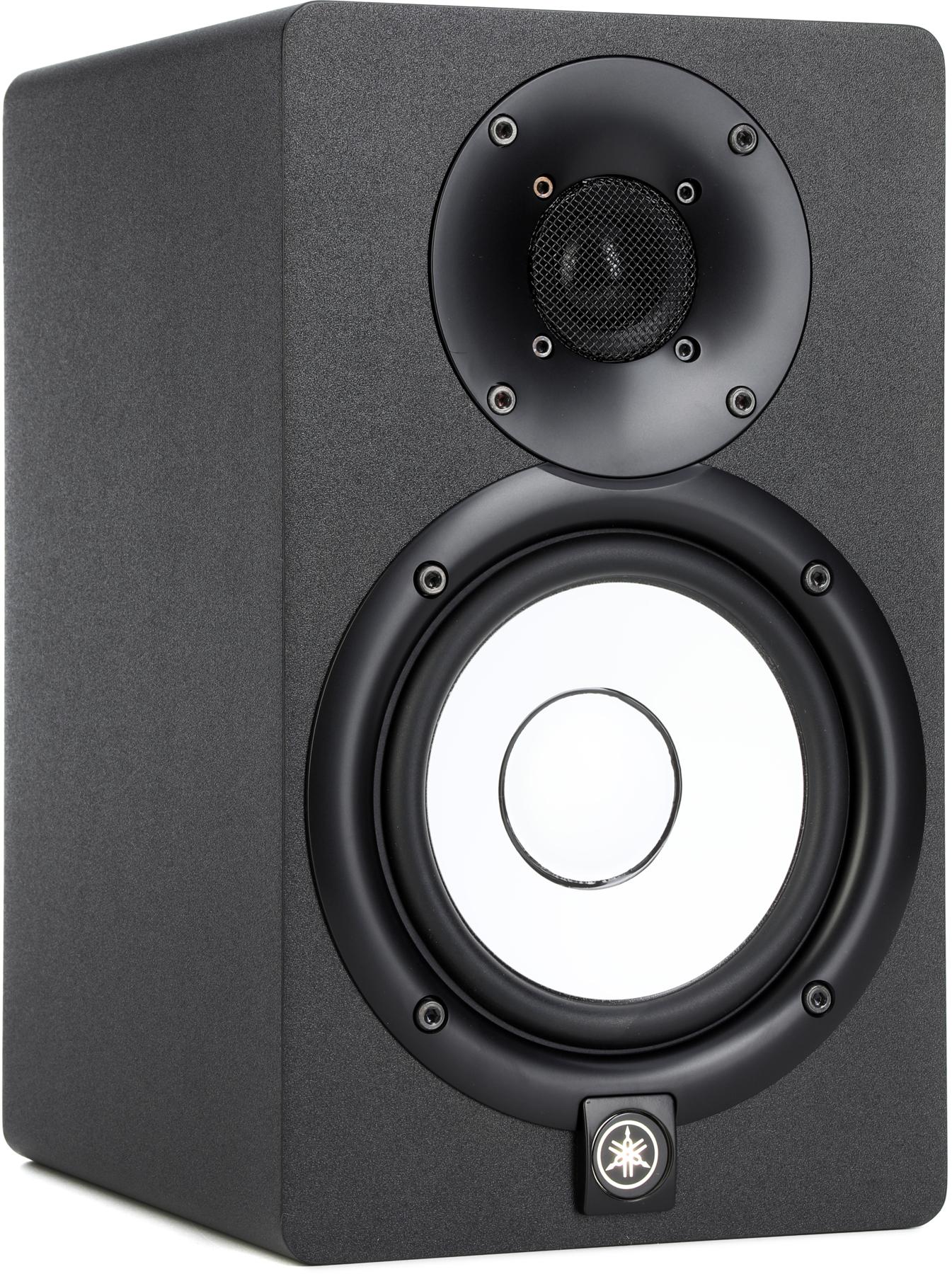 If you're looking to go higher class, the Yamaha HS5 is a great way to start. Coming from an iconic manufacturer, the HS5 is a revisited version of the Yamaha HS series way back in the 70s. You can opt to buy a single one or a pair and you can choose the color of the casing.
This monitor comes with a 5" woofer and a 1" tweeter dome. It has a total power of 70W, so be careful when turning the volume knob all the way. You can also change room control, high trim, and the input level of the monitor.
These are all high-end options that will allow you to achieve the best sound possible. For connection, you can use XLR and TRS jacks. Even though these usually come at a higher price than most of the others on this list, you will get a high-end product if you decide to open your wallet.
KRK Rokit G4 is a great studio monitor, that comes with a 5.25" woofer and 1" tweeter. The best thing about this monitor is the active tuning app that comes with it. The monitors already come with an LCD screen to help you set up your EQ settings, but if you connect it to the app, you can get the ultimate control over your monitor setup.
With all of these features and great manufacturing and materials quality, you will get a high-end studio monitor that will last you for years. The sound quality coming out of these things is great and you'll immediately notice it.
This is a great option for anyone looking to spend a little more to get a quality set of monitors.
Best design
A very popular choice monitors with an aesthetically pleasing design.
View Price at Amazon
The Edifier R1280T is one of the most popular and top-selling budget studio monitors and for good reason! Their design is simply breathtaking as you can see why these are such a popular choice.
These monitors, aside from amazing aesthetics, come with some handy components and options. They have 2 AUX inputs, volume, bass, and treble options, as well as a very good sound quality considering the price of these.
With moderate durability, these monitors make for a great addition, not only quality-wise but also aesthetic-wise. A home studio with great sound and great looks!
The M-AUDIO BX4 are absolute beasts considering the price. These affordable yet good quality monitors offer a very good quality sound while being quite sturdy in construction.
Very well-rounded 4.5″ speaker monitors that come with an MDF cabinet and bass-reflex design for great sound and quality bass notes. It also features low-frequency drivers and natural silk dome tweeters.
The best thing about the M-AUDIO BX4 monitors is their versatility and wide applicability. If you're also looking to use these monitors for things like DJ speakers, or movie speakers, or if you simply need good quality desk speakers, these will be more than a good choice!
The M-AUDIO BX4 are a popular choice for a reason. A very well-rounded base that offers superb sound quality and durability. An excellent value for price choice!
Do you need two studio monitors?
It's recommended to use two studio monitors. Most importantly, you can't hear stereo sound when using just one monitor. So, it's highly recommended to get a pair of monitors, so you're not just hearing all of the sounds in mono!
Can you use studio monitors to listen to music?
If you will be using studio monitors in the production of music, then you should listen to your music through monitors to train your ears to the sound they produce. Studio monitors offer a different frequency range and overall different frequency response, hence the need to train your ear and get used to them.
However, if you're looking to just buy speakers for music listening then they might not be your best option. The reason is that these monitors flatten the sound, portraying it as clearly and as close to the original sound recorded as possible. If you want to hear tons of bass, then you're not necessarily going to get them through near-field speakers like this.
Do I need studio monitor stands?
You should use studio monitor stands. This is because of the vibrations that the speakers will create inevitably when playing sounds through them. Because our ears are just thin membranes collecting airwaves and creating sound if there are additional vibrations you can get different sounds than that from the output of the monitor.
This is called the comb filtering effect and can seriously mess up your sounds, even if you have the best monitors the money can buy. So, get monitor stands if you can.
How does room treatment affect the sound of studio monitors?
The sound of your room affects the sound a LOT. No matter how expensive your studio monitors are, you need to put a bit of work into room treatment. This includes cutting off sound bouncing or reflecting off walls or surfaces in the room. If you are using an untreated room, it can be particularly difficult to get an accurate sense of bass.
The topic of room treatment certainly exceeds the scope of this article so make sure to do some research on this topic. If you're putting some effort into your studio monitors, you should also put an equal amount of effort into acoustically treating the room you're going to be working in.
Should I get Headphones or Studio Monitors?
Both studio monitors and headphones have their strengths. Studio monitors deliver a more accurate soundscape, making them an essential tool for home producers. Headphones, on the other hand, allow for a more intimate experience. They are also more portable and provide good isolation for the work environment.
Depending on your budget, I'd recommend having a good pair of studio headphones around so you have better isolation when you're working on your mix. Not to mention, if you have neighbors, headphones are the way to go to avoid disturbing them when you work at night.
What is the optimal Monitor Placement/Positioning?
The optimal placement for your studio monitors is to have one on each side of your computer or laptop, forming a triangle where the distance between each monitor and yourself is the same.
To put it into words, you are in the middle bottom frame, one monitor is on the right top frame behind the computer, and the other one is on the top left frame, with the distance being equal from all three points to each other. Naturally, you'll have your monitors angled slightly toward you for better projection.
What to look for in Studio Monitors when buying?
Studio monitors are very important when it comes to music production so it's only reasonable to spend some time choosing the right ones and making a safe purchase.
Firstly, the sound quality of the monitor needs to be a top priority! Studio monitors filter sound quite differently than conventional speakers. They process distortion better, pick up low frequencies, and handle low-end responses (bass response) better, all the while producing good sound with clarity.
Secondly, a good studio monitor speaker also needs to be durable and have sturdy components in order to last you a decent amount of time! When it comes to the best cheap studio monitors you need to carefully consider and research the durability of the product, as the best cheap does not mean the overall best studio monitors.
Obviously, you need to consider your price range and not drive yourself broke in order to attain the best option for your recording studio. Sometimes it's also good to have some spare for acquiring good audio interfaces or spend a few on room acoustics.
Lastly, if you can manage to get your hands on monitors with extra features that would only benefit you. You have lots of different options that can be useful like Bluetooth connectivity, extra bass ports, a headphone output, and basically anything that can add variety and also improve versatility.
Summary
You need to have the good sound quality to make great music. If you're producing music on a pair of old tin cans or a bad set of headphones, you're missing out on a LOT. Although these are still budget options, they are very good ones to consider!
My top recommended option is the JBL Professional 305P MkII. If you want a well-rounded choice that offers great sound and durable build, all the while at a reasonable price, then you'll not find a better option.
My second recommended option is the Mackie Studio Monitor CR3 (Pair) for those on a tighter budget but who still want a decent pair of speaker monitors!