The 11 Best Websites To Sell Your Beats Online (2023)
Selling beats online is one of the best ways of making money as a music producer. If you're creating new tracks consistently, beat-selling websites are the perfect platform to get an equally-consistent income out of your hard work.
Making a living selling beats is far from impossible, but requires a lot of patience, hard work, and a good eye for business. 'Business' is the keyword here: when your job is to sell beats, you need to treat your beats as a product and your beat-selling pages as an actual business.
Generally, beat-selling artists have two types of clients: other artists and corporations. Rappers are particularly fond of buying beats online to use in their songs. For instance, the hit song "Old Town Road" was made on top of a beat that Lil Nas X bought for a mere $30. Corporations buy tons of beats too, as they often need royalty-free music to use in promotional campaigns, training videos, and others.
Beats can be leased or sold definitely. Leases make for non-exclusive agreements. When you sell a non-exclusive beat, you can continue to sell the same beat indefinitely. When you sell a beat definitely, you're selling it exclusively to one person; you cannot sell the beat anymore once you've made an exclusive agreement. That's why, normally, exclusive beats are more expensive than non-exclusive beats.
There are other caveats that beat-selling artists use to inflate the price of their beats. You can sell high-quality versions of a beat for an extra, for example. You can also sell tagged and non-tagged versions of the same beat (a tag is a sound signature some producers use to brand their songs) and ask for an additional fee to sell the stems or music project file used in a beat.
Unless you're selling beats exclusively to your closest friends, you need to set up an online page. Below, you can find a list of the 10+1 best websites to sell your beats online.
1. Your own website
As a business model, nothing's better than having your own website for selling beats. You get to control the look and flow of the entire page, you get access to 100% of what you sell, and you can promote your brand at a deeper and more personal level. Creating your own website is something you should do even if you have beats for sale on other platforms.
You may feel like creating a website is something you should only do after making tons of money selling beats. However, why wait? It's easier than ever to create a music website and there are many music website builders to choose from. The downside is that attracting people to visit and buy from your website can be tough. Unlike already-established beat-selling businesses, you're starting anew and you have a lot of ground to cover, especially in terms of promotion.
Investing in social media is one of the best strategies for getting the word out, especially if you already have a decent follower base on Instagram or TikTok. Starting a band mailing list can also be pretty effective. Some artists and corporations buy beats regularly, so why not improve customer loyalty while trying to attract the attention of new clients?
2. AirBit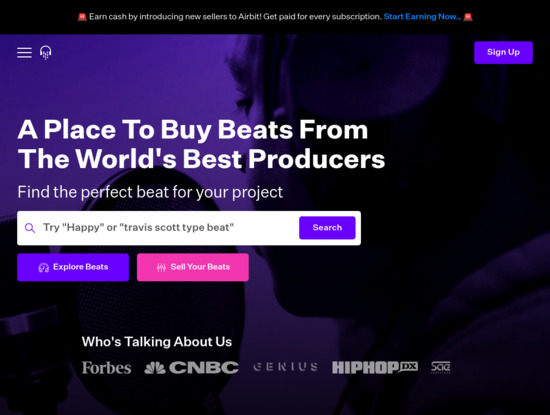 AirBit is one of the world's leading websites for selling beats, which comes at a cost. There is so much competition on AirBit that it can be challenging to make that much-wanted first sale. Other than that, however, AirBit is close to perfect. It helps musicians to easily license their work and takes no commission!
Customizability is also a big advantage of using AirBit. While on AirBit, you won't feel like you're selling beats in a place that's not yours. Thanks to its custom web stores, it's up to you to create the look of your page. The fact that you can embed your store is also a big plus: you can easily sell your AirBit beats on your website, blog, or even e-mail.
3. BeatStars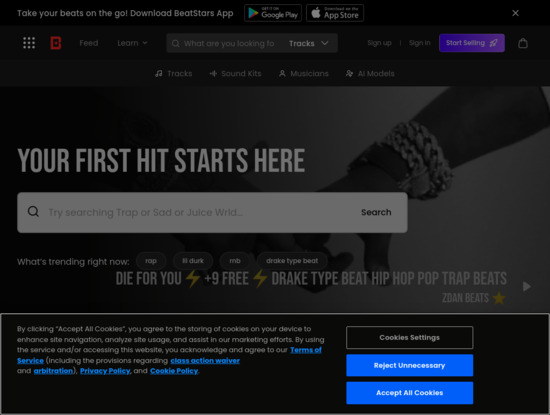 There are two ways of using BeatStars to sell beats: you either do it for free or pay a subscription. Subscribed users get to sell their beats with zero commission, while free users need to give away 30% of their earnings. This may seem like a huge disadvantage but it's actually a smart move.
You can try out BeatStars for free to sell your first beats and get a subscription once it's worth your money. BeatStars is as popular as AirBit, it's the website where Lil Nas X bought the beat for "Old Town Road," for instance, but is slightly less competitive. It lacks AirBit's customization features, but it does have some interesting extras, such as payment splitting for artists.
4. TrakTrain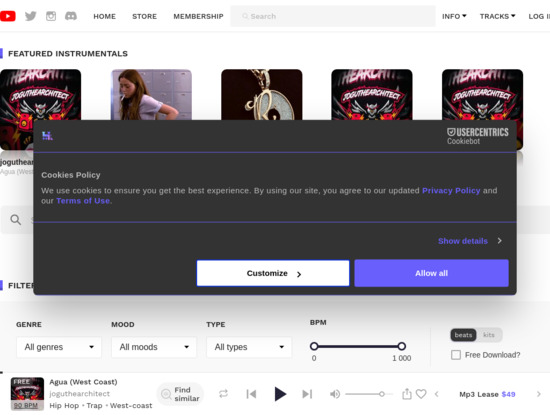 Quality beats sell more than low-quality beats, that's obvious! But, if you plan to sell beats at TrakTrain, you need to deliver the goods even before setting up an account. Unlike AirBit and BeatStars, TrakTrain vets its producers, meaning you need to show them samples of your work before signing up.
Since TrakTrain gets to pick only the best of the best, it's no wonder so many artists and corporations choose to buy from them. After joining TrakTrain, you get a personalized online store and access to a community of over 30K members. If you believe in the quality of your beats, it's a great place to sell.
5. SoundClick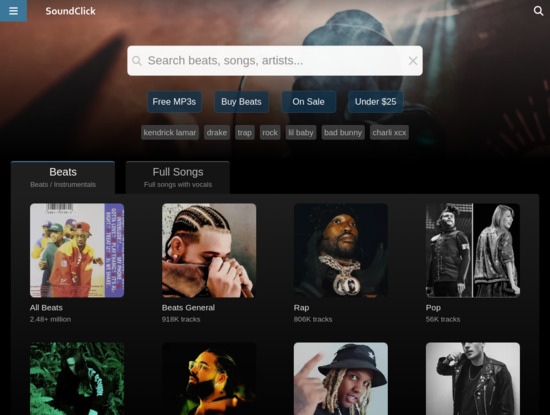 SoundClick was around even before selling beats on the Internet became mainstream. As a website that was launched in 1997, SoundClick pioneered the online music market for up-and-coming artists without a record label deal.
SoundClick looks nothing like a website from the '90s, but its business model is somewhat dated. SoundClick's library is huge and extremely eclectic, but not all beats are up for sale, some songs are only available for streaming.
What's even more confusing is that a good chunk of SoundClick's library is made of complete tracks with vocals, which isn't exactly the type of product most artists and corporations are looking for.
6. PremiumBeat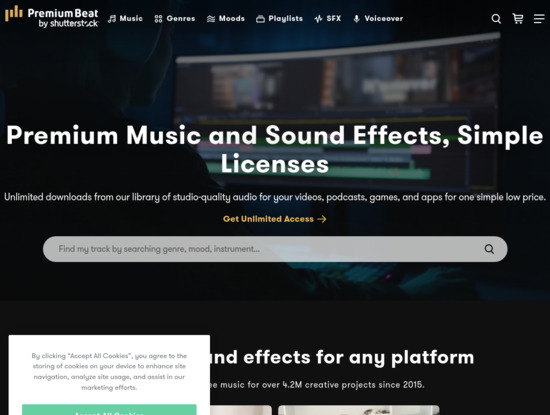 Ever heard of Shutterstock? Well, that's the company behind PremiumBeat, Shutterstock's musical version. Selling your beats through PremiumBeat is very easy: you just need to submit your music and ensure it's 100% original.
PremiumBeat is great because of Shutterstock's reputation and its amazing discounts for subscribed sellers. There's a catch, though: PremiumBeat insists on exclusivity, meaning you cannot upload your music anywhere else once you submit it.
7. Soundee
Available on a free, a starter, and a pro version, Soundee is a sleek-looking music website for selling beats that's great for artists looking to increase their streams and sell through social media. Even though it's not as popular as AirBit and BeatStars, it draws some influences from both websites.
At Soundee, you pay a 30% commission unless you sign up for a monthly subscription. Free users are also limited to 10 uploads, whereas starter users can upload up to 50 beats (there's no limit for pro users). You also get free access to one embed player.
8. Soundgine
With no free version available and zero commission for all of its artists, Soundgine is perfectly designed to fit the needs of experienced music producers. According to their official website, members of Soundgine have already received over $390 million selling their beats!
Soundgine's library, though, seems to be lacking in some aspects. I searched for the keyword 'punk' and only found two tracks. Remarkably, the keyword 'indie' presented no results. It can be a sign that there are plenty of opportunities for alternative musicians at Soundgine, or… a sign that the website's tagging doesn't work that well.
9. GoBuyBeats Sometimes, making good business is all about judging something not by what it's worth now, but by what it can be worth in the future. While GoBuyBeats is still a mostly unknown beat-selling platform (just look at their YouTube channel), that means you can be one of the very first producers to start selling there.
To be honest, GoBuyBeats has potential because it's free to use (no limitations or premium plans) and extremely easy to navigate. It's simple and straight to the point.
10. AudioJungle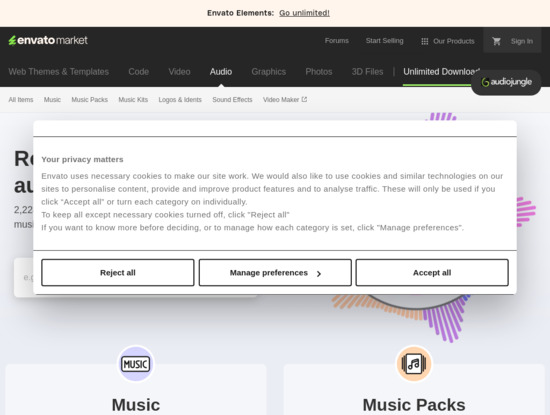 One of the best things about AudioJungle is that it's not just a website for selling beats. Functioning under the Envato domain, AudioJungle is a virtual marketplace for all sorts of audio files, including corporate audio logos and music kits.
If making beats isn't your thing but you love to come up with original sounds for movies and TV shows or even create sample packs for other artists, you'll love AudioJungle. Due to its library of close to two million tracks, AudioJungle is packed with resources for musicians too.
If your goal is to improve your beats as well as sell them, you should join AudiJungle as both a seller and buyer! There are great sound packs and SFX in there for as little as $1.
11. SoundCloud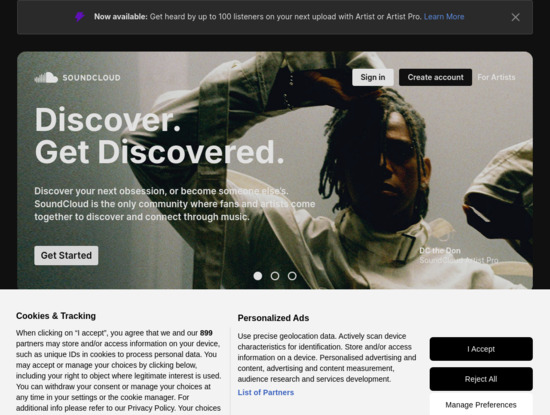 Well, I'm pretty sure you've heard about this one before. SoundCloud is such a popular website it gave way to its own genre of hip-hop music. Yes, Mumble Rap was initially referred to as SoundCloud rap. You probably know SoundCloud for being a popular website for streaming music, but is it any good for selling beats?
It depends. On one hand, SoundCloud is massively popular, and there are millions of people tuning in to the website every day to discover new artists. This means you get access to a huge audience. On the other hand, SoundCloud is not known for being a music-selling website, meaning most of your potential loyal customers (i.e., other artists and corporations) will be browsing for royalty-free music elsewhere.
SoundCloud is great for selling your beats if you also want to become famous as a producer. In other words, it's not the place for uploading generic, instrumental hip-hop beats and background music.
Are there any other alternatives to sell your beats?
Having your own website and treating it as a business is probably the best option. However, you can sell beats virtually anywhere you can reach an online audience. All social media platforms are great for promoting your beats and YouTube is an absolute must-have if you're in the game.
Is selling beats a profitable endeavor?
The beat-selling industry is growing as you read this sentence, and it generates yearly revenues of over $30 million already. This means that it's more than possible to make a profit (and even a comfortable living) selling beats.
How much should I sell my beats for?
To sell your beats, consider the price of the average beat on your favorite website and your experience as a producer. Are you a recognizable artist? Then you can sell exclusive beats for $500 and even more. Are you just starting? Asking for more than $100 for an exclusive can be too much.
Can you make a living off selling beats?
It's not easy and it requires some business savviness, but you sure can! There are plenty of producers who make a living selling beats, including Kyle Beats:
What are the exclusive rights to a beat?
If you sell a beat exclusively, it means you can only sell it once. Once you sell it, it no longer belongs to you, but to the client. If you sell beats non-exclusively, you're leasing your beat to the client but you can continue to sell the same beat to others.
Conclusion
There are plenty of ways of making money online as a musician, but few are as interesting as selling beats. If you're producing new tracks every day, beat-selling websites are the perfect place to make something out of all of those unreleased project files on your hard drive.
But more than a way of getting some extra cash, selling beats can also be a business. If you take the job seriously enough, you should find more than enough resources online to make a living by selling beats. And in the end, isn't that what being a music pro is all about?