10 Great Royalty-Free Music Websites for Your Videos
Are you looking to use some music in a project, video, or game without getting into trouble with copyright or royalty fees? This is where royalty-free stock music comes to the rescue.
In short, royalty-free music will cost you money only when you purchase it rather than investing money into royalties or lawsuits later down the road!
With this purpose, we are going to give you a list of 10 of the most useful royalty-free music websites where you could source your music from. Read below to find out what can work well for you.
Read this first! Important points about using royalty-free music
If you are searching for royalty-free music, then you want to make sure not to get into legal trouble or be liable for paying royalties later on. Therefore you MUST follow these rules.
Check the license
Royalty-free music licenses come in different forms. If you want music for a youtube or social media video then you can often find a 'personal' or 'standard' license, which is usually relatively cheap.
If you want to use the music for commercial purposes, advertisements, or movies, then different and more expensive licenses may be required (These may vary based on the provider).
Read the licenses VERY carefully. If in doubt, seek legal advice and get them to advise based on the terms and conditions of the licenses.
FREE royalty-free music may require attribution
Some marketplaces offer a free license on the basis of attribution. This means that you MUST give appropriate credit for the work.
For example, if you are using the music on a Youtube video, you must follow the attribution rules set out by the royalty-free music provider. For example, you may need to credit the music at the end of the video or link back to the provider's website in the description.
If you don't have the money to pay, then you need to be willing to credit the author if required. If you don't, they could come after you looking for license money. Also, you're effectively stealing their work if you don't follow these rules, which is a big no-no.
Get your music from a reliable source
Make sure to do your research beforehand when choosing your provider of stock music. Check the reputation of the site and make sure you're not buying into a scam!
1. Premium Beat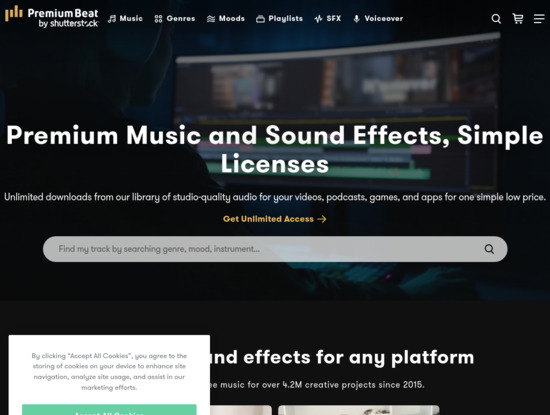 It is one of the most popular websites that offer a great variety of music in their catalog. Premium Beat promises high-quality exclusive tracks and sound effects that will bring life to your projects.
It is part of the renowned 'Shutterstock' company. Music is organised based on genre, mood, artist, BPM, and instruments.
Different prices are charged based on if your music is going to be used on personal or commercial projects.
PremiumBeat guarantees music from world-class composers and music producers. Their professional team is composed of members from organizations like ASCAP, BMI, PRS, SESAC, and SOCAN.
2. Hooksounds
Hooksounds will hook you up with the best music variety for your creative productions, business or YouTube videos.
It is a credible platform owned by two partners who promise good quality, curated royalty-free music. Its increasingly unique catalog has now caught the attention of many.
The collection is exclusive which you can only find on the website. There are four types of license payment plans- 'pro' or basic that costs $24, 'business' or most popular is priced at $49, 'broadcast' or premier has $580, and even a 'free' single license for personal use which requires users giving credit.
3. Artlist
The site has been designed and developed beautifully and is extremely user-friendly.
Artlist provides an annual subscription based on your need for either music or SFX (or both) for unlimited use of thousands of songs.
The website has a facility of advanced filtering options such as the ability to choose music tracks based on various classifications.
4. Audio Jungle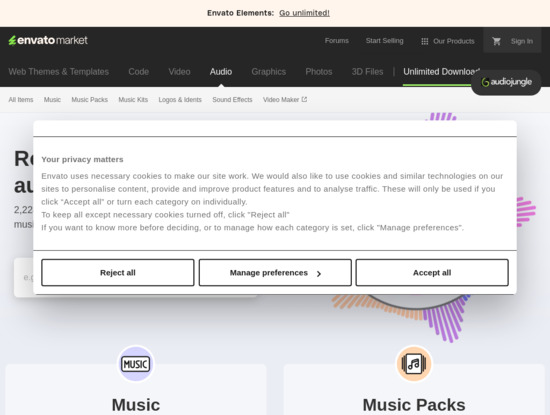 One of the most popular marketplaces for music, Audio jungle has an enormous selection compared to many of its competitors.
It commits to its name pretty well, a jungle full of audio varieties that are royalty-free. There are millions of sounds with different pricing.
Some of the tracks are available at the lowest price of $1. It offers music from every genre you could think of (pop, heavy metal, vocals, instrumentals, and many more) and has got amazing kinds of tunes, sound effects, video effects, stock footage, and stock photography.
Their collection is updated weekly so users can never run out of available options. This music licensing website is part of Envato Market.
Envato market includes a host of professional digital assets such as digital music, web templates, stock videos, stock photos, graphic templates, and much more.
5. BenSound
It is a highly appreciated platform with an easy-going name. Bensound was founded by a French musician and composer, Benjamin TISSOT.
It offers a great variety of free stock music tracks that can be used diversely in animations, slideshows, website background music, web advertisements, YouTube, and TV and radio broadcasts.
There are two ways to purchase music license from Bensound, either via annual subscription charges or alternatively you can license tracks individually.
You can also use the music from the website without paying any price (under Creative Common License) provided that you give all credentials to the website.
6. Pond5
Pond5 is another royalty-free stock photo marketplace with a very large selection.
The Songs have been categorized in terms of theme covering everything from adventure, to orchestral, meditation, and even war.
Other media options include sound effects, after effects, and royalty free stock video.
You can buy individual tracks, or get pre-purchased credit bundles or go all in with monthly or annual memberships.
7. Soundstripe
Soundstripe is another royalty-free music distributor that appreciates the power of partnerships.
It has gained popularity by working side by side with a century of talented, gifted, and enthusiastic artists. Search for your desired music track by filters such as mood, genre, pace, instruments, keys, vocals, duration, and BPM.
The standard unlimited license memberships start from $135 per annum
8. Epidemic Sound
Epidemic Sound has curated a unique and a nice collection of more than 750 music albums. They use straightforward licensing packages.
Singletrack licensing is £79 for a standard single track, while YouTube subscriptions start from as little as £10 a month. It also offers a 30-days free trial.
9. YouTube Audio Library
Although we've placed this service website at the bottom of list, it deserves to be appreciated as much as its predecessors.
YouTube Audio Library has proven to be a gem for many aspiring YouTubers who cannot afford high prices but need a boost to increase their audience.
It's extremely easy to use with a music library that is big, wide, and deep. YouTube audio licensing is absolutely free and when searching, you may opt to customize the search to your liking. You can do this by sorting via different options including instrument, artist, genre, mood, etc.
10. Purple Planet
Purple Planet offers thousands of uncompressed, royalty-free tracks and audio sound effects.
Users have access to unlimited free downloads for non-commercial purposes, like YouTube videos, as long as you fulfill all attribution requirements.
However, for bigger projects like a game or to use in a film, there's a standard license fee for as little as $5 or an unlimited license for $40.
The collection is not very vast and filtering options are rather strange- classified on the basis of song's impression or effect on the listener.
Conclusion
Determining which music source is the best option is important because it can have a big effect on your project. Go through each website and figure out which one suits your requirements and will attract audience.
Also, make sure to be careful with licenses. For example, if you're going to use the music for commercial advertising purposes, a cheap personal licence will probably not cover you. If you are going to use free options, then make sure to give appropriate credit where required.
Do you have some other great websites for royalty-free stock music? Let us know in the comments section below.