The 7 Best Fog Machines of (2023) – Pro and Budget Options
If you want to get a nice effect when performing on stage, fog machines are one of the best options. These used to be big machines, but with the development of smaller and cheaper options, they have become pretty accessible for all budgets.
My top recommended fog machine is the AGPTEK 500W. This is a portable fog machine with a durable design, LED lights, and wireless remote control.
My second recommended fog machine is the ATDAWN Halloween Fog Machine. This is an entry-level, budget option that does the job quite well.
The 7 Best Fog Machines of (2023)
Let's compare these in more detail.
The AGPTEK 500W is a portable fog machine with LED lights and a wireless remote control. This fog machine has a durable aluminum exterior and can last for a long time. However, the liquid is not included in the purchase.
As for the fog production, AGPTEK will provide you with around 2000 cube feet per minute of smoke with two or three meters of distance when shooting it out. Between the puffs, you'll need to wait several seconds for the machine to heat up again. With the machine, you'll get a power outlet cord and remote control which is neat.
Three LED lights will also provide you with enough lighting for your fog machine. With them, you can easily create the atmosphere you need. This is a great buy for everyone, whether you're a professional or just need an affordable machine for personal use.
2. ATDAWN Halloween Fog Machine
Budget Pick
Affordable, fog machine, suitable for home use.
View Price at Amazon
Sometimes you need a fog machine that's not very expensive and doesn't have many fancy options but is just a reliable house item. The ATDAWN god machine is one such option that's perfect for home use, at parties, or on Halloween.
It holds 300ml of fluid in the tank and has a black metal exterior, so you don't have to worry about it breaking or damaging. It produces 1500 cubic feet per minute and has an average consumption of 7.5ml/minute, so you'll definitely have more than enough.
This machine can be operated both manually and wirelessly through a remote control. Manual control can be also achieved through a wired remote control which gives you up to 5 meters of space from the machine. This is a great buy for anyone looking to get an amateur-level machine that does its job nicely.
3. Chauvet DJ Hurricane 1800
Pro Pick
Professional fog machine for DJ's with a durable design.
View Price at Amazon
If you're a DJ, you'll probably have to build up some atmosphere for your performance. Fog machines can be just the right answer, and if you're looking for a pro option, the DJ Hurricane 1800 is just the pick for you.
The H1800 is a water-based, 1-channel DMX fog machine. The tank has the capacity for 5 liters of liquid and the machine needs 10 minutes to heat up. It has a total fog production of 29.600 CFM, so it will fill up the room quickly with quality-made fog. The design is adapted for professional use, with a metal and 180-degree rotatable body.
As for the connectivity, you get a 3-pin XLR in/out for DMX512, so you can connect it with your lights, making it a complete show. Also, the tank is illuminated with LED lights. This is a high-end product that's not meant to be used by everybody. If you're a DJ or event organizer, this is a great option to consider.
4. Donner 500W Fog Machine
Budget-friendly
Compact, portable, and affordable fog machine with LED lights and remote control.
View Price at Amazon
The Donner 500W Fog Machine is another budget-friendly option that you can consider. With 500W of power, this little guy is very portable and compact and can pump out 2000 cubic feet per minute with a distance of 2-3 meters.
This fog machine offers wired and wireless control. With the 3-meter wired controller, you can have it set up close by if you plan on moving it and changing the trajectory. If you want it in one place, you have a remote control that works within a 50-meter radius so you don't need to be glued to the machine.
Always make sure to let the machine heat up for a few minutes before using it. Afterward, you can change the 13 RGB LED lights with the LED remote controller and use it as you wish. This is an excellent budget-friendly option, however, the liquid is not included with the purchase so make sure you get some.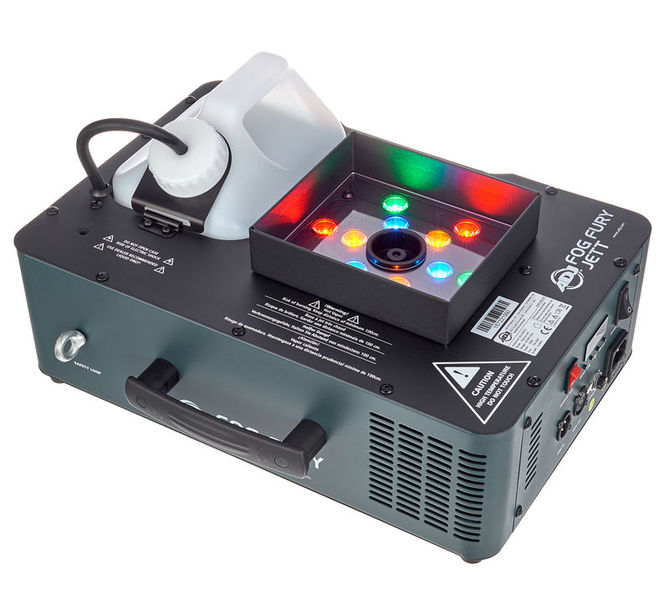 Next, we have a heavy-duty contender for professional users. The Fog Fury Jett is different from other items on this list for the sole reason that it's the only one that shoots the fog vertically and not horizontally.
It comes with a big tank of 0.8 gallons, which has 20.000 CFM output. Thanks to its ETS technology, it doesn't have to warm up again in between the blasts like the other fog machines but it can continue blasting straight away.
It has a 7-channel DMX connection as well as 12 packs of three LEDs with different lights. You can control it with a remote control and manually as well as through a DMX cable. This is a high-quality option that is suitable for professional use.
Well-rounded
Quality fog/smoke machine with LED lights/Strobe and a Fluid Capacity Meter.
View Price at Amazon
The Rockville R1200L is an amazing fog/smoke machine that comes with some very creative and useful features. With an output capacity of 12,000 cubic feet per minute, a 1.2L tank, and a consumption of 10 Fluid Ounces per hour, this machine is well-equipped for big shows.
It has 6 LED lights that can be remote controlled and it even has a Sound Activated mode which allows it to light and change color according to the beat. The fog this machine produces is pretty thick and can stay in the ether for quite some time.
Additionally, the wired remote controls the timing, and the output of the fog with either manual or continuous fogging. Overall, you're looking at a quality, durable option for professional and personal use.
Entry-level
Extremely affordable and portable fog/smoke machine with LED lights and remote control.
View Price at Amazon
The JDR FMB-500 is a small, portable fog and smoke machine that is great for personal use, and house parties, and comes at a very attractive price. It features 3 LED lights which is substantially less than most options but considering it's not suited for professional use, it is more than enough.
After 3 to 4 minutes of warming up, this machine can output around 2000 CFM (cubic feet per minute) and can handle around 14 to 30 seconds of continuous spraying. Much like all the others, it has a wired and wireless controller and features a preheating lamp that indicates when it's ready to use.
Last, but not least, it can also be used for disinfecting small areas/rooms. Granted, you'll need an atomized disinfectant solution and always make sure to read the instructions if you're planning on using it this way. All in all, it's a great option if you're on a budget but want something that'll do the job.
What's the difference between a Fog Machine and a Haze Machine
Even though people mix up these two machines, there are quite large differences between the two. The fog machine creates a cloud of thick, white smoke that is not translucent and is very noticeable. It can be spread around the floor (think first dance at the wedding) or going up into the air.
Haze machines create a much thinner veil of smoke that lasts much longer than fog machines do. The whole point of this is to hold on in the air, creating different light patterns with lights in the space.
Is Fog Machine Smoke bad for you?
The short answer is no, they're not. Fog machines use water and different types of glycol syrups to create their fog, which, if the machine is working properly, is not hazardous at all. Note that some people can be irritated by this machine, but those are really rare incidents.
What is the use of a Fog Machine?
Fog machines can be used in several different ways. At clubs, it is used to create an atmosphere or on stage when the bands or DJs play. At home, people use it for personal celebrations/parties, but also for stuff like Halloween.
How long does Fog Machine fog last?
Fog machine fog doesn't really last that long. If you're indoors, of course, your fog will last longer and have a better effect, but if you're outside and the wind is blowing, your fog will disappear in 5 seconds. But, expect at least one minute of quality fog with one spray of fog.
Conclusion
I hope that this article has helped you inform you on the topic of fog machines as well as present to you different options for you to buy. Whether you're a professional who will use this machine every day on stage or are a more casual user, there's something for everyone here.
My top pick is the AGPTEK 500W, a portable fog machine with a durable design, LED lights, and wireless remote control.
My budget pick is the ATDAWN Halloween Fog Machine, an entry-level, budget option that does the job quite well.