The 5 Best Haze Machines of 2023– Pro and Budget Options
Haze machines emit a thinly veiled mist that stays in the air. These are often used on stage as they bring an epic effect when used with stage lights and lasers.
These are different from smoke and fog machines, which create a thick fog that would often stay low on the stage.
In this article, we're going to present to you the top 5 haze machines on the market today, from affordable to top of the range options.

The Best Haze Machines (2023) – At a Glance
1. Chauvet DJ Hurricane Haze 1DX
Editor's Choice
A high-quality option from a great brand
View Price at Amazon
DJ Hurricane Haze 1DX is a professional haze machine that's easy to use and affordable for anyone looking to buy a serious machine. It comes with a smaller tank, 0.4 gals, and it can produce 800 cubic feet per minute (CFM) of haze.
It's water-based, so no oily residue will stay on the floor after using this machine. Everything is super adjustable from manual options and easily visible due to a large LED screen on the side of the machine. The great thing about this machine is that once it has heated up, you don't need to wait for it to heat up again – just press the controls and puff your haze whenever you want.
It has a DMX in/out, so you can easily set it up to control it right next to your lights. All in all, a great machine for both professional and personal use, whatever suits you the most.
DJ Hurricane Haze 2D is an improvement on the aforementioned 1DX. This is a bigger and stronger machine, that comes with 0.7 gallons of tank space and can produce up to 1200 CFM of haze. It's DMX ready, so you can easily set blowing speed and hazing volume through your DMX interface.
The great thing about this hazer is that it can be remote controlled. This means that you can easily use it from across the room, without the need for an operator to stand by it all the time. This is very handy, especially if you're alone on the stage and don't have a busload of people to help you with your performance. The haze that it produces is good and will float in the air, rather than sticking to the floor.
3. Martin Lighting JEM Hazer Pro
Hard-core professional haze machine, meant to be used in large spaces by professionals
View Price at Amazon
If you're looking for the top of the line product, JEM Hazer Pro is a way to go. This is a true professional beast that can satisfy your every need when it comes to hazers. It comes with 0.66 gallons of tank capacity, giving you up to 65 hours of continuous use before refill. It comes with two DMX inputs and outputs, one 3-pin and one 5-pin.
It is fully programable through three channeled DMX connections we mentioned. It will produce a long-lasting haze and has a very quiet motor, so it won't interfere with your performance by clanking. This really is a professional masterpiece that is to be used in larger event spaces or clubs. Also, you'll need to know how to use it through DMX to get the most of it, although it can be controlled through manual control too.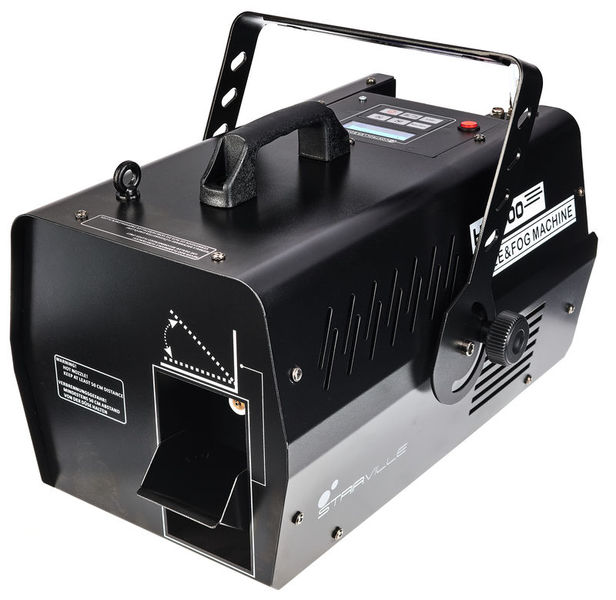 It combines the best of both worlds – haze and fog machines. HF-900 is a nice addition from Stairville that combines both fogging and hazing machines and allows you to pack up only one machine when you're setting the stage.
This machine has a 2-liter tank and produces a decent amount of fog and haze, depending on what you need to use. The warmup time is about three minutes and after that, you can freely use it as you like. It's controlled through a DMX channel, and has a DMX in and out, as well as a power outlet. Both fog and haze are of good quality, with fog being a little thinner but still being very quality made.
This is a great buy for anyone who needs to use both hazing and fogging machines but doesn't want to spend money on buying two separate machines. This keeps the cost down and also keeps the volume of your luggage down if you're taking it with you on the road.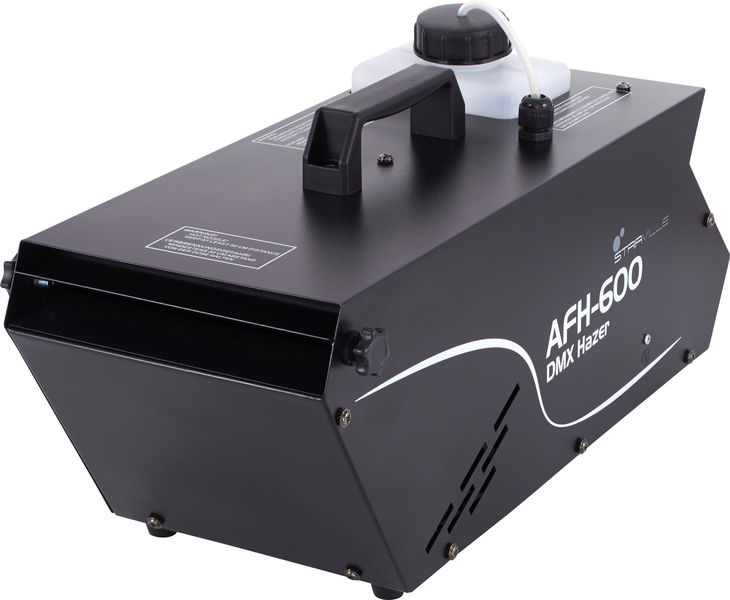 AFH-600 DMX Hazer is a nice professional hazer from Stairville. This machine comes with a 2.3 liters of tank space, enough to keep your show running all night long. The motor works 600W, which is quite on a lower end for these types of machines.
You can control the machine through the back-sided buttons and LED screen, but the main use of this item should be through a DMX cable. It's integrated with all DMX512 interfaces, so you should have no problem connecting it and using it alongside your lights. The haze that's produced is nice and longstanding and since the tank is so big, you don't have to worry that you'll run out of gas in the middle of a show.
This is a perfect piece for any smaller venue or stage. It's a small, compact, and high-quality hazing machine that will suit you every need in smaller places, that can often get too fogged by too powerful machines.
Questions
What does a haze machine do?
Haze machines produce thinly-veiled smoke that is then used to cover the event space, usually the stage. This haze allows for a better-looking light shows, as it gives some additional background to light that's being projected, but also gives a visual depth while standing on the stage.
What is the difference between a fog machine and a haze machine?
Fog machines produce a thick, white, cloud-like fog that is not translucent and makes you look like you're in a cloud essentially. They are thick and because of that, they disperse much quicker than the haze.
Haze machines create much thinner but much more durable smoke, that gives you a thin veil of haze. It also floats much higher and stays visible for longer periods of time
Do haze machines leave a residue?
Since some haze machines use oil-based fluid for creating the haze, they can leave a bit of an oily residue when turned on. But, more and more of hazing machines these days are water-based, so no residue is left behind.
Are haze machines safe?
There's no life-threatening jeopardy from inhaling the output of a haze machine. Some people might be irritated, but those incidents are very rare.
Summary
We hope that this article has helped you to learn a lot about hazing machines. There are many pros and cons of whether you should get a hazer or fog machine and we hope that we presented some of the information needed to help you make a decision.
Whether you're a pro or someone looking for an affordable machine for home use, there will be something for you on this list.