Where Do DJs Get Their Music From?
As a DJ, there are various resources for music; some of them are paid, while others are free. Some websites let you pick the music tracks you want and DJ pools that offer access to massive libraries of music files with a monthly or yearly subscription.
Are you a rising DJ looking for resources to get music for your mixes? As a beginner, one of the first dilemmas that you'll face is figuring out where DJs get their music from.
On a side note, be careful about downloading tracks from free resources. If a website is offering free music, make sure it's under the correct licence. You should only get your music from reputable resources.
1. Beatport (Paid)
Beatport is one of the most established resources for DJs. The expansive catalog has a big number of new releases from reputable labels.
With Beatport, you can download your music in high-quality formats if you want them uncompressed.
There's a top charts list that gives you a quick idea of the latest trends in all genres, but it's especially useful for DJs that like rocking their clubs with electronic music.
Recently, the platform introduced Beatport LINK, a service that enables you to stream music directly to DJ controllers (must be compatible).
2. Beat Junkies (Paid)
Beat Junkies is a record pool that offers a huge library of music files that exceed 50,000 files.
When you sign up for a membership, you get access to the library's content, as well as specialty mixes delivered right to you.
There are 3 subscription plans, but they mostly differ in membership duration. However, the annual "Pro" membership also gives you one-month access to BeatJunkies.Tv, the website's online DJ school, as well as 25% off the website's products and a free Beat Junkies sticker pack.
3. Boomkat (Paid)
Boomkat is all about providing the most popular beats from all genres. It allows you to purchase music files in a wide range of high-quality formats in digital and analog releases.
Their products ship to over 100 countries, and you can get your music in the form of cassettes, vinyl, or CDs. In addition, the website has a limited specialty store where you'll definitely find some pretty cool mixes for your creations.
4. Digital Music Pool (Paid)
Digital Music Pool allows you to create a subscription-based account in exchange for unlimited music downloads from its library. The library encompasses a wide range of genres. You can even find some exclusives here and there, including edits, variants, and acapella.
One of the things that make this DJ pool stand out from the crowd is that it asks DJs to rate the track before downloading it. This provides a much better experience for the pool's users as they can get a basic idea of the quality of the music file before downloading.
On top of that, Digital Music Pool is partnered with a few record labels that guarantee you early access to new music.
On a side note, keep in mind that a single track can't be downloaded more than three times.
5. Soundcloud (Free Options)
You're probably already familiar with Soundcloud, but have you ever thought about getting tracks for your mixes from it? Since the website's content is user-generated, you'll be able to access a huge number of tracks and their variants from known and unknown artists.
Many artists on Soundcloud offer free downloads for the platform's users. You might be required to like the artist's Facebook page before being able to download the music file, though.
To find tracks on Soundcloud, all you have to do is write the name of the artist in the search bar. You could also add "remix" as a search term if you have variations of the artist's work.
6. DJ City (Paid)
DJ City is an affordable DJ record pool that offers lots of bang for your buck. This isn't a single record pool, but 5 individual ones from the US, UK, Germany, Japan, and Latin America.
It supports bulk downloads for easier file sorting and management. It also provides users with curated playlists that contain the top hits from their preferred genres.
DJ City also integrates a powerful search function that allows you to filter search results to find what you need more quickly. In addition, the platform offers a desktop and mobile app that deliver a delightful user experience.
The cherry on top is that DJ City has some exclusive releases from the platform's team of producers and remixers.
7. Late Night Record Pool (Paid)
Late Night Record Pool is yet another record pool with a massive library that contains over 62,000 releases curated by professional DJs from all the genres you could think of.
Music files can be downloaded as compressed ZIP downloads, and you can even hook up your Dropbox account for seamless cloud integration.
There's a throwback selection that lists your old beats for more inspiration in your creations. Late Night Record Pool also has a top-40 playlist that includes the best hits.
Of course, you can just use the pinpoint search function to find what you need more easily. You may also filter results by genre, decade, and throwback.
8. My MP3 Pool Online (Paid)
My MP3 Pool Online is a DJ pool that offers more than 15,000 music files at a reasonable price tag. The website is updated monthly, and you can download files in bulk.
The great thing is that there's a free trial that lets you get a taste of what it's like to use the website for music downloads. As for file format, all of the files are offered in MP3 320 kbps format.
In addition, the library's content is tagged, making it easier for you to sort and categorize your files. It's also worth noting that the content isn't limited to original music files only; you also get outro and regular and 8-bar intros, as well as clean and explicit versions.
9. Digital DJ Pool (Paid)
Digital DJ Pool is a subscription-based track resource that offers unlimited downloads at 320 kbps.
The platform is updated with new releases almost daily, and you get a "Top Tracks" list that contains the best beats from all genres, like pop, house, and hip-hop.
Each file is available in various versions, including intros, clean, dirty, acapella, and remixes. You also get some mixing suggestions for your songs.
10. BPM Supreme (Paid)
BPM Supreme is a DJ record pool that operates on a subscription-based model. The music files on it are high-quality, and it gets updated with new beats daily.
Not to mention, each file can be downloaded in multiple versions, including clean, radio edits, dirty, acapella, intros, remixes, and exclusive edits.
There's a visual waveform player that enables you to preview songs before downloading. Oh, and if you like to explore new tracks on your phone, BPM Supreme is available as a mobile app.
11. Juno Download (Paid)
Junodownload offers a massive library of beats for DJs.
It lets you listen to the full song before purchasing it. Additionally, there's an integrated web player that can be added to your blog easily.
The tracks are available in multiple high-quality formats, including MP3, FLAC, WAV, and ALAC.
You can either download the files you buy one by one or group them all into a single bulk download. Plus, Junodownload offers promotional and exclusive tracks for DJs.
12. Jamendo (Free Options)
Jamendo is a resource for royalty-free tracks that supports streaming and downloading.
You can filter its library by genre or country. In addition, you can sort the results by release date and latest trends.
Other than the search function, Jamendo categorizes its library into hot selections, playlists, and "Spotlight", which is basically a list of the most widely-acclaimed beats on the platform.
Jamendo also has content from radios and independent music creators.
13. Bandcamp (Free Options)
Bandcamp is free, but you can directly support the artist by making a small donation for your download. Once you open the website, you'll be presented with a live slideshow of the tracks that were just sold.
Bandcamp allows users to subscribe to its mailing list and get some of the most exciting delivered mixes right to their inboxes. Additionally, the website is one of the few ones out there that post live streams. You can find the upcoming ones on the platform's homepage.
If you want to discover new tracks, you can use the search function or take a look at Bandcamp's "New and Notable" list.
14. Soundclick (Free Options)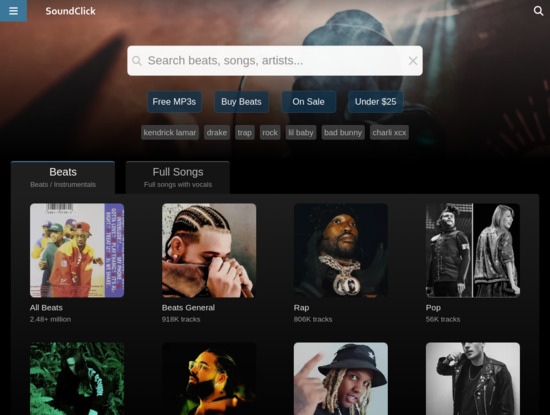 Soundclick has a pretty sleek user interface that enables you to find free music files for your parties pretty easily. The library contains millions of free tracks from genres like country, metal, pop, and many more.
Once you open the website's homepage, you'll be presented with a search box, along with some categorization lists for discovery.
The "Fresh Faces" list provides you with the best releases from unknown or new artists, while the "Top Sellers" list presents you with some of the most popular tracks.
Moreover, there are dozens of playlists from all genres.
15. Noisetrade (Free Giveaways)
Noisetrade is basically a collection of free giveaway tracks.
The library isn't huge, but it's by no means small, either. So you'll definitely find a few nice tracks that you can create something out of them.
It'd be a good idea to explore the "Notable" section for the best tracks. And if you liked a track so much, you can always send the artist a tip.
Should DJs Buy the Tracks They Use?
DJs should absolutely buy the tracks they use unless they can get a valid free licence for the track. DJs don't have to buy music that's in the public domain or where they have a relevant licence (e.g. certain creative commons licences).
Summary
DJ music can be found just about anywhere. Aside from the recordings of DJ sets, you can get different mixes, edits, and more on the Internet. Most tracks are available for free download while others require a license or money.
You can try out some of the free resources as a beginner, and once you land a few gigs, you can start exploring the paid options.
These are just some of the many internet resources that offer thousands of DJ music files in numerous formats.