The 5 Best P90 Pickups for Your Guitar (2023)
We usually classify guitar pickups in two large groups – single coils and humbuckers. The problem with such classification is that the P90 pickup is often overlooked. Although essentially a single-coil pickup, the P90 is a class of itself. It features a unique design and delivers a pretty distinctive tone.
These pickups were originally produced by Gibson but these days, pretty much every major pickup manufacturer has these pickups on the offer. Although essentially a single-coil pickup, the P90 features different coiling. The bobbin is wider and shorter, which is the main reason for different tonal characteristics.
My top pick is the Seymour Duncan Phat Cat Set if you want a high-quality P90 pickup that is used and approved by many.
My budget pick is the Metallor P90 Soapbar Pickup if you want a backup, beginner, or alternative without breaking your pockets.
The 5 Best P90 Pickups For Your Guitar (2023)
Let's compare these in more detail.
The Phat Cat is one of the most popular P90 pickups for several reasons. Of course, it comes from one of the most renowned pickup manufacturers in the world. Also, many guitarists like the fact that this model comes in a standard humbucker size, so installation doesn't require any modifications on guitars with stock humbucker pickups. 
These are great benefits but the main reason for the popularity of Phat Cat is the tone. This is an Alnico II pickup, which in practice means a little bit lower output compared to most P90 pickups.
On the other side, the tone is incredibly smooth, which makes it perfect for hollow-body guitars, although there's no doubt it will work excellent on Les Pauls and other solid-body guitars as well.
Also, the pickup is waxed and features a pretty thick cover, so there's no chance you will have microphone issues. Finally, the price is quite attractive, considering what you're getting in return.
2. Metallor P90 Soapbar Pickup
Budget Pick
A very affordable option for a p90 pickup.
View Price at Amazon
This traditional P90 single-coil pickup can do the job well, all the while coming in at a very affordable price. As far as specifications go, it's a pretty standard P90 regarding size and format.
Of course, the sound cannot compare to others on this list but considering the price of this pickup, it offers great value for money and the sound is actually surprisingly okay.
You also get a neck pickup and a bridge pickup with this purchase. If you don't want to break your pockets and want to keep it simple, you will unlikely find a better and more affordable solution than this one. A good choice for beginners and those who don't want to break their bank.
Kent Stealth 90 pickups stand somewhere between humbuckers and common single coils. In the spectrum of sounds, this one comes a little bit closer to humbuckers, compared to most other P90 pickups. The main reason lies in the fact that this one is double coiled. 
The biggest benefit of such a design is that there is no hum. The pickup is noiseless, but tone characteristics are notably different compared to other P90 pickups. It sounds darker, while the output is a little bit lower. Those who prefer hi-gain styles will definitely like this pickup.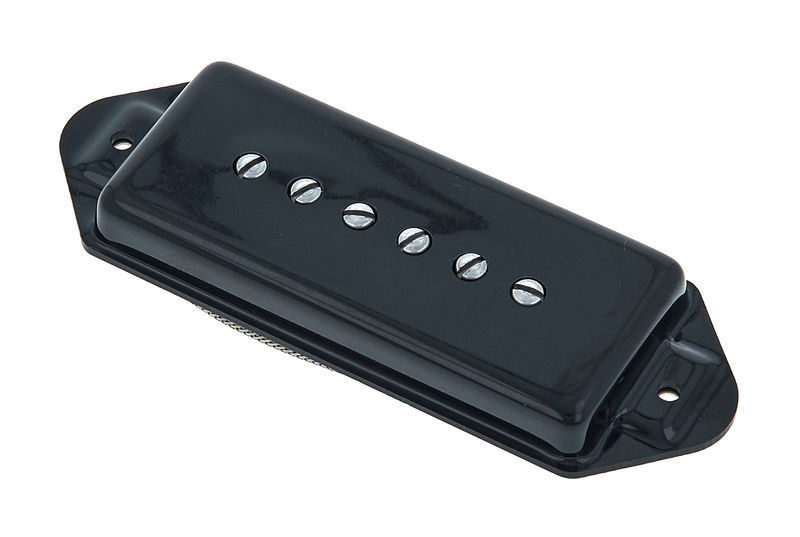 If you're looking for the authentic P90 tone, search no more. According to most reviewers, Seymour Duncan's pickup is something that comes closest to the original pickup from the '40s. Therefore, it's no wonder that many guitar players don't mind paying the extra money, as this is one of the most expensive P90 pickups on the market.
Under the dog ears cover, you will find a design that closely resembles the original pickup. The same bobbin and wiring, plain enamel mag wire, flatback tape, and other essential features are here, so it's no wonder that the sound feels pretty authentic.
Speaking of the tone, it is very bright, with a lot of attacks. Chords on this one sound pretty clear, while single notes seem quite rich as well.
If you're looking for vintage P90 sound characteristics, this is the pickup for you. The Lindy Fralin comes with loads of features that characterize original P90 pickups. You may count on Butyrate P90 bobbins, USA-made alnico IV bar magnets, and 42-gauge plain enamel wire, the same things that can be found in Gibson's P90 pickups from the '50s.
Such a design ensures plenty of mid-range tones, while the sustain seems quite decent. Single notes are well-rounded, while chords sound pretty clear.
Another important thing to mention is that this is probably the only pickup of this type that is completely noiseless, thanks to a reverse-wound bridge. All in all, this pickup seems perfect for all those who need a well-rounded P90 with genuine vintage sound colors.
A Brief History of P-90 Pickups
The history of P90 pickups starts in the 1940s. At the time, Gibson guitars were equipped with blade pickup and the company was seeking a design that would be a real answer to Fender's new single-coil pickups, characterized by plenty of edge and brightness. The P90 came with notably different sound characteristics, it was smoother, darker, and with less edge. 
By the end of the 1940s, this pickup became standard in all Gibson models. Of course, it was initially reserved for hollow body and semi-hollow body guitars, but original Les Paul models were equipped with it as well.
By the end of the 1950s, P90 pickups were suppressed by new pickups, called humbuckers. The new pickup design was significantly different, with two coils and a new tone, which became the company's trademark soon after. 
At first, P90 pickups remained in entry-level models, like Les Paul Junior and similar ones but by the end of the '60s, they completely vanished. There were some occasional comebacks for special edition models, meanwhile.
Also, this pickup was popular among punk musicians both because of the tone and cheap design. However, the real comeback happened in the last two decades.
Once again, you can get pretty much any Gibson guitar model with these pickups. Moreover, there is a huge offer of P90 pickups from outside companies, renowned pickup manufacturers. Some of these pickups closely resemble the original tone, while modern variations are available as well.
That's our list of the top p90 pickups for your guitar. Keep in mind that there are many more P90 pickups on the market. They come with various design characteristics, with a distinctiveness that measures nuances.
Some of them deliver genuine vintage tones, others are well-balanced. Also, keep in mind the housing, as many pickups come with humbucker dimensions, which seems highly beneficial in terms of the installation process.
How do P90 Pickups Sound?
It's hard to describe the tone of this pickup in a couple of words. In some way, it stands between humbuckers and common single-coil pickups. On one side, you can count on a typical single coil hum and the tone that is far brighter compared to humbuckers, and also quite gritty.
On the other side, this is still far away from the single-coil brightness and edge, so we can say that the P90 is a quite versatile pickup, which offers a little bit of both worlds.
Another thing that may look confusing to you is the design of the housing. Practically, there are two different looks of P90 pickups. The first one is called a soap bar and mounting screws are placed within the housing.
The other one is called dog ears and in this case, mounting screws are placed on the side. Still, the housing shape doesn't affect the tone, so all of them sound the same.
P90 pickups are widely popular these days, so it's no wonder that the offer on the market is huge.
Conclusion
The P90 pickups are well-balanced in terms of tonal characteristics. They are not overly bright or dark, so you can use them with different types of pickups in your guitar set.
If you are after the vintage tone, these are the best P90 pickups to choose from. Meanwhile, modern variants can be well-balanced as well, which is ideal for many music genres nowadays.
My top recommended option is the Seymour Duncan Phat Cat Set. A high-quality and frequently used set of P90 pickups for anyone.
My budget option is the Metallor P90 Soapbar Pickup. A highly affordable P90 pickup for any beginner or as an alternative.
Featured image credit to captain.orange under CC BY-ND 2.0.