The 10 Best Acoustic Bass Guitars (2023)
When it comes to acoustic bass guitars, it's all about finding that sweet spot between sound quality, playability, and affordability. In this article, we'll take a closer look at the top 10 acoustic bass guitars of the year, covering everything from their build, sound, and versatility that make
My main recommended acoustic bass guitar is the Martin BC-16E. With a Sitka spruce top, rosewood fingerboard, and aesthetic gloss finish, this guitar produces a rich and full sound. It's also lightweight yet durable, making it a great choice for live and practice sessions.
My second recommended acoustic bass guitar is the Best Choice Products Acoustic Electric Bass Guitar. This bass guitar is equipped with a 4-band guitar preamp (EQ-7545R) to produce high-quality sound, and it boasts chrome die-cast tuners, an attractive inlay, and a glossy finish.
I have been playing the bass guitar for over a decade now, and I have found that the acoustic bass guitar has a certain charm and versatility that cannot be replicated by its electric counterpart. There is something about the warmth and resonance of an acoustic bass that can really enhance the overall sound of a performance.
The Best Acoustic Bass Guitars – At a Glance
Let's move onto the full list:
Top Pick - Expertly crafted with superior appearance and pro sound
The Martin BC-16E is an acoustic-electric bass guitar that produces a deep and clear sound, handmade with high-quality wood.
View Price at Amazon
The Martin BC-16E Bass Guitar produces rich, unique tones with clear overtones and a wide range. Handmade with high-quality East Indian rosewood and Sitka spruce, this remarkable instrument is perfect for any music style – from country and rock to jazz and pop.
This versatile acoustic-electric bass guitar works well for both quiet unplugged sessions and plugged-in live shows. I value its large auditorium design and advanced scalloped forward-shifted x-bracing, providing excellent resonance, sustain, and stability for powerful acoustics.
Pros
Great quality, exceeding expectations
Deep, clear sound with crisp overtones
Powerful volume with grand auditorium body style
Superior appearance with professional design
Handmade with high-quality wood
Versatile for different musical genres
Cons
Pricey
Not suitable for complete beginners
The gloss finish on top may not appeal to everyone
Visually appealing, the Martin BC-16E displays eye-catching beauty with its stylish open nickel tuning machines and a glossy top finish. Its slim high-performance neck allows for a comfortable grip, and the sleek dovetail neck joint gives strong support. It is quite pricey but the quality is up to par.
Specs
Body and Fretboard Material: Indian Rosewood
Top Material: Sitka Spruce
Number of Strings: 4
Finish Type: Gloss
2. Best Choice Products Acoustic Electric Bass Guitar
Budget Pick - Affordable Bass, Perfect for beginners or pros on-the-go
The BCP Acoustic Electric Bass Guitar Produces quality sound, has built-in volume control, a 4-band equalizer, and is ready to use right out of the box.
View Price at Amazon
You can easily switch between acoustic and electric modes on this dual-function bass guitar. Its unique design suits various music tastes, letting you excel on stage no matter your style. I personally think this instrument offers great value, providing flexibility for different playing techniques.
With an EQ-7545R 4-band preamp system, this bass guitar delivers top-notch sound, despite the affordable price. You can tone control, including adjustments for volume, bass, middle, treble, and presence. Unfortunately, extra setup and adjustments are necessary for optimal sound, which may be a downside for some players.
Pros
Affordable and great value for the price
Good craftsmanship for the price point
Suitable for beginners and professionals alike
Acoustic-electric feature provides versatility
4-band EQ-7545R preamp produces high-quality sound
Cons
Might require setup and adjustments for optimal sound
Some fret buzz is present
Stock strings not of the highest quality
This bass guitar's striking inlay pattern, smooth gloss finish, and classy black color are surprisingly aesthetic for an affordable entry. The high-end look is further improved by the top-quality wood materials, like basswood back, rosewood fretboard, and a strong mahogany neck. All in all, it comes down to a well-rounded and budget-friendly option.
Specs
Design: Cutaway
EQ: 4-band – bass, middle, treble, and presence
Back Material Type: Basswood
Tuners: Chrome die-cast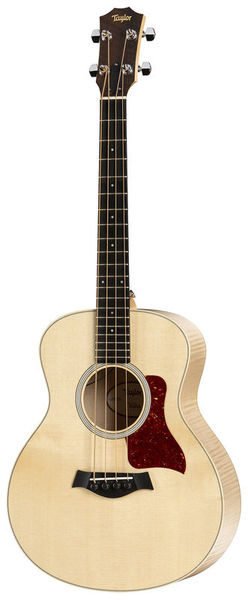 3. Taylor GS Mini-E Maple Bass
Pro Pick - Versatile, short-scale acoustic bass for any style of music
The acoustic-electric guitar has a Sitka spruce top, layered Maple back and sides, an ebony fingerboard, and Maple neck.
View Price at Thomann

(Europe)
View Price at Amazon
The beautiful Sitka spruce top of this acoustic-electric guitar provides a clear and focused tone, enhancing your sound while also giving the instrument a striking look. It features high-quality woods that are not only durable but provide pristine tonal quality which isn't surprising for such a well-known brand.
I really like the comfortable playing with its smooth ebony fretboard that allows your fingers to move seamlessly. The maple neck offers stability, and just the overall design is very reminiscent of a classic acoustic guitar, hence the easy playability.
Pros
Beautiful design and finish
Small size with powerful sound
Suitable for small hands
High-quality craftsmanship
Good electronics
Cons
Shorter neck may feel constricting
A bit pricey
The Taylor GS Mini-E Maple Bass is suitable for different music styles and player preferences. Its 23.5-inch scale length accommodates various hand sizes, while the mix of maple, ebony, and spruce top ensures top-notch sound quality.
Specs
Body Materials: Sitka spruce top, layered Maple back and sides
Fingerboard: Ebony
Neck: Maple
Preamp: Taylor ES-B
4. Takamine GB72CE-BSB Jumbo
TK-40B preamp system for ultimate sound control
The Takamine TK-40B preamp system provides versatility and sound quality with a built-in tuner, three-band EQ, and mid-shift control.
View Price at Amazon
It's hard not to be impressed by this large acoustic-electric bass guitar's appearance. The eye-catching flame maple back and sides, along with the unique Black Sunburst color, make it stand out. Finished with a glossy coat, abalone decorations, and pearl inlays, this bass looks as wonderful as it sounds. I really appreciate its excellent acoustic bass qualities.
Designed for strength and precision, this large bass features a solid spruce top, producing a strong and full sound. The slim maple neck and 16″ radius bound rosewood fingerboard offer exceptional comfort and playability, making it easy for musicians like me to move around the neck. A dovetail neck joint adds stability, while the synthetic bone nut and saddle provide support and improved intonation.
Pros
Great acoustic bass sound
Solid spruce top for volume and robust sound
Slim mahogany neck for comfortable playability
Takamine TK-40B preamp system with versatile controls
Gold die-cast tuners
Gloss finish for visual appeal
Cons
Heavier than some other bass guitars
A bit pricey
With the Takamine TK-40B preamp system, this bass guitar offers versatile tones and impressive sound control. This advanced built-in electronics system has a tuner, three-band EQ, gain controls, bass-boost switch, mid-shift control, and EQ bypass switch for the best sound customization. Combined with a piezo pickup, your sound quality will always be top-notch.
Specs
Body Material: Wood (Solid Spruce Top, Flame Maple Back, and Sides)
Neck Material: Maple
Fretboard Material: Rosewood
Guitar Pickup Configuration: Piezoelectric
Fender bass with Fishman electronics for a true and reliable sound
The Fender FA-450CE is an acoustic bass guitar made of mahogany and maple with a sunburst finish, equipped with a piezo pickup system.
View Price at Thomann

(Europe)
View Price at Amazon
This Fender acoustic bass has a stunning all-laminate construction, featuring a flame maple top that is visually appealing and contributes to its warm tone. I really like its appearance and sound. The combination of maple and mahogany top materials produces a rich, resonant tone suitable for both beginners and experienced musicians across various music styles and techniques.
We've done a deep-dive video review of the Fender FA-450CE. Be sure to check it out below!
Inside this well-crafted bass, there are advanced Fishman electronics that allow the instrument's natural sound to be heard even when amplified, thanks to the piezo pickup system. This makes your bass playing sound great, whether played acoustically or with amplification.
Pros
Beautiful design and build quality
Warm, rich tone
Comfortable neck for easy playing
Fishman Electronics provide reliable performance
Laminated construction resists humidity-caused damage
Cons
No thumb-rest
Large for some gig bags
The bass has a modern 2×2 headstock design, sleek cream binding, attractive "keystone" inlays, and a rosette, giving it a stylish look. Additionally, the Viking bridge adds elegance and helps maintain stable intonation, while the Nato neck material ensures durability and comfort. Its eye-catching sunburst color finish makes it stand out in both design and functionality.
Specs
Body and Top Material: Mahogany and Flame Maple
Pickup Configuration: Piezo
Bridge System: Hardtail Bridge
Electronics: Fishman
The Fender Kingman V2 Bass is a versatile instrument that combines acoustic and electric features. Its slim "C"-shaped mahogany Jazz Bass neck makes it easy for musicians to change styles. The bass is perfect for those who want a mix of warm acoustic sounds and strong electric bass tones, making it truly unique.
A special aspect of this bass is its Newporter Bass body design that only Fender offers. It not only looks amazing but also contributes to the instrument's rich sound and projection. The solid spruce top is great for longevity, making the bass a long-lasting musical companion.
Pros
Comfortable to play
Good tone, both acoustically and plugged in
Beautiful design and finish
Lightweight with slim-taper "C"-shaped neck
Fishman pickup/preamp system with built-in tuner
Cons
Heavy headstock causes balance issues
May require truss rod adjustment for optimal setup
The bass's careful design includes durable mahogany back and sides, a walnut fingerboard and bridge, and a custom Fishman Presys preamp and tuner specifically for the California Series body. The V2 offers great sound, thanks to the piezo pickup setup and reliable tuning and intonation from the hardtail bridge system.
Specs
Body Material: Mahogany
Top Material: Walnut, Mahogany, Spruce
Neck Material: Mahogany
Fishman pickup/preamp system
Classic Design series combines timeless body shapes with modern features
The Fender CB-60SCE Acoustic Bass features a solid spruce top and mahogany back and sides, with a slim-taper, easy-to-play neck profile.
View Price at Thomann

(Europe)
View Price at Amazon
This bass guitar has a sturdy spruce top that is long-lasting and offers a bright tone and great dynamic range. I enjoy how it pairs with the mahogany back and sides for a deep, warm, and balanced sound. For both new and experienced bassists, the excellent craftsmanship of this instrument promises a memorable playing experience.
The slim-taper neck profile is easy to handle and comfortable for playing, suitable for musicians of all levels. I like how this design supports smoother play and improved ergonomics, allowing people to focus on improving their skills rather than struggling with a difficult neck.
Pros
Great value for the price
Solid spruce top and mahogany body
Easy-to-play neck profile
Fishman electronics system for versatile amplification
Good intonation and action
Built-in tuner
Cons
Fret buzz issues
No thumb-rest
With the built-in Fishman electronics system, you can enhance your performance while keeping the bass guitar's natural sound. I enjoy the convenience of the onboard tuner for easy tuning, so you always sound great without needing extra equipment. Unfortunately, some problems with fret buzz and quality control may impact players' satisfaction and require adjustments or fixes for optimal playability.
Specs
Body Material: Mahogany
Neck Material: Mahogany
Guitar Pickup Configuration: Piezo
Electronics: Fishman Preamp and Tuner
The Cordoba Mini II Bass not only looks great with its striped ebony back and sides, but it also sounds fantastic. The materials used make it sturdy and reliable, and you can choose between two finishes – Ebony and Spruce Electric – to customize the look.
I really enjoyed the easy playability of the Mini II, thanks to its Pau Ferro fretboard and comfy mahogany neck. It's suitable for all skill levels and it's fairly lightweight, making long playing sessions comfortable, so you can focus on the music.
Pros
Easy to pick up and play for beginners
Surprisingly good pickup
Convenient built-in tuner
Compact size, suitable for travel
Deep, resonant bass tones
Cons
Stock strings are not the best
The finish could be better
I really liked its Cordoba MB103 piezoelectric pickup, which gives a rich amplified sound while preserving the guitar's natural warmth. This feature adds flexibility and makes the guitar suitable for various playing styles, a great choice for any musician.
Specs
Scale Length: 580mm (22 7/8″)
Body and Back Material: Striped Ebony
Top Material: Solid Engelmann Spruce
Neck Material: Mahogany
Quality Fishman Sonicore pickup and SST preamp
The Ibanez AEB10E has a mahogany neck, back, and sides, and a spruce top that creates warm, full tones.
View Price at Amazon
This Ibanez AEB10E Acoustic Bass Guitar has an impressive spruce top, giving it a great sound and beautiful finish that I really like. The wood helps the bass notes resonate, making it suitable for many techniques and music styles.
The bass has a versatile and comfortable design, accommodating various playing styles and genres. Play traditional deep grooves or explore techniques like fingerstyle, slapping, or tapping. With endless possibilities, this Ibanez bass is perfect for stretching your music limits.
Pros
Fantastic tone due to the different woods used
Beautiful finish and design
Good value for money
Suitable for beginners
Warm, full tones from Fishman Sonicore pickup
Cons
Plastic bridge and nut
Fret ends are a bit rough
A slight buzz may require saddle adjustment
A built-in tuner and the Fishman Sonicore pickup set this bass apart. The tuner keeps your sound in check, while the pickup gives strong tones ideal for live shows or recordings. It's perfect for performing or recording, but I must say it's disappointing that the fret ends need some attention, which I wasn't a fan of.
Specs
Body Material: Spruce
Neck Material: Mahogany
Fretboard Material: Rosewood
Guitar Pickup Configuration: Piezo
Sleek design and versatile playability
The Ibanez PCBE12MHOPN is a short-scale electro-acoustic bass guitar made from mahogany wood that produces a modern tone and is perfect for a variety of musical situations.
View Price at Thomann

(Europe)
View Price at Amazon
Made with a beautiful mahogany body and top, this Ibanez Acoustic Bass Guitar is remarkable for its mix of good looks and sound. I love the amazing sound and resonance it provides; its rich, warm tone comes from using mahogany, which boosts both low and mid-range frequencies.
The short-scale feature of this Ibanez Acoustic Bass Guitar shouldn't be ignored. The lower string tension allows for smoother and more comfortable playing, great for people with smaller hands or those who want more comfortable playing. The maple neck, along with a rosewood fretboard, contributes to the instrument's stability and eye-catching appearance.
Pros
Great sound quality for the price
Lightweight and well-made
Stays in tune well
Wide range of tones available
Easy to adjust neck and action
Cons
May require initial setup and adjustments
Not very loud when played acoustically
This 4-string electro-acoustic bass guitar includes a modern Piezoelectric pickup system and Ibanez Under Saddle pickups, taking its sound capability to the next level. The Ibanez AEQ-2T preamp and built-in tuner make live shows and recordings easier than ever, and the compatible output jack and D'Addario EXP strings guarantee a top-quality, adaptable playing experience.
Specs
Body Shape: Grand Concert
Top, Back, and Sides Material: Mahogany
Neck Material: Maple
Fretboard Material: Rosewood
What to consider before buying an Acoustic Bass Guitar?
Body size and shape
Body size and shape play a crucial role in the overall tone, volume, and playability of an acoustic bass guitar. A larger body size, such as the one found in the Takamine GB72CE-BSB or the Martin BC-16E, generally produces a more resonant and powerful sound with greater projection. These larger-bodied guitars can be ideal for live performances, where a fuller tone is necessary to cut through other instruments in the mix.
The shape of the guitar, whether it's a traditional dreadnought, a grand auditorium, or the unique Newporter shape found in the Fender Kingman V2, also impacts the overall tone and comfort of the instrument. Therefore, selecting the right body size and shape for your playing style and preferences is essential for the best playing experience and overall satisfaction with your acoustic bass guitar.
Tonewoods and construction
When it comes to selecting an acoustic bass guitar, the choice of tonewoods and construction should be at the forefront of the decision-making process. Tonewoods impact both the look and the sound of the instrument, and a well-constructed guitar will ensure optimum playability and durability.
For example, the Martin BC-16E with its Sitka spruce top and East Indian rosewood construction delivers deep and clear tones with crisp overtones and projection.
Playability and comfort
Playability and comfort are essential factors to consider when choosing an acoustic bass guitar, as they significantly impact your ability to practice and perform for extended periods. As a musician, I find that bass guitars with slim-taper necks, such as the Fender CB-60SCE Acoustic Bass and the Fender Kingman V2 Acoustic Bass, offer exceptional playability by providing an easy-to-play neck profile suitable for both novices and experienced players.
In addition, lightweight models like the Cordoba Mini II Bass EB-E, which is very lightweight, can provide increased comfort during longer gigging sessions or while traveling. Ultimately, prioritizing playability and comfort ensures you can enjoy your chosen instrument for years to come, regardless of your skill level or performance frequency.
Electronics and pickup system
When choosing an acoustic bass guitar, the electronics and pickup system should also be considered, as they greatly affect sound quality and tonal versatility. The Fender CB-60SCE Acoustic Bass provides a flexible Fishman electronics system, allowing you to amplify your sound without compromising its rich and resonant tone.
The Cordoba Mini II Bass EB-E offers a piezoelectric pickup configuration, which is ideal for electro-acoustic performances. These various pickup systems can enhance your sound and are important to consider when selecting the perfect acoustic bass guitar for your specific needs.
Budget and value for money
When planning your budget for an acoustic bass guitar, it's essential to consider the value for money that each instrument offers. A more expensive model may have features or construction that justify the higher price tag, whereas a more affordable choice could provide a good balance between quality and cost, especially for those on a tighter budget.
The Best Choice Products Acoustic Electric Bass Guitar provides excellent value for money with its versatile performance capabilities and attractive features – making it a great choice for both beginners and pros who are looking for an affordable, yet well-crafted instrument. Ultimately, the most important factor is to find a bass guitar that meets your specific needs and requirements without compromising on quality or playability, regardless of your budget.
What are Acoustic Bass Guitars?
An acoustic bass guitar is a type of musical instrument that is similar to a standard guitar in design but is larger and produces a lower sound. It has a hollow body and is typically designed to be played with the fingers rather than a pick.
String Type and Number of Strings
Acoustic bass guitars typically have four strings but also come in five and six-string variations. Choosing the right string type is crucial to achieving your desired sound. Most acoustic bass guitars have steel strings for a bright, punchy sound, while others use nylon strings, providing a mellower, classical tone.
Pickup Systems and Electronics
Many acoustic bass guitars come equipped with onboard pickup systems or electronics, such as the Fishman system used in the Fender FA-450CE and the Kingman V2, allowing for easy amplification for live performances or recording. These systems can include tuners, EQ controls, and various output options. Consider your needs in terms of amplification and sound modification when weighing your options.
Accessories and Maintenance
Essential accessories for your acoustic bass guitar may include a gig bag or hardshell case, strings, tuners, and maintenance tools. Quality instruments like the Fender Kingman V2 and the Ibanez AEB10E often come with built-in accessories like onboard tuners for convenience. To extend its life and maintain playability, be sure to clean and maintain your guitar regularly.
FAQs
What is the difference between an acoustic bass guitar and an electric bass guitar?
An acoustic bass guitar produces sound acoustically, without the need for amplification, while an electric bass guitar requires an amplifier to produce sound.
What size acoustic bass guitar should I buy?
Acoustic bass guitars come in a range of sizes, but most commonly in 3/4 and 4/4. The size you should buy will depend on your body size and the sound you want to achieve.
What tonewoods are commonly used in acoustic bass guitars?
Common tonewoods used in acoustic bass guitars include spruce, mahogany, rosewood, and maple. These tonewoods each contribute to the tone of the instrument in a unique way.
Should I choose a fretted or fretless acoustic bass guitar?
A fretted acoustic bass guitar has frets on the fingerboard to produce specific pitches, while a fretless bass guitar has a smooth fingerboard that requires the player to play more accurately for specific pitches.
How much should I spend on an acoustic bass guitar?
The price of an acoustic bass guitar can range from under $200 to thousands of dollars. It is recommended to spend as much as you can afford to get a high-quality instrument that meets your needs and will last for years to come.
Conclusion
Acoustic bass guitars have a certain charm and are excellent instruments for both practice and live sessions. For gigging or bedroom bass players, having an acoustic bass around is not only practical but also great for a variety of settings.
My main recommended acoustic-electric bass guitar is the Martin BC-16E. With its solid Sitka spruce top, rosewood fingerboard, and gloss finish, this guitar is a real work of art. It packs a rich and resonant sound, while still being lightweight and super-comfortable to play.
And for my second recommended product, I choose the Best Choice Products Acoustic Electric Bass Guitar. With its 4-band EQ preamp, it produces a high-quality sound that even beginners can appreciate.