The 7 Best Mini Portable Guitar Amplifiers (2023)
Mini Amplifiers are a must-have for every guitar player. Whether you need an amp for home practice or you want to work on your skills while you're on the move, you can't use bigger amps because they are too loud for everyday use. That's why we've decided to pick some of the best mini amps for you.
Our top pick is the well-known Fender Frontman 10G. This amp has everything you need for your home practice. It's easy to use and it sounds good. Also, it's packed with all kinds of useful features.
For those on the move, we've picked the Marshall MS2. It runs on batteries and can fit any bag, so it can always be with you. Of course, there are several more great products you will find on our list of the 7 best mini amplifiers.
The 7 Best Mini Portable Guitar Amplifiers (2023)
Let's compare these in more detail.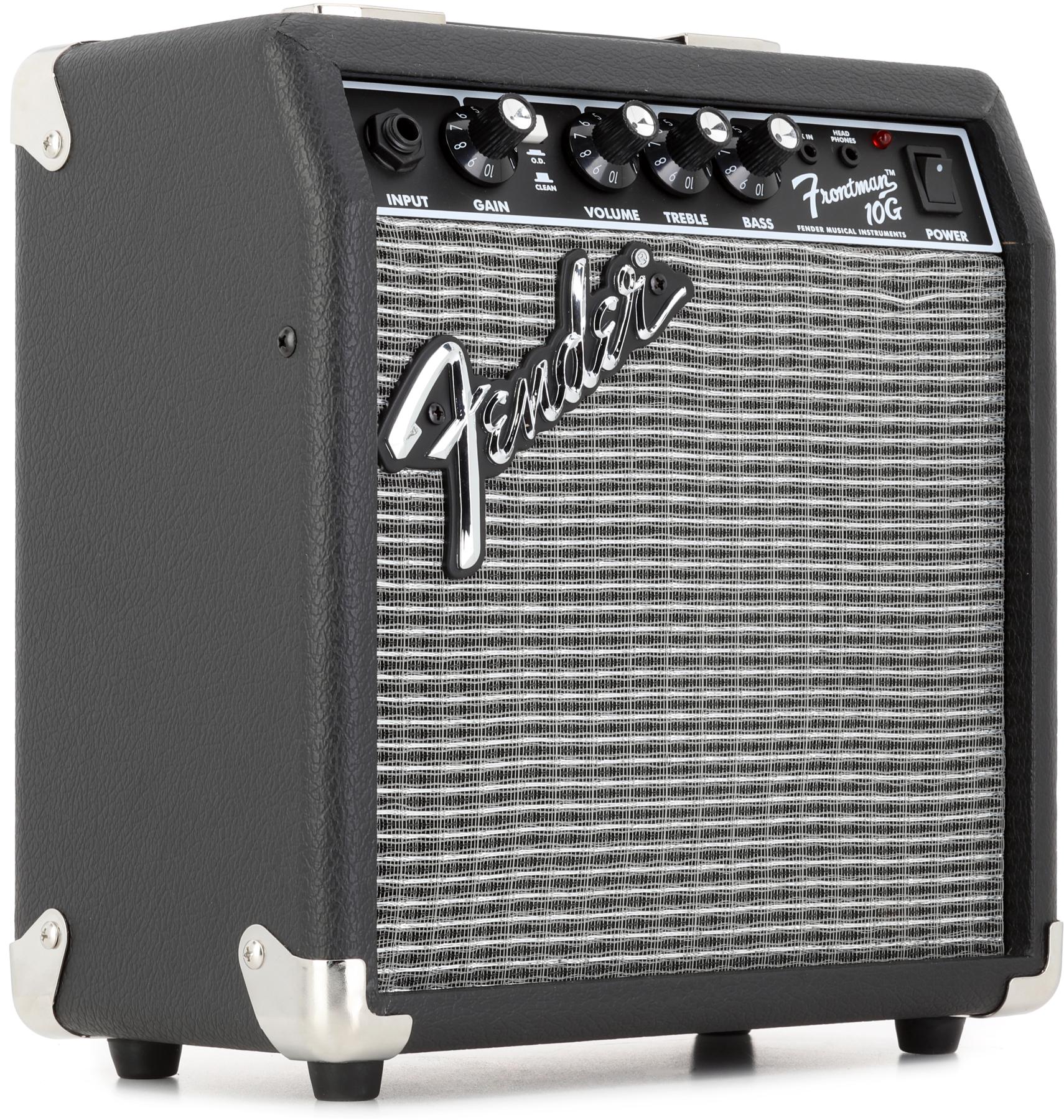 Fender Frontman 10G has been on the market for a very long time but it is still a reference among small amps. It gives a little bit of everything – it's compact, easy to use, sounds decent enough and it's affordable
Pros
Easy to use
Good clean sound
Looks very nice
Cons
Unimpressive gain sound
More feedback than you would expect
The Frontman 10G is a great practice amp, not just for beginners but for more experienced players too. The ease of use is one of its main strengths, while a simple two-band equalizer allows a little bit more tone tweaking than you would usually expect from a small amp like this.
Also, the Gain switch allows you to engage distortion tones instantly. However, keep in mind that this is a classic overdrive, which isn't everyone's cup of tea, especially among younger generations.
| | |
| --- | --- |
| Amplifier Type | Tabletop |
| Circuitry | Solid-state |
| Output | 10W |
| Effects | – |
| Battery Operated | No |
Besides decent tones and a decent number of controls, this amp comes with a few more useful features. It features Audio In, so you can practice along with your favorite tunes. Also, there is a headphone jack, so you can practice in silence.
I also love the exterior design, as it closely resembles Fender's vintage tube amps.
If portability is your priority, this little thing may be a fantastic choice for you. It is super small and runs on batteries. However, I'm not sure if it can serve as a replacement for a good practice amp.
Pros
Super-portable
OD Switch makes it versatile
Runs on batteries, but you can use a power adapter too
Cons
Not a replacement for a practice amp
Despite its tiny size, the MS2 has some pretty interesting things to offer. I like that it resembles original Marshall aesthetics, as well as the fact that you can use either batteries or an AC adapter. That makes it pretty versatile when you're on the go, just like the headphone jack, which allows you to practice silently.
This is a 1-Watt amp, so you shouldn't expect miracles regarding sound quality. The speaker is small and can't handle lower frequencies pretty well. On the other side, the OD switch is a really nice touch, which allows you to dial both clean and dirty tones.
| | |
| --- | --- |
| Amplifier Type | Wearable |
| Circuitry | Solid-state |
| Output | 1W |
| Effects | – |
| Battery Operated | Yes |
It's hard not to like the MS2's design. It closely resembles Marshall's head and cabinet, which look really cute in this tiny size. For that reason, I believe this could also be a fantastic present for anyone who plays guitar, whether it's going to be used for practice or just to decorate someone's apartment.
All you need for your acoustic guitar now comes in a very compact package. This small amp comes loaded with several onboard effects and mic modes, as well as with all kinds of connectivity options. Most importantly, it can run on batteries and it sounds great.
Pros
Full load of effects and mic modes
USB connectivity
Built-in tuner
Cons
Small 3.15" speakers can struggle with bass tones
What makes this amp so versatile is that you can choose between five mic types, while there are also built-in modulation effects. You can engage compressor, chorus, or both of them simultaneously. The same is with delay and reverb effects. Furthermore, there are a few more knobs for additional tone tweaking.
Live performers will highly appreciate the built-in tuner, as well as the "Tap-Time" button, which allows you to set delay time easily. The THR5 can run either on batteries or an AC adapter. There is also a USB port, which is great for recording, or if you want to save your presets. The amp comes with THR Editor software, which allows additional tone editing.
| | |
| --- | --- |
| Amplifier Type | Tabletop/Wearable |
| Circuitry | Solid-state |
| Output | 10W |
| Effects | Reverb, Delay, Chorus, Compressor |
| Battery Operated | Yes |
Yamaha THR series of amps include several models, for acoustic and electric guitars. You can also get a THR5 amp for electric guitar, as well as bigger and more powerful models like THR10II, THR10II Wireless, THR30II, etc.
If you want classic Orange tones always with you, this tiny amp is the right pick. It's simple and easy to use, while the tone is pretty impressive. Most amps of this size bring sound compromises, this one doesn't.
Pros
Well-known Orange tone
Very easy to use
Speaker jack makes it usable on small gigs
Cons
Hard to dial good clean tones
Orange amps have always been known for their simplicity and this one is no exception. It comes with just three knobs, so you can instantly dial recognizable Orange tones. Due to the lack of controls, it's a little bit harder to set a good clean tone and that's probably the only weak point of this amp.
On the other hand, the amp comes with a built-in tuner, as well as with typical mini-amp features like audio input and headphones output. It's good to know that you can run this amp either on batteries or a power adapter.
| | |
| --- | --- |
| Amplifier Type | Wearable |
| Circuitry | Solid-state |
| Output | 3W |
| Effects | – |
| Battery Operated | Yes |
The Orange Crush Mini 3 has a max output of just 3 Watts and comes with a tiny speaker. However, it also features a speaker output on the back side, so you can connect it with an 8-ohm speaker and make a decent gig unit.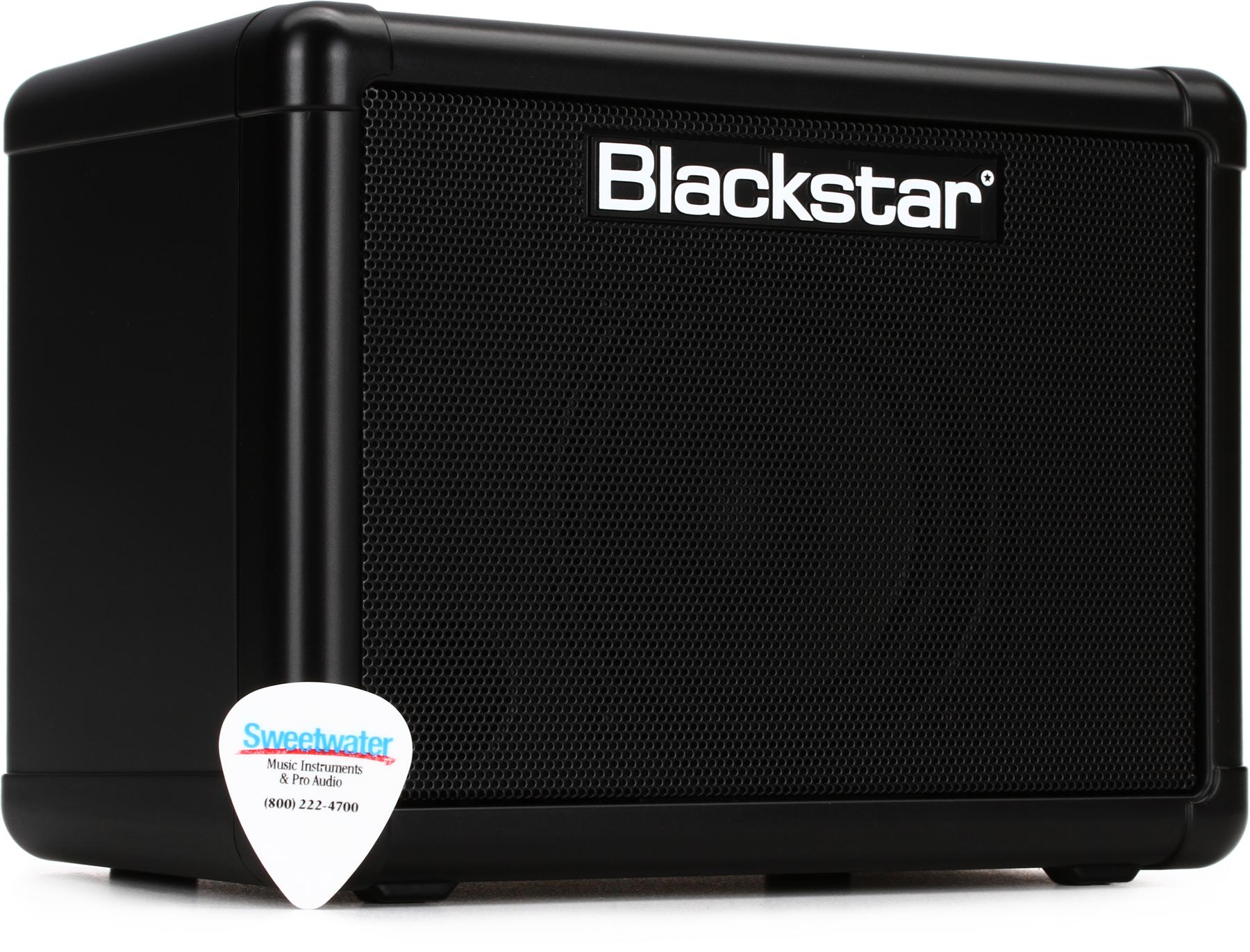 The reasons why Blackstar amps stand out from the crowd are usually extra features. Even this tiny unit has a few aces up its sleeve. It comes with lots of features for tone shaping, as well as with simulated line out, which is great for silent recording.
Pros
Lots of good tones
Great for recording
Built-in delay effect
Cons
Bluetooth connection isn't perfect
It's a shame it doesn't feature a speaker output
The core of this amp is Infinite Shape Feature, the company's signature. It ensures more tonal options compared to similar amps at this price range. The overall sound quality is pretty impressive and while the Orange Crush Mini offers better distortion, this model is way superior regarding clean tones.
Also, you may count on a built-in tape delay, which can be switched on and off with a small button. A similar button is used to switch between clean and distortion channels, while the MP3/Line-In input allows you to practice along with your favorite tunes.
| | |
| --- | --- |
| Amplifier Type | Tabletop/Wearable |
| Circuitry | Solid-state |
| Output | 3W |
| Effects | Tape Delay |
| Battery Operated | Yes |
To run this small amp, you need 6AA batteries or a power supply. The FLY3 is versatile enough for bedroom use, but it is also small enough to serve as a fantastic travel amp. Not only that it allows you to practice everywhere, but also sounds great.
VOX has been making these small plug amps for ages and it is still one of the top players in the game. Guitar and bass players love the balance between simplicity and functionality this small unit offers. It is something you should always have in your pocket.
Pros
Fits your pocket
Straightforward design
Audio input and rhythm patterns included
Cons
Just for headphones
Made from cheap plastics
This small unit is a perfect example that you can get decent tones from just a few tiny knobs. The design is very straightforward and all you need to do is to plug in your headphones and nice tones will come right away. VOX engineers redesigned the analog circuit and clean tones are now much better than they used to be.
Also, the amp features a plug mechanism that rotates 180 degrees, so it can be plugged into any kind of bass or guitar. Furthermore, the amp features an auto-off function, which keeps the batteries running longer.
| | |
| --- | --- |
| Amplifier Type | Headphone |
| Circuitry | Solid-state |
| Output | – |
| Effects | – |
| Battery Opertaed | Yes |
Besides this particular AP2BS model, the VOX amPlug is available in several more variants, so you can pick the one that suits your playing style best. You can choose between Clean, Blues, Classic Rock, Lead, and Metal models, or even get a version that emulates the legendary AC30.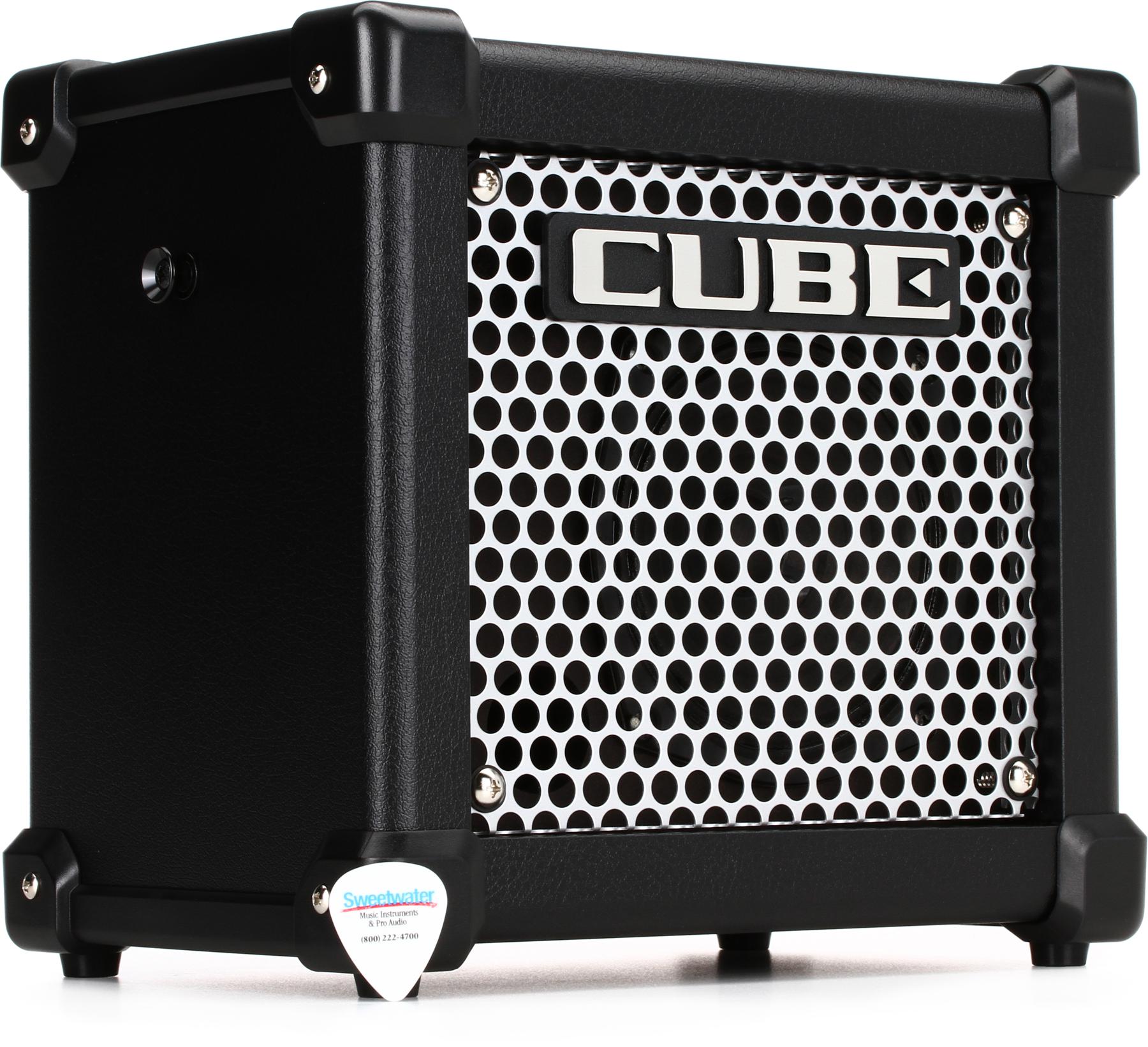 The Roland Micro Cube is the most popular portable amp on the market and the reasons are obvious. No other amp of this size has so many tone possibilities. 8 amp models, several effects, and the ability to save your favorite settings are some of the key features of this tiny amp.
Pros
8 amp models
Easy to use
Solid as rock
The core of this amp is the well-known COSM technology of amp modeling. In this case, it brings 8 different amp types to the table (Acoustic Sim, JC Clean, Black Panel, Brit Combo, Classic Stack, R-Fier Stack). Add to this several built-in effects (Chorus, Flanger, Phaser, Tremolo, Octave) and it becomes obvious that this is a genuine modeler amp.
This tiny amp also comes with several connectivity features. Besides typical jacks for headphones, MP3 player, and similar things, it also features an i-CUBE LINK jack, so you can connect this amp with iOS devices. It's good for jamming and practicing, but nothing you can't get from the standard audio input.
| | |
| --- | --- |
| Amplifier Type | Wearable |
| Circuitry | Solid-state |
| Output | 2W |
| Effects | Chorus, Flanger, Phaser, Tremolo, Octave |
| Baterry Operated | Yes |
Like any other Roland/Boss product, this one also features excellent build quality. The housing is solid as a rock and will certainly stand years of exploitation. That's probably the main reason why we can see so many street musicians that use this small amp.
Types of Mini Guitar Amplifiers
The only thing needed to be classified as a mini amp is small size. However, there are many differences between these tiny units. As the name says, a tabletop amp is an amp that's compact enough to be used on the top of table. That's pretty much every practice amp you can get on the market.
On the other hand, wearable amps are usually even smaller, so you can carry them everywhere you go. Also, the key thing about these amps is that they can run both on batteries and with an adapter.
Some amps don't have built-in speakers. Instead, you need to use headphones to get the sound from it. So, it's no wonder that these amps are commonly known as headphone amps. The VOX AP2BS amPlug 2 is a perfect example of a headphone amp.
Inputs and Outputs
Most of these mini amps are primarily designed for practice, so it's no wonder they come with lots of connectivity features. The most common are audio inputs, which allow you to play along and practice with your favorite tunes or backing tracks. Modern amps also feature USB connectivity, which offers more possibilities, such as recording, additional tone settings, etc.
Mini amps usually don't have many outputs. Still, models like the Orange Amplification Crush Mini feature a speaker output, so you can connect it with an external speaker and make it louder.
Power Output
Portable amps are very compact in size, so their output is low. In most cases, the max output is between 1 and 5 Watts, though there are also tabletop models like the Fender Frontman 10G with a 10-Watt output.
Despite the power, most of them sound similar in terms of loudness. A 10-Watt amp won't be two times louder than a 5-Watt amp. Things are calculated a little bit differently in this case, and you usually need an amp with a 10-times higher output to be louder two times. In other words, you need a 50-Watt amp to be two times louder than a 5-Watt amp.
Are these Loud Enough for Live Performances?
It depends on the room size or street. In most cases, you will need something bigger but these tiny amps can serve well for small jams with friends and similar events. Also, I've seen a lot of street players that use Roland Cube Street amp, so we can call this model a gold standard for street playing.
Built-In Effects
Many amps come with built-in effects. Those are usually essentials, such as delay, reverb, chorus, flanger, compressor, etc. They probably aren't the most important feature of a mini amp, but they can be very useful. The more effects you have to work with, the bigger sound diversity you get. In many cases, that's what inspires us to play and practice more.
Battery Operated or AC Power?
It depends on your priorities. If you want a practice amp for your bedroom, an AC power supply is all you need. If you're often on the move, you definitely need an amp that runs on batteries. Fortunately, most of today's mini amps can run in both ways.
Verdict
The offer of mini amps is huge in today's market. It's hard to find a major manufacturer that doesn't have such a model on offer. A good thing to know is that all of them are pretty good and that all you need to do is to determine your preferences.
If portability is your main concern, then models like Orange Crush Mini or Marshall MS2 are the amps for you. If you care more about tone diversity and overall versatility, then you should probably consider models like Fender Frontman or Roland Micro Cube.
We hope this short guide will help you pick the best mini amp for you. If you have any questions, feel free to write in the comment section.
Featured Image Credit (Left fender image: "Mini-amplifier and headphones" by dgoomany is licensed under CC BY-SA 2.0)