The 10 Best Free Music Apps (2023)
Listening to good music is one of the best ways to relax and escape the stresses of daily life. There are plenty of great music apps out there that allow you to listen to your favorite tunes without spending a dime.
With so many free music apps available, it can be hard to know which one to choose. To help you out, I've put together a list of the 10 best free music apps for Android and iOS in 2022.
1. Spotify
Get it on: Google Play (Android) | App Store (iOS)
Starting off the list is the most popular music streaming app – Spotify. It has a massive library of over 80 million songs that you can listen to for free with ads. You can create your own playlists, listen to pre-made ones, or listen to the radio. Though keep in mind that you're going to get a better listening experience on the paid version.
If you upgrade to premium, you will get an ad-free experience and offline listening. Spotify provides different subscription options at different prices. The Individual plan costs $9.99/month and includes ad-free music, offline play, and on-demand playback for one account. The Duo plan costs $12.99/month for two people living together, while the Family plan costs $15.99/month for up to six members living under the same roof. The Student plan costs $4.99/month and includes ad-free music, offline play, and on-demand playback, as well as access to Hulu (with ads) and Showtime.
2. Pandora
Get it on: Google Play (Android) | App Store (iOS)
Pandora is one of the oldest and most popular music streaming services. It's simple to use and has a huge selection of songs. You can create custom stations based on your favorite artists or songs, or you can browse Pandora's genre-based stations.
Just like Spotify, it is free to use. But if you want to avoid ads, you can sign up for Pandora Plus or Pandora Premium.
Pandora Plus offers unlimited skips and limited offline streaming for $4.99/month. With Pandora Premium, you get the same features as Plus but with unlimited offline streaming and playlist creation for $9.99/month.
3. Apple Music
The next app on the list is Apple Music. This is a music streaming service that is developed by Apple Inc. It's already pre-installed on all iOS devices, which makes it really convenient to use. Android users can also enjoy using the app because it's available on the Google Play Store.
With this app, you can access over 90 million songs and over 30k playlists. You can also create your own custom playlist, or listen to ones that have already been created by experts.
You can also upgrade to premium to enjoy ad-free listening, offline mode, and unlimited skips. The price starts at $9.99.
4. Amazon Music
Get Amazon Music.
Amazon Music is a free music streaming app for Amazon Prime members, who also get access to ad-free music and unlimited skips. Non-Prime members can still use the app to listen to stations and playlists, but they'll have to sit through ads.
They charge $8.99/month for Prime members and $9.99 for non-Prime users. They also have an annual plan that costs $79.
5. YouTube Music
Get it on: Google Play (Android) | App Store (iOS)
If you're a fan of music videos, then you'll love YouTube Music. This app offers a huge selection of songs, both official music videos and user-uploaded content. You can enjoy its features like creating custom playlists, listening to ad-supported radio stations, and subscribing to premium for an ad-free experience.
A lot of people compare it to Spotify because of its similarities in interface and overall user experience. It is available for download in over 100 countries worldwide.
6. Soundcloud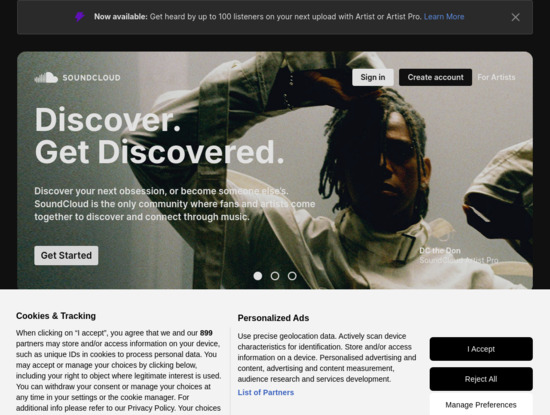 Get it on: Google Play (Android) | App Store (iOS)
This next streaming app is different from your typical music streaming app because it's geared more towards independent and up-and-coming artists. Soundcloud has always been a great platform for finding new music.
The app gives you access to a massive catalog of music, with new tracks being added all the time. You can follow your favorite artists to make sure you never miss a new release, and you can even create your own playlists.
Its premium features are targeted at artists who want to promote and raise engagement for their music.
7. Deezer
Get it on: Google Play (Android) | App Store (iOS)
Deezer is a music app that has a fantastic feature called "Flow," which creates a personalized playlist for you based on your listening habits. You can also explore Deezer's editorial playlists, which are updated frequently and always have something fresh to offer.
Deezer also stands out for its excellent sound quality. In fact, it's one of the few music streaming services that offer lossless audio (FLAC). If you're an audiophile, Deezer is definitely worth checking out.
8. Tidal
Get it on: Google Play (Android) | App Store (iOS)
Just like any music streaming app, with Tidal, you can create a custom playlist, listen to songs offline, and more. You can also get a free 30-day trial of their premium service which gives you access to exclusive content, ad-free listening, and more.
Tidal is a great free app to consider, mainly because of the excellent audio streaming quality. For audiophiles, Tidal is a goldmine for excellent music of the highest quality.
9. iHeartRadio
Get it on: Google Play (Android) | App Store (iOS)
The next on this list of the best free music apps is iHeartRadio. It has been around for quite some time now and it's one of the most popular free music apps available.
The app has a clean and simple interface that is easy to use. It also has a huge range of features, including the ability to create custom stations, listen to live radio, and more.
It has a unique feature where its users can either like or dislike a song, and iHeartRadio will play more songs similar to the ones that you like and fewer of the ones you don't. This is a great way to discover new music that you may enjoy.
10. TuneIn
Get it on: Google Play (Android) | App Store (iOS)
TuneIn is a free music app that not only features different radio stations from around the world but also lets you listen to podcasts and other audio content. You can search for specific radio stations or browse by genre, country, or city.
If you're a fan of sports, you'll also be able to find and listen to live sporting events on TuneIn. You can even create a custom station based on your favorite artist or song.
Final Thoughts
That sums up the list of the 10 best free music apps in 2022. While all these apps have premium versions that allow for more unrestricted access and an enjoyable experience, they are free to use with the primary version. Among the best are Spotify, Pandora, Apple Music, and YouTube Music.