The 10 Best Electronic Drum Sets (2023)
When looking for an electronic drum set, you're going to want something that has great sounds, good sensitivity, is quiet to play on, and doesn't sound like a clunky toy. Fear not, we've got you covered!
Whether you are looking for a basic set to get started or a more advanced model with tons of features, I've put together a list that will suit all budgets and skill levels. Let's dive into the world of electronic drum sets!
My main recommended electronic drum set is the Roland TD-27KV2. This kit is perfect for experienced musicians looking for a high-quality electronic drum set.
As a second recommended product, I suggest the Alesis Nitro Mesh Kit. Making it a great choice for beginner to intermediate drummers looking for a decent playing experience.
I used to be very skeptical of electronic drum sets because I was a bit of a traditionalist who loves acoustic drums, but I've come to really appreciate how far the technology has come. Now, electronic drums are a total game-changer for me when it comes to practice.
The 10 Best Electronic Drum Sets (2023)
Let's get into it!
An extremely well-built electronic drum set with a fantastic snare and ride
This kit provides amazing response and an authentic drumming experience.
View Price at Sweetwater
This amazing kit offers incredible variety and customization, surpassing older models. I appreciate its great sound quality and endless options for studio-grade sounds. With many drum sounds and customizable kits, the TD-27KV2 will fuel your love for drumming and inspire endless creativity.
One of the most noteworthy features of this drum kit is the custom sampling option, which allows you to import your own sounds and create unique drum kits that suit your style of play.
This feature not only helps you to create a personalized drumming experience, but it also enables you to experiment with different sounds and explore your creativity. Additionally, the Bluetooth connectivity feature of the TD-27KV2 lets you stream music from your phone or laptop, giving you the freedom to play along with your favorite songs.
Pros
Excellent sound quality and realism
A great library of studio-quality sounds
Easy Bluetooth configuration
Highly customizable module
Durable stainless steel construction
Cons
The module is not quite as good as the TD-50, but it's still very capable
It's relatively pricey
Hi-hat stand, throne, and bass pedal not included in most cases
Electronic drum kits with mesh heads are a game-changer, and this kit indeed provides an enjoyable, realistic playing experience. It's great value and suitable for beginners. No more stiff rubber pads that used to come standard with entry-level kits – instead, experience a more engaging drumming session with these durable, acoustic-like mesh heads.
The Nitro Drum Module offers numerous options, including 40 pre-set drum kits that should not be overlooked. To improve your drumming skills, there are 60 interactive tracks included, allowing you to practice with various styles and tempos.
Pros
Affordable cost
Double bass compatible
Suitable for beginners
Mesh heads provide a realistic feel
Expandable set (extra cymbal and tom allowable)
Large sound bank (385 drum and cymbal sounds)
USB-MIDI and MIDI In/Out ports for connectivity
Cons
Small size for tall drummers (6'2″ and above)
Single-zone cymbals
It doesn't have the response or sound of higher-end e-drum kits.
Lack of seat and headphones included in most cases (unless you buy it as part of a bundle)
This is simply one of the best electronic drum sets ever created. This top-of-the-line electronic drum set includes an amazing TD-50X sound module with Roland's prismatic sound modeling. With over 900 high-quality sounds and ready-to-use presets, you'll experience famous and modern drum sounds, all carefully adjusted for a rich, powerful, and dynamic audio experience.
The 18-inch KD-180 bass drum has a beautiful birch wood shell and an advanced air-damper mechanism, which adds some amazing presence to this kit.
The digital snare, ride cymbal, and hi-hat on this electronic drum set offer high-resolution, multi-sensor triggering. You also get two rack tom pads and two-floor tom pads for ultimate control. With an easy-to-use interface and dedicated buttons, it's perfect for modern drummers.
Pros
Amazing triggering and response
High-quality materials
Next-generation TD-50X sound module
Multi-sensor triggering for unmatched performance
Over 900 premium onboard sounds
Massive selection of studio-grade effects, including EQs, compressors, reverbs, multi-effects, and more
Low latency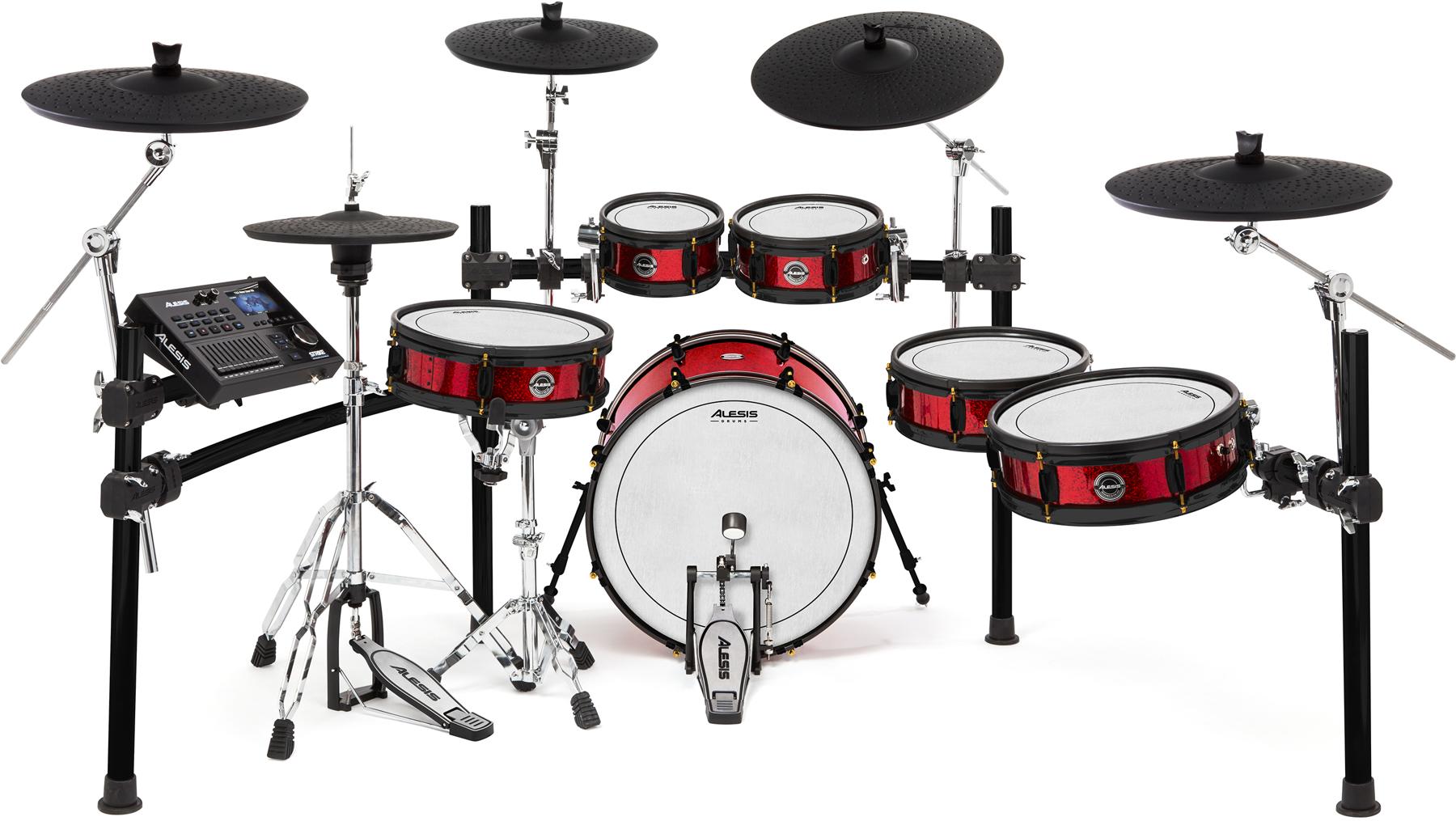 Right off the bat, it's important to note that the "SE (Special Edition)" version of this kit is far better than the previous Strike Pro kit. The special edition comes with improvements that make it a far better kit with substantially better build quality.
The Strike Pro module comes with 136 complete drum kits and over 1,800 multi-sampled sounds. The electronic drum kit offers immense value for its money.
The value and performance that you get from this electronic drum kit is exceptional. Though its construction isn't quite as solid as Roland kits in particular. The triggering of this kit doesn't quite measure up to Roland's high-end kits such as the TD-27 or TD-50 series. However, some drummers greatly prefer the sounds from this drum module, as there's such a wide selection of well-put-together sounds, which can honestly make up for slightly inferior triggering.
Pros
One of the best drum modules available
Major improvements in comparison to the original Strike Pro kit
Easy-to-use custom mixing options
Feels and plays like real drums
Suitable for experienced players
USB-MIDI and MIDI In/Out ports for connectivity
Cons
Triggers not quite as good as high-end Roland kits
Build quality not quite as good as high-end Roland or Yamaha kits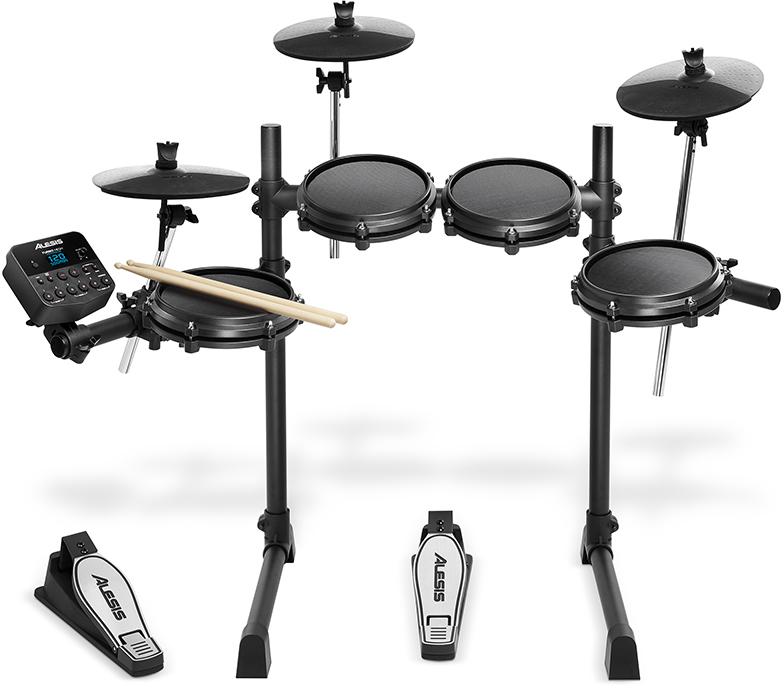 The Alesis Turbo Mesh Kit has all mesh drum heads, offering drummers the responsiveness they desire.
It includes an 8-inch mesh snare, three 8-inch mesh toms, and three 10-inch cymbals, which makes the kit versatile and customizable. With the Alesis hi-hat and kick pedals, drummers have many options available, allowing them to experiment with different styles and techniques.
In addition to the remarkable hardware, the Alesis Turbo Mesh Kit comes with a Turbo Drum Module filled with presets and learning tools. The module has 10 drum kits, over 100 curated sounds, and 30 integrated play-along tracks.
Pros
Responsive and feels like real drumheads
Ideal for beginners and casual players
Kick pedal is a lot quieter than kits with a kick tower.
USB-MIDI port for easy computer connection
Headphone output for quiet practice
Affordable price
Cons
Limited to 10 preset kits
Not very customizable
The kick switch pedal is not as good as a kick pad (but it's quieter)
The Roland TD-1K V-Drum Set is a very solid entry-level kit that has a good, but somewhat limited, drum module. With 15 diverse drum kits for various music styles, the TD-1K isn't just a one-trick pony.
I also like the TD-1K's compact design, which is great for practicing in small spaces or apartments. It features quiet, beater-free kick pedals and a PDX-100 10-inch mesh-head snare pad offering positional sensing and rim shot/cross stick functions.
While the TD-1K may look simple, it contains some good features to improve your drumming experience. However, it doesn't work with double bass pedals, which might not be suitable for those who play heavy metal or hard rock genres.
Pros
Great for practice, learning, and fun
15 expressive drum kits for various music styles
Beater-less kick pedal for low noise, suitable for home use
Built-in USB-MIDI interface for computer connectivity
Space-saving and adjustable design
Cons
Not suitable for double bass pedal users
Limited sound options and similar-sounding presets
The large two-zone mesh drum pads on this kit provide a genuine playing experience for both new and intermediate players. I appreciate how these pads offer a natural sound similar to traditional drum heads and make it easy to switch between various techniques and styles.
Featuring a sophisticated Command Drum Module, the kit is equipped with 74 preset kits and 671 high-quality drum and cymbal sounds. Multi-velocity samples ensure a lively performance, and the ability to upload custom drum samples via USB guarantees endless creative options for customizing your set.
Created for contemporary musicians, the kit has USB and 5-pin MIDI compatibility for simple integration with recording software, VSTs, and external sound modules. Additionally, MIDI In/Out ports widens performance potential, allowing connections with other devices like synthesizers and drum machines.
Pros
Great sound quality
74 kits & 671 sounds in the Command Special Edition drum module
Large mesh drum pads for a natural playing experience
Affordable and suitable for all skill levels
USB/MIDI connection for use with VST or DAW
Cons
Build quality not quite as good as the Roland models on this list
The TD-07KV V-Drums Kit offers a fantastic drumming experience with its high-quality sound module. The module captures the acoustic drums' essence with 25 preset kits, 25 user kits, and 143 instruments for various musical preferences.
The 8-inch PDX-8 snare pad provides plenty of tonal options with separate head and rim zones.
Roland's dual-layer mesh heads, found on both snare and tom pads, perfectly mimic real drums. They are ultra-quiet, enjoyable to play, and adjustable with a regular drum key. Together with the large crash and ride pads, this kit delivers a unique, dynamic playing experience.
Pros
Great feel on pads with mesh heads
Excellent for beginner & intermediate drummers
Onboard Bluetooth and USB connectivity
Deep sound editing tools available
Compact & space-saving design
Cons
Some issues with the hi-hat response
It's a bit pricey for what it is
Enhance your playing experience with this electronic drum kit that uses a top-notch sound engine borrowed from the TD-50 range for rich, powerful drum sounds. I appreciate its authentic feel and sound quality, which mimics acoustic drums.
This kit features a large 12-inch snare, hi-hat pads that require a proper acoustic-style hi-hat stand, and two crash cymbals with expansion options. The KD-10 kick pad helps develop foot control and pedal methods, and its compatibility with extra crash cymbals or a second snare allows for diverse performances.
This electronic kit includes coaching modes to improve your skills, an integrated recorder to review and save your performances, and compatibility with online tutorials and software for personalized learning.
Pros
Incredibly realistic hitting surfaces
Solid and well-built set
Responsive drum pads and cymbals
Wide range of sound customization options
Can be expanded with extra cymbals or snare
Low noise, suitable for apartments
Cons
Requires additional purchase of hi-hat stand and bass drum pedal unless it comes part of a bundle (not included)
A basic but solid e-drum that's set apart by its TCS head on the snare, which is a textured cellular silicone head, that provides an acoustic drum feel with less bounce compared to mesh heads.
Some drummers simply enjoy this a lot more than playing on mesh heads. It's all a matter of feel, but unfortunately, this kit only comes with one of them as part of the snare pad. That said, for anyone that loves Yamaha electronic drums, this is something to consider.
If you have a higher budget, you could consider the DTX6K3-X, which has 3 DTX pads for the toms, but that will likely be outside of the price range for a lot of people.
Pros
The TCS snare pad is the biggest pro of this kit
Good sound quality
Versatile sound customization options
Great build quality
Suitable for beginners and experienced drummers
Cons
Rubber pads on the toms
A bit overpriced for what it is
What to Know When Buying an Electronic Drum Set
1. Mesh Heads vs. Rubber Pads
When selecting an electronic drum set, one significant decision is choosing between mesh heads and rubber pads. Mesh heads, like those in the Roland TD-27KV2 Electronic Drum Set or Alesis Drums Nitro Mesh Kit, offer a more realistic feel and higher sensitivity than rubber pads. However, rubber pads, such as those in the Roland TD-1K V-Drum Set, can be more durable. That said, both types of pads tend to have a very long life.
2. Pad and Cymbal Options
Consider the trigger sensors, pad diameter, and choke cymbals when evaluating pad options. For example, the Roland TD-50KV2 V-Drums Electronic Drum Set offers exceptional triggering and helps mimic the feel of playing on acoustic drums. Additionally, cymbal chokes, like those in the Alesis Strike Pro SE kit, allow for great control over your cymbal sound and dynamics.
3. Drum Module Features and Expansion Possibilities
Understanding the drum module's features, sound quality, and expansion possibilities is crucial. The Alesis Drums Command Mesh SE Kit, for example, offers a high-quality sound module with USB MIDI connectivity and over 600 electronic and acoustic drum sounds. Additionally, consider whether the module supports custom samples, like the Roland TD-17KVX-S V-Compact Series Electronic Drum Kit, which can load custom samples for a more personalized drumming experience.
4. Noise Levels and Space Requirements
Noise levels and space requirements are essential factors to consider, especially if you live in an apartment or have limited practice space. Electronic drum sets, like the Roland TD-07KV Electronic V-Drums Kit, offer a compact design and Bluetooth connectivity for easy integration into your living or practice environment.
5. Durability and Brand Reputation
Lastly, consider the brand reputation and expected durability of electronic drum sets based on customer reviews and warranty offers. Trusted brands like Roland and Yamaha are known for their quality products, and Alesis is known for offering a great amount of value. For example, the Roland TD-50KV2 offers a faithful reproduction of real sound and ambiance, ensuring a reliable and satisfying drumming experience.
6. Setting a Budget
Now, let's talk budget. Once you know what you're after in an electronic drum set, it's time to think about how much you're willing to spend. Make sure you prioritize the features that are important for your needs. This way, you'll be able to narrow down your choices and make an informed decision that fits your budget.
You might not need to shell out for something as pricey as the TD-50KV2. Perhaps you could connect a more modest e-drum kit to your computer and trigger drum VSTs instruments instead to get a quality sound. It's a more complicated setup, but it might work if you're looking to get quality electronic drum sounds in your recordings.
7. Practice vs. Live Use
Think about how you'll use your electronic drum set the most – for practice or live performances. If it's practice, look for features like different practice exercises or a headphone jack for quiet playing. But if you'll be playing live, focus on features like build quality and a kits that offer great presence on stage.
Verdict
The Roland TD-27KV2 is my main recommended electronic drum set. Its superior sound quality, realistic feel, and advanced features make it the perfect choice for any experienced or aspiring drummer.
If you're interested in a more affordable option that still delivers exceptional performance, my second recommended electronic drum set is the Alesis Drums Nitro Mesh Kit. Its natural response and perfect feel make for an immersive drumming experience, while its USB MIDI connectivity allows for seamless integration with your favorite music software.