The 5 Best Audio Interfaces for Mac (2023)
Are you looking for an audio interface for your Mac? You can get high-quality audio recording and monitoring thanks to these external devices with either USB or Thunderbolt connectivity.
They have microphone preamps, inputs for connecting instruments, headphone preamplifiers, MIDI signal management, etc. In short, it's the nerve center of your home studio! But which one do you choose?
My recommendation as the best audio interface for Mac is the Universal Audio Apollo Twin MKII Duo, while the Focusrite Scarlett 4i4 3rd Gen is a more affordable option that still provides good audio quality.
The 5 Best Audio Interfaces for Mac (2023)
Let's compare these in more detail.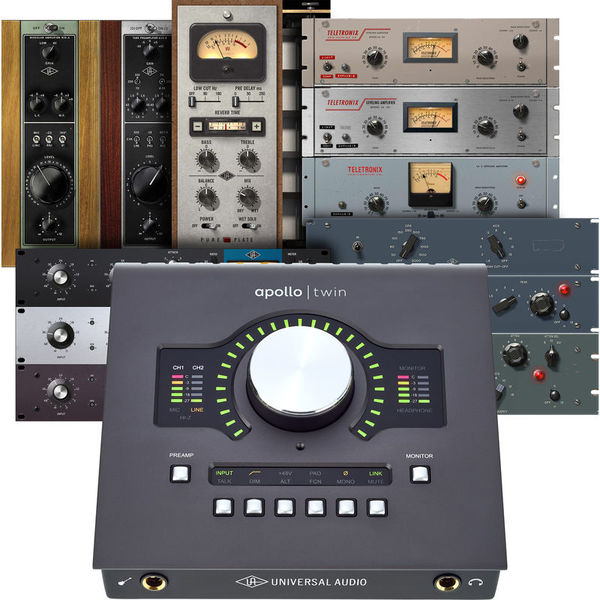 The Apollo Twin MK 2 is an audio interface that offers high-end conversions and many features all in a robust construction with minimalist aesthetics.
Pros
High-end converters with a dynamic range of 127 dB
Low level of distortion and noise
Real-time recording and processing of sound
Cons
Thunderbolt cable not supplied with the interface
Universal Audio are heavy hitters in the industry of audio interface. Their Apollo 8, Apollo 8p, and Apollo 16 are all amazing and capable interfaces, but less useful for those that don't need such a huge variety of connections, or for those that want a compact interface.
The small solution to this is the Apollo Twin, which works with a Thunderbolt connection—a very useful feature for Mac users!
| | |
| --- | --- |
| Number of Inputs | 2 Mic/Line, 1 Instrument |
| Number of Line Outputs | 4 |
| Number of Headphones Outputs | 1 |
| USB Bus-Powered? | No |
| Phantom power? | Yes |
The dark metal color goes well with the new MacBooks. The converters have also been slightly improved.
A talkback microphone has been integrated and new monitoring functions have been added to the hardware.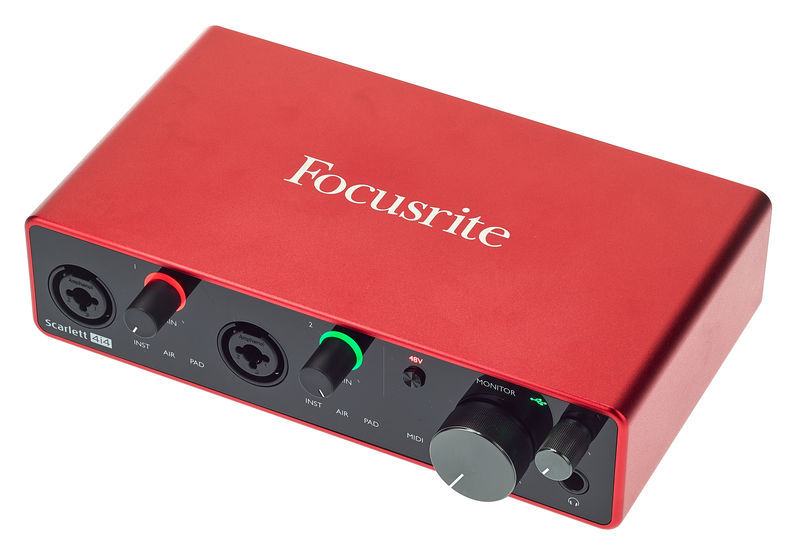 Focusrite are very well-known for creating very decent audio interfaces for affordable prices. Like its predecessors, this one offers a good sound quality, ease of use, and great portability. To these are added a greater number of outputs, connectivity, more efficient preamps, and good software.
The 3rd generation of Focusrite interfaces are also smaller and more compact than the previous generation.
Pros
Solid construction with great audio quality
Can record and mix up to 24 bit/192 kHz
Travel is made easy with its portability. It's also USB-bus powered.
"Air" function allows clear and detailed vocal and guitar recording
Loopback function allows recording of audio sources simultaneously
Cons
Preamps not as good as Universal Audio Apollo Twin MKII Duo when you push the gain very high
| | |
| --- | --- |
| Number of Inputs | 4 |
| Number of Line Outputs | 4 |
| Number of Headphones Outputs | 1 |
| USB Bus-Powered? | Yes |
| Phantom power? | Yes |
The Scarlett 4i4 is equipped with four analog I/Os. This makes it the extended successor to the Scarlett 2i4 (2nd Gen), which only has two inputs.
The "Air" function allows you to enter details, especially when recording vocals or acoustic instruments. A Loopback function is intended for podcast creators and streaming users.
The audio interface is good for a beginner and can be used directly to record guitar in the home studio.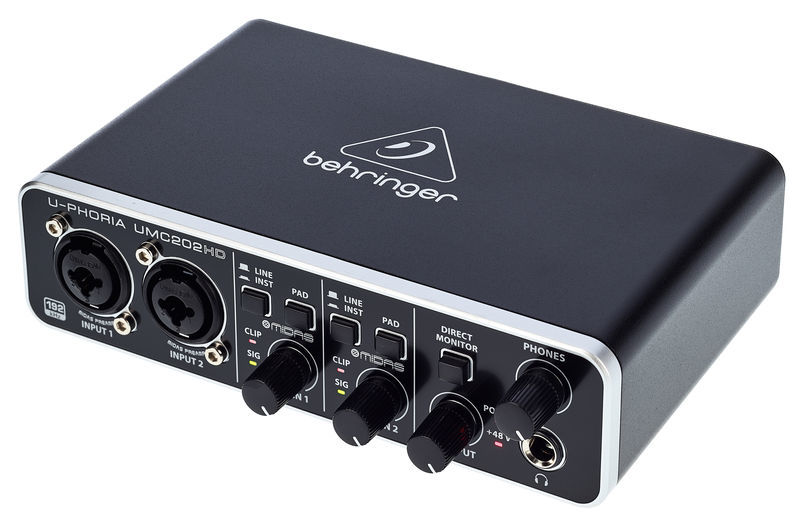 Although this is a 2-channel USB interface, just like the U-Phoria UM2, you immediately have the feeling of having a much higher quality piece of hardware in your hand.
Pros
Ideal for beginners
Decent microphone preamps for the price
Compatible with common recording software
Impact-resistant metal housing
Low-noise mic preamps in MIDAS design
Can also be used under Windows without a driver
Cons
Audio quality not on-par with higher-end pro audio interface (though you wouldn't expect it for this price)
The housing is made of powder-coated metal and has rounded corners. Only the front panel is made of plastic.
The Behringer U-Phoria UMC202HD is supplied with electricity via a USB connection. The UMC202HD uses the same converters and MIDAS-Design mic preamps as the U-Phoria UMC404HD.
These two interfaces are automatically recognized on the Mac.
| | |
| --- | --- |
| Number of Inputs | 2 |
| Number of Line Outputs | 2 |
| Number of Headphones Outputs | 1 |
| USB Bus-Powered | Yes |
| Phantom power | Yes |
This audio interface is easy to use and is compatible with all professional production software (Steinberg Cubase, Ableton Live, Avid Pro Tools, etc.)
4. PreSonus AudioBox USB 96
Great for beginners
Bus-powered USB audio interface with Studio One Artist DAW software.
View Price at Amazon
Simple and practical, the PreSonus AudioBox USB 96 interface is good for beginners, but its quality and numerous functions will also satisfy the most discerning on a budget. Solid, but light, it will appeal, above all, to traveling musicians.
Pros
Good quality user interface at an entry-level price
Quite easy to use
Extensive recording kit for professional voice and vocal recordings
Easily transportable
Good option for beginners
Cons
No power ON/OFF button: you must unplug the USB cable to turn it off
The AudioBox is "bus-powered," so it gets its power from the computer, but only from the computer. This is because the interface does not have a separate power supply connection.
The PreSonus packs a license for your DAW Studio One Artist in its AudioBox Bundle.
| | |
| --- | --- |
| Number of Inputs | 2 |
| Number of Line Outputs | 2 |
| Number of Headphones Outputs | 1 |
| USB Bus-Powered? | Yes |
| Phantom power | Yes |
The PreSonus AudioBox USB 96 interface is especially suitable for beginner musicians on a low budget who want to start with a simple device.
It allows for basic recording needs for musicians as well as producers and podcasters. Its design makes it perfectly adaptable to travel while transporting it.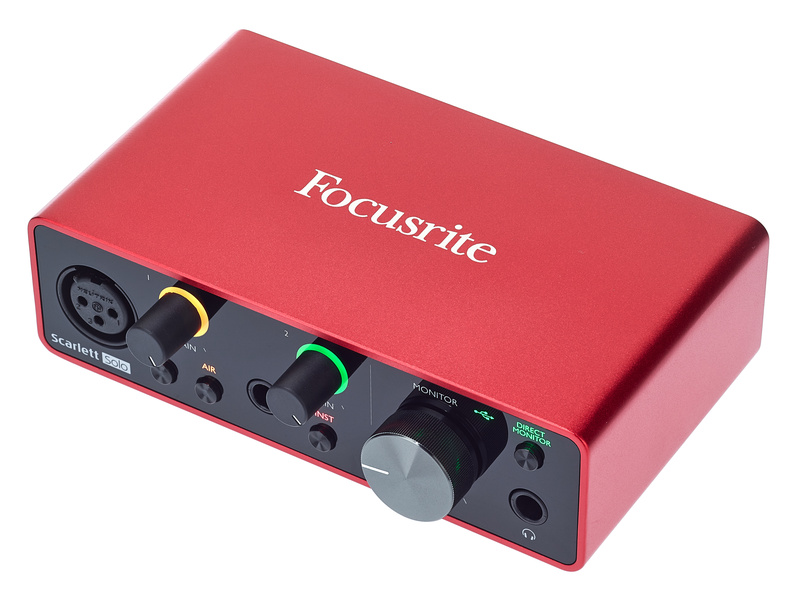 Focusrite's Scarlett Solo 3rd Gen. is a good-quality entry-level USB audio interface. It is recommended to anyone looking for an interface to record their voice or instrument at home.
Pros
Reasonable price
Good portability
DAW and additional plugins included
Cons
Only one mic and one line input
Externally, the third generation of the Scarlett audio interfaces differs little from its predecessor. A welcome innovation on the Scarlett Solo can be found on the back. Instead of cinch sockets, there are now symmetrical jack outputs for connecting studio monitors.
| | |
| --- | --- |
| Number of Inputs | 2 |
| Number of Line Outputs | 2 |
| Number of Headphones Outputs | 1 |
| USB Bus-Powered | Yes |
| Phantom power | Yes |
Best of all, this external sound card connects directly to your Mac or PC via the supplied USB cable. No external power is required—just plug your sound card into your computer and start recording.
In summary, this audio interface will be perfect for amateur producers concerned about their mobility. It will also be great for songwriters who accompany themselves with an instrument and a microphone.
Conclusion
The Universal Audio Apollo Twin MKII Duo audio interface offers good performance with a Thunderbolt audio interface. Housed in a compact and elegant housing, this audio interface will delight YouTubers and traveling musicians.
I think the Scarlett 4i4 3rd Gen offers the best value-for-money when it comes to home studio audio interfaces for Mac. Ideal for getting started in good condition, this entry-level offers everything one would expect from such an instrument: good audio quality, well-thought-out controls, and a quality DAW software bundle.
If you are looking for a lower-budget model, you will get decent sound with the U-Phoria UMC202HD. For an affordable price, you'll enjoy a sleek design, rugged construction, a comfortable grip, and sound quality commensurate with high-end models.