The 10 Best Audio Interfaces for Mac (2023)
Are you looking for an audio interface for your Mac? You can get high-quality audio recording and monitoring thanks to these external devices with either USB or Thunderbolt connectivity.
They have microphone preamps, inputs for connecting instruments, headphone preamplifiers, MIDI signal management, etc. In short, it's the nerve center of your home studio! But which one do you choose?
My top pick is the Universal Audio Apollo Twin MKII Duo. This is one of the best audio interfaces available on the market, featuring high-quality audio conversion and thunderbolt connection, excellent for Mac users.
My budget pick is the M-Audio M-Track Solo, which offers clear audio recordings for creating music, streaming, and podcasting. This user-friendly interface features switchable phantom power for condenser microphones and direct monitoring.
For this guide on the 10 best audio interfaces for Mac, I delved deeper into the specifications of each interface. I analyzed the number of inputs and outputs, preamp quality, resolution, latency, and compatibility with Mac operating systems. I also considered the sound quality, ease of use, and overall functionality.
The Best Audio Interfaces for Mac (2023) – At a Glance
Now let's move on to the full list: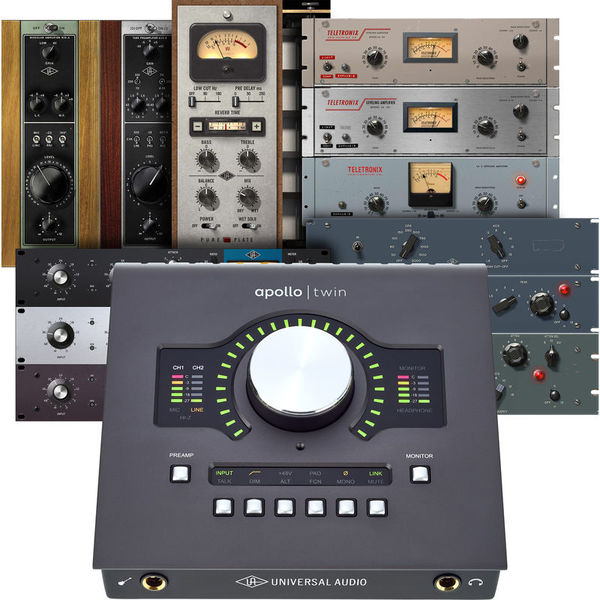 1. Universal Audio Apollo Twin MKII Duo
Top Pick - High-end, high-quality interface with excellent audio and build quality
One of the best audio interfaces available featuring high-quality audio conversion and thunderbolt connection.
View Price at Thomann

(Europe)
View Price at Amazon
The Apollo Twin MK 2 is an audio interface that offers high-end conversions and many features all in a robust construction with minimalist aesthetics.
Pros
High-end converters with a dynamic range of 127 dB
Low level of distortion and noise
Real-time recording and processing of sound
Sturdy build quality with a minimalistic design
Excellent included software
Universal Audio is a heavy hitter in the industry of audio interface. Their Apollo 8, Apollo 8p, and Apollo 16 are all amazing and capable interfaces, but less useful for those that don't need such a huge variety of connections, or for those that want a compact interface. The small solution to this is the Apollo Twin, which works with a Thunderbolt connection – a very useful feature for Mac users!
The dark metal color goes well with the new MacBooks. The converters have also been slightly improved. A talkback microphone has been integrated and new monitoring functions have been added to the hardware. Overall, this is a high-quality interface that delivers pristine tonal quality.
Specs
Simultaneous I/O: 10 x 6
A/D Resolution: 24-bit/192kHz
Number Of Preamps: 2 x mic, 1 x instrument
Phantom Power: Yes
With a 48 kHz audio resolution, the M-Track Solo is a desktop-friendly yet powerful device that offers fantastic audio clarity for recording and streaming purposes. It's perfect for musicians and podcasters like me who want professional-quality content without sacrificing sound quality.
Pros
Affordable and portable interface
Works well for basic recording and audio production
Includes a range of supported software
Zero-latency monitoring for easy recording
Works with a variety of devices and instruments
Crystal preamps for low-noise sound capture
Cons
Possible distortion issues at higher volumes
Plastic construction may feel cheap and not very durable
Touchy gain controls; jumps fairly quickly to clipping
The compact and portable design of this device makes it great for musicians and producers who are constantly on the move. It saves space in the studio and is also a dependable partner when traveling or setting up a recording session quickly. This level of convenience and portability is a standout feature of this interface.
This music production device is USB-powered, eliminating the need for another power source and making it a great companion for musicians. With easy adaptability and compatibility with both Mac and Windows systems, this versatile device allows you to create anytime, anywhere.
Specs
Simultaneous I/O: 2 x 2
A/D Resolution: 16-bit/48kHz
Number Of Preamps: 1
Phantom Power: Yes
3. Focusrite Scarlett 4i4 3rd Gen
Popular Option - Audio interface for PC/Mac with switchable air function
An audio interface that allows you to connect and record multiple instruments and line-level sources with high audio quality.
View Price at Thomann

(Europe)
View Price at Amazon
Focusrite is very well-known for creating very decent audio interfaces for affordable prices. Like its predecessors, this one offers good sound quality, ease of use, and great portability. To these are added a greater number of outputs, connectivity, more efficient preamps, and good software.
Pros
High-quality sound and performance
4 inputs and 4 outputs for versatile recording
Easy setup and user-friendly software
Sturdy build and aesthetic design
Compatible with various operating systems
3rd gen mic preamps provide professional sound quality
Cons
No on/off switch
Requires a computer for power supply
The preamps are not as good as on the Universal Audio Apollo Twin MKII Duo when you push the gain very high
The 3rd generation Focusrite interfaces are also smaller and more compact than the previous generation. The Scarlett 4i4 is equipped with four analog I/Os. This makes it the extended successor to the Scarlett 2i4 (2nd Gen), which only has two inputs.
The "Air" function allows you to enter details, especially when recording vocals or acoustic instruments. A Loopback function is intended for podcast creators and streaming users. The audio interface is good for a beginner and can be used directly to record guitar in the home studio.
Specs
Simultaneous I/O: 4 x 4
A/D Resolution: 24-bit/192kHz
Number of Preamps: 2
Phantom Power: Yes
The PreSonus Studio 24c is a small and compact audio interface with a very attractive price tag, making it great for on-the-go musicians and producers who don't want to spend too much yet get decent quality. Its ease-of-use design saves users from having to deal with extra cables and power supplies when setting up their mobile studio.
Pros
Extremely portable
Quality XMAX-L mic preamps
Low-latency monitoring
Excellent included software
Durable, compact form factor
24-bit/192 kHz recording capability
Cons
The headphone jack is on the rear of the device
Knobs on the right side may feel cluttered for some
May require additional preamp for certain microphones
What makes this audio interface unique, and what I enjoy, are the two XMAX-L solid-state mic preamps. These quality preamps make sure your recordings are clear and detailed. The quality digital converters support 24-bit/96kHz recording and playback, providing a solid end result.
The audio interface provides not just two channels for instruments or line inputs, but also MIDI I/O for easy connection to keyboards and controllers. Plus, it includes Studio One Artist and Ableton Live Lite DAW software, as well as the Studio Magic Plug-In Suite. This is great to immediately start recording, editing, and producing, and it even has a dedicated mixer knob.
Specs
Simultaneous I/O: 2 x 2
A/D Resolution: 24-bit/192kHz
Number of Preamps: 2
Phantom Power: Yes
Although this is a 2-channel USB interface, just like the U-Phoria UM2, you immediately have the feeling of having a much higher quality piece of hardware in your hand. The housing is made of powder-coated metal and has rounded corners. Only the front panel is made of plastic.
Pros
Ideal for beginners
Decent microphone preamps for the price
Compatible with common recording software
Impact-resistant metal housing
Low-noise mic preamps in MIDAS design
Can also be used under Windows without a driver
Cons
No RCA port/aux input
The phantom power switch is on the rear panel
The direct monitor is split into left and right channels
Audio quality is not on par with higher-end pro audio interface
The Behringer U-Phoria UMC202HD is supplied with electricity via a USB connection. The UMC202HD uses the same converters and MIDAS-Design mic preamps as the U-Phoria UMC404HD. These two interfaces are automatically recognized on the Mac.
This audio interface is easy to use and is compatible with all professional production software (Steinberg Cubase, Ableton Live, Avid Pro Tools, etc.). This interface delivers great quality with 24-bit/192kHz resolution and all this is available for a very affordable price.
Specs
Simultaneous I/O: 2 x 2
A/D Resolution: 24-bit/192kHz
Number of Preamps: 2
Phantom Power: Yes
The MOTU M2 Audio Interface has a low-latency design thanks to its 2.5ms round-trip speed. This highly-rated device ensures smooth monitoring of live inputs and very low delay at 96kHz with a 32-sample buffer. It delivers a clear sound and low-delay performance, providing a truly smooth recording experience.
Pros
Audiophile quality at a reasonable cost
Easy setup with various operating systems
Low latency for live monitoring
Full-color LCD with detailed meters
Solid build quality and sleek design
High-quality preamps with a quiet noise floor
Cons
Windows driver issues for some
The headphone preamp volume is a bit low
The recording process with this interface is made easy with the full-color LCD display, featuring detailed level meters for all input and output channels. Easily adjust your volume control and get precise feedback with this high-resolution display.
The MOTU M2 even has very useful loopback channels. You can easily send your computer signals back to the host, making your audio transfer process simple. With its stylish design, lightweight portability, and easy USB connectivity, this audio interface allows for efficient and hassle-free recording.
Specs
Simultaneous I/O: 2 x 2
A/D Resolution: 24-bit/192kHz
Number of Preamps: 2
Phantom Power: Yes
The Native Instruments Komplete Audio 2 delivers 192 kHz and 24-bit audio recording and playback quality. The stylish black color goes really well with this portable and minimalistic audio interface and to top it off, it comes packed with excellent software such as Ableton Live Lite, Maschine Essentials, Komplete Start, and iZotope Elements Suite.
Pros
High-quality audio at 192 kHz and 24 bit
Easy to setup and use
Compact and portable design
Comes with a variety of included software
Separate gain control for input and output
Cons
Low headphone output power for some studio headphones
Requires additional gain for low-output dynamic mics
Occasional clicking/popping noise in recordings
Users can utilize both combi-XLR/jack inputs and 48V phantom power, allowing for various microphone and instrument connections. This adaptability lets you explore different audio sources, record in stereo, and express your creativity.
I appreciate the stylish design and user-friendly controls of this device. You can listen to the playback while recording in real-time thanks to the easy-to-use blend input/host function. This feature solves common latency problems during recording sessions, allowing for more precise adjustments on the fly.
Specs
Simultaneous I/O: 2 x 2
A/D Resolution: 24-bit/192kHz
Number of Preamps: 2
Phantom Power: Yes
Ultra-portable and bus-powered for recording on-the-go
A compact and portable audio interface that features 2-in and 2-out simultaneous I/O, Audient Console Mic Preamp, class-leading converters, and is bus-powered.
View Price at Thomann

(Europe)
View Price at Amazon
Small yet powerful, the Audient iD4 MKII offers USB-C 2-in/2-out connections for smooth recording and playback between instruments, mics, and your computer. Its light and portable design makes it easy to carry, great for recording ideas on the move. The sturdy metal construction is a major plus, naturally.
Pros
Decent audio quality
Professional preamps
Portable and compact design
Durable metal construction
USB-C and USB 3.0 compatibility
Comes with a software bundle
Cons
One-knob design can be limiting
No power button
Software quality could be improved
The Audient Console Microphone Preamp delivers good audio quality which is an excellent component from the famous Audient recording console. Combined with top-notch audio converters, you can capture every detail. This interface has a 24-bit/96kHz audio quality resolution which is less than most competitors, sadly.
Great for podcasters, content creators, and live streamers, the innovative audio loop-back feature allows for recording computer playback and mic input at the same time. This ensures a good final result. Additionally, its compatibility with Mac, PC, and iOS devices (iPad, iPhone) makes it suitable for various users and setups.
Specs
Simultaneous I/O: 2 x 2
A/D Resolution: 24-bit/96kHz
Number of Preamps: 1
Phantom Power: Yes
Focusrite's Scarlett Solo 3rd Gen. is a good-quality entry-level USB audio interface. It is recommended to anyone looking for an interface to record their voice or instrument at home. It delivers good sound quality with its 24-bit/192kHz converters.
Pros
Reasonable price
Good portability
Digital Audio Workstation (DAW) and additional plugins included
High-quality preamps with Air mode for improved vocals
High-headroom instrument input avoids clipping/distortion
Compatible with popular recording software
Cons
Only one mic and one line input
No MIDI support on the Scarlett Solo model
Volume may be lower than expected
The built-in third-gen Scarlett microphone preamp has a switchable air feature that adds more life to your vocals, making them stand out. Also, a welcome innovation on the Scarlett Solo can be found on the back. Instead of cinch sockets, there are now symmetrical jack outputs for connecting studio monitors.
And best of all, this external sound card connects directly to your Mac or PC via the supplied USB cable. No external power is required. Just plug your sound card into your computer and start recording. In summary, this audio interface will be perfect for amateur producers concerned about their mobility.
Specs
Simultaneous I/O: 2 x 2
A/D Resolution: 24-bit/192kHz
Number of Preamps: 1 x mic, 1 x instrument
Phantom Power: Yes
SSL consistently works to improve audio quality, and this USB audio interface showcases that. The SSL2 delivers good sound quality and audio playback due to its two top-notch microphone preamps with an outstanding 130.5dB EIN and 62dB gain. Users can enjoy recording sessions with low noise and clear sound.
Pros
Great sound quality
2 Class-Leading Mic Preamps
Legacy 4K Analogue Enhancement
High Current Headphone Amp
SSL Production Pack – Exclusive software bundle
Compatible with both Mac and Windows
Cons
Larger footprint compared to some competitors
Buttons may feel cheap to some
A strong headphone amplifier should not be overlooked. This USB audio interface comes with a very powerful headphone amp, as it delivers crystal-clear listening experiences, even with high-end studio headphones.
A distinctive feature of this audio interface is its 4K analog enhancement, taken from the iconic SSL4000 console series. This addition provides extra warmth, presence, and depth to your audio, giving it a sought-after professional touch. Lastly, I really like the 4K Analog mode which is comparable to top-quality analog outboard equipment.
Specs
Simultaneous I/O: 2 x 2
A/D Resolution: 24-bit/192kHz
Number of Preamps: 2
Phantom Power: Yes
Key Features and Specs to Look For in Audio Interfaces for Mac
When it comes to committing to an audio interface for your Mac, compatibility, audio quality, included software, and the number of inputs and outputs are just a few of the things you need to consider.
Compatibility with Mac OS
When considering compatibility with Mac OS for an audio interface, it's crucial to ensure that the chosen device is fully functional and seamlessly integrated with your Mac computer and its operating system version.
Some audio interfaces, such as the MOTU M2 and the Focusrite Scarlett 4i4 3rd Gen, have been specifically designed with compatibility in mind for Mac as well as Windows systems, ensuring that users can smoothly connect the device to their computer via USB and enjoy a hassle-free installation process.
Number and types of input-output connections
When considering an audio interface for your Mac, it's very important to take into account the number and types of input-output connections available, as this will determine the various instruments, vocals, and other audio sources you can record concurrently.
Audio interfaces, such as the M-Audio M-Track Solo and the Focusrite Scarlett 4i4 3rd Gen, offer different input-output options, such as a single combo Crystal Preamp for the M-Track Solo or four inputs and four outputs for the Scarlett 4i4. These types of connections, which may include XLR, Line, MIDI, or DI inputs, as well as line, headphone, or monitor outputs, ensure compatibility with a wide variety of audio equipment.
Audio quality and bitrate
When considering an audio interface for your Mac, audio quality and bitrate are essential factors to keep in mind. High-resolution audio with 24-bit depth and 192 kHz sample rate ensures that the interface captures every nuance, resulting in professional-grade recordings. Products like the PreSonus Studio 24c and the Focusrite Scarlett 4i4 3rd Gen boast such high-quality audio capabilities, allowing for a satisfying final output.
Ease of use and software integration
When choosing an audio interface for Mac, it is crucial to consider ease of use and seamless software integration. For example, the M-Audio 2 M-Track Solo offers a user-friendly interface compatible with both Mac and PC, featuring class-compliant recording and zero-latency monitoring, while the Focusrite Scarlett 4i4 provides a versatile tool that includes the Hitmaker Expansion and supports popular recording platforms like Ableton Live Lite and Pro Tools.
Budget and overall value
When considering budget and overall value, it's also essential to strike a balance between affordability and the quality and variety of features offered. A cost-effective option like the M-Track Solo offers an affordable yet versatile single combination input that's perfect for minimalistic setups, whereas products like the Focusrite Scarlett 4i4 or the PreSonus Studio 24c offer a more comprehensive range of inputs and capabilities for a slightly higher price.
Buyers Guide
For those looking to record, edit, and produce music and audio content on their Mac, choosing the right audio interface is a must. This comprehensive guide will cover all essential factors to consider, top recommendations, budget options, and other key information to help Mac users make an informed decision on the best audio interface for their needs.
Understanding the Audio Interface for Mac
An audio interface is a critical component in the music production process, allowing users to convert analog signals from instruments and microphones into digital signals that can be processed, edited, and recorded on a Mac. A high-quality audio interface is necessary for achieving professional sound quality and ensuring seamless integration with various audio software and hardware.
Connectivity and Compatibility with Mac Devices
When using an audio interface with your Mac, consider USB and Thunderbolt connections, as well as compatibility concerns with your particular device and accessories. Always ensure to check your Mac's device specifications and choose an interface that supports your device, such as the USB-C compatible PreSonus Studio 24c.
Matching Audio Interfaces with Your Audio Production Goals
Understanding your audio production goals is essential when selecting an audio interface. For example, Audient iD4 MKII might be an ideal choice for singer-songwriters and instrumentalists in need of an interface with an Audient Console Mic Preamp, while the Native Instruments Komplete Audio 2 is perfect for beat makers and producers due to its software bundle.
Future-Proofing Your Audio Interface Investment
To ensure that your audio interface remains relevant and compatible with future updates and expansions in Mac devices and software, consider investing in an interface that supports the latest connection types (such as USB-C) and one that is known for regular updates and good support, like Focusrite Scarlett Solo 3rd Gen or Solid State Logic SSL 2.
FAQs
1. What is an audio interface and why do I need it for my Mac?
An audio interface is a device that connects to your computer and allows you to record and play back high-quality audio using professional-grade equipment. If you are using a Mac for music production, an audio interface is essential for ensuring accurate sound capture and playback.
2. How many input/output channels do I need?
The number of input/output channels you need depends on your specific recording needs. If you record solo, a single-channel interface may suffice, but if you need to record multiple instruments simultaneously, you'll need an interface with more channels.
3. What is the best connection type for my Mac?
For Mac computers, Thunderbolt and USB-C are the preferred connection types. Thunderbolt allows for high-speed data transfer, while USB-C is widely available and compatible with most modern Macs.
4. Do I need a preamp with my audio interface?
An audio interface with built-in preamps will provide better sound quality than one without. If you plan on recording vocals or acoustic instruments, a preamp will ensure that the signal is properly amplified and clean for recording.
5. What is the best budget option for a Mac audio interface?
The Focusrite Scarlett 2i2 is a popular option that provides excellent sound quality for a reasonable price. It has two input channels, and preamps, and is compatible with both Mac and PC computers. However, the most budget-friendly option is the M-Track Solo.
Conclusion
I hope this list helps you find the perfect match for all your music recording and streaming needs. Ultimately the choice is yours, but whichever audio interface you choose, make sure it works for you and your unique music needs, and ALWAYS make sure that it is compatible with your Mac OS before you purchase one.
My top pick is the Universal Audio Apollo Twin MKII Duo, a pro-grade choice featuring high-quality audio conversion and thunderbolt connection, excellent for Mac users.
My budget pick is the M-Audio M-Track Solo. This affordable interface offers clear audio recording for creating music, streaming, and podcasting.