The 7 Best USB Condenser Mics (2023) for Sound Quality and Price
USB condenser mics are starting to grow on a lot of people particularly due to the exponential growth in their sound quality. They may have started as a more convenient alternative to XLR mics but there are a lot of great-sounding USB mics available today.
While the biggest selling point of a USB condenser mic is the ease of plug and play, it also needs to have a certain clarity and value for money. So, today, I'm going to look at the best USB microphones that offer great sound quality and are worth the price.
My top recommended USB condenser microphone is the Apogee Hype Mic, an overall great USB condenser mic with a built-in compressor feature and delivers clear recorded vocals.
My second recommended USB condenser microphone is the Blue Snowball. It's a small and budget-friendly mic that's great for personal use.
The 7 Best USB Condenser Mics (2023)
Let's compare these in more detail.
The Apogee Hype Mic is a USB condenser mic with a built-in compressor. The microphone sits on the higher-end scope of USB mics but boasts great specs and hails from a respectable company.
Pros
Built-in analog compressor
Great signal and quality performance with added level indicator
Portable mic with good tripod stand and pop filter
Zero-latency audio monitoring
Cons
Pricey for a USB mic

Only has Micro USB jack
The Hype Mic, while pricey compared to other USB mics on the market, supports only a Micro USB input so if you have a conventional USB cable, you would need an adapter.
On the plus side, this microphone offers superb clarity when recording, and the portability, along with a sturdy tripod stand, and pop filter result in an all-in-one great USB mic bundle. The compatibility is another factor worth mentioning as its device-friendly and supports all iOS devices.
| | |
| --- | --- |
| Frequency range | 50 Hz – 16 kHz |
| Audio sensitivity | 130 dB |
| Impedance | N/A |
| Polar pattern | Cardioid |
| Material | Aluminum |
The Hype Mic is a well-rounded USB condenser mic that is well worth the money. With zero-latency audio monitoring, portability, quality, and the compressor feature, this makes for the ultimate USB mic if you have the budget (and Micro USB or adapter).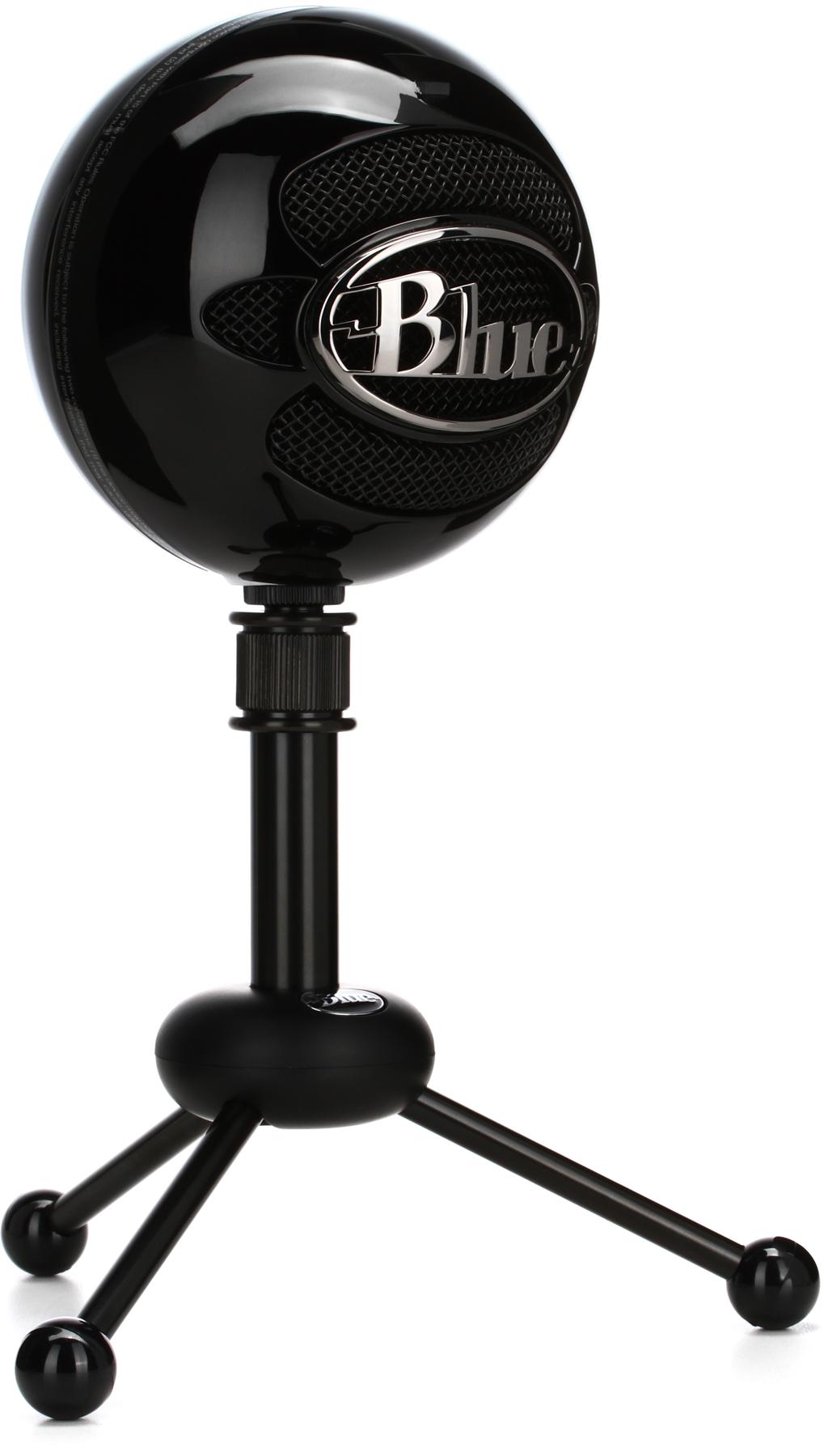 If you don't know about the brand, Blue is a very nice and affordable microphone maker that's particularly well-suited for content creators. The Blue Snowball, in particular, is a good budget USB mic.
Pros
A great option on a budget
The cardioid polar pattern has a nice pick-up
Good for vocal applications
Cons
Doesn't have a headphone output
For anyone currently using their in-device mic, this is a much better option. The sound quality and pick-up on this thing are quite good. Its cardioid polar pattern allows it to capture and reproduce your voice with great clarity.
The build is also decent for the price. At just one pound, it is quite the featherweight. The small blob-like mic is also fixed on a small tripod, giving it stability and sturdiness. So, when you're streaming your next video or on a video conference call, you'll sound so much clearer with the Blue Snowball at your disposal.
| | |
| --- | --- |
| Frequency range | 40 Hz – 18 kHz |
| Audio sensitivity | 120 dB |
| Impedance | 16 ohms |
| Polar pattern | Cardioid |
| Material | Plastic |
Longevity is not the strong point with the Blue Snowball, with a plastic build and relatively low impedance, this is still a good USB microphone for the given price. Another alternative that's worth noting is the Blue Snowball Ice version.

Another Blue microphone on the list, the Yeti is a higher-quality product than the Snowball while still being fairly affordable. It is also a great one for content creators, but those who do it more frequently or seriously.
Pros
Has a lot of applications
Four pickup patterns give you total control
Blue VO!CE software for effects and samples
Cons
There tends to be a lot of hype about the Blue Yeti simply based on it's brand and reputation, it's a good mic but keep your expectations fairly reasonable… it's a decent starter mic that's USB powered, and it's a condenser, so it will pick up a bit of background noise!
The Blue Yeti is a great and very popular starter mic. It comes with the Blue VO!CE software that has vocal effects, advanced modulation, and solid audio samples. You can do a lot of experimentation with it. 
The best thing about this mic is its four pickup patterns, cardioid, omnidirectional, bidirectional, and stereo. Add to this onboard audio controls, and you have complete control over the sound production.  
| | |
| --- | --- |
| Frequency range | 15 Hz to 22 kHz |
| Audio sensitivity | 120 dB |
| Impedance | 16 ohms |
| Polar pattern | Cardioid, Omni, Bidirectional, Stereo |
| Material | Metal |
The mic is nice and stable with a flat stand. You can also adjust the position and angle it to your liking. The whole thing makes it super convenient to use. A more affordable option is the Blue Yeti Nano version which is worth considering.
For all you professional musicians, wanting to record your vocals, the Rode NT-USB is an ideal microphone. It is also a great choice even if you're sticking to radio or podcasts and carries a fairly modest price.
Pros
Clean and sensitive pickup
Brilliant for recording in a controlled environment
The shock mount, pop filter, and windscreen reduce noise greatly
Offers wide connectivity
With a cardioid pickup pattern, it is very sensitive, picking up all the tiny details. It can handle frequencies between 20 Hz to 20 kHz with an audio sensitivity of 110 dB. There's also a pop filter included, which brings out your voice with much more clarity.
There are volume control knobs on the side, allowing you to tweak as you like. There is also a 3.5 mm headphone jack where you can monitor the audio without any latency. The USB is quite long at 20 ft, so you have better portability.
| | |
| --- | --- |
| Frequency range | 20 Hz – 20 kHz |
| Audio sensitivity | 110 dB |
| Impedance | JFET impedance converter |
| Polar pattern | Cardioid |
| Material | Metal with plastic accessories |
The hardware includes a decent at best tripod, a stand mount, and a pouch. It is compatible with both Windows and Mac, so flexibility is a non-issue. Overall, the value for the price is great considering the voice clarity you get when recording.
The AKG Lyra is a really handy mic for home use. It's great for podcasting, recording music, or YouTube videos with its Ultra HD sound. You can see the full review of this affordable yet quality USB microphone.
Pros
Four capture modes and control knobs for versatility
Internal Element Overload Protection gives higher clarity
Awesome compatibility with any device
Cons
Plastic knobs are kind of quirky
Pickup can be too sensitive
There are four capture modes on the AKG Lyra, wide stereo, tight stereo, front, and front & back. With these pickup patterns, you get a lot of freedom to record as you like. You have gain control and volume control as well as a mute button.
Another great thing about the AKG Lyra is the AKG Internal Element Overload Prevention. It's an internal shock mount and built-in sound diffuser that rejects a lot of noise and optimizes signal levels. So, you get a nice, clear sound out of your mic.
Check out our AKG Lyra review to learn about it in more detail.
| | |
| --- | --- |
| Frequency range | 20 Hz – 20 kHz |
| Audio sensitivity | 129 dB |
| Impedance | 16 ohms headphone impedance |
| Polar pattern | Front, Front+Back, Wide Stereo, Tight Stereo |
| Material | Plastic |
It is compatible with Windows, macOS, and Android. This makes it so convenient to set up wherever you are with whatever device you have. And with the headphone output, you can monitor your input free of any latency.
The Audio-Technica AT2020USB+ is a brilliant USB condenser mic that makes recording at home accessible with a moderate price tag. It gives you great quality sound with high definition clarity.
Pros
Up to 48 kHz sampling rate for great audio quality
Is built very well
Moderately affordable
Much of its sound can be attributed to its cardioid polar pattern. It has a great pickup, capturing all the little details in your voice. Another thing that's great about the AT2020USB+ is its incredible 16-bit, 44.1/48 kHz sampling rate.
You can control your volume, blend your pre-recorded audio with the microphone signal, and monitor your recordings in real-time. All this makes it a great pick for digital recording uses.
| | |
| --- | --- |
| Frequency range | 20 Hz – 20 kHz |
| Audio sensitivity | 144 dB |
| Impedance | 32 ohms |
| Polar pattern | Cardioid |
| Material | Metal |
The accessories include a pivoting stand mount, tripod desk stand, soft protective pouch, and 3.1 m USB cable. For the given price, the AT2020USB+ is a good USB mic with excellent sound properties.
The HyperX QuadCast S is not only a good-quality USB microphone, but it's also very aesthetically pleasing. It's all thanks to the customizable RGB lighting. The changing lights and LED indicators add a cool flair to your setup.
Pros
RGB lights look stunning
Offers four pickup patterns
Great sound clarity with shock mount and pop filter
As far as the performance of this mic is concerned, it is great for home use. Its four polar patterns, cardioid, omnidirectional, stereo, and bidirectional allow you to capture your audio in a lot of ways.
There's also an in-built shock mount that reduces vibrations. This, along with a pop filter, further elevates the sound clarity of your recordings. It also includes a headphone jack to monitor your audio while using the mic.
| | |
| --- | --- |
| Frequency range | 20 Hz – 20 kHz |
| Audio sensitivity | 120 dB |
| Impedance | 32 ohms |
| Polar pattern | Cardioid, Omnidirectional, Bidirectional, Stereo |
| Material | Metal with plastic accessories |
Using the control knobs, you can easily adjust the gain knob and volume knob while the headphone jack gives you the ability to monitor without any latency. Overall, the HyperX QuadCast S sports a modest price tag and brings value for money.
What is a USB Condenser Microphone and how does it work?
A USB condenser microphone gets its power supply from a USB cord, as opposed to an XLR cable. USB mics have an in-built analog to digital converter. Because of this, they do not require any external interface to translate the input signal.
USB mics are extremely convenient to use as all you have to do is plug in the cable and get started. And the USB cable comes along with the mic.
What is the difference between USB mics and XLR mics?
As far as the components are concerned, both USB and XLR mics share a lot of common ground. The biggest difference is the in-built A/D converter in USB mics. XLR mics require a 48v phantom power through an XLR cable to get your microphone working.
Another difference is the sound quality. While USB mics have gotten better with technological advancements, XLR mics are often better as you can build a more solid condenser mic when you have individual parts with an assigned purpose.
USB mics are more cost-efficient if your goal is personal or amateur use. XLR mics, on the other hand, are more well suited for professional or studio use.
What is the difference between a conventional USB mic and a Condenser USB Mic?
There are two main types of mics, dynamic and condenser. And the difference is in the capsule. The dynamic mic is used chiefly to capture loud sounds with a bigger wavelength, making it great for live performances and rugged instruments.
The condenser mic is great for softer audio like vocals or guitars. It picks up a lot more details than a dynamic mic, making it ideal for studio recordings.
What is the optimal positioning of a USB Condenser Mic?
As with all microphones, you want to keep a USB condenser mic at a slight angle from your audio source. That could be your mouth or an instrument.
Since condenser mics are quite sensitive, keeping them too close might result in a lot of low-end pickups, which doesn't sound very nice in the recording. On the flip side, if your mic is too far, your audio might get muffled in the background noise of your surroundings. The best position would be 4 to 12 inches from you. Try different distances and see what works for you.
What to look for in a USB Condenser Mic when buying?
Choosing a great mic, particularly a USB condenser mic isn't the easiest task. The best way to start is to go to an actual store and try it out on the spot. Naturally, look at the specs. A good mic should have a frequency range of 20-20,000 Hz. This way, it gives you a nice, balanced sound instead of a flat one.
You also want to see what or how many polar patterns are available. More polar patterns mean a wide range of applications.
Next, you want to get your money's worth. Although USB mics are generally on the cheaper side, no one knows your budget better than you. If your mic use is very limited, then you could make do with a budget mic. However, if you're serious about content creation, consider an expensive mic as an investment.
You also want your microphone to be durable. Go for a metal body instead of plastic as the former is almost always better. Apart from all this, you might want to look at additional features like a headphone jack for zero-latency monitoring, mic stands, and pop filters for better recording quality.
Verdict
USB microphones are a great option for those looking for an easy-to-use, cost-effective solution. They are perfect for personal or amateur use, and the sound quality has improved significantly in recent years. However, if you are looking for a professional-grade microphone, an XLR mic is still the better option. The list above lists some of the best USB mics on the market today.
My top USB condenser microphone is the Apogee Hype Mic. A higher-end USB mic compared to others but comes with a built-in compressor, quality bundle, and offers clear recordings.
My budget USB condenser microphone is the Blue Snowball, it's a nice, inexpensive option without compromising the sound quality.