7 Types of Keyboard Pianos (2023)
There are many different keyboard piano models today, making it confusing to find the ideal type for yourself. From the professional stage pianos to synths and MIDI keyboards, all of them serve well for different approaches and playing styles.
Understanding the different keyboard piano types can make the decision process much easier. If you know what you need and which type would suit your needs, finding your first keyboard piano won't be a hassle. When it comes to keyboard pianos, it is important to learn the benefits and the drawbacks of each type for different projects or new playing techniques.
The main reason to choose keyboard pianos over acoustic pianos is convenience and price. You will have much more versatility and portability with your instrument, but of course, the natural sound of acoustic pianos is on another level.
Let's dive into the realm of keyboard piano types to learn the advantages and disadvantages of each keyboard piano type.
7 Types of Keyboard Pianos (2023)
1. Digital Piano
The first keyboard piano type is the classical digital piano, which comes in three forms: grand, upright and portable pianos. The best-selling digital piano is the portable piano, thanks to its high portability, versatility, and price.
The portable digital piano is the most portable and affordable choice of the family. Upright and grand pianos feature similar sizes and look similar to acoustic grand and upright pianos. The digital versions are more portable and easier to maintain as they do not have strings and hammers to produce sound.
Digital pianos are equipped with analog sensors for keyboard action and different versions of chips that emulate the acoustic piano sound. Unlike acoustic pianos, digital pianos have extra features such as 128-voice polyphony, demo songs, lesson modes, MIDI recorder, different inputs and outputs for MIDI or computer connectivity, and more, for added versatility.
Notable Digital Piano model:
Roland FP-10 is one of the portable digital pianos that shines with its 88-Key hammer-action design with a progressively weighted piano touch. It has Bluetooth MIDI for wireless connection, onboard speakers, great sonic performance, and many extra functions such as app connection. It is a great choice for piano players after a great feeling and sounding portable keyboard piano for an affordable price.
2. Stage Pianos
The stage pianos are professional digital pianos specially created for professional musicians and live performances. Its portability and durability make it easy to move between stages, while the key feel and overall sonic performance are pro-level.
The main difference between a portable digital piano and a stage piano is mainly the quality of construction, materials, and overall performance. Stage pianos are sturdier and more portable, while the keys feel excellent, and the sonic performance is often way better than entry to mid-level portable digital pianos.
In short, stage pianos are created to withstand the way of playing and life of a professional gigging musician. The extra features and overall quality may depend on the brand and the model, but the common ground is that they are typically high-end and high-quality instruments.
Notable Stage Piano model:
Roland RD-88 is one of the first models that come to mind in the world of stage pianos. It features an 88-key design, ivory feel piano-touch keyboard, great onboard speakers, authentic sounds, and many extra features. It's a highly versatile, lightweight, and great-performing digital piano for professionals.
3. Workstations
Workstations are a relatively new keyboard piano type which are actually computers in a keyboard. They're designed for versatile music production in the studio or on the stage. With workstations, it is very easy to manipulate music by sampling, sequencing, recording, editing, and so on.
Workstations are designed to allow for maximum sound manipulation possible. They can do almost everything you can with a DAW on a computer or a smart device directly from the keyboard. These are some of the most versatile keyboard pianos and are all-in-one package solutions for musicians, arrangers, and producers of any level.
They are not the best for classic piano players as their keys are typically not designed to replicate the acoustic piano feel. Instead, they are more focused on music production functions and versatility.
Workstations have a varying amount of keys and features depending on the brand and model. But generally, for the price range, they are the best all-rounders instruments for music production.
Notable Workstation model:
One of the best-selling workstations is the Yamaha MODX6 model series. It comes with 61-key, 76-key, and 88-key designs. The feature-packed device comes with many functions like synths, Motion Control Synthesis, which combines different sound engines, and many more in a compact and lightweight design for great sound playback and complex sound design.
4. Synthesizers
Synthesizer keyboards have been around for a long time and are ideal for creating unique sounds, layering effects, and manipulating sounds. Synths are often used for creating special sounds and beats on the stage and in the studio with their digital or analog processing features.
Synths have many extra functions for sound manipulation that you can not find in standard keyboards like an effects library, filters, tones, samples, and many more. The difference between a synth and a workstation is that workstations are synthesizers with the addition of MIDI and DAW controllers and some extra features.
An important distinction here is between analog and digital synthesizers. Digital synths work with a numerically-controlled oscillator, so all the signals are digital. Digital synthesizers are relatively new devices with a keyboard and LCD display.
On the other hand, analog synths use a voltage-controlled oscillator with analog signals and are made up of sound-generating circuitry and modulators. The main difference for musicians is that analog synths provide a continuous signal with a better sound, while digital synths are more versatile and feature great extra functions.
Notable Synthesizer model:
Korg MicroKorg series is probably the best-selling model line in the synthesizer world. The relatively new member of the line, Korg microKORG XL+ 37, is a balanced combination of 37 mini velocity-sensitive keys, portability, battery power, a simple-to-use interface, and great sound for an attractive price.
It uses a 4-Voice Analog Modeling synth engine and has an 8-Band Vocoder with a gooseneck mic. With built-in effects, 128 editable presets, an arpeggiator, and 5 assignable real-time edit knobs, you have all the versatility and control over your sound.
5. Arrangers
Arranger keyboards are designed for solo artists who want to have a versatile keyboard at hand on the stage to play countless different sounds and instruments through their keyboard. Arranger keyboards have excellent versatility with different sounds and auto-accompaniment features.
Just like workstations, arranger keyboards are some of the most versatile devices for creating music. But, the difference is that arrangers are designed for live performances and feature the auto-accompaniment feature. So, arrangers are more suited to live performances where you need to create music for a whole band or orchestra on a single device.
Arranger keyboards provide different instrument sounds and effects, USB connectivity for recording or editing, and an auto-accompaniment feature to make you sound like a whole band. If you want a device to be a one-man show on the stage, arranger keyboards are the way to go.
Notable Arranger model:
One of the popular arranger keyboards is the Korg EK-50. It's a 61-key arranger keyboard with 64-voice maximum polyphony, a high-quality onboard speaker system, real-time recording function, 34 effects, and many more features to provide you with the tools you need to sound like an orchestra.
6. Electric Organs
Electric organs are designed to replicate the sound of the authentic organs found in churches. The compact electronic devices eliminate the need for big pipes to create that majestic sound. They come in different sizes and key numbers, allowing you to have the vintage organ sound.
There are many different organ models on the market, from the most basic and compact to large and complex ones that feature many effects and sound manipulation options like synthesizers. They have been around for decades and were often used in rock music during the 70s and 80s.
Notable Electric Organ model:
Yamaha YC61 is one of the eye-catching organ keyboards on the market. It features a 61-key semi-weighted waterfall keyboard with an initial touch design, VCM Organ-AWM2-FM tone generation modes, and component-level circuit behavior modeling for the most authentic old pipe organ sounds. Also, it has tons of control options and extra features for added versatility.
7. MIDI Keyboards
As the newest members of the keyboard piano family, MIDI Keyboards are used to sequence music and play virtual instruments on your computer. They do not have a sound of their own, so they transmit MIDI information between the device and computer to trigger the sounds on your computer.
Depending on your DAW and virtual instrument plug-ins, MIDI keyboards can be extremely versatile. You can think of a MIDI keyboard as an advanced mouse and computer keyboard designed for playing and producing music.
Their use extends to live and studio projects. They can be used to play any kind of instrument, manipulate sound with effects, control your DAW, create loops and do whatever you like.
There are many different MIDI keyboard models, from very basic 25-key models to 88-key advanced models for bigger control over your music.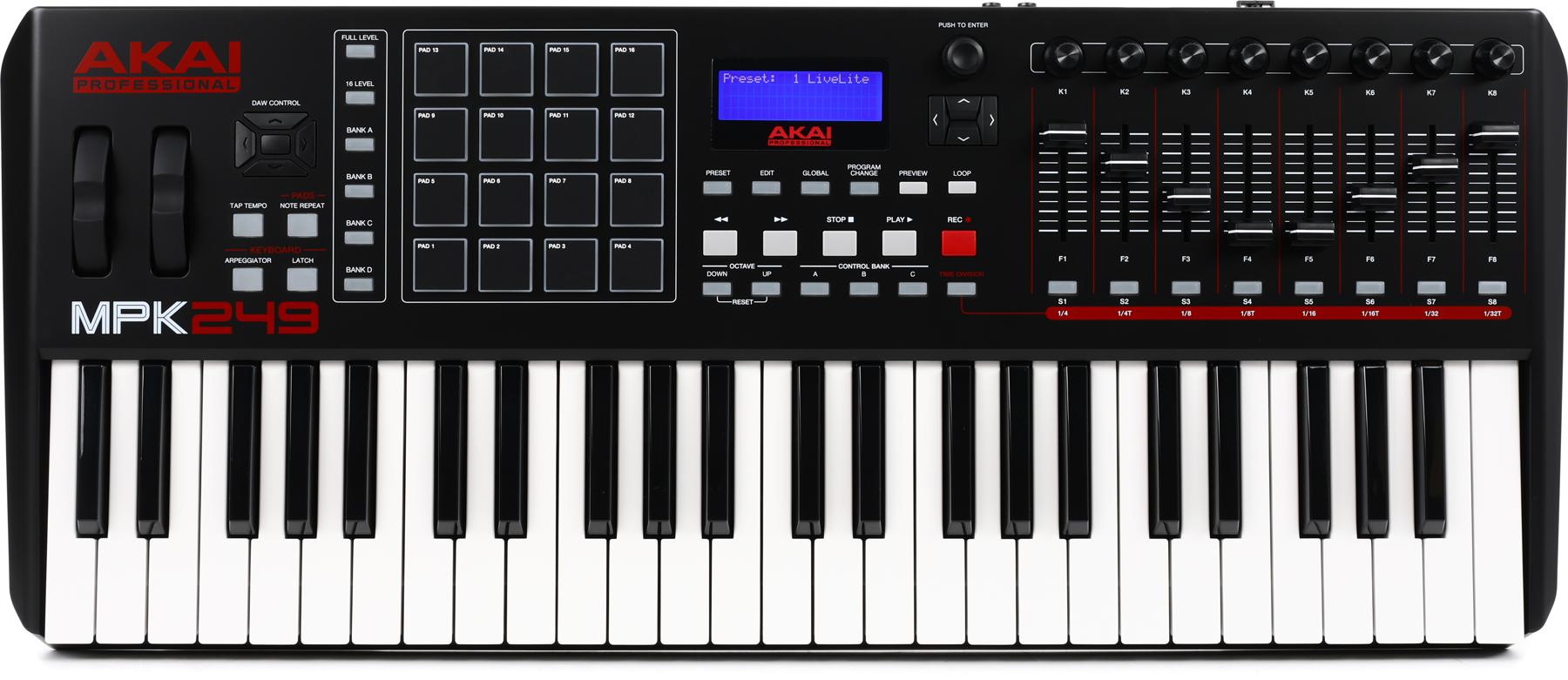 AKAI Professional MPK249 is a highly popular MIDI keyboard with 49-key semi-weighted, velocity-sensitive full-size keys. 16 RGB-illuminated MPC-style pads, and 24 assignable Q-Link controllers. It also has extra features such as arpeggiator, MPC Full Level, Tap Tempo, and Time Division. You get all the control you need to produce music on a compact MIDI keyboard.
Are there any other alternative keyboard pianos?
There are also roll-up piano models for piano players who like to have a highly compact and hassle-free way of playing the piano. If you want to learn more about roll-up keyboard pianos, you can check this article about them.
What are things to look for in a Keyboard Piano?
Specs heavily depend on the individual's needs and playing style when buying a keyboard piano. The specs to look for are all different when buying different types of keyboard pianos. Some important aspects are the number of keys, features, price, and build quality.
For example, if you are a classic piano player, you will need an 88-key weighted hammer action key to have the keyboard piano feel like an acoustic piano. However, if you are a music producer after a versatile MIDI keyboard for using the keys as a synth or virtual instruments, you do not need many keys, but extra features like a MIDI recorder, faders, pads, and similar.
Conclusion
There are many different types of keyboard pianos on the market which serve different needs and purposes. Now that you know the features, advantages, and disadvantages of each type, you know in which cases they perform well and in which cases they are not the best choices to go. So, you can choose the ideal keyboard piano type for yourself to start playing.
If you are an entry-level piano player who is looking to purchase your first keyboard piano, I recommend you go with a portable digital piano. This way, you won't get distracted by extra features and focus on learning to play with great-feeling keys.
If you are more focused on music production, you should check the MIDI keyboard to have the maximum versatility for the optimal price possible to use it in combination with your DAW to produce any kind of music.