5 Free GarageBand Alternatives for Windows
GarageBand isn't available on Windows. Any claims that you can get it working on Windows are essentially trying to emulate the Apple environment on your PC. It's generally a much better idea to use a program that works natively on Windows.
Fortunately, you have many other options that act as alternatives. In this article, we show you 5 of the best free alternatives to GarageBand.
1. Waveform Free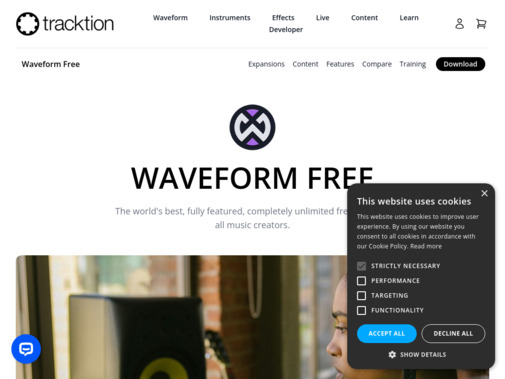 Go to website: Waveform Free
Waveform Free is a free version of the Tracktion Corp. Waveform 11 DAW. Since it's free, it doesn't have all the features of its older brother but still has the overall quality and versatility.
The main selling points are that it allows for unlimited use of third-party VST plugins. This is a nice feature as you can use as many plugins as you like. The best part is that they work in a sandbox system, meaning that if they start crashing, you can just turn them off without affecting the whole program.
Another great thing is its unlimited track count. This is a great feature for people who need many channels at once, as many of the free DAWs limit the max number of tracks in one project.
2. Cakewalk by BandLab
Go to website: Cakewalk by BandLab
Cakewalk is the free reincarnation of the old Gibson's Sonar, which was discontinued a few years ago. This is a full-sized DAW which offers a lot of opportunities to musicians. It can be a bit overwhelming for beginners as it has a lot of options for customization, but once you get the hang of it, you will love all the versatility you are getting.
With it also comes a very decent sound base of instruments that can be used for free with this DAW. Mixing and editing options are various and can give you a professional sound. This is new software developed by BandLab, so it's expected to have good support over the years and develop even further from now.
3. Audacity
Go to website: Audacity
Audacity has been the legend of the free DAWs for decades now. It's built to be a simple, rugged option for people who don't need top-shelf quality, but something to get their job done quickly and with quality.
Audacity has an unlimited number of tracks and can be used for pretty much everything, from music to podcast recording. It also has a lot of built-in effects, and you can run it on any computer, so you won't have to worry about your system requirements.
The only downside of Audacity is destructive editing—you can't change some effect later in the project without undoing everything you've already done. This is a bit frustrating for large projects, but if you have smaller projects, this is a perfect pick for you.
4. LMMS
Go to website: LMMS
LMMS is one of the newest additions to the market. It's its own program, such as Audacity, and not a lite version of some larger DAW. It has an intuitive and versatile interface, similar to the legendary Fruity Loops.
This software's unique feature is that it supports both VST and LADSPA plugins, giving you a vast range of free plugins to choose from. It also has its own pack of very nice plugins, instruments, and synthesizers you can use. The only downside of this program is that you can't record directly in it. You can use MIDI input, but there is no option for standard audio recording, which can be a bit of an issue for a home-based musician.
5. Ableton Live Lite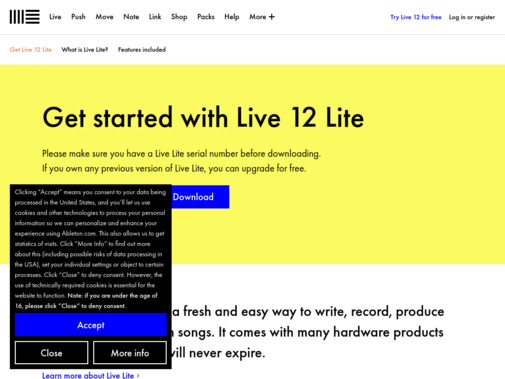 Go to website: Ableton Live Lite
Ableton Live Lite is the lite version of Ableton Live, one of the world's best-known DAWs. This is a toned-down version of its big brother, but for a beginner, it's a perfect tool to learn the basics. Advanced users can get to taste the feel of Ableton Live before committing to purchase.
In this, you will find an intuitive clip-based design that is somewhat different from other standard interfaces in the DAWs. Also, there are tons of preset tones, effects, and samples you can use straight out of the box. Ableton was one of the first DAWs to have automatic sample matching, so DJs quite often use it for this feature.
Why Is GarageBand Not Available on Windows?
As you probably know, Apple has a big selling point on exclusivity. As such, they have their own version of everything and tend not to make it available on devices other than their own. This has been a company policy since the beginning, ensuring that they can sell more computers and other devices with GarageBand as one of the selling points—getting a full-on DAW for free.
If you try to install GarageBand on your Windows, you'll see a lot of instructions and nothing more. There is no safe version of GarageBand for Windows. These instructions will either teach you how to use an Apple virtual machine on your Windows computer, emulating the macOS settings, or sell you an unsafe program which can be anything except GarageBand for Windows, as such a thing doesn't exist.
Is GarageBand for Windows Safe?
As we already established, there is no version of GarageBand for Windows. If anybody tries to sell you GarageBand for Windows, it's not a safe version, and you shouldn't rely on it or that person.
Why Shouldn't You Use VM Workarounds to Install GarageBand for Windows?
Using a virtual machine on Windows to run GarageBand is not ideal. Audio drivers may not work as well, and CPU performance may be much lower. Music production can take a lot of processing power. You should be running a DAW that works with your native system instead of using a VM.
Will Apple Ever Release a Version of GarageBand for Windows?
Never say never, but since their foundation, Apple and Microsoft have been in a very open war with one another, and it hasn't changed since. Given that information, it's not likely that Apple will ever release a version of GarageBand for Windows, but that can always change at some time in the future. However, for now, no such plans have even been mentioned.
Another reason why this is unlikely to happen is because Apple doesn't really need to compete with the dozens of DAW makers currently fighting over the Windows market. This way, Apple has more or less its own backyard and a much easier job at hand.
Is Logic Pro Available for Windows?
Logic Pro is the "older brother" of GarageBand. Since it's made by Apple, it's not available for Windows, and everything we said applies as for GarageBand.
Summary
We hope this article has helped you find some other alternatives if you don't have GarageBand at your disposal. Even though it is a good DAW, it's not the only one on the market, and you can find the same quality alternatives on other operating systems, both Windows and Linux, to name just a few.
Also, you should beware of people trying to sell you GarageBand for Windows, as there is no such thing, and it's probably just a scam. There are plenty of alternatives that aren't going to hurt you in any way and will do an excellent job.