The 10 Best Short Scale Guitars (2023)
As a musician, you know how important it is to have total control of your guitar. But if you've got smaller hands, navigating long-necked guitars can be a challenge. Short scale guitars are a great option for anyone with small hands, offering an easier grip and an improved playing experience.
The shorter distance from the bridge to the nut (the scale length) provides a comfortable fretting-hand reach that allows you to easily play complex chords and runs. Furthermore, short scale guitars typically have a warmer, rounder tone due to the lower string tension and the fact that the strings don't have to be stretched as tight.
But with so many short scale guitars on the market, it can be challenging to choose the right one. Considering factors like playability, tonal characteristics, and overall value for money, my main recommended short-scale guitar is Taylor Baby Mahogany BT2. The guitar features high-quality craftsmanship with great materials as well as high comfort and full voice, and great tone.
For the budget pick, I highly recommend the small body, nylon string guitar, the Cordoba Mini II M, as it has a unique voice that is mellow, soft, and balanced despite its small profile. For the price, it is a hard-to-beat short-scale guitar model with its soft and balanced tone as well as comfortable neck.
I love playing short scale guitars because they fit my smaller hands perfectly, allowing me to play comfortably for hours on end without experiencing any discomfort or pain. In fact, when I was a novice musician, I struggled to play for more than an hour or so before experiencing hand cramps and sore fingers. Switching to a short-scale guitar made a world of difference in my playing endurance and overall musical experience.
The Best Short Scale Guitars (2023) – At a Glance
Now let's move on to the full list:
1. Taylor BT2 Baby Taylor Acoustic Guitar
Top Pick - Impressive travel-size guitar with high-quality craftsmanship and a great tone
Versatile short-scale guitar with amazing tones and playing comfort.
View Price at Sweetwater
View Price at Amazon
Taylor Baby Mahogany BT2 shines with its tonal complexity and high-quality craftsmanship, as you would expect from a brand like Taylor. It features a mahogany top and neck along with layered sapele back and sides, along with an ebony fretboard. One of the innovative parts of teh guitar is its screw-on neck, which allows for better upper fret access.
Another great feature of the guitar is its highly smooth, slim, and comfortable neck. The satin finish feels great, and the pronounced curve on the back allows for great tones. The guitar is quite versatile, as it performs pretty well with different playing styles. While strumming, it has punchy mids and lows and sparkling high-ends. With fingerpicking, it has great articulation and separation. With gentle, articulate playing, it sounds pretty sweet with great harmonics.
In terms of volume, it does not come near to dreadnought realms but gives enough volume for many occasions, especially when its size is considered; there is nothing to complain about. Taylor Baby Mahogany BT2 is a perfect backup guitar, a road guitar, a modern parlor guitar, and a guitar for younger players. The guitar has a universal appeal and can satisfy any guitarist.
Pros
Good value for the price
Ideal for small hands
Great sonic depth and tone
Versatile for different playing styles
Lightweight and travel-friendly
Cons
Volume not as high as full-size guitars
Doesn't stay in tune for a long time
Specs
Body Material: Mahogany and Sapele
Fretboard Material: Ebony
Scale Length: 22.75″
Body Shape: 3/4 Dreadnought
String Material: Steel
Neck Material: Mahogany wood
Number of Strings: 6
2. Cordoba Mini II MH Nylon String Acoustic Guitar
Budget Pick - Comfortable and affordable small-body nylon string acoustic guitar with a soft and balanced tone
Affordable good quality acoustic guitar, ideal for younger players and traveling.
View Price at Sweetwater
View Price at Amazon
This travel-sized guitar has an all-mahogany body that creates a rich, full sound that is perfect for small performances and practices. Its lightweight and portable design is easy to carry, while the natural mahogany color makes it look great.
The guitar has a mellow, soft, and balanced tone and deeper body depth. It is built with all-mahogany woods, and the design is perfect for younger players. The 580mm (22 7/8″) scale length helps keep your guitar in tune like a full-sized instrument, and the Pau Ferro fingerboard ensures smooth playing.
The guitar comes in three options: Mahogany, Flamed Mahogany, and Ebony with Cutaway and Pickup. The Ebony version has a convenient cutaway for more range and a built-in tuner for perfect pitch.
While the sharp frets and uncomfortable action might affect the overall playing experience a bit, it can serve well with a good setup. For the price, the quality and the comfort you get are hard-to-beat, making this an ideal instrument for traveling and younger musicians.
Pros
Good value for the price
Ideal for young beginners
Lightweight and travel-friendly
Rich sound in a small body
22 7/8″ scale length for standard tuning
Cons
Some frets may be sharp
Takes time to stretch strings and maintain tuning
May need a good action setup
Wide neck may be difficult for some players
Specs
Body Material: Mahogany wood
Fretboard Material: Pau Ferro wood
Scale length: 22 7/8″
Body Shape: Mini II
String Material: Nylon
Neck Material: Mahogany wood
Number of Strings: 6
Country of Origin: China
3. Fender Player Duo-Sonic
Pro Pick - Compact electric guitar with unique full-sized sound and high-quality build
Fender-quality in a more compact body shape with a slick style and contemporary features.
View Price at Sweetwater
View Price at Amazon
Step on stage confidently with the Fender Duo-Sonic SS and its 24-inch scale length. This shorter scale is made for diverse playing styles and easy handling, providing great precision and comfort during performances. The lower string tension also lets you bend notes with ease, making this electric guitar perfect for any player. I enjoy its high-quality construction and playability.
With the classic Fender design with the Duo-Sonic's "C"-shaped maple neck, the comfort you get is impressive. This timeless and comfortable shape ensures top-notch playability. You can move smoothly across the 9.5-inch radius maple fretboard featuring 22 medium jumbo frets, giving you easy access to upper frets and seamless play. Your fingers will be grateful!
The Fender Duo-Sonic SS guarantees you won't sacrifice sound quality, thanks to its two single-coil pickups. These provide a strong, versatile sound that can handle various music styles. Effortlessly switch between the three-position pickup selector to find the ideal tone. This guitar can achieve a classic twang or a more modern sound, and the master volume and tone knobs offer excellent control for creating custom tones.
There is not much to complain about this guitar. Some users reported issues with fretwork on certain units, but it is a rare occasion and nothing to worry about. Overall, it is a versatile and great-sounding compact-sized electric guitar for small-handed players.
Pros
Quality build and craftsmanship
Impressive sound and playability
Aluminum pickguard
Short scale with good sustain
Lightweight design
Cons
Some issues with fretwork on certain units
Not recommended for everyone
High-end instrument
Specs
Body Material: Alder Wood
Neck Material: Maple Wood
Body Shape: Player Duo-Sonic
Scale Length: 24"
Pickups: 2 x Duo-Sonic Single-coil
Number of Strings: 6
Guitar Bridge System: 6-Saddle Strings-through Body Strat Hardtail
Pickup Configuration: Single Coil
Color: Desert Sand, Seafoam Green, Tidepool
4. Yamaha JR1 3/4-Size Dreadnought
Ideal For Younger Players - Affordable small-sized acoustic guitar with good quality woods, ideal for younger players
Authentic acoustic sound in a compact package with an attractive price tag.
View Price at Sweetwater
View Price at Amazon
Inspired by the famous Yamaha FG Series, this smaller 3/4-sized guitar has excellent craftsmanship and a compact design. It's great for beginners and those with smaller frames, making it easy for new guitarists to practice and improve their skills without feeling overwhelmed by a larger instrument.
With a spruce top and laminated wood body, this small guitar delivers genuine acoustic tones despite its size. The mahogany back, Nato wood neck, and rosewood fretboard all add to the rich, warm sound, making it suitable for various music styles like Folk, Rock, Blues, Pop, and R&B.
This junior guitar is not only convenient with its 21.25-inch scale length, but it also looks beautiful with its natural color finish. It comes with a gig bag, so young musicians can easily carry it to lessons, performances, and jam sessions, proudly showing off their progress on a guitar that's both impressive and practical.
As the guitar is quite small, it is not suitable for most adult players. But, for young beginners, it is a great instrument to start your guitar journey.
Pros
Perfect size for young players and smaller hands
Yamaha craftsmanship provides authentic acoustic tone
Great as a travel guitar
Sturdy construction
Good sound for its size
Spruce top and mahogany back for great looks
Comes with a gig bag for storage and transport
Cons
Some customers found it too small for adult players
May require a string change for improved sound quality
The gig bag could use an exterior zipper pocket for accessories
Specs
Top Material: Spruce
Fretboard Material: Rosewood
Body Material: Laminated wood
Body Shape: 3/4 Dreadnought
Scale Length: 21.25″
Number of Strings: 6
Additional Items: Gig bag included for easy transport and safe storage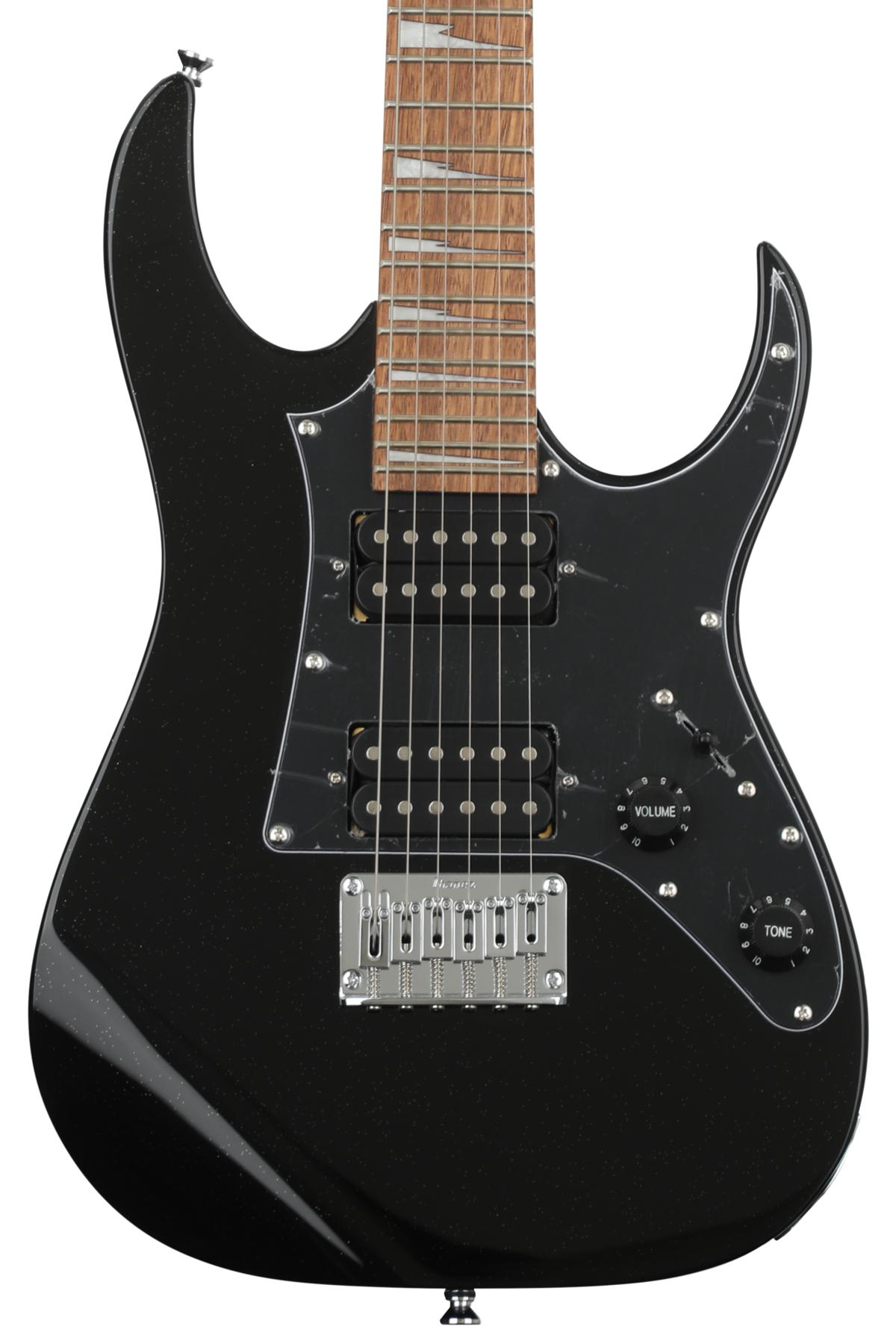 5. Ibanez miKro GRGM21 Electric Guitar
Great Value For Price - Highly playable compact electric guitar with versatile sonic performance
Ideal for small-handed players with its rich sound and smooth neck.
View Price at Sweetwater
View Price at Amazon
The Ibanez Mikro guitar features a 3/4-sized electric design, making it great for young players and beginners. It's easy to play and ideal for newbies. Its small design makes carrying it around simple, whether you're going to a gig or a practice session. Despite its size, it still produces strong sounds and a variety of tones to fit any music style.
With a 22-inch scale length, this small treasure gives less tension and improved playability for all skill levels. It has a maple neck and mahogany body, providing durability, smooth handling, and a rich sound. The jatoba fretboard also adds to its strength, ensuring long-lasting playability.
While the guitar needs a good setup out of the box, and the pickups are not the best, these are minor issues that you can take care of easily. The guitar's workmanship is good for the price, and you can change the pickups when you feel you are not satisfied with their performance anymore.
Like Ibanez's full-sized GRX and GRG models, the Mikro keeps the brand's high quality, ensuring a fantastic experience for the player. Ibanez also offers left-handed models (GRGM21BKNL), catering to various musicians and boosting its reputation in the electric guitar world.
Pros
Compact size, suitable for beginners and smaller players
Easy to play with 22″ scale and low tension
High-quality construction similar to GRX and GRG models
Decent tone and sound for the price
Left-handed model available
Great playability and appearance
Cons
Needs setup and adjustments out of the box
Tuning stability issues reported
Stock pickups may sound sterile
Specs
Body Material: Basswood
Neck Material: Maple
Fretboard Material: Jatoba Wood
Body Shape: Solidbody Gio RG miKro
Scale Length: 22 inches
String Material: Nickel
Pickups: 2 x Infinity R Ceramic Humbucker
Guitar Bridge System: F106 Bridge with Individual Saddles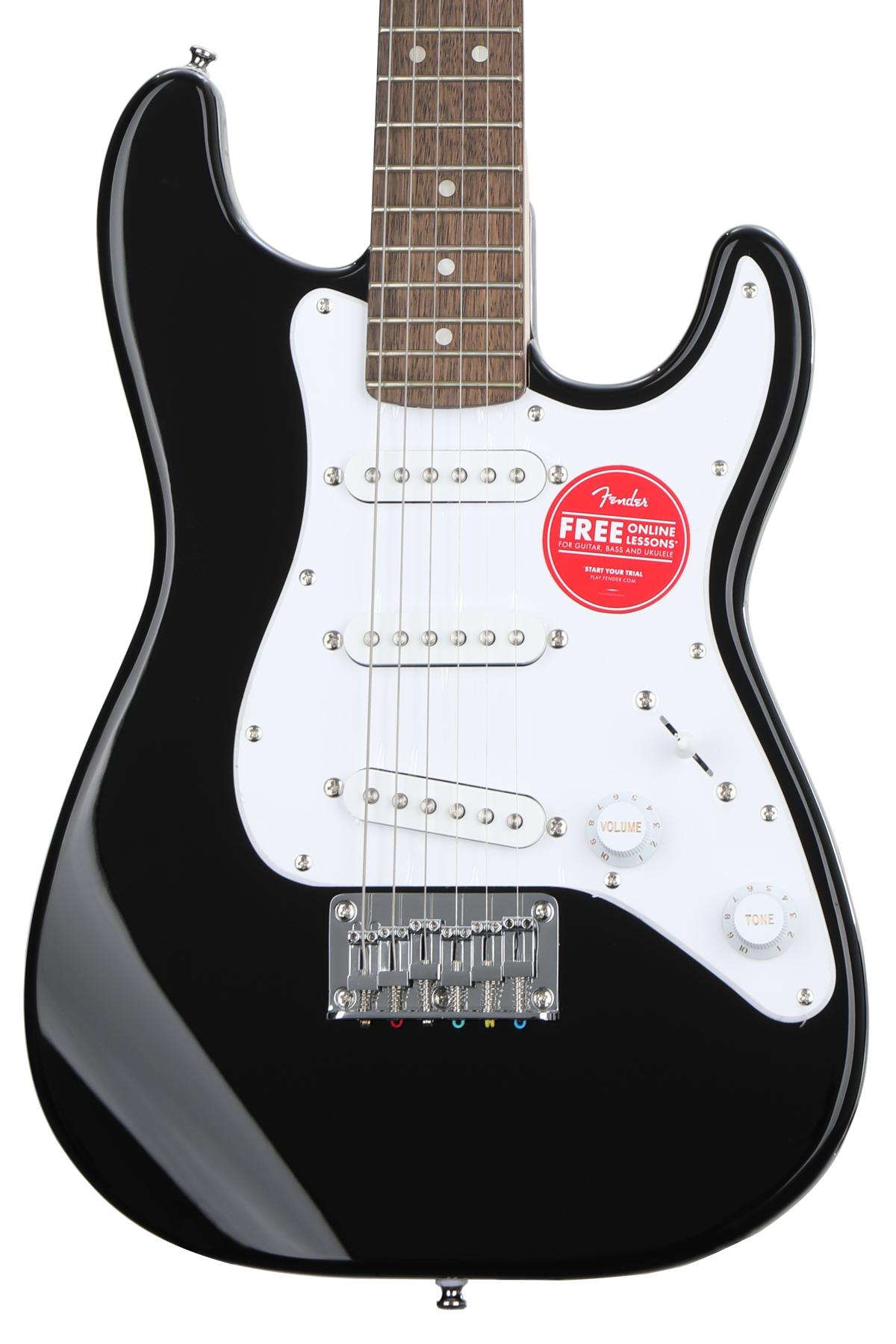 6. Squier Mini Stratocaster Electric Guitar
Versatile - Classic Fender Stratocaster with a great range of tones in a compact and lightweight design
Affordable and good quality 3/4 size Stratocaster for younger and traveling players.
View Price at Sweetwater
View Price at Amazon
Made entirely by Fender, this Mini Stratocaster guarantees genuine quality and dependability from a trusted brand in the music industry. Fender always provides the exceptional sound and construction that musicians desire, and this fantastic guitar demonstrates their devotion to skill and innovation, guaranteeing a genuine and pleasurable playing experience.
This slim, lightweight black guitar is ideal for easy handling and transportation. Its stylish design is not only attractive but also comfortable to hold and play for extended periods. Whether you're performing on stage or practicing at home, you'll love the ease and portability of taking it along on your musical adventures.
Perfect for individuals with smaller hands or beginners, this guitar has a 22.75″ scale size, making it suitable for a broader audience. I appreciate that it's a great value and caters to beginners and those with small hands.
While it is not the highest quality Stratocaster out there, and it needs some adjustment out of the box, it is a solid beginner guitar. With three single-coil pickups, it offers a wide array of tonal and sound options, ensuring you'll discover your unique sound. Featuring enclosed die-cast tuners for improved tuning consistency and durability, and a fixed bridge construction for better tuning reliability, this Mini Stratocaster incorporates all the finest qualities of a full-sized guitar in a more compact form.
Pros
Great value, especially for beginners
Good sound quality
Lightweight and easy to play
Suitable for small hands and young learners
Fender design and quality
Good for small spaces
Cons
Sharp fret edges on some units
May require additional setup/adjustments
Not suitable for those wanting a full-sized guitar
Specs
Body Material: Poplar
Body Type: 3/4 Solidbody Strat-style
Scale Length: 22.75″
Neck Material: Maple
Fingerboard Material: Laurel
Pickups: Three Single-Coil Pickups (S-S-S Configuration)
Bridge: 6-saddle Vintage-style Strat Sting-thru Hardtail
Neck Profile: "C"-Shaped
Strings: Nickel Steel Strings (Light Gauge)
Color Options: Surf Green, Black, Metallic Orange, Brown Sunburst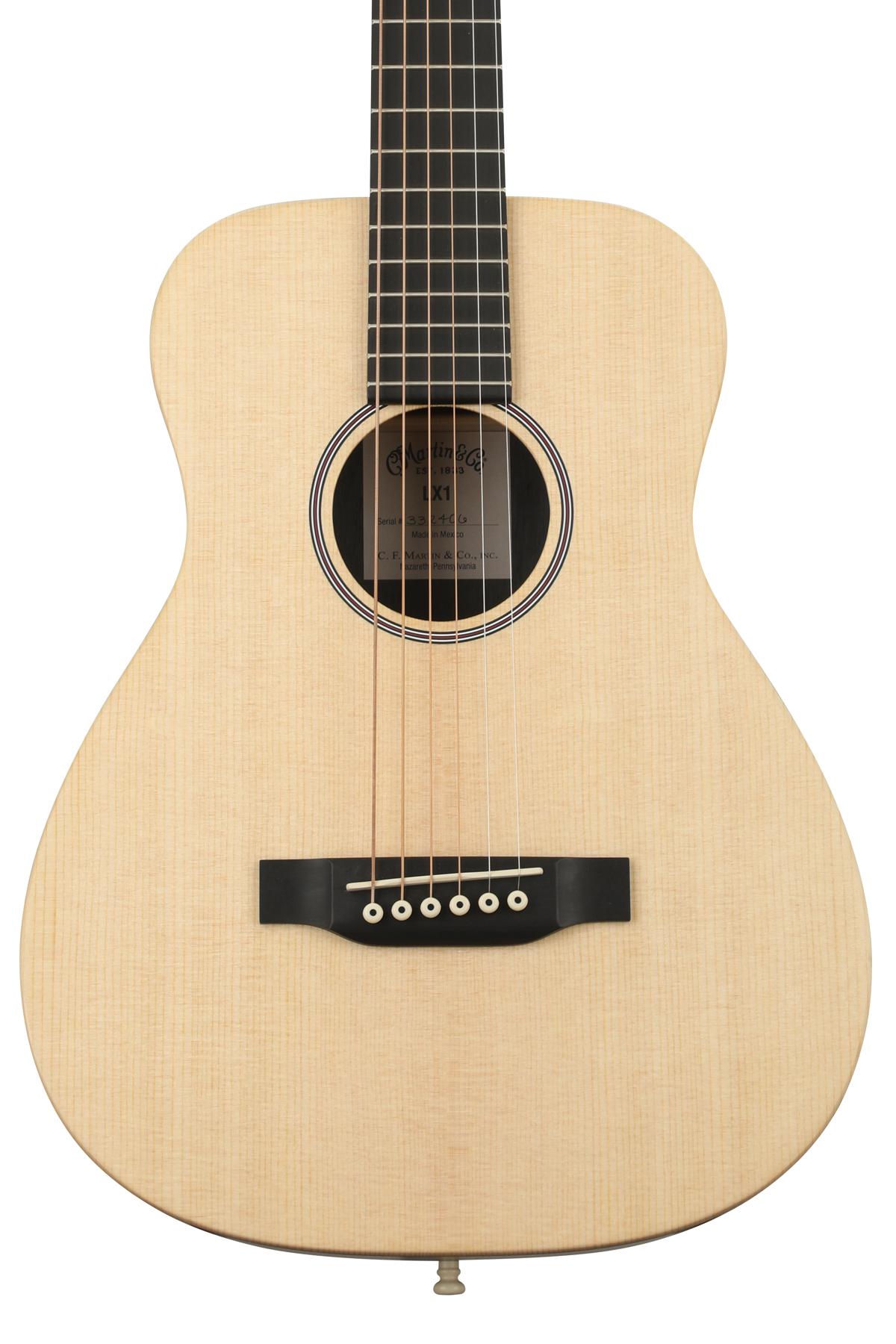 7. Martin LX1 Little Martin Acoustic Guitar
Ideal For Travel - Great travel guitar with a compact and lightweight design and high-quality woods
Fantastic-sounding and highly portable 23" mini guitar with a soft gig bag.
View Price at Sweetwater
View Price at Amazon
This small-sized guitar has a fantastic sound due to its solid Sitka spruce top and high-pressure laminate (HPL) pairing, which ensures both durability and excellent audio quality. I enjoyed the mahogany HPL build as it added depth and looks to the instrument.
Concerned about taking a guitar on tour? The compact size and 23-inch scale length make this instrument perfect for traveling musicians or beginners looking for an easy-to-use option. The rosewood fingerboard provides an exceptional playing surface with an excellent feel and tone, ensuring a satisfying playing experience.
I believe musicians will like the modified low oval neck shape, which feels comfortable, particularly when playing chords. If you want to personalize your guitar, there are solid Morado or East Indian Rosewood fingerboard options to create a unique instrument that reflects your style. This guitar offers a smooth and tailored experience for players at any skill level.
But of course, the sonic performance can not be compared to other full-size Martin guitars as it sounds brighter without much low-end due to its small size. In short, it is ideal for small learners as well as traveling musicians who want a mini guitar without sacrificing much on the sonic performance.
Pros
Portable and perfect for traveling
Comfortable size for small hands
Fantastic sound for the size
Solid Sitka spruce top and mahogany HPL body
Suitable for beginners and experienced players
Good quality construction and materials
Comes with a padded gig bag
Adjustable guitar bridge system
Cons
Some customers find the sound too bright
Might not meet expectations for Martin guitar sound
Slightly pricey compared to the other guitars on the list
Specs
Top Material: Spruce Wood
Body Material: Mahogany and Spruce
Fretboard Material: Solid Morado or East Indian Rosewood fingerboard
Scale Length: 23"
String Material: Phosphor Bronze
Neck Material: Rust Stratabond
Number of Strings: 6
Guitar Bridge System: Richlite Adjustable Bridge
8. Jackson Dinky Minion JS1X
Ideal For Shredding - Shredder rock and metal guitar with aggressive looks and great playability
High-quality mini guitar with dual humbuckers, sleek black design, and highly comfortable neck.
View Price at Sweetwater
View Price at Amazon
There's nothing better than a strong, solid, poplar wood body for electric guitars. Not only is this guitar tough and long-lasting, but it's also lightweight, perfect for musicians on the move. I appreciate that it's suitable for beginners with small hands and affordable, making it available to many. Enjoy playing for hours without back strain, and trust that its durable construction can stand the test of time.
Want to play a stylish, comfy guitar neck? Look no further. This amazing guitar has a versatile maple neck designed for your unique playing style. With a high rating among other guitars, it's no surprise that players worldwide praise its strength and dependability.
Featuring double humbucking pickups, this electric guitar offers numerous sound options to fully express your musical talent. The short 22.5-inch scale gives the familiar string tension and feels guitarists enjoy. Sadly, some users reported tuning instability and that the neck was too thick for their likes. Despite these minor issues, the stable hardtail bridge ensures consistent tuning, and the neck offers outstanding playability.
Pros
Great for kids and beginners
Affordable price
Compact and easy to play
Poplar body and maple neck
Two Humbucking pickups for heavy tones
Cons
May not stay in tune well
Not the best choice if you want to play softer tones
Neck is slightly thick
Specs
Body Material: Poplar
Neck Material: Maple
Fretboard Material: Amaranth
Neck Material: Maple Wood
Guitar Pickup Configuration: 2 x Jackson High-output Humbucker
Number of Strings: 6
Scale Length: 22.5"
Guitar Bridge System: 6-Saddle String-through Hardtail
9. Taylor Academy 12e Acoustic-electric Guitar
Acoustic-Electric Beginner's Dream - Fantastic-sounding acoustic-electric guitar with comfortable and easy playability
Taylor quality and reliability in a slightly shorter scale guitar.
View Price at Sweetwater
View Price at Amazon
The Taylor Academy 12e Grand Concert guitar is the comfiest and greatest-sounding acoustic guitar on the list, which makes playing it highly enjoyable. I love its look and sound. Its special neck shape helps reduce hand tiredness, so new musicians can play longer without pain. The guitar is easy to hold and play, perfect for those who want to improve their skills.
Made with a mix of materials, the Taylor Academy 12e has a strong Sitka spruce top and sapele back and sides. This combination gives the guitar a rich and flexible sound, making it different from other guitars and enjoyable for new and experienced players.
A great feature of the Taylor Academy 12e Grand Concert guitar is its ESB pickup system with an included tuner. This setup lets players try playing with an amplifier while staying in tune easily. Switching between acoustic and amplified playing has never been smoother, making the guitar adaptable and lively.
The guitar has a 24.875″ scale length, slightly shorter than regular guitars. Therefore, it may not be the perfect guitar for small hands or younger players. But, with its amazing craftsmanship, fantastic sound, and comfortable playability, it can highly satisfy most players who feel they can go with a slightly smaller guitar than a regular one.
Pros
Great sound quality
Comfortable play
Suitable for both beginners and experienced players
High-quality build
Good value for money
Electric-acoustic guitar with built-in tuner and tone-volume controls
Cons
Not the shortest scale or the most compact design
May not be ideal for small hands
Pricey instrument
Specs
Body Material: Layered Sapele
Body Shape: Grand Concert
Fretboard Material: Ebony
Top Material: Sitka Spruce
Neck Material: Hard Rock Maple
Scale Length: 24.875″
Number of Strings: 6
Guitar Bridge System: Ebony
Electronics: ES-B
10. Squier Classic Vibe '60s Mustang
Authentic Vintage-Inspired Tones And Looks - Iconic vintage-looking Mustang by Fender for great rock n' roll tones and comfortable playability
Authentic Fender design in a compact package with dual alnico single-coils and a vintage-style tremolo.
View Price at Sweetwater
View Price at Amazon
This Squier Classic Vibe '60s Mustang has a striking vintage design inspired by the 1960s Mustang models. It features detailed craftsmanship, like the nickel-plated hardware finish and a tremolo system with a floating bridge and barrel saddles, making it a beautiful guitar with great sound. The handcrafted neck is adorned with an elegant, vintage-tinted gloss.
The guitar has alnico single-coil pickups designed by Fender, creating a warm, well-rounded tone that matches the vintage aesthetic. Combined with the guitar's poplar body, the sound is rich and dynamic, great for casual and dedicated players. It reminds you of the iconic rock n' roll era with each strum.
The Squier Classic Vibe '60s Mustang is easy to play due to its 24″ short scale length, slim "C"-shaped neck profile, and 9.5″ radius fingerboard. The narrow-tall frets contribute to its smoothness and playability for long jam sessions without fatigue. The eye-catching sonic blue or the vintage white color adds to its visual appeal.
The only down part of the guitar might be its tuning instability, especially if you use the tremolo often. But changing the tuning machines help greatly. Also, as with most guitars, an action setup and changing the strings are necessary after the purchase. When you get those done, you will have an amazing guitar to play with killer tones and high–comfy
Pros
Good value for the price
Beautiful guitar design
Comfortable neck shape for small hands
Fender-Designed alnico pickups provide the authentic tone
Vintage-style tremolo system for expressive string-bending effects
Great rock n' roll tones
Cons
Needs setup after purchase
May require tuning machine replacements for tuning stability
Specs
Body Material: Poplar
Neck Material: Maple
Fingerboard Material: Indian Laurel
Body Shape: Mustang
Color: Sonic Blue, Vintage White
Scale Length: 24"
String Material: Nickel Steel
Number of Strings: 6
Pickups: 2 x Fender Alnico Single-coil
Guitar Bridge System: Floating Bridge with Dynamic Vibrato Tailpiece
What is a short scale guitar?
Short scale guitars have a shorter distance between the bridge and the nut, resulting in a smaller overall size and easier playability. They are commonly used by beginners, children, and musicians with smaller hands as well as musicians on the road due to their compact sizes.
Short scale guitar fretboards typically range from 22 to 24.6 inches. As the scale length is the distance between the nut and the bridge, it directly affects the playability and tension of the strings. As a result, short-scale guitars offer a different playing experience compared to standard-scale guitars, which usually have a scale length of around 25.5 inches.
Buyers Guide
Top Considerations for Short Scale Guitar Buyers
Comfort and playability: Comfort and playability are especially crucial when choosing a short-scale guitar, as the whole purpose of these instruments is to cater to those who may have smaller hands, children, or anyone who requires a more compact and easy-to-play guitar. The smooth neck profile and ergonomics ensure that these guitars are not only enjoyable to play but also help in the development of proper technique and ease of learning for beginners. According to your hand size, you can check and try different scale lengths. A regular guitar has a scale length of around 25.5".
Quality of materials and construction: Factors like the tone woods used and the craftmanship plays a significant role in the instrument's tone, playability, and durability. Maple offers transparent tonality, while mahogany is punchier and has low overtone content and good high-end response. Sitka Spruce is known for its lightweight and powerful sound. Indian Rosewood is known for its rich mid-tones, while Brazillian rosewood has more low-end ranges. So, the construction and materials, as well as the quality of the materials, are highly important, especially for acoustic guitars. For electric guitars, the pickups and the electronics are more important than the woods.
Tone and sound: As for most musical instruments, the choice comes down to the tones and the sound of the guitars. The scale length, the wood quality, and the construction heavily affect the sound, while for electric guitars, the electronics are the key. Shorter scale lengths can produce a warmer and punchier tone, perfect for modern music styles.
Price and value for money: When considering the price and value for money of short-scale guitars, it is important to keep in mind that budget-friendly options can still provide excellent quality and playability. It is essential to weigh your individual needs and preferences against the investment you are willing to make, as higher-priced models such as the Fender Player Duo-Sonic SS Electric Guitar or the Martin LX1 Little Martin Acoustic Guitar may offer additional features and tonal qualities that are worth considering. Remember, the best value for money ultimately comes from finding an instrument that meets your unique requirements and inspires you to grow as a musician.
Advantages of Short Scale Guitars
A shorter scale length provides several benefits, including increased playability and comfort for those with smaller hands or a preference for a more compact instrument. Playability is often enhanced because shorter strings require less tension to reach the same pitch as their longer counterparts. Ergonomically, short scale guitars allow for a more relaxed hand positioning, reducing strain on the fingers and wrist.
Disadvantages of Short Scale Guitars
The biggest disadvantage of short scale guitars is that the fret spacing on these instruments may feel cramped for some players. Additionally, the shorter scale length may alter the tone, limiting the range of sounds available compared to a standard scale guitar.
Comparing Short Scale Guitars to Standard Guitars
In terms of playability, short scale guitars are better suited for players with smaller hands or those seeking a more compact instrument. Standard scale guitars, on the other hand, offer a wider range of tonal options and often have more string tension, providing greater sustain and resonance. Generally, short scale guitars will have a warmer, mellower tone than their standard-scale counterparts.
Famous Short Scale Guitar Users
Several iconic players, including Paul McCartney and Luna Li, have embraced short-scale guitars in their careers. These musicians have demonstrated that short scale guitars can produce a unique sound and style that can shape the world of music.
FAQs
What are the benefits of playing a short scale guitar?
A short scale guitar is ideal for players with small hands or those who struggle to play larger guitars. It can also be more comfortable to play for extended periods and has a unique tonal quality.
Can I use the same strings on a short scale guitar as I would on a standard guitar?
While the length of the strings may vary between the two types of guitars, the gauge of the strings can be the same. However, it's important to check with a professional or consult the manufacturer's recommendations before making any changes.
What are some popular brands that make short scale guitars?
Fender, Gibson, and Gretsch are all popular manufacturers that offer short-scale guitar models. There are also many boutique brands that specialize in short scale guitars, such as Eastwood and Reverend.
Are short scale guitars suitable for any specific genre of music?
Short scale guitars are versatile instruments that can be used for virtually any genre of music, from rock to jazz to country. However, they are often favored by blues players and those who prefer a warmer, more mellow sound.
Conclusion
And there you have it, folks! From the vintage-style Squier Classic Vibe '60s Mustang to the contemporary Taylor BT2 Baby Taylor Acoustic Guitar, there's a perfect short-scale guitar for every taste and playing style.
My main recommended short-scale guitar is the Taylor BT2 Baby Taylor Acoustic Guitar with its great tones and comfortable playability which can shine on your jam or practice sessions or travels on the road.
As for my second recommended guitar, it's the Cordoba Mini II MH Nylon String Acoustic Guitar due to its unique mellow, soft, and balanced voice and highly affordable price tag.
With these short scale guitars, you'll definitely hit all the right notes and improve your jam, practice, and playing sessions significantly.