The 7 Best Pedalboards for All Budgets (2023)
Many guitarists struggle to organize the chaos of pedals lying at their feet. Putting together a pedalboard and taming the chaos is a necessary ritual that every guitarist has to go through at some point. That is why you might want to consider buying one of these pedalboards.
My top pick is Gator G-Tour Large. It is a heavy-duty and true roadworthy pedalboard that can keep your gear organized while protecting them from anything you can imagine.
Guitarists who do not want to spend a fortune on a pedalboard can prefer my second pick, the Pedaltrain Nano Plus, as it has the best price-value ratio on this list.
However, all the pedals selected below are very decent options. Let's examine them closely to find the most suitable one for you.
The 7 Best Pedalboards (2023)
Let's compare them in more detail:
As one of the most famous names in the world of cases, Gator offers a wide range of pedalboards for different needs. Their premium-quality model G-Tour Large is a great option for touring musicians with a large pedal setup. It is made of a combination of plywood and aluminum with shock-absorbing EVA foams inside to keep the pedals safe.
Pros
Super solid hard case
Wheels and handles for touring
Extra compartment for accessories
Cons
Relatively large and heavy
It is a large pedalboard that can take up to 14 pedals. It has a super solid hard case which makes it quite heavy. But, Gator added retractable wheels and handles to make it more portable.
Another great feature is the little extra space underneath the pedalboard to store the cables. Plus, the case is secured with a 3M Dual Lock hook and loop fasteners.
| | |
| --- | --- |
| Material | Plywood & Aluminum |
| Case | Touring Flight Case |
| Powered | No |
Overall, this is a great pedalboard that exactly gets the job done on tours. It is a heavy-duty pedalboard with an extremely solid case that clears your mind from worrying about your pedals.
As the name suggests, Pedaltrain Nano Plus is a compact pedalboard that can house up to 5 pedals. It is a lightweight pedal made from aircraft-grade aluminum and is ideal for guitarists with small pedal setups.
Pros
Great value for the price
Lightweight and portable
Comes with a soft case
Cons
Tight space under the pedalboard, so it can be difficult to fit power supplies under there.
The shining feature of this pedal is its price. It is a highly affordable product that comes with everything you would need in a pedalboard, including a soft case to carry it around, hook and loop fasteners to tie your stompboxes to the pedalboard, and assorted zip ties for cable positions.
The only letdown of the pedal is its angle which leaves only a tiny place underneath the pedalboard, making it hard to fit a power supply. You will need to find a solution to elevate the pedalboard further or buy a thinner power supply.
| | |
| --- | --- |
| Material | Aluminum |
| Case | Softcase |
| Powered | No |
In short, Pedaltrain Nano Plus is an ideal pedalboard choice for guitarists who want to keep things simple and affordable.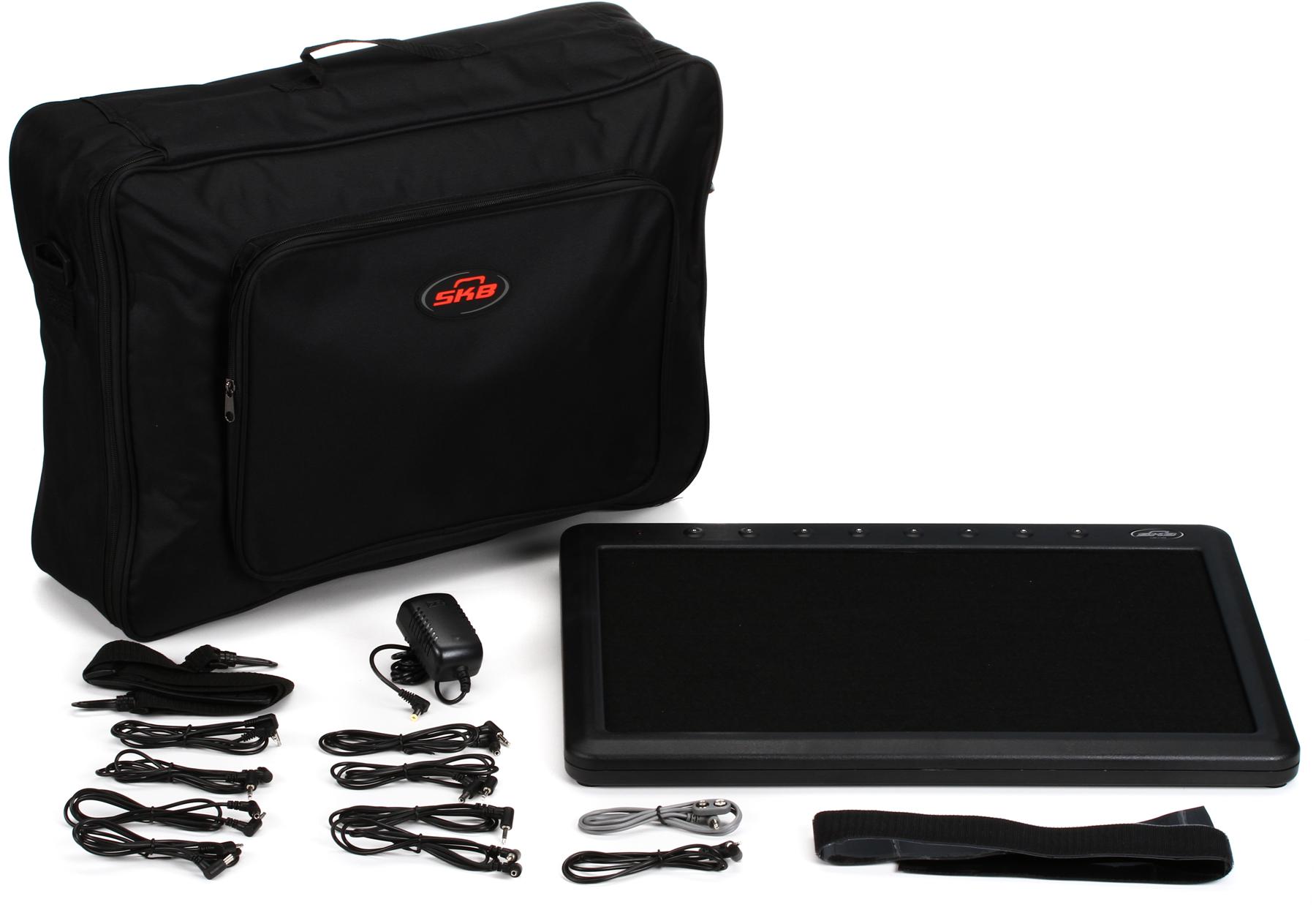 SKB PS-8 is an ideal first pedalboard for any guitarist as it can host and power up to 8 pedals with its large platform and built-in power supply. It makes the setting up process much faster while keeping things organized.
Pros
High value-price ratio
Large but lightweight
Intuitive layout
It comes with a nylon case with an extra pocket for cables, making it easier to carry the device around. This pedalboard also differs from the others on the list because it is made of eco-friendly rubber-modified styrene. It is a great material because it is sturdy and lightweight at the same time while its carbon footprint is low.
| | |
| --- | --- |
| Material | Eco-friendly rubber modified styrene |
| Case | Nylon case |
| Powered | Yes, up to 8 pedals |
The integrated power supply is not the highest quality as it produces a humming sound. However, if you are not a pro guitarist, this is not a deal-breaker. Having a power supply along with a sturdy yet lightweight pedalboard for the price is quite a deal, the perfect choice for a first pedalboard.
Voodoo Lab is a well-known pedalboard power supply company that also offers pedalboards mounted with their great power supplies. Dingbat Medium is the standard model that can be paired with various power supply options for different budgets. My pick is the medium-sized one which can take and power up to 8 pedals.
Pros
Quality construction and elegant look
The power supply is one of the best in isolating power
Highly portable
Cons
The cables holes are a bit small
The pedalboard is made of high-quality aluminum, and it looks quite elegant with its black chassis. The power supply is also great as it isolates the power to each pedal successfully. Plus, the pedalboard is highly portable, thanks to its lightweight. Finally, it comes with a padded gig bag and high-quality zippers.
Although I do not fully agree, some users reported that the cable holes are too small for convenient use. Another negative aspect is that there is not enough space to store accessories and cables on the bag.
| | |
| --- | --- |
| Material | Aluminum |
| Case | Soft case |
| Powered | Yes, up to 8 pedals |
Voodoo Lab Dingbat is a premium portable pedalboard with an optional power supply that keeps your head clear of your pedal setup.
When thinking about effect pedals, Boss is the first brand that comes to mind. But, the company also offers excellent powered pedalboards called the BCB series. BCB-60 is a medium-sized model with the capacity of 7 standard-sized pedals.
The pedalboard itself is a hard case with a customizable padded interior design. As it is made of molded resin, the pedalboard is highly durable and lightweight at the same time. Furthermore, the pedalboard has a small space for accessories on top. Another significant aspect is that it comes with cables.
Pros
Sturdy molded resin case
Customizable interior design
Lightweight
Cons
Not isolated power supply
Interior space designed for Boss pedals
There is not much to say against BCB-60, but the power supply is not isolated, which means unwanted interactions between pedals can occur as pedals are chained together. Another letdown is that the interior space is designed for Boss pedals. That is why more oversized pedals may not fit.
| | |
| --- | --- |
| Material | Moulded Resin |
| Case | Integrated |
| Powered | Yes, up to 7 pedals |
Overall, Boss BCB-60 is a reliable all-in-one solution for medium-sized pedal setups.
Temple Audio Duo 17 is an affordable pedalboard that shines with its modular system. It is the ideal choice for guitarists who want to keep things tidy and clean all the time. It can take up to 8 pedals and features the Quick Release Pedal Mounting System, which fastens the pedals to board with a quick screw system.
Pros
Great value for the price
Ultra-lightweight
Quick Release Pedal Mounting System
Different color options
The pedalboard is ultra-lightweight, thanks to its perforated top panel and aluminum chassis. It features holes on the board for cable runs and power supplies. Plus, Temple offers different color options to your liking, and all of these features come for a highly affordable price.
The only letdown of Duo 17 is that you will need to buy extra stuff with the pedalboard, such as a case, a power supply, and cables.
| | |
| --- | --- |
| Material | Aluminum |
| Case | None |
| Powered | No |
Temple Audio 17 is a great choice for guitarists who want a lightweight and affordable pedalboard to keep things tidy.
Outlaw Effects Nomad M128 Rechargeable is one of the most innovative pedalboards on the market today. Its shining feature is its integrated rechargeable battery allowing you to play without electric sockets around.
It can power up to 10 pedals for around 10 hours with 3 hours of charging time. But of course, the battery life heavily depends on the pedals and the voltages they use.
Pros
Onboard battery
Can power up to 10 pedals
Comes with all the accessories, plug and play
The pedalboard is made from aluminum and is considerably light. It comes with DC connector cables, cable ties, hook-and-loop fasteners, along with a high-quality soft case with a pouch for your accessories.
| | |
| --- | --- |
| Material | Aluminum |
| Case | Soft |
| Powered | Yes, up to 10 pedals 7 x 9V DC2 x 12V DC1 switchable 18V/24V DC |
All in all, Outlaw Effects Nomad M128 Rechargeable would be an ideal choice for on-the-go musicians like buskers who like to play whenever and wherever they want.
Things To Consider When Buying A Pedalboard
Dimensions
The first thing you have to consider is the size of the pedalboard you need. A standard-sized pedal has dimensions around 3" x 5". But if you have different sized pedals like Wahs or Expression pedals, then you have to make some calculations to find the suitable pedalboard for you.
A medium-sized pedalboard that can take up to 8 to 10 pedals would be enough for most guitarists. But, it also depends on how much you want to carry it around as the pedalboards get considerably heavy with the pedals set inside.
Power Supply
Next, you will have to decide if you want a pedalboard with a power supply or without one. Some pedalboards have an integrated power supply in the pedalboard, while others feature a dedicated power supply mounted on the board.
The standard pedals require a 9V adapter, but some others use 12V or 18V adapters. So, you need to check your pedals and buy according to them.
Material
Another important feature is the material of the pedalboard. The material of the case protects the pedals from crashes or accidents that may happen. A more protective case is better, but it also adds to the weight you will have to carry around.
The first option is aluminum which is pretty standard nowadays as it is protective and lightweight. The former favorite of the guitarists was plywood which is simple and practical, as you can customize them by drilling holes or adding parts. But they are heavier and less protective.
The last option is hard plastic or similar material cases for extra protection and portability for an affordable price. Depending on your needs, you can choose any of them without hesitation.
Case
Most of the pedalboards come with a case, or they feature integrated cases. The options are hard cases or soft cases, as you might imagine. If you are going to tour with your pedalboard, you definitely need a hard case, but if you are not going to carry it around often, a soft case can get the job done and leave some money in your pocket.
Velcro, Cables, And Accessories
The last thing you may consider is the accessories that the pedalboard includes. Most of them have some type of fasteners like Velcro or a screw system to stabilize the pedals on the pedalboard to avoid chaos.
Some pedalboards, especially the powered ones, come with cables, zip ties for better cable positioning. And other accessories that make things easier for you with your pedalboard. Having these in the package can be a good bonus but remember to check the quality of the included accessories.
Verdict
Pedal setups do not have to be a problem that guitarists lose time and energy organizing. With a good pedalboard, you can easily have your pedal setup ready to use whenever you want. You can get any of these products on the list depending on your needs, the number of pedals, and the level of protection you want.
My top pick, Gator G-Tour Large, is the ideal heavy-duty touring pedalboard that has exceptionally high protection along with a large board to set up your pedals.
If you want to go with a budget option for a small pedal setup, Pedaltrain Nano Plus is the way to go, as it is light, compact, and has all the essential features.