The 7 Best Keyboards for Making Beats
A great keyboard designed for making beats can really do wonders for your music production workflow. These keyboards come in a bunch of different designs, from the number of keys, drum pads, knobs, and other controls. Therefore it's best to choose one that suits your production style the best.
My pick as the best keyboard for making beats is the Novation 61SL MkIII with 8 Track Sequencer, while the AKAI Professional MPK Mini MK3 is a great option for those on a budget, or for those that simply want a compact option.
The 7 Best Keyboards for Making Beats
Let's look at these in more detail:
The Novation 61SL MkIII is a MIDI keyboard with an eight-track sequencer. It's a 61-key keyboard that you can use with your DAW in your home studio or for live performances.
The pads on the Novation 61SL MK3 can be used to design your musical rhythms in real-time. All keys are velocity-sensitive and lightly weighted. They trigger precisely and spring back quickly to their starting position.
Pros
Works great with Ableton Live, as well as other DAWs.
Ideal for beginners and professionals
For live and studio applications
The MK3 version of the SL controller keyboards is available in two versions – SL49 and SL61. Technically, these are very similar and only differ in terms of the size of the keyboard. The two keyboards have 49 and 61 keys respectively. I would also recommend to opt for the bigger one if you can get it, but that's down to your own preferences.
| | |
| --- | --- |
| Number of keys | 61 |
| Number of knobs | 8 |
| Number of pads | 16 |
| Aftertouch? | Yes |
| Internal Sounds? | No |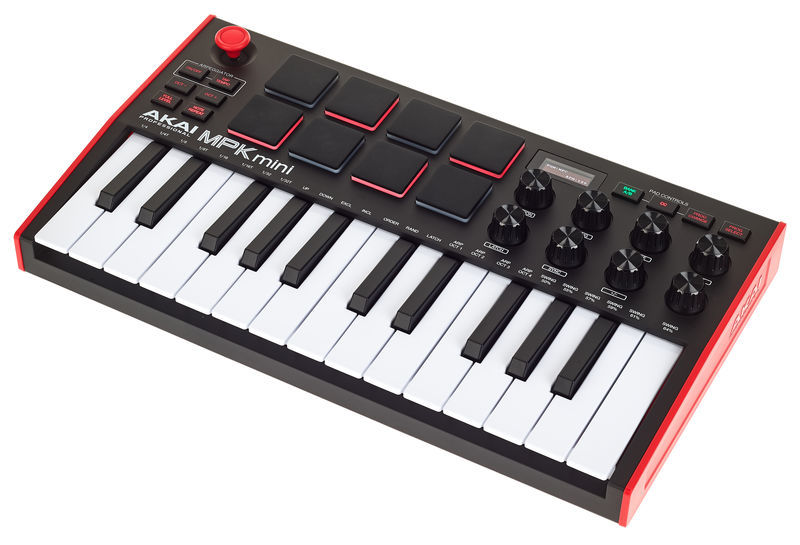 AKAI Professional sends their small USB/MIDI keyboard controller into the third round with the MPK Mini MK3. The MPK Mini MK3 comes with a modernized user interface, an OLED display, and a newly developed keyboard.
Pros
Decent and functional pads
Light and easy to transport
OLED display is a big improvement from the MKII model
Easy to use software on your computer to control MIDI parameters and settings for the device
Cons
Arpeggio rates can be a bit difficult to adjust.
It's a bit too small for some
The controller is USB Class Compliant and can therefore be used immediately with DAW software such as FL Studio, Cubase, Logic, or Ableton. You can also use it with a music app on iOS or Android without installing a driver.
| | |
| --- | --- |
| Number of keys | 25 |
| Number of knobs | 8 |
| Number of pads | 8 |
| Aftertouch? | No |
| Internal Sounds? | No |
The interface has undergone an upgrade from the previous versions with excellent pads from the current MPC series. There is an upgraded keyboard and more handy control elements.

The Korg KRONOS has been one of the most popular synthesizer workstations among keyboardists for years. If you want an amazing standalone workstation without being tied to using your laptop on stage or in the studio, then this is one of the best options to consider.
It has fantastic hammer action, SSD internal drive, nine separate internal sound engines to sculpt your sounds, and an amazing screen, controls, and interface to make music. Of course, it can function as a MIDI controller, like all the others on this list, but as you can see, its main purpose is far beyond that!
Pros
Outstanding sound quality
9 sound engines
Standalone workstation
Amazing build quality
Great workflow and easy to use
Great hammer action on the keys
| | |
| --- | --- |
| Number of keys | 88 |
| Internal Sounds? | Yes |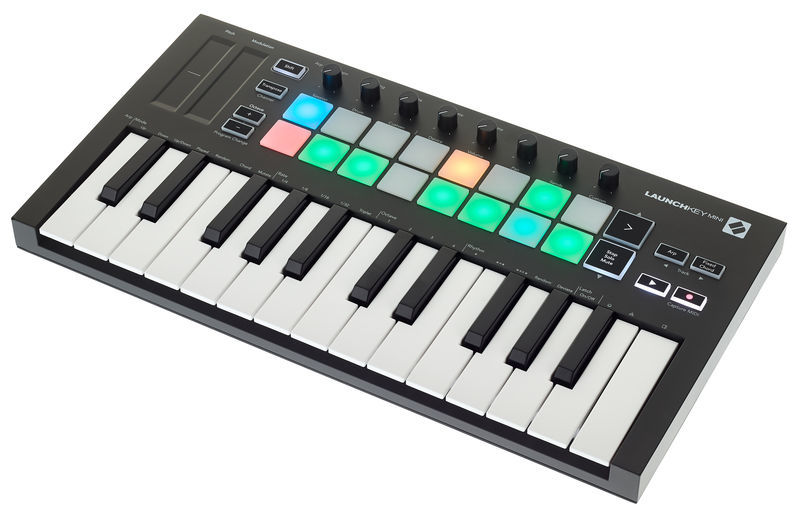 The Novation Launchkey Mini Mk3 is an ultra-portable USB/MIDI controller keyboard including knobs, drum pads, and extensive Ableton Live control.
It's USB bus-powered and it's a great option for those that want something compact and easy to use, but still with a lot of functionality.
Pros
All-in-one controller keyboard
Includes arpeggiator
Lightweight, compact and portable
For creating beats on iPad and Window DAW
Compact
Cons
It's a bit too small for some.
Made from plastic materials, but still well made
| | |
| --- | --- |
| Number of keys | 25 |
| Number of knobs | 8 |
| Number of pads | 16 |
| Aftertouch? | No |
There are 16 colorfully illuminated drum pads with velocity sensitivity that also serve as a launchpad.
The Launchkey keyboard has 25 mini-keys and is solid during play. It is also sensitive to touch but does not offer any aftertouch. There are also buttons for octave selection, program change, and MIDI channel. Lastly, there are two touch-sensitive touch strips, one of which is intended for modulation and the other for pitch bend.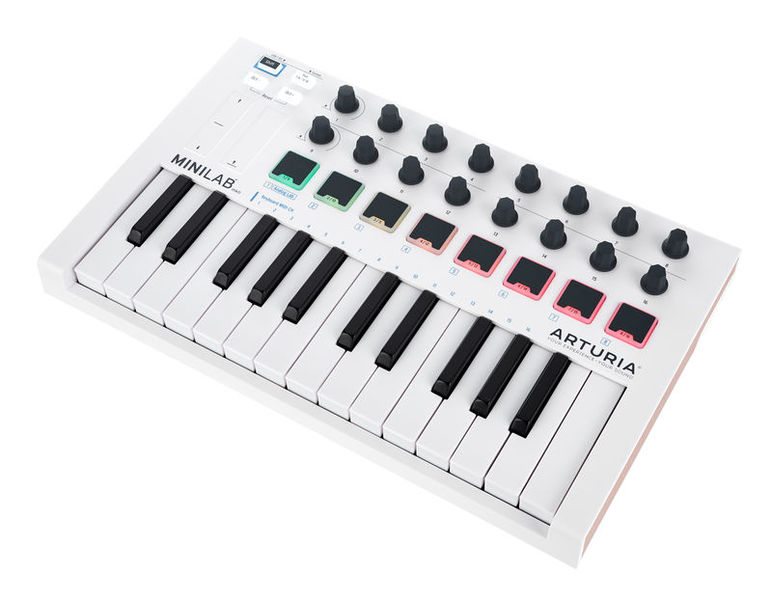 This is a beautifully designed MIDI controller with 25 velocity-sensitive keys, 16 knobs (two of them are clickable), and 8 velocity-sensitive pads (You can switch between 2 separate banks, so each pad can serve two separate functions).
You get the analog lab lite software, which is a scaled-down version of Arturia's Analog Lab V, which includes 500 sounds. It's a little bit limited but it is really good quality, and it definitely gives you something to get started with.
Pros
Compact and light
Easy to configure
Analog Lab software with 500 Arturia sounds
Beautiful design
The MiniLab lives up to its name: The keyboard is small and light and is great for bring around with you on the move. Arturia has remained true to its design line – the MiniLab shines in matt white and looks amazing.
Features
Number of keys
25
Number of knobs
16
Number of pads
8
Aftertouch?
No
The only two connections of the MiniLab are located on the left-hand side in a recess, which means that they are somewhat protected. In addition to the USB port, which also supplies the keyboard with power, there is an input for an assignable footswitch.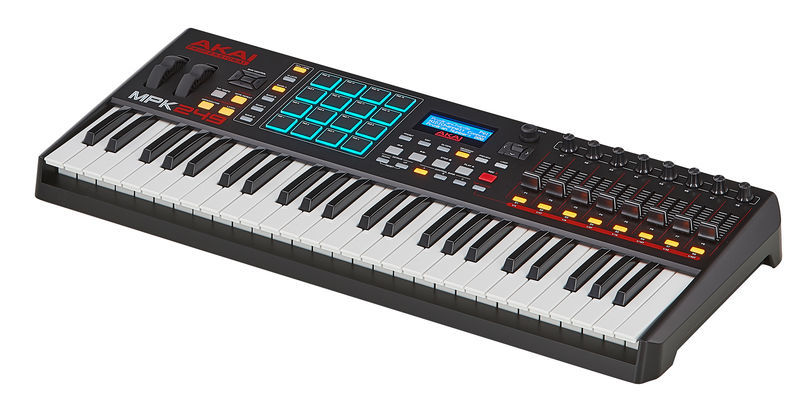 The AKAI Professional MPK249 stands in the midpoint in the MPK series that includes the 25 and 61-key keyboards with semi-weighted keys. The keyboard controller comes with 16 pads, plug and play capability, and assignable MPC controls.
Pros
Lots of very useful controls (pads, knobs, faders, and more)
Good dynamics from the pads
Great for the home studio
Works well with many different DAWs
Useful screen
The MPK draws the power it needs for operation either from the USB port or from an optionally available power supply unit.
| | |
| --- | --- |
| Number of keys | 49 |
| Number of knobs | 8 |
| Number of pads | 16 |
| Aftertouch? | Yes |
The AKAI Professional MPK249 packs plenty of useful controls into one MIDI keyboard, which makes it a very versatile option for beat making in almost any genre.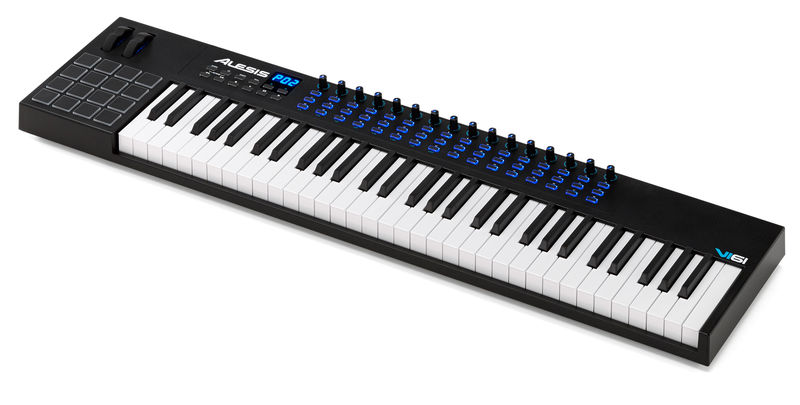 This is a keyboard with beat-making solely at the forefront. It has 16 large pads right within arm's reach to the left-hand side of the keys. And it has 61 semi-weighted keys as well as a bunch of other useful controls. This is a great budget-friendly option that provides practically everything you will need out of a MIDI controller for beat-making.
Pros
Semi-weighted keys
A lot of freely configurable control elements
Fully assignable knobs
Production software included
Cons
The software to set assignments for the MIDI controls is not the most intuitive, but it's still very functional
In terms of design, the VI61 has way more control than the Alesis V61, therefore it has a lot more to offer. The 16 drum pads are touch-sensitive and react with different colors depending on the strength of the touch.
The colors change from very light (green) to medium-strong (blue) to a strong touch (red). All other controls, on the other hand, are kept in simple blue, as with the V61.
| | |
| --- | --- |
| Number of keys | 61 |
| Number of knobs | 16 |
| Number of pads | 16 |
| Aftertouch? | Yes |
On the back of the VI61, you will find the USB port and the sustain socket as well as a traditional MIDI out, a power socket for an external power supply, and an on / off switch.
A power supply unit is not included in the package – as with the V series, the power supply is normally via USB. With the optional power supply unit, it would have enough power to be used in conjunction with an iPad for example.
Keyboards for Making Beats – Buyer's Guide
In this session, I'll fill you in on how to select a keyboard that is suitable for making beats; whether in your home studio or during live applications.
MIDI controller or standalone keyboard
Probably the most important consideration is if you want to use a keyboard as a MIDI controller to a DAW on your computer, or do you want to have a standalone keyboard that you can use independent of a laptop.
Every product on this can serve as a MIDI controller. However, the only product on this list that actually serves as a fully standalone option is the Korg Kronos8. If you are in the market for a standalone keyboard for beat making, then also check out MASCHINE gear from Native Instruments as a good alternative also.
Integrations with Your DAW
When getting a MIDI keyboard you do not have to be too concerned with what the DAW software (e.g. Garageband, Ableton Live, etc) you use on your computer because they all use the same MIDI specifications and they are pretty interchangeable.
That said, some MIDI controllers are made specifically to support the design and features of a particular DAW. For example, MIDI controllers made specifically for Ableton Live will be based around the session view of this software and be optimized for use in that particular software. Therefore, if you use a particular DAW, then keep a lookout to see if you can get a controller that's most compatible with your DAW's workflow.
Pad Sensitivity
In order to humanize your beats and to make them sound less robotic and digital, it's great to create them with subtle changes in velocity that would be present if a real drummer was playing.
Therefore, it is great to get drum pads on your keyboards that are nicely velocity-sensitive and can properly replicate your movements. These will simply translate to different velocity parameters on your MIDI notes, which can result in subtle volume changes that add a bit to the groove and add a bit of a human sound to your beats.
Number of Keys
A large number of keys is advantageous, but they are not necessarily required for beat making. Many keyboards have 61 keys. A model with fewer keys, such as 25 or 49 keys, can also be easily used for making beats because the user can simply press buttons to switch octaves up or down. There are 88 keys on a full-sized keyboard.
The Quality of the Keys
Low budget keyboards tend to use very basic or semi-weighted keys that although can be quite useful for beat making, they might feel a bit flimsy or unnatural for musicians that are used to playing the piano. Premium keyboards, on the other hand, tend to have weighted keys with very good hammer action that feels much more like a regular piano to play.
The Sound Quality
When talking about the sound quality of keyboards, we are only concerned with keyboards that actually act as standalone instruments (such as the Korg Kronos8). MIDI controllers do not have any sound generated directly from them. The sound quality is dictated by the quality of the plugins you use on your computer or on the stock plugins in your DAW, such as Ableton Live, Logic Pro, or GarageBand.
If you are looking for a good keyboard for advanced players or professionals, high sound quality is particularly important. However, models with good sound quality are often at the higher end.
If you want to buy a low-budget standalone keyboard, you usually have to accept a compromise in the sound department. If you have a very low budget then I would recommend that you get a MIDI controller instead of a standalone keyboard.
Verdict
There are numerous keyboards for making beats on the market, but they are different in many factors.
The Novation 61SL is my top pick among the lot. Although it's not the most affordable option in the market. It has great build quality feels great to play, and it is very nicely built to support the workflow of a beatmaker.
Other alternative keyboards which I recommend are the AKAI Professional MPK Mini MK3 (if you've set out a low budget for a new keyboard) and the Korg KRONOS2 88 Key, which I think is the best available on the market.