The 7 Best Guitar Stands and Racks (2023)
If you want to keep your guitar safe while storing it in style, then you need a good guitar stand or rack.
The Hercules GS414B is my top pick. It's a great stand with an automatic grip, which is perfect for both electric and acoustic guitars.
If you're on more of a budget, check out the Amazon Basics Guitar Folding A-Frame Stand, a nice, affordable, and easy way to hold your guitars in place.
The 7 Best Guitar Stands and Racks (2023)
Let's look at them in more detail.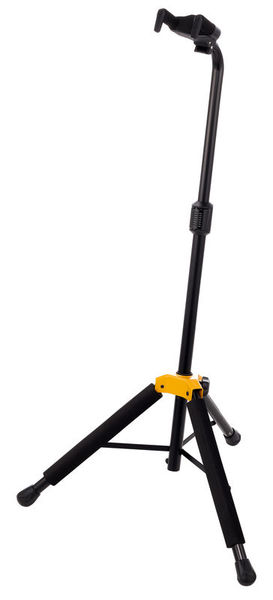 The Hercules GS414B is a single guitar stand. It comes equipped with an automatic grip system, meaning that the weight of the guitar is forcing the grip down and keeping the guitar safe on the stand.
Pros
Automatic grip system
Thick foam on all contact places
Lightweight
Cons
Only has space for one guitar
This item has an adjustable height, so it will comfortably fit most guitars. The GS414B is a great buy if you want a sturdy, high-quality guitar stand.
2. Amazon Basics Guitar Folding A-Frame Stand
Budget Option
Affordable and sturdy A-frame stand for a single guitar.
View Price at Amazon
If you're on more of a budget then check out the Amazon Basics A-Frame, as it's very decent for this price range.
Pros
Affordable price
Foldable
3 adjustable-width settings
Cons
Might not fit as well for more asymmetrically shaped guitars
This stand is foldable and has three adjustable width settings. It will fit larger guitars such as acoustic well, but you might have an issue with your bass guitar or some slimmer electric guitars not really fitting perfectly in.
3. Gator Frameworks Adjustable Triple Guitar Stand
Best for Multiple Guitars
Three-guitar stand with adjustable height.
View Price at Amazon
This type of guitar stand is perfect if you have more guitars as it helps you keep them sorted without having to buy several stands and spend more money.
Pros
Fits three guitars
Heavy-duty steel construction
Rubber feet to give extra stability
You can set all three guitars on different heights with bottom pitchforks that help hold the bottom of the guitar. The neck holders are foam and rubber-coated, so you won't have dents and scratches on your guitar. This is a great buy if you have three guitars, as it saves you space and money at the same time.
4. Pyle Multi Guitar Stand
Affordable Guitar Rack
Foldable universal display rack that can hold up to 7 guitars.
View Price at Amazon
If you have a bigger collection of guitars, buying a guitar rack is simply a must. Racks allow you to save as much space as possible, all the while you can keep your guitars safe and sound when you're not playing them.
Pros
Fits 7 guitars
Velveteen rubber padding all over the rack
Foldable
This rack can fit up to 7 guitars, both acoustic and electric and has a foldable design, so it can be easily packed away when it's not needed. This is a great way to pack all of your guitars in a space-saving way and the price is very affordable.
This is a standard, affordable single guitar stand that's a good solution for keeping your guitar safe. It's safe-padded for good protection of your guitar both on the neck and the bottom of the guitar.
Pros
Low cost
Height adjustable
Nitrocellulose-safe padding
This stand can be height adjusted, so you can fit on it everything from ukulele to bass guitar. It has a low standing tripod base, so it won't turn over and will give you nice and stable support.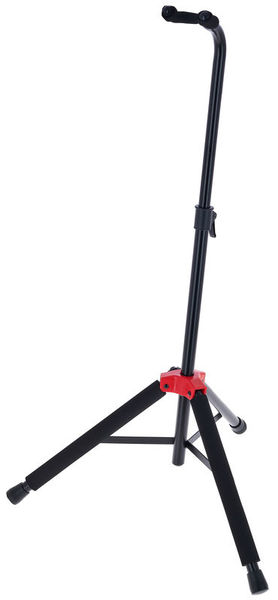 This is a premium single guitar stand from Fender that works well with many different types of guitar.
Pros
Adjustable height
Finishing quality
Yoke design allows different shapes to fit
The Fender stand comes with a simple yoke system that holds the guitar hanging in the place under its own weight. The finishing on every part of this stand is great and makes it really good for your guitar and durable as well.
Most guitar stands are made out of metal, but this one is made out of wood, which makes it look great.
Pros
Made out of wood
Foldable
Width adjustable
As an A-shaped stand, it has everything that ticks the boxes. You have a non-slipping base, rubber foamed forks at the bottom, and rubber tips on the feet of the stand. You can adjust the width of the stand, accommodating different-sized instruments, as well as fold it really easily.
Are Guitar Stands Bad for Your Guitar?
Guitar stands are good for your guitar. They will keep your guitar safe and in one place at all times.
Are Hanging Guitar Stands Better?
Hanging guitar stands are better if the guitar is at risk of being knocked over by family members or pets. Other than that, there is no big difference between hanging your guitar or keeping it on a classic stand. People tend to think that hanging a guitar can damage its neck, but that's not true at all. Therefore it is a matter of preference.
Is it Better to Leave a Guitar in a Case?
It's better to leave a guitar in a case if you're not going to use it for a longer period of time. Of course, if you're using it every day, there's no need to pack it and unpack it every time you want to play. Even though there is no harm in a guitar staying on a stand, when it is packed in a case, it will keep dust and contaminants away.
Summary
I hope that this article has helped you get a good look at the best guitar stands on the market today. Whether you have one guitar or more, whether you want it to hang or to stand, you will find something interesting on this list.
Featured Image (Right) by: "Ultimate Support Guitar Stands" by ljguitar is licensed under CC BY 2.0