The 10 Best Guitar Stands and Racks (2023)
If you're a guitarist, you understand the importance of having a reliable and sturdy stand or rack to hold your instrument. Not only does it keep your guitar safe and secure when not in use, but it also ensures that it is always within reach when inspiration strikes while storing it in style.
From simple floor stands to wall-mountable racks, there are many great offerings today in music stores. Whether you're looking for a stand that can hold multiple guitars, one with adjustable height and width to accommodate any size instrument or a wall-mounted rack that doubles as a display piece, I've got you covered.
My top recommended guitar stand is the Hercules GS414B A/G Guitar Stand due to its automatic grip system for security, easy height adjustment, and great design with rubber on all contact points.
If you're on more of a budget, check out the RockJam Foldable A-Frame, a cost-effective guitar stand with a steel A-frame design with lock, soft foam, and neoprene padding to protect the guitar, and rubberized feet for stability in any environment.
By combining the results of my research and experience, I compiled this list of the top 10 guitar stands and racks that excel in terms of quality, durability, versatility, and overall value for money. So let's go!
The Best Guitar Stands and Racks (2023) – At a Glance
Now let's move on to the full list: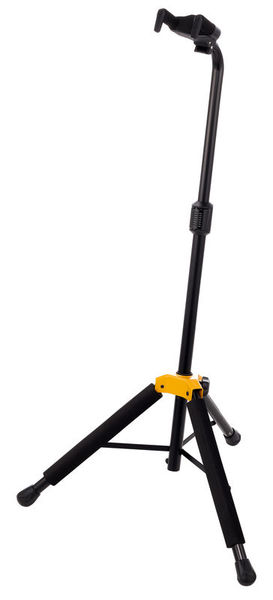 The Hercules GS414B Guitar Stand has certainly caught my eye with its stability and durability. This is down to solid construction with tough rubber materials that can support an impressive 33 pounds. But, where this stand really shines is the Auto Grip System (AGS) yoke that holds your instrument securely along with a generous padding of Specially Formulated Foam (SFF) covered with protective rubber.
The stand keeps the safety of your instrument front and center with the auto grip system, ensuring your beloved instrument remains undamaged. Further protection is provided by SFF padding on the stand's legs, which keeps your instrument secure and safe.
I also like how adaptable the stand is, as it can hold a variety of instruments, from a small ukulele to heavier guitar models. Its adjustable height is definitely a great feature.
I do like the stylish black color of the stand, which can enhance any room's look. However, I should point out a recurring problem. Over time, the handle of the stand can become 'gummy' and unpleasant to touch, affecting the product's quality and user comfort.
Despite this, the stand's light weight makes the Hercules GS414B Guitar Stand an absolute delight for any musician looking for a high-quality stand for their instrument.
Pros
AGS yoke system for a secure fit
Uses SFF rubber for protection
Can hold up to 33 pounds
Highly adjustable for various instruments
Sturdy construction
Comfortable grip with easy height adjustment
Cons
Handles degrade over time
Only has space for one guitar
Specs
Type: Stand
Number of Guitars: 1
Intended Guitar Type: Guitar/Bass, Ukulele, Mandolin, Banjo, Violin
Weight Capacity: 33 lbs.
Height: 37.4″- 45.2″
2. RockJam Foldable A-Frame Guitar Stand
Budget Pick - Cost-effective guitar stand with steel construction and a foldable design
Stable and non-slip rubberized feet, soft neoprene arms, free online guitar lessons.
View Price at Amazon
RockJam Foldable A-Frame Guitar Stand impressed me with its value for price, simplicity, strength, and compactness. It is made from tough steel, making it durable enough to handle everyday use and the rigors of travel. Plus, it can safely hold your guitar from practice to gig so that you can concentrate solely on your music.
The stand is lightweight and easy to fold, which makes it easy to transport. It's a reliable tool for all musicians, whether they play beach gigs on the weekends or tour across the country.
Furthermore, t offers balance in an always-shifting world. The stand has rubber feet for stability, providing a solid place for your guitar on any surface. It also has padded arms covered in protective neoprene, providing a safe place for your guitar, whether electric, acoustic, or bass, enhancing its dependability and versatility.
Unfortunately, I noticed one potential downside: the padding where the guitar's back meets the stand isn't enough, and the angle of the stand is not optimal, as when the guitar is not located carefully, it may slip down or fall.
Still, despite these minor issues, for the price, it is a highly dependable and sturdy guitar stand that can get the job done for most musicians.
Pros
Sturdy, made from steel
Portable and collapsible
Rubberized feet for stability
Soft neoprene cushioning
Universal fit
Good value for money
Free online lessons included
Cons
Inadequate padding
No locking the instrument in place
Not the best lean angle
Specs
Type: Stand
Number of Guitars: 1
Intended Guitar Type: Guitar/Bass
Extra Features: Free two-month membership to TakeLessons Live
3. Fender Folding Multi Guitar Stand
Pro Pick - Premium guitar stand that holds up to 5 guitars
Sturdy steel frame, foam padding for protection, easy storage and transportation.
View Price at Amazon
Fender Folding Multi Guitar Stand has an impressive history dating back to 1946. Used by many famous guitarists, it can hold up to 5 guitars securely. Made in the USA, the stand's sturdy steel frame with foam padding for protection and design for easy storage and transportation make it a perfect guitar stand for musicians.
Designed for those with many musical pieces, the stand can hold up to five instruments. More than just a stand, it also allows musicians to display their gear neatly. An interesting detail is the stand's built-in foam padding, meaning not only are your instruments displayed, but they're also kept safe.
On the cons part, the stand is slightly hard to assemble and disassemble compared to other guitar stands. Plus, although it is a large stand, it has tight space, especially when holding multiple acoustic guitars.
Considering the busy schedules of musicians, this stand shines with easy-to-use functionality. Its compact, foldable design makes it perfect for artists on tour or in small recording studios. The stand's understated black color allows it to fit well in any environment.
Pros
Sturdy with the steel frame
Portable when disassembled
Able to hold 5 guitars
Foam padding for easy touch on guitars
Cons
Assembling and disassembling are not the easiest
Tight space for acoustic guitars
Specs
Type: Multi Guitar Stand
Number of Guitars: 5
Intended Guitar Type: Guitar/Bass
Height: 27.5"
Cost-effective - Affordable tripod-style guitar stand with adjustable height
Secure padding, nonslip rubber feet, centered yoke for balanced support.
View Price at Amazon
The On-Stage XCG-4 Guitar Stand is a trusted and popular stand thanks to its affordable price and reliable design. While keeping your guitar safe and ready to play, it can adjust to different guitar body types, from traditional symmetrical designs to unique offsets.
One of the features I love is the soft padding on the yoke. This reduces panicky moments when your guitar slips from its stand. The yoke firmly holds your guitar and protects its smooth finish from scratches.
For the price, of course, there are some negative parts like the stand's wobbly base, which is not very reliable. The thin metal frame causes instability with lighter guitars, and the foam padding is not as high-quality as higher-priced stands.
The stand's height can be adjusted to accommodate various guitar and bass lengths, providing confidence and reassurance that your instrument is secure. For the price, it is a great guitar stand that offers reliable performance to keep your guitar safe.
Pros
Trusted and popular guitar stand
Non-slip yoke padding for instrument protection
Adjustable height
Lower yoke adjusts to various guitar bodies
Heavy-duty tripod base
Easy to assemble and disassemble
Affordable and good value for money
Cons
Instability with lighter guitars
Not ideal for non-traditional guitar shapes
Lesser quality foam padding
Slightly wobbly base
Specs
Type: Tripod Stand
Number of Guitars: 1
Intended Guitar Type: Guitar/Bass, Banjo
Height: 19.25-24″
5. Gator Frameworks GFW-GTR-2000 Double Guitar Stand
Double Guitar Design - Great guitar stand for 2 guitars with a durable rubber neck
Collapsible legs for convenient storage, easy height adjustment, rubberized pads.
View Price at Amazon
Gator Frameworks GFW-GTR-2000 is a great double guitar stand with its rubber padding and sturdy neck strap. With its double-sided design, it can hold two guitars simultaneously, securing them with the sturdy neck strap and rubber paddings. The finish-friendly rubberized cradle padding is a nice touch, preventing any damage or scratch on your guitar.
The stand can be unsteady and wobble at times, depending on your guitar type, which is one of the negative sides of the stand. It offers adjustable heights from 27″ to 34″, accommodating both tall and shorter instruments. The foldable legs also make it a space-saving solution for musicians constantly on the move.
Fortunately, this double guitar stand requires no assembly, which I really appreciate. It comes ready to use, and it is quite light. However, if you're concerned about its sharp edges, the detachable red trim on the feet adds a safety element. This product combines simplicity and convenience perfectly.
Pros
Holds two guitars, acoustic or electric
Made with finish-friendly rubberized cradle padding
Durable neck restraint included
Easy to assemble
Compact, doesn't take much space
Constructed with heavy-duty steel
Cons
Might be unstable or unsafe for some users
No lock for stability
Issue with adjusting stand for different guitar types
Specs
Type: Double Stand
Number of Guitars: 2
Intended Guitar Type: Electric/Acoustic Guitar
Height: 27″ – 34″
6. Amazon Basics Guitar Stand
Portable - Highly portable A-frame guitar stand with great value for the price
Universal A-frame design, adjustable width, lightweight and durable, easily foldable.
View Price at Amazon
The Amazon Basics Guitar Stand is well-known for its strength and flexibility. Its A-frame design fits many types of guitars since its width can be adjusted in three ways to fit various shapes. This feature makes it incredibly useful, able to hold everything from a full-size acoustic guitar to a child's tiny electric one.
One of the stand's key benefits is its strong but gentle construction, designed to keep instruments safe. The soft foam arms and backrest help avoid any damage to your guitar. But, it's important to mention that the stand may not suit some electric guitar shapes like V-shaped guitars. Also, it requires more space than standard guitar stands, which may be a problem if you have limited space.
One standout feature of the stand is how easy it is to transport. It can fold down into a lightweight, portable shape ideal for various situations, whether it's a relaxed jam session at a friend's place or a more formal concert. Its lightweight and foldable design certainly makes it a handy item for busy musicians who live by the motto, "the show must go on." This aspect is particularly noteworthy in my studies.
Pros
Universal A-frame design
Three adjustable width settings for varying guitar shapes
Folds flat for convenient transport and storage
Non-slip rubber for stability
Durable and lightweight metal construction
Soft foam arms and backrest protect the guitar
No assembly needed: fully assembled upon delivery.
Good value for money
Cons
Requires larger space due to learning design
Not suitable for some specific guitar models like Jackson Flying V.
Does not have a tall neck to avoid tipping over.
Specs
Type: A-frame Stand
Number of Guitars: 1
Intended Guitar Type: Acoustic and electric guitars, bass
7. Pyle Multi Guitar Stand 7
High Capacity - Large universal guitar stand for holding up to 7 guitars with a rugged and reliable design
Convenient folding system, universal compatibility, rugged and reliable construction, rubber paddings.
View Price at Amazon
Pyle Multi Guitar Stand 7 features a clean, practical design that's really user-friendly. It's made to hold different kinds of guitars, like acoustic, electric, and bass. Its flexibility makes it a great all-in-one answer for guitar storage, seamlessly blending usability with comfort in a small size.
It efficiently holds up to seven guitars, neatly showing off your various music pieces. It's a brilliant idea for those who swap out their guitars often when playing.
Also, what I really admire about this stand is its solid structure. The combination of steel and sleek black powder coating gives you assurance of its sturdiness. Its thoughtful details, like rubber-padded, rests for the body and neck, help to avoid any potential scratches – not only is this a storage solution, but also a safe space specially built to protect the soul of your music experience.
Pros
Holds up to seven guitars
Universal compatibility
Includes rubber padding
Easy to assemble and disassemble with the foldable design
Great value for the price
Cons
The stand might not safely secure all seven guitars
Wear and tear on padding after a few months of use
Specs
Type: Multi-Stand
Number of Guitars: 7
Intended Guitar Type: Electric, acoustic, classical guitars, basses, etc.
Height: 28.7''
Versatile - Affordable and versatile guitar stand for guitars, bass, ukulele, banjo, and more
Adjustable height, protective padding, collapsible design.
View Price at Amazon
The Hola Guitar Stand is a handy tool in the world of musical instruments, and it's surprisingly strong for its cost. It's versatile enough to hold various types of guitars like bass, acoustic, classical, and electric, as well as mandolins, banjos, and ukuleles. The thing I like is its adjustable height that fits any guitar shape and size.
If you're on the road a lot with your music, you'll find a key benefit in this stand. With its lightweight and small size, the Hola Guitar Stand is easy to move around. Plus, you can fold it up and slip it into a backpack or suitcase, ready for any performance or jam.
On the down part, the stand is not very durable, especially when used with heavy guitars. Also, it may need extra adjustments for stability.
A feature that really pleased me is its focus on keeping the instrument safe. The padding on the Hola Guitar Stand stops it from getting scratched up and doesn't ruin the instrument's surface, thanks to a special material. Its automatic lock adds an extra security level, acting like a personal bodyguard for your guitar.
Pros
Economical and well built
High-quality material used
Adjustable to fit different instruments
Padding avoids damage to instruments
Collapsible for easy transport
Simple assembly process
Cons
Less durable with heavy guitars
Might require additional adjustment for stability
Specs
Type: Guitar Stand
Number of Guitars: 1
Intended Guitar Type: Electric, acoustic, classical guitar, bass, banjo, ukulele
Height: Up to 27.5"
9. Gator Triple Guitar Stand
Sturdy - Durable triple guitar stand made from sturdy steel
Rubberized cradle padding, durable neck restraints, removable red safety trim, high-quality steel.
View Price at Amazon
With Gator Triple Guitar Stand, you can step into your music room and be greeted by the sight of your guitars neatly lined up on a sleek triple guitar stand. This stand's capacity to hold various kinds of guitars – be it classical, acoustic, or electric – adds a modern appeal to the room. I'm in favor of its flexibility and toughness, which many users have praised.
Getting into more specific features, the stand is made from sturdy steel, promising lasting durability. Your guitars will safely rest on the rubber padding, preserving their glossy finishes. However, there have been a few criticisms regarding its design, as there may be spacing issues with larger guitars. Also, the stand is not meant for angled headstocks.
Furthermore, it has improved safety features like firm neck fastenings. In addition, easy adjustability and weight that brings stability are beneficial features. Clearly, this stand doesn't just boast style; it brings substance, too!
Pros
Sturdy stand
Hold up to 3 guitars
Rubberized padding and neck restraints
Adjustable height
Stable
Easy to assemble
Durable with heavy-duty steel construction
Cons
Not the best for angled headstocks
Minor spacing issues with some guitar types
Specs
Type: Triple Stand
Number of Guitars: 3
Intended Guitar Type: Electric, acoustic guitars
Height: 27″ to 34″
10. Fender Deluxe Hanging Guitar Stand
Premium-Quality - Top-grade stand with a highly durable, good-looking, and portable design
Adjustable height, collapsible design, sturdy metal construction, scratch-resistant foam padding.
View Price at Thomann

(EU & UK)
View Price at Amazon
Fender Deluxe Hanging Guitar Stand is a top-grade guitar stand made of solid metal that makes it trustworthy for holding all types of guitars. Rest assured, it's not any old metal, but one that assures your guitar of great stability. So, your beloved instrument won't wobble, making it safe and well-presented.
One of the best parts is the adjustable neck support; it's designed to fit a wide variety of guitar sizes. From compact parlors to large basses or even curvy Stratocasters, every guitar can comfortably fit this stand. So, you won't have to worry if your unique guitar will get the support it needs.
Though, I have a bone to pick with the foam padding. It may prove insufficient, as it wears out quickly and doesn't keep shape after use. But that is not a dealbreaker.
Plus, the stand looks pretty elegant with a red-black design. If you are after a reliable guitar stand and are ok with paying a little extra, Fender Deluxe Hanging Guitar Stand is a great choice.
Pros
Highly sturdy and stable
Works well with a variety of guitar models, including odd-shaped ones
Heightadjustable
Safe instrument storage and display
Easy to set up and fold down
Padding on yokes is soft and finish-friendly
Lightweight design
Cons
Padding may be prone to wear and tear
The foam on the neck cradle might be of inferior quality
Specs
Type: Hanging Guitar Stand
Number of Guitars: 1
Intended Guitar Type: Electric, acoustic, classical guitars
Buyers Guide
Deciding on a Type of Guitar Stand
Before buying a guitar stand, you need to decide what type you need. The most common types are A-frame stands, tubular stands, multi-guitar stands, and hanging guitar stands.
A-Frame stands are compact and easy to transport, making them perfect for the traveling musician.
Tubular stands give your guitar a classic display and serve as a great conversation piece in any room.
As the name suggests, multi-guitar stands are designed to hold multiple guitars, which is great for stage performers.
Hanging guitar stands can save room since they lift the guitar off the floor, an ideal choice when space is at a premium.
Importance of Guitar Compatibility with Stand or Rack
You need to ensure that your guitar fits snugly and safely into the stand or rack. Consider features like adjustable width settings to accommodate various guitar shapes.
Stability and Durability
A guitar stand's stability and durability are crucial. It should have a solid build quality and not easily tip over. It should have a stable base to prevent your valuable instrument from tipping over. Rubber or anti-slip feet can add extra stability.
Also, the stand should have padding in all areas that contact the guitar to avoid scratching or damage. Plus, ensure it doesn't cause any pressure on the neck, as this can lead to warping.
Guitar Stand Material
Materials like foam and rubber are ideal choices, while the skeleton of the stand should be made of sturdy metal, steel, or aluminum, for high protection. They are not only sturdy and durable but also help ensure your guitar won't get damaged or scratched.
Features and Extras
Consider additional features such as collapsibility for easy transportation. Also, non-slip rubber feet guarantee stability and prevent accidental sliding.
FAQs
Can a guitar stand or rack damage my instrument?
Properly designed guitar stands, and racks with padded supports are safe for your instrument and should not cause any damage. However, it's important to choose a high-quality stand and use it correctly to ensure the utmost protection for your guitar.
How do I decide which guitar stand or rack is right for me?
Consider factors like the number of guitars you own, available floor or wall space, portability needs, and budget to determine the best type of guitar stand or rack for your situation.
Can I use a guitar stand or rack for different types of guitars?
Yes, most guitar stands and racks are adjustable or have different models available to accommodate electric, acoustic, and bass guitars, allowing you to use them for different types of guitars.
How do I maintain and clean my guitar stand or rack?
Regular cleaning with a soft cloth and mild cleanser, avoiding harsh chemicals, will keep your guitar stand or rack in good condition. Check for any loose parts and tighten them if necessary, and make sure the rubber or foam padding is intact to prevent potential damage to your guitar.
Conclusion
Guitar stands are great tools to keep your guitar safe and secure when not in use. There are many great options in the market for different guitar types, different budgets, and different sizes. All the options on the list are some of the best ones you can find today.
My main recommended guitar stand is the Hercules GS414B A/G Guitar Stand with its auto grip system, easy height adjustment, and SFF rubber on all contact points, including the legs.
As the affordable pick, the RockJam Foldable A-Frame Guitar Stand is great due to its cushioned arms and rubber feet, soft foam and neoprene padding, and affordable price.
Featured Image (Right) by: "Ultimate Support Guitar Stands" by ljguitar is licensed under CC BY 2.0