The 9 Best Free DAWs in 2023
DAWs (Digital Audio Workstations) usually cost hundreds of dollars. However, there are many free ones you can consider right now. They are surprisingly good and will help you jumpstart your home or even your studio music-making career.
Some free DAWs are lite versions of renowned software, while others were meant to be completely free. In the list of the best free DAWs for 2021 below, you will surely find something you can use. Just make sure you consider them all to see what is best suited for you.
1. Cakewalk by Bandlab
Go to site
Available on: Windows
I'm always surprised to see that BandLab's Cakewalk is a free DAW. It has the look and functionality of something that you would expect to pay for!
A big advantage of using Cakewalk is that you can use unlimited instruments, AUX tracks, loops, and MIDI tracks in a project. Simply put, you get a truly premium DAW free of charge, without any hidden purchase needed.
2. GarageBand
Go to site
Available on: MAC
GarageBand is a very decent free DAW for MAC that has quite a lot of capabilities. Of course, it doesn't come close to the functionality of its paid counterpart Logic Pro, it's still worth considering if you want something for free.
With this free DAW, you can easily record, create, play, and share songs in an easy-to-use UI.
Its sound library is large, including drums, guitars, pianos, and much more. When you finish work on a song, you can quickly share it on your social media accounts.
Professional sounds can be made with this DAW, and you can actually work on up to 255 audio tracks in a single project. GarageBand has presets for voices, guitars, and instantly shines when it comes to percussion and drums.
3. Waveform Free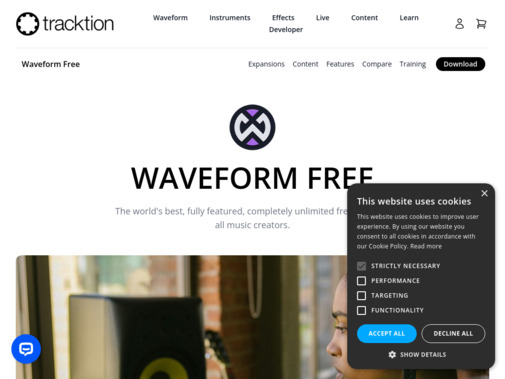 Go to site
Available on: MAC, Windows, Linux, and Raspberry Pi
Warmform Free is one of the most popular free DAWs. It is a fully-fledged DAW by Tracktion Software Corporation, rather than being a "lite" version. It offers support for unlimited plugins and tracks (well, as much as your CPU can handle!).
The DAW includes an Actions Panel you can use for workflow enhancements. You might also want to use the MIDI typing feature, which transforms the computer keyboard into the musical keyboard you might not have.
4. Avid Pro Tools | First
Available on: Windows and MAC
Avid Pro Tools is now used in countless professional recording studios. It's the industry standard of audio engineering software. However, the full version is certainly not cheap.
The Pro Tools | First version is completely free. It is very similar to the paid version but has quite a few limitations in place. For instance, you can only use 16 MIDI and 16 audio tracks in a project, and you can record only a maximum of 4 tracks at the same time.
While you will not be able to use third-party plugins, you receive a very good virtual workstation in Xpand! 2, together with access to 500 MB of loops and samples. The editing tools available are enough for simple projects and free cloud storage is offered (1 GB).
Before getting Pro Tools first, it's worth deciding if you would want to eventually buy the full version. If not, then it might be worth just signing up for a free DAW with a lot more features.
5. Ableton Live Lite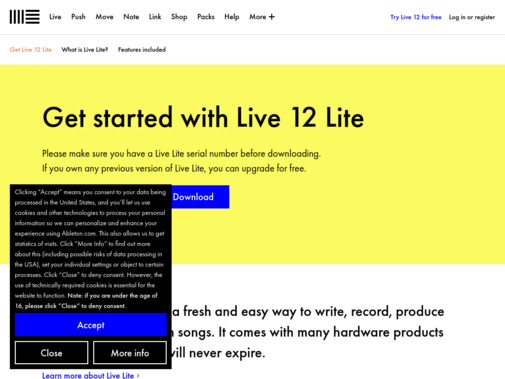 Go to site
Available on: Windows and MAC
Ableton Live is available for people who bought gear that includes a free key for it, like midi controllers or audio interfaces, it's also available with certain cheap mobile apps. The Lite edition is a version with fewer features but one that is very useful for anyone interested in a competent DAW.
The paid versions of Ableton Live are absolutely fantastic, particularly for those that produce electronic music. They have a great combination of both session and arrangement views that you can switch between for both live and studio use.
With Live Lite, you can use some great virtual instruments like Simpler (a sampling instrument), Impulse (a drum sampler), and Drum Rack. There are also numerous effects available, like EQ, compression, and reverb. However, there are quite a few limitations in comparison to the paid versions.
6. Ardour
Go to site
Available on: Windows, MAC, and Linux
If you are looking for a DAW that is very good for Linux users, Ardour has to be considered, although it is also available for Windows and MAC.
The digital audio workstation allows you to easily plug in a keyboard, microphone, and start mixing. You can even use MIDI files to copy-paste, stretch, move, or cut audio, all with drag and drop enabled.
Several effects are available, like mute, fade, and solo. Also, several plugins are supported by the DAW.
Keep in mind that although Ardour will be easily installable from the package manager of most Linux distros, it might be a bit out of date. If you really want the most up-to-date version, then you will either need to pay a once-off or subscription fee to get a installable version. Alternatively, you can get the source code and build it yourself, but that's not for beginners!
7. LMMS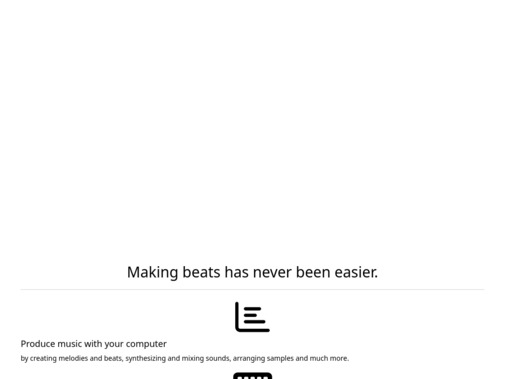 Go to site
Available on: Windows, MAC, and Linux
The big difference between LMMS and other DAWs is that you cannot use the software to record audio. Even so, LMMS is very good for those interested in MIDI recording and processing already recorded audio files.
With this LMMS, VST plugins are supported, together with several included effects and instruments. Use several synthesizers for free and take full advantage of the bit-music creation possibilities.
I think it's a bit silly that LMMS still doesn't allow audio recording directly, since this DAW has been around for so many years. That said, plenty of users particularly on Linux tend to link LMMS, which is why I have included it on this list.
8. Audacity
Go to site
Available on: Windows, MAC, and Linux
Audacity is a very popular free DAW that stands out as a wonderful tool for beginners. It gives you access to a clean, simple interface you can figure out very fast. Both audio editing and multi-track recording are a breeze with Audacity.
The two big problems with the DAW are that you cannot use VST instruments and MIDI recording (though you can use VST effects plugins). However, when you do not need complicated features, Audacity can be a good option.
9. SoundBridge
Available on: Windows and MAC
This free DAW lets you easily edit songs and even video files. You can use SoundBridge together with other people for collaboration and touch technology is included.
With SoundBridge, you have quick access to sequencing, tracking, mixing, and editing. Professional industry standards are met so you can be sure you would be able to use third-party VST plugins.
The interface is intuitive and you can use MIDI mapping, several effects, a sequencer, and so much more, all for free.
Summary
All the top free DAWs presented above are fast and give you access to tools to help you create music.
For the home-based or smaller recording studios, a free DAW gives access to all the necessary features. All of these are available for you directly from their websites, except for Ableton Live Lite, which requires a serial number that you get with supported hardware.