The 10 Best Electric Guitar Strings (2023)
If you're an electric guitar player, you understand the importance of having the right strings to achieve the perfect sound. The right set of electric guitar strings can enhance your tone, improve playability, and make your instrument more enjoyable to play.
As a seasoned guitarist, I've had the pleasure of trying out numerous electric guitar strings throughout my career. Some impressed me, while others fell short of expectations. After careful evaluation and extensive testing, I've compiled a list of the 10 absolute best electric guitar strings that every serious guitarist should consider.
My main recommended electric guitar strings are the Ernie Ball Regular Slinky Strings. These strings are precision manufactured to the highest standards, favored by musicians across many genres, and played by renowned artists like Eric Clapton and John Mayer, due to their bright yet well-balanced tone as well as consistency, optimum performance, and long life.
As for the budget-friendly choice, the Jim Dunlop Heavy Core would be a great choice with its quick attack and defined low end, along with its unique core wire and proprietary wrap ratios. They offer great tones for rock and heavier tones.
The 10 Best Electric Guitar Strings (2023) – At a Glance
Now let's move on to the full list: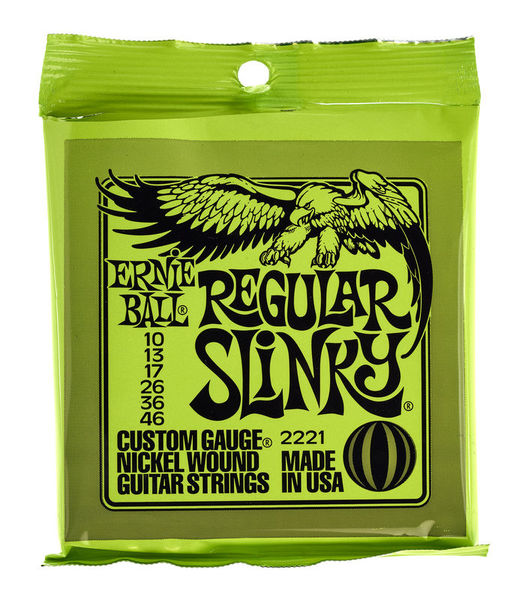 1. Ernie Ball Regular Slinky Strings
Top Pick - Top-selling electric guitar strings with optimum performance and long life played by famous musicians
Made from high-quality nickel-plated steel for a balanced tone for consistent quality.
View Price at Thomann

(Europe)
View Price at Amazon
As one of the top-selling electric guitar strings, Ernie Ball Regular Slinky Strings is a greatly-appreciated product by musicians due to its durability, cost-effectiveness, and impressive audio quality. With their standard 10-to-46 Regular Slinky Gauge, these strings fit nicely for both beginners and experts, making them quite attractive to proficient musicians.
A clear and sustained sound quality sets these strings apart. Made from nickel steel, they provide the sort of long-lasting and consistent audio performance that guitarists are after.
On the down part, depending on the frequency of use, these strings may need replacements pretty regularly. Especially players with sweaty hands reported that the strings get rusty and dull after using them for a week or two.
Furthermore, the strings' beautiful sound comes from a unique mix of materials. A tempered, tin-plated, high-carbon steel core wrapped in nickel-plated steel wire brings out the great tone heard in many famous tracks.
Pros
Well-balanced tone as per customer feedback.
Affordable and long-lasting, according to multiple reviews.
Excellent intonation and bendability, as stated by customers.
Consistent in performance as per multiple users.
Highest seller in the category as per product details.
Cons
Not very suitable for sweaty hands
Specs
Core Material: Tin-plated Hexagonal Steel
Winding Material: Nickel Plated Steel
Number of Strings: 6
Musical Style: Suitable for Rock and Blues
Gauges: Ranges from .010 to .046
Winding Type: Round Wound
2. Jim Dunlop Heavy Core DHCN1048
Budget Pick - Affordable electric guitar strings suits perfect for heavier styles and down tunings
Down-tune friendly strings with quick attacks and defined low-end.
View Price at Amazon
The Jim Dunlop Heavy Core DHCN1048 guitar strings are made just for the unique guitarists who love playing in low or drop tunings. From what I've seen, people like them a lot for their great tuning stability, especially in these types of tunings. The special mix of core wire and wrapping gives your guitar an amazing sound.
This American-made product can give your riffs a unique lower sound that sets you apart, adding depth and richness to your music. This is great for rock music fans and lead guitarists, as it delivers a fast attack ideal for quick finger movement and fantastic solos.
Another thing I find cool about these strings is their bright red color. Not only does it make your guitar sound great, but the color stands out on stage.
On the other hand, there are a few drawbacks I discovered. While the strings tune well, they are not as durable as other string sets. Some people also thought the sound was a bit muddy, but that is more of a personal opinion and depends on the playing style.
In short, if you are looking for a cost-effective electric guitar string set and you like heavier styles and down tunings, Jim Dunlop Heavy Core is the perfect choice for you.
Pros
Suitable for diverse tunings
Recognized for having a nice feel under the fingers
Known for maintaining good tuning
Affordable and provides good value
Appreciated for a sharp attack and bright tone
Good performance even with heavy use
Cons
The sound can be a little muddy for clean tones compared to higher-end strings.
Might not be compatible with certain guitar setups.
Specs
Core Material: Steel
Winding Material: Nickel Plated Steel
Number of Strings: 6
Musical Style: Suitable for Heavier Styles
Gauges: .010, .013, .017, .028, .038, .048
Winding Type: Round Wound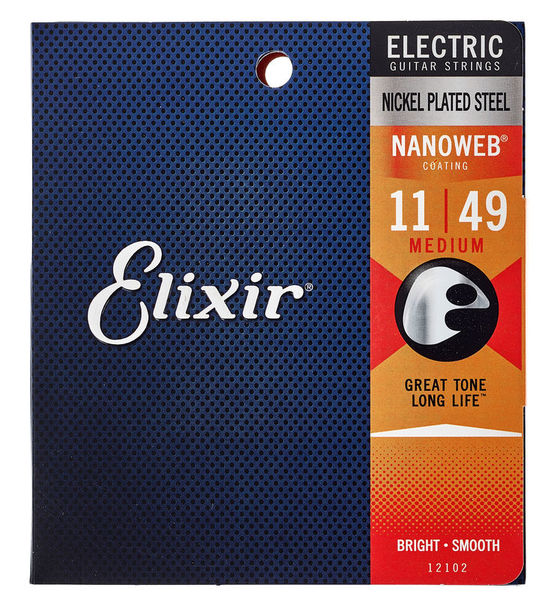 3. Elixir Electric Guitar Strings
Pro Pick - Top-quality coated electric guitar strings with superior longevity and impressive tone
Pro-choice strings with tone-killing gunk buildup prevention for vibrant presence and dynamic punch.
View Price at Thomann

(Europe)
View Price at Amazon
In the world of electric guitar strings, Elixir certainly stands out from the rest with its high-quality durability, magnificent tones, and innovative approach. The NANOWEB coating technology they use doesn't just protect the strings from damage, but it also keeps the pure, vintage sound of old-fashioned, uncoated strings.
I'm a big admirer of this blend of strength and audio quality because it shows Elixir's focus on lasting usage and superior sound. The strings from Elixir, built with nickel-plated steel wrap wire, offer long-lasting quality as they are famous for their long lifespan and great sound.
I also saw that though they are solidly made, Elixir's guitar strings aren't heavy. Most players, including me, have a nice feel when playing, but some players find the coated feel not so pleasant.
The only down part of the Elixir strings for me is their price, as they are significantly more pricey than other brands. But, if you are serious about playing guitar and want the best sound and longest lifespan, Elixir is the way to go.
Pros
Good brightness and dynamic punch, according to customer reviews.
Special-coated steel material lends durability
Greater tuning stability.
Protected against sweat and humidity with anti-rust plating
Good longevity in tone
Have a traditionally textured and "uncoated" feel with the ultra-thin NANOWEB coating
Cons
The strings are quite slick so they're not for everyone.
A bit pricey
Specs
Core Material: Steel
Coating: Nanoweb Coating
Winding Material: Nickel Plated Steel
Number of Strings: 6
Musical Style: Suitable for any style
Gauges: .010, .013, .017, .026, .036, .046
Winding Type: Round Wound
4. D'Addario EXL110 XL Nickel Wound Electric Guitar Strings
All-rounder - Highly versatile and balanced-sounding electric guitar strings made with high-carbon steel
Precision wound with nickel-plated steel for bright tones and high playability.
View Price at Thomann

(Europe)
View Price at Amazon
To start with, D'Addario EXL110 XL guitar strings have been in the industry since 1974, proven for reliability and trust. Musicians, both beginners and pros, use and love them. It amazes me how they have kept the same quality as they did in the early days, showing their product's longevity.
Next, let's talk about the sound. The strings have a nickel-plated steel wrap wire giving them the flexibility to cater to any musical genre. I enjoy how they produce a consistent tone, combining bright highs and rich lows beautifully. Regardless of the kind of music – be it rock, blues, jazz, or country, these strings guarantee perfect harmony.
On the down part, coarse winding on thicker strings may feel uncomfortable for some players, and they may sound too bright for players who like darker tones. Also, these strings should be maintained well as they are susceptible to rusting.
Lastly, these strings know every musician is different. I find it commendable that they come in Regular-Light, size 10-46, offering a suitable range for all types of musicians. Whether you enjoy playing slow ballads or fast solos, they got you covered. The consistent tonality and durability of these strings are really impressive.
Pros
High quality with a consistent tone
Long-lasting, reliable, and durable
Affordable and good value for money
Versatile for various musical styles
Easy on fingers, great for beginners
Bright and clear sound, even with distortion
Cons
The strings might be a bit bright for people's liking
Specs
Core Material: Steel
Winding Material: Nickel Plated Steel
Number of Strings: 6
Musical Style: Suitable for any style
Gauges: .010, .013, .017, .026, .036, .046
Winding Type: Round Wound
5. Ernie Ball 2723 Super Slinky Cobalt
Great Sound - Innovative string set with cobalt winding for enhanced output, incredible harmonic response, increased low end
Unmatched magnetic relationship with iron-cobalt alloy for clarity and consistency.
View Price at Amazon
Ernie Ball 2723 Super Slinky Cobalt is an amazing and innovative guitar string set with superior sound and enhanced bass. I love their top-notch sound and increased output, thanks to the cobalt-iron ally as the winding material. They seem to lift any instrument's natural tone, impressing many musicians and guitarists.
Their unique cobalt-iron mix gives them a powerful punch, enhancing their magnetic response and brightness in both high and low tones. Whether you're a hardcore metal fan or a subtle strummer preparing for private gigs, these strings withstand pressure and play. Think of it as heightened music dynamism with you in control.
They're a standard model in the world of guitars, coming from California, and many musicians from different genres approve of them. However, some users have expressed disappointment with the product's durability. Reports of strings breaking or not lasting long suggest that despite their high cost, they may not offer the best value.
But that also depends on the maintenance, playing style, and usage frequency. Despite these issues, the sound quality you get from these strings totally worth their relatively higher price.
Pros
Stronger magnetic relationship with pickups with cobalt material
Strings provide extended dynamic range and amazing harmonic response
Strong low-end and clear highs for rich sound.
High-quality alloy wrapped around a high-carbon steel core for longevity.
Comfortable and soft on fingers
Cons
Slightly higher price
Variation in tone might not suit all music styles
Relatively shorter lifespan
Specs
Core Material: Steel
Winding Material: Iron-Cobalt Alloy
Number of Strings: 6
Musical Style: Suitable for any style
Gauges: .009, .011, .016, .024, .032, .042
Winding Type: Round Wound
6. Fender 150R Original Pure Nickel
Vintage Tones - Purce nickel electric guitar strings for great vintage and blues tones
Ideal strings for Strat owners with blues-friendly tones and reduced finger squeak.
View Price at Amazon
If you own a Fender Stratocaster or Strat-style guitar from any brand, Fender 150R Original Pure Nickel electric guitar strings are worth trying. With their hexagonal steel core and pure nickel winding, they are perfect for vintage and blues tones. They also reduce the finger squeak significantly when you play up and down the fretboard.
Furthermore, they interact amazingly with single-coil pickups as they add great brightness to your sound. They are great for clean tones and work well with slightly overdriven tones, but players who want heavier tones and a more aggressive playing style should look elsewhere.
On the playability side, the strings feel super smooth out of the pocket. They are easy on the fingers, making them ideal for beginner players. Their durability is decent, and the price range is quite reasonable. I would recommend these strings to Strat players before anyone else.
Pros
Great fit for Fender Strats and Strat-style guitars
Perfect for blues and vintage-style tones
Pure nickel steel enhances the sound
Relatively lighter string gauge for a smoother playing experience
Specs
Core Material: Hexagonal Steel
Winding Material: Pure Nickel
Number of Strings: 6
Musical Style: Great for Blues and Vintage tones
Gauges: .010, .013, .017, .026, .036, .046
Winding Type: Round Wound
7. D'Addario NYXL1052 NYXL Nickel Wound
High Durability - Strong guitar strings with coatings on all strings for greater tuning stability and a longer lifespan
Great feel on fingers for better bends and easier bends, and playing comfort.
View Price at Thomann

(Europe)
View Price at Amazon
With D'Addario NYXL1052 NYXL Nickel Wound strings, you can keep your music going longer with the new Fusion Twist improvement. This upgrade boosts tuning stability and makes the strings last and remain in tune longer. This saves you from frequent tuning, giving you more time to perfect your solos.
The innovative approach aims to ensure every guitar session is perfectly pitched, creating a louder, crisp sound that fits metal and rock music perfectly. These strings are made of a sturdy high-carbon steel core and have coatings on all strings, making them strong and easier to bend. Whether you're rocking out with heavy metal or creating soft melodies, these robust strings can handle it.
Moreover, they create a distinctive mid-range tone that helps you stand out. The redesigned nickel-plated string windings boost magnetic properties, enhancing mid-range frequency response. This upgrade makes your guitar sound stand out, even alongside loud drums and bass.
An issue with these strings is that the coating in all strings feels a bit slippery, so the players need to get used to them. The feel and sound are pretty good, but you have to be patient and give your fingers time to get used to the new feel.
Pros
Superior sound quality
Strong and durable high-carbon steel core
Suitable for different music genres, including metal and rock
Sharp, bright, and versatile tones
Enhanced tuning stability
Long lifespan
Greater magnetic properties enhance the frequency response
Cons
A bit pricey
Coatings feel a bit slippery
May take time to get used to the feel
Specs
Core Material: High carbon steel
Winding Material: Nickel Plated Steel
Number of Strings: 6
Musical Style: Great for rock and metal
Gauges: .010, .013, .017, .030, .042, .052
Winding Type: Round Wound
8. GHS GB-DGF Guitar Boomers David Gilmour Signature
Iconic Choice - David Gilmour's electric guitar strings in the albums like The Wall
The flagship set for musicians in every genre with its bright sound.
View Price at Amazon
GHS GB-DGF Guitar Boomers David Gilmour Signature has been closely associated with the famous guitarist David Gilmour since 1979, shaping the sound of Pink Floyd's 'The Wall' during performances around the world. Each note they produce carries a bit of music history.
Speaking about the material, it's impressive how the alloy blend, often referred to as 'The Power String,' creates a colorful tone that really stands out. This tone enhances the guitar's overall sound and playability. You can't miss the clear quality and durability of these strings.
These nickel-coated marvels easily boost any performance, whether you're pulling off a solo or playing a relaxing song. They're also designed to perfectly match Gilmour's specific style for a more exciting performance.
What adds to their attraction is how well these strings resist corrosion, thanks to the individual NitroPacks they're packed in. They're also shipped in a Fresh Pack to keep them as good as new. So whether you're a seasoned musician or a casual player, choosing these strings is a smart move.
Pros
Bright and vibrant sound
Long-lasting durability
True to David Gilmour's style
Holds the tune well
Great value for the price.
Delivers high volume and great tones
Cons
High E string noted as prone to breaking
Takes time to wear in
Specs
Core Material: Steel
Winding Material: Nickel Plated Steel
Number of Strings: 6
Musical Style: Great for every genre
Gauges: .010, .012, .016, .028, .038, .048
Winding Type: Round Wound
DR Strings DDT-11 Drop-Down Tuning Nickel Plated Steel string set just made tuning your instrument a lot easier, especially in lower tuner settings which are popular in genres like metal. This is thanks to a new technology called ACT used in these strings. I think the best feature of these strings is their excellent performance and stable tuning. The ACT tech helps to enhance the accuracy of your chords and notes, effectively eliminating the need to tune your instrument during a set.
These strings are suitable for everyone, whether a beginner or an experienced player or a fan of acoustic or rock music. They offer a high level of strength and can be used in different playing styles.
Made in the USA, these strings embody the essence of native rock and roll, blending skilled craftsmanship with advanced technology. Regardless of where you play, these strings will enhance your guitar playing, but you might need to replace them frequently. The sound clarity is slightly less compared to other brands, but they are ideal for heavier genres and heavier playing styles, which is not a dealbreaker in that sense.
Pros
Great for various drop-tuning styles
High stability and intonation
Vibrant and harmonic sound
Highly durable string set
Suitable for heavy metal, rock, and thrash music styles
Increased performance with tremolos.
Environmentally friendly packaging is an added bonus
Cons
Slightly less clarity compared to other brands
Specs
Core Material: Hexagonal Steel
Winding Material: Nickel Plated Steel
Number of Strings: 6
Musical Style: Great for rock
Gauges: .011, .015, .019, .032, .042, .054
Winding Type: Round Wound
10. GHS GBL Guitar Boomers
Strong Sound - Known as The Power Strings due to their strong sound and long lifespan
Great value for the price with their quality, consistency, and great sound since 1964.
View Price at Amazon
Since 1964, GHS Boomer series guitar strings have been gaining popularity. Known as "The Power String," their strong sound is widely admired. I saw that people frequently complimented these strings for both their durability and tonal quality. It's also likely their roundwound design that gives them a distinct sound and impressive lifespan.
These strings are carefully packed into NitroPacks to keep them fresh. By maintaining a nitrogen environment around the strings, they're effectively kept from rust. I admire their effort to keep the strings in brand-new condition. Additionally, GHS's Fresh Pack's air-tight seal ensures the strings remain pristine to use.
Many musicians, especially those who prefer high-pitched tones without much tension, may favor these light gauge, silver-colored strings. Rock music fans might find these strings particularly appealing.
On the down part, the strings may snap unexpectedly, and the bright sound may not be for everyone, especially for those who want darker-sounding tones.
Despite this potential downside, their lightweight, consistent playability and beautiful sound make these strings a desirable choice. They make playing music lighter and smoother than ever before!
Pros
Bright and long-lasting tone suitable for blues and rock
Great for both electric and acoustic guitars
High durability, can withstand aggressive playing styles
Quick break-in period
Stay in tune for extended periods
Handled well for down-tuned playing
Good tension feel
Great value for money, affordable
Cons
Bright tones may not be for everyone
Specs
Core Material: Steel
Winding Material: Nickel Plated Steel
Number of Strings: 6
Musical Style: Great for rock
Gauges: .010, .013, .017, .026, .036, .046
Winding Type: Round Wound
Buyers Guide
Things To Consider When Buying Guitar Strings
Material: The material of the strings affects both the tone and lifespan of the strings. Common materials include nickel, stainless steel, and bronze.
String Gauge: This refers to the thickness of the strings, which impacts playability and tone. Lighter gauges are easier to play but may break easily, while heavier gauges offer a fuller tone but are harder to play.
String Winding: There are three types – roundwound, flatwound, and halfwound. Roundwound provides a brighter tone, flatwound mitigates finger noise, and is smoother, while halfwound is a compromise between the two.
Coated vs. Uncoated: Coated strings are a bit more expensive but can last up to five times longer than uncoated strings.
Budget: As with any purchase, you need to weigh all factors against your available budget. More expensive doesn't always mean better.
Understanding the Role of String Gauge
First and foremost, it's essential to understand the impact of the string gauge, which is the thickness of a guitar string. The gauge of your strings significantly affects the tone, tension, and playability of your guitar.
High gauge, or heavy strings, tend to produce a louder, fuller tone and deliver higher tension which means you need more force to fret and bend the strings but can withstand aggressive playing.
On the other hand, lighter gauge strings deliver a brighter sound and have lower tension making them easier to fret and bend, but they are prone to breaking and buzzing if struck too hard.
Medium gauge strings sit comfortably in the middle, providing a good balance between tone, tension, and playability.
Different Materials for Electric Guitar Strings
Different string materials affect the tone and durability of the strings. One of the most common materials is nickel-plated steel. They provide a balanced, versatile tone and good durability.
Pure steel strings tend to have a brighter, crisper tone, whereas cobalt is praised for increased output and wider dynamic range.
Deciding Between Coated versus Uncoated Strings
Coated strings have a protective layer that increases the string's lifespan by reducing the buildup of dirt, sweat, and oils. They maintain their tone quality over a longer time but generally cost more than uncoated strings.
Uncoated strings might have a brighter, more organic tone initially but will lose their high-end sparkle sooner than coated strings.
Roundwound, Half Round, or Flatwound: Understanding the Type of Winding
The type of winding also immensely influences the feel and tonality of the guitar. Roundwound strings are the most common type and provide a bright, punchy tone with a textured feel.
Half Round strings are ground down to a smooth finish, giving a feel and tone between the round wound and flatwound strings.
Flatwound strings, on the other hand, have a very smooth finish and deliver a warm, mellow tone, preferred in jazz but less common in rock or blues genres.
Secondary Factors Influencing Choice of Strings
Factors such as playing style, guitar tuning, and genre of music can also guide your choice of strings. If you play aggressively or perform heavy bending, you might prefer a medium to heavy gauge string for its durability and resistance to breakage.
If you play in drop tunings like rock and metal guitarists, you may opt for heavier gauge strings. Jazz or blues players might prefer lighter gauge strings for ease of bending and vibrato.
Shopping Tips for Electric Guitar Strings
1. Set your budget: Guitar strings come at different prices, from budget-friendly options to more expensive professional-grade strings. Find a balance between quality and affordability that suits you best.
2. Consider buying in bulk: Buying strings in multi-packs can save money in the long run, especially for those who change strings often.
3. Try different brands and types: Each guitar and player is unique, and what works for one might not work for others. Do some experimentation with different brands, materials, and gauges until you find what suits you best.
FAQs
How often should you restring your electric guitar?
Electric guitar strings should be changed regularly, typically every three to four months, or if they start to sound dull and lose tone. However, this may vary depending on factors like playing frequency, perspiration levels, and the environment.
What is the most common string gauge for electric guitars?
The best gauge of electric guitar strings depends on your playing style and musical preference. Lighter gauge strings (9-42) are ideal for beginners or players who prefer easy bending, while heavier gauge strings (11-52) offer a thicker tone and are suitable for genres like rock and metal.
Do heavier strings stay in tune better?
Heavier gauge strings stay in tune better than lighter gauge strings because of the increased tension. But, there are many factors affecting the tuning stability, like string stretching or how the strings sit in the saddles and nuts. Also, tuning peg quality is important for tuning stability.
Which are the best electric guitar strings for beginners?
Lighter gauge strings offer easier playing experiences as they are easier on the fingers and are easier to bend. String sets beginning with a 9 are great for beginners, but they go out of tune more often compared to heavier gauge strings.
Conclusion
In conclusion, I've shared with you the crème de la crème of electric guitar strings. These 10 string sensations will surely elevate your playing to new heights, whether you're shredding like a rock god or strumming soulful blues. Brace yourself for enhanced tone, improved playability, and exceptional durability. Your guitar will gleam with joy as these strings work their magic.
Now, my main recommended electric guitar strings are the Ernie Ball Regular Slinky Nickel Wound Electric Guitar Strings, as it is the stuff of legends. They have been the go-to choice for guitar heroes such as Eric Clapton, John Mayer, and Steve Vai.
As the budget product, I recommend Jim Dunlop Heavy Core DHCN1048. These strings offer a unique blend of warmth and aggression, unleashing a symphony of sonic goodness. Whether you're into heavy riffs or delicate fingerpicking, they deliver the sonic versatility you crave, ensuring your guitar sings with pure delight.