The 8 Best DAWs for Linux (2023) – Free and Paid
Several Linux DAWs, both free and paid, now exist with fully-fledged audio capabilities. I discuss some of the best options below that are supported on Ubuntu. They may also work on other Linux distros, so be sure to check out the system requirements of each DAW.
Although it has been possible to run Windows applications in Linux via the WINE emulator, it achieves varying degrees of success.
In recent years, some bigger players in both audio software and hardware have also ramped up native Linux support, signaling a shift towards Linux being taken seriously as a pro audio option.
The Linux OS has usually been regarded as a platform reserved for techies and software developers, but for quite some time now, there has been a keen but understated flow of independent and open-source development of audio software for Linux.
Though considered an underdog in audio, the streamlined OS and lack of bloat in Linux make it a great choice performance-wise.
1. Ardour (Free/Paid)
Ardour is a professional-grade open-source DAW for Linux. Users can even build Ardour for their specific hardware and study or modify the source code freely. It was authored by Paul Davis, who also developed the JACK sound server API, which is the backbone of Linux-based professional audio.
You can get Ardour for free either by building it yourself (this can be complex and time-consuming) or by just installing the binary if it's available on the package repository of the distro that you're using, though the software will often be a bit out of date, but still generally very usable.
The best option is to get the most up-to-date 'ready to run' program, but you will have to either pay via subscribing, where you will receive software updates for as long as you stay subscribed or a single payment, where you get access to the software along with minor version updates.
Ardour supports all sophisticated DAW functions like multitrack recording and editing, latency compensation, external controllers, and even transport control functionality to interact with other programs to enable functions like video scoring.
It supports plugins in formats like LADSPA, LV2, and native Linux VST. Harrison Console's flagship DAW Mixbus uses Ardour as its core engine and expands upon it with Harrison's own DSP and console-like workflow. If you do like using Ardour, then you are encouraged to support the development.
2. Bitwig Studio (Paid)
It's very encouraging for Linux users to see Bitwig be fully supported on Linux. Bitwig Studio's support for Linux makes it one of the first entries of "mainstream" premium DAWs into the Linux market. Bitwig Studio is quite similar to Ableton Live – it was created by ex-Ableton employees!
Bitwig Studio's Windows and Mac versions are already highly rated as some of the best DAWs around, and the introduction of the same powerful features for Linux bodes well for the future of audio production on Linux.
Bitwig Studio is designed to be suited for both traditional "linear" multitrack recording, as well as clip-based live performances popular for electronic music. It comes with a vast wealth of inbuilt plugins, modulators, and devices and provides cutting-edge editing capabilities.
3. Renoise 3.4 (Paid – Affordable)
Renoise takes an interesting approach to modern DAW production in that it chooses a top-down tracker approach over the conventional horizontally-arranged layouts in most contemporary DAWs. While this looks like it harkens back to the earliest days of computer-based music production, Renoise claims this approach with modern enhancements boosts speed and workflow efficiency.
Renoise works over the concept of building grids of audio called "patterns" and then arranging these patterns into "sequences" to build a complete song. Apart from its unusual approach to music-making, Renoise provides all the expected features of a modern DAW like FX plugins (inbuilt and third-party), advanced routing options, and a digital mixer.
Renoise 3.4 is a great option for those who want to experiment with a new style of music production on a very affordable budget.
4. Reaper (Paid – Affordable)
Cockos Reaper is already a popular name in the DAW world, with its Mac and Windows versions earning high praise for their performance, customizability, and robust support community. Cockos has specifically focused on optimizing the Windows version of Reaper to run well in WINE on Linux and has made it happen.
The native Linux Reaper runs quite well on Ubuntu, carrying over its low footprint and highly customizable performance from its Windows and Mac counterparts. Reaper comes with no built-in virtual instruments, but it supports pretty much every kind of third-party plugin format supported by the OS itself.
5. LMMS (Free)
LMMS or Linux Multimedia Studio is another open-source, free DAW for Linux (ports for Windows and macOS also exist). It combines features of a tracker and sequencer and has support for MIDI, Hydrogen, and JACK standards as well as plugin formats like LADSPA and LV2.
It also comes with a set of inbuilt tools and instruments like synthesizers, drum machines, and effects plugins. Though it may not be powerful enough to completely replace premium professional DAWs, it's a great option for someone looking to get started with audio production completely free of cost.
6. Audacity (Free)
Audacity is a free and open-source audio software that has been around since 1999. It is developed and maintained by a group of volunteers and is available free of cost for Linux, Windows, and macOS systems.
Audacity provides the usual array of effects and editing capabilities, although its feature set is not meant to rival a fully-fledged professional DAW. It supports LADSPA and VST plugins, but support for VST instruments (VSTi) is not present.
Audacity is a simple program that can be used for quick audio recording or editing without the need for advanced mixing and editing capabilities. If you're just beginning to delve into audio, Audacity is a good option to get the hang of the basics.
7. Waveform (Free)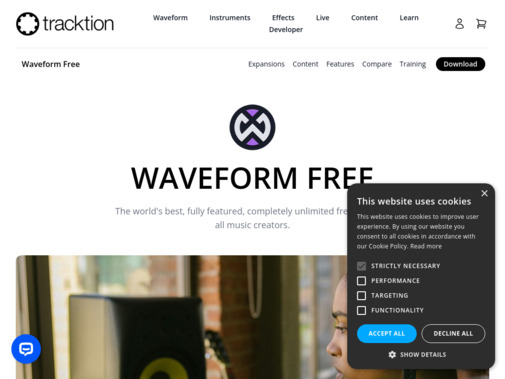 Waveform is a free, full-fledged DAW with a plethora of useful features for music creators, producers, and even podcasters. This free-to-use software supports Windows, Mac, and Linux so there are no limitations.
Waveform supports VST, VST3, and AU format plugins, opening the gates to further customization and creativity. It also features expansion packs if you want to further grow your arsenal of compositional tools and effects.
With efficient and seamless audio recording, intuitive programming for electronic producers, simple multitrack recording for podcasters, a pattern generator for songwriters, and flexible routing and integration for setting up in any environment, this DAW is an excellent choice!
8. Zrythm (Free/Paid)
Zrythm is another free digital audio workstation on this list and features paid options for expandability and creativity. What makes this DAW stand out is its intuitive and very easy-to-use user interface. Select, move, resize, loop, delete, and cut easily in the arranger, and use the mouse to edit whatever you want.
This DAW features an automated element that sparks creativity. With the Chord Assistance feature you can generate scales and chords on the fly and get that extra help when composing.
Supporting formats from LV2, VST2, VST3, AU, CLAP, and JSFX, to additional formats such as SFZ and SF2, you can expand this software into a full-fledged recording and mixing hub! As a free, growing DAW, Zrythm is a competitor worth keeping an eye on.
Notable Mentions
As the industry evolves, new DAWs have slowly approached the market, steadily defining and shaping the future with new features, exciting workflows, and effortless integration/support. That being said, here are a few notable mentions to consider:
Non DAW. This is a free DAW, powerful enough to support an entire studio environment. It features everything you'll need from an arranger, sequencer, and recorder to a live mixer and Session Manager.
Qtractor. A DAW-like audio/MIDI multi-track sequencer that is free to download and use on Linux systems. It supports LADSPA, DSSI, native VST(2), VST3, LV2, and CLAP plugin formats and is packed with excellent features.
Rosegarden. This is a free, music-editing, and compositional MIDI sequencer that features music notation understanding. It's supported on Linux and it's very easy to learn, with basic support for digital audio.
Pros of Music Production on Linux
1. Linux is a very efficient OS
Linux contains far less bloatware and fancy bells and whistles compared to Windows or Mac, and as a result, it is a much leaner OS.
The significant decrease in resource consumption by the OS itself frees up more resources to be used by your music production software and effects.
Linux systems also report lower latency in audio recording than hardware-equivalent Windows and Mac systems, which is a great advantage when it comes to recording heavy sessions with dozens of inputs.
2. Linux is much more focused on open-source and free programs
Being a free OS developed by and largely for programmers and developers, there is a strong focus within the Linux community to make software open source and free. This enables end-users to become contributors and modify, expand, or improve upon a program however they desire.
Ardour and LMMS are good examples of fully-fledged DAW programs that are available for free and go on to prove that free doesn't necessarily equate to poor quality.
Open-source programs are commonly developed and maintained by volunteers and funded by donations. There is thus a high degree of communication and feedback between developers and users.
Cons of Music Production on Linux
1. Audio setup can be tedious
Linux comes in various flavors like Ubuntu, Debian, etc., and there is no "one-size-fits-all" solution for running programs within a Linux environment, unlike with Mac devices.
As a result, programs including DAWs might have to be built from source code by the user to work on their specific hardware, which might be too tedious for a non-technical user habituated to the plug-n-play nature of Windows and Mac systems.
Furthermore, audio standard implementation like ASIO on Windows or CoreAudio on Mac isn't as natively integrated within Linux, and it might take some work to get a JACK audio server up and running.
2. Audio interfaces might not work on Linux
Most consumer-grade USB, FireWire, and Thunderbolt audio interfaces don't explicitly support Linux, although most can run with at least partial functionality with some workarounds.
This can be frustrating to a user who discovers their trusty audio interface isn't getting detected instantly within Linux. Proprietary accompanying software like virtual mixers for the interfaces also don't usually have Linux versions, which might render some software-controlled functions, like loopbacks and internal routing, completely unusable.
3. External USB devices might not be compatible
Like with audio interfaces, compatibility with external USB devices like MIDI controllers is still iffy on Linux. What would be a simple plug-and-play operation on Windows and Mac could take significantly longer to figure out on Linux.
Unless someone is a dedicated Linux loyalist, these extra steps and uncertainty might turn the average user off Linux as an audio production platform.
4. Linux is difficult to use for non-technical people
Linux's leanness and light footprint come at the cost of sacrificing some of the graphically oriented menus and wizards available in the more consumer-focused Windows and Mac platforms. Linux also gives you so much power over the OS that you can do damage unless you know what you're doing (whereas Windows and Mac have a lot of barriers to protect users from themselves!).
Though flavors like Ubuntu do provide most functions via GUI, users might still have to turn to the command line to get things working, especially to fix problems when it comes to audio applications. This can be daunting for people with limited technical experience with computers.
Music production at a professional level has long been a playing field limited to Windows and Mac computer systems. Their GUI-heavy, easy-to-use interfaces effectively enable abstraction of the technical aspects of how stuff works from users, allowing them to focus on the task of music-making with relatively minimal tech know-how.
5. Most plugins won't work on Linux
Although Linux does have its own plugin formats like LADSPA, LV2, and native Linux VST, most major developers do not develop plugins natively for Linux.
One option is to run plugins designed for Windows via an emulator like WINE, but this is a hit-and-miss approach as many plugins do not respond well to the emulated approach and may crash or just be nonfunctional.
Emulating Windows programs on Linux also somewhat negates the aforementioned performance benefits of a Linux system because of the added overhead of an emulation environment.
Summary
While audio production on Linux is a growing field with a dedicated open-source community as well as some major industry players expanding support, currently, the cons outweigh the pros, in my personal opinion.
If you're already a Linux veteran with the required know-how to get things working properly, then you might be well suited to have your music-making environment completely within Linux, but the severely limited third-party options and increased technicality will likely prove to be barriers to anyone wishing to switch from a Windows or Mac-based system.
In the long run, emulation solutions like WINE cannot replace natively supported application designs for professional purposes, and Linux would need a lot of music industry backing to become a major competitor to Mac and Windows for music production.