The 7 Best Clean Guitar Amps (2023)
Playing with clean guitar amps gives you a blank canvas to create your own desired tones. Clean amps allow you to have a large amount of headroom, which is great for the capacity of your tone to take different pedals and FX successfully. This is why they are highly sought-after tools for guitarists.
My top recommended clean guitar amp is the iconic Fender Blues Junior IV, which delivers classic Fender tones with strong versatility.
My second recommended clean guitar amp is the Fender Mustang LT25, a cost-effective solid-state clean guitar amp for practice and small jam sessions.
The 7 Best Clean Guitar Amps (2023)
Let's compare these in more detail.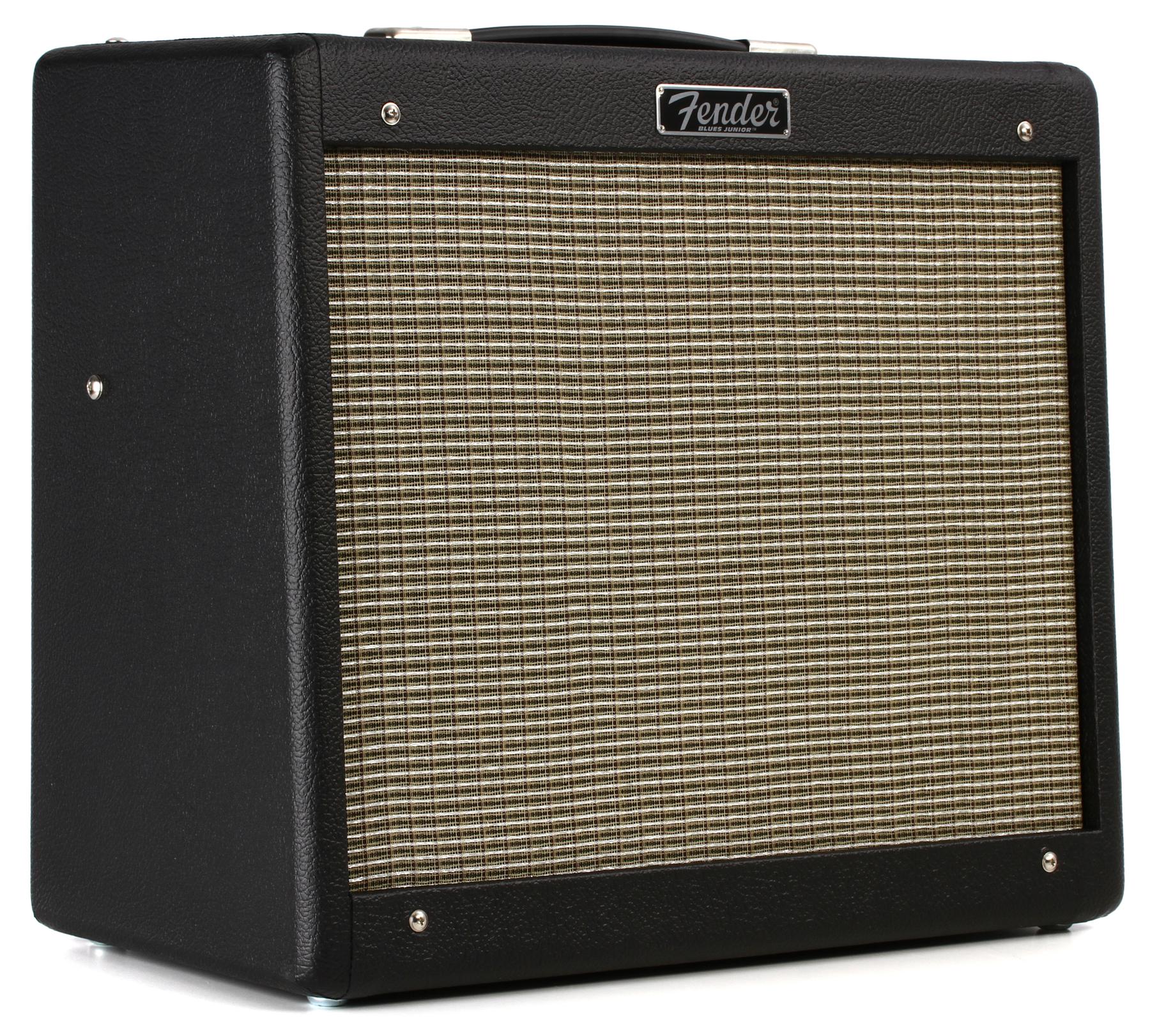 Fender Blues Junior IV is one of the most popular amps of all time, thanks to its capability of producing classic Fender tones as well as its versatility. It comes with 15 watts of power, a 12" Celestion A-Type speaker, three 12AX7 preamp tubes, and two EL84 power tubes.
Pros
Portable design
Classic Fender tones
High-quality 12″ Celestion A-Type speaker
Highly versatile range of tones
Great built-in spring reverb
Cons
Not for big enough for concerts
A bit pricey
No headphone jack
Fender Blues Junior IV can be used for many different styles as it is famous for its versatility. It is a great recording and practice amp despite not having a headphone jack. You can use it for small live performances as well.
Another plus is the built-in spring reverb, which delivers the great Fender-style reverb effect. Also, there is the "fat" switch which acts as a mid-boost when needed. You can also control the mode with the footswitch which is included in the package.
| | |
| --- | --- |
| Speaker | Celestion 12″ A-Type |
| Power Output | 15 Watts |
| On-Board Controls | Volume, Treble, Bass, Middle, Master, Reverb |
| Bonus Features | Footswitch for Mid Boost |
The 15 watts of power output means that you cannot use this amp for big-venue concerts. However, it is still an iconic clean guitar amp that most guitarists would love. It is one of the best guitar amps for clean tones.
Just like Marshalls are famous for great overdrive tones, Fender amps are famous for their clean tones. The Fender Mustang LT25 shines with its cost-effective design that is highly compact and feature-packed at the same time. The digital-modeling amp offers 20 amp models, 25 guitar effects, and 50 presets for guitarists to build their guitar tone.
Pros
Great value for the price
Versatile and reliable practice amp
USB port
Compact and feature-packed design
Cons
Not a tube amp
Not the best tonal quality
No mid-level knob
The amp has many ports, including a footswitch, USB, AUX in, and headphone out, as well as a simple user interface with an 8" color display for easier navigation through effects and presets. It is a great amp for beginners to explore different tonal varieties and shape their desired tone.
It is a highly affordable amp which is another great plus. The USB port is very handy if you want to play with DAWs. Furthermore, the amp's 8" Fender Special Design guitar speaker performs decently for the price.
| | |
| --- | --- |
| Speaker | Single 8" Fender Special Design |
| Power Output | 25 Watts |
| On-Board Controls | Gain, Volume, Treble, Bass, Master |
| Bonus Features | Footswitch, Simple user interface with 8″ color display, USB, AUX in, headphone out |
Overall, the Fender Mustang LT25 is an ideal beginner amp. It has its flaws, such as the lack of a mid knob. Also, many guitarists prefer the authentic tube amp sound to digital-modeling amps, which is the case with the LT25. However, I recommend it for any beginner and intermediate guitarist as it is a highly versatile, good-sounding, and affordable amp.
If you are looking for one of the best clean guitar amps ever, Fender '65 Deluxe Reverb might be the ideal choice. The iconic guitar amp became a staple for many guitarists with its amazing tube-amp tones that balances brightness and smoothness excellently. It provides the classic American rock sound.
Pros
The classic American rock sound
Iconic sweet clean tone
Ideal platform for pedal setups
All-tube Fender reverb and vibrato
Great-looking vintage design
Cons
Pricey
No headphone jack
Not as suitable for big venues
When used in lower volumes, the Fender '65 Deluxe Reverb provides great vintage blues tones, while when the volume is higher, it starts to break up and gets nicely overdriven. The amp can deliver quite a bit of bite.
The Fender '65 Deluxe Reverb is a great platform for pedals and different effects. Instead of coloring the sound, the amp and the pedals complement each other without the amp overshadowing the pedals' roles.
| | |
| --- | --- |
| Speaker | Single 12" 8-ohm Jensen C-12K |
| Power Output | 22 Watts |
| On-Board Controls | Normal (Volume, Treble, Bass), Vibrato (Volume, Treble, Bass, Reverb, Speed, Intensity) |
| Bonus Features | Internal speaker, External speaker, Footswitch ports |
Despite its small wattage and lack of a headphone jack, the Fender '65 Deluxe Reverb is an excellent guitar amp for clean tones. It has a steep price tag but if you have the budget you will have a hard time finding a better-sounding clean guitar amplifier.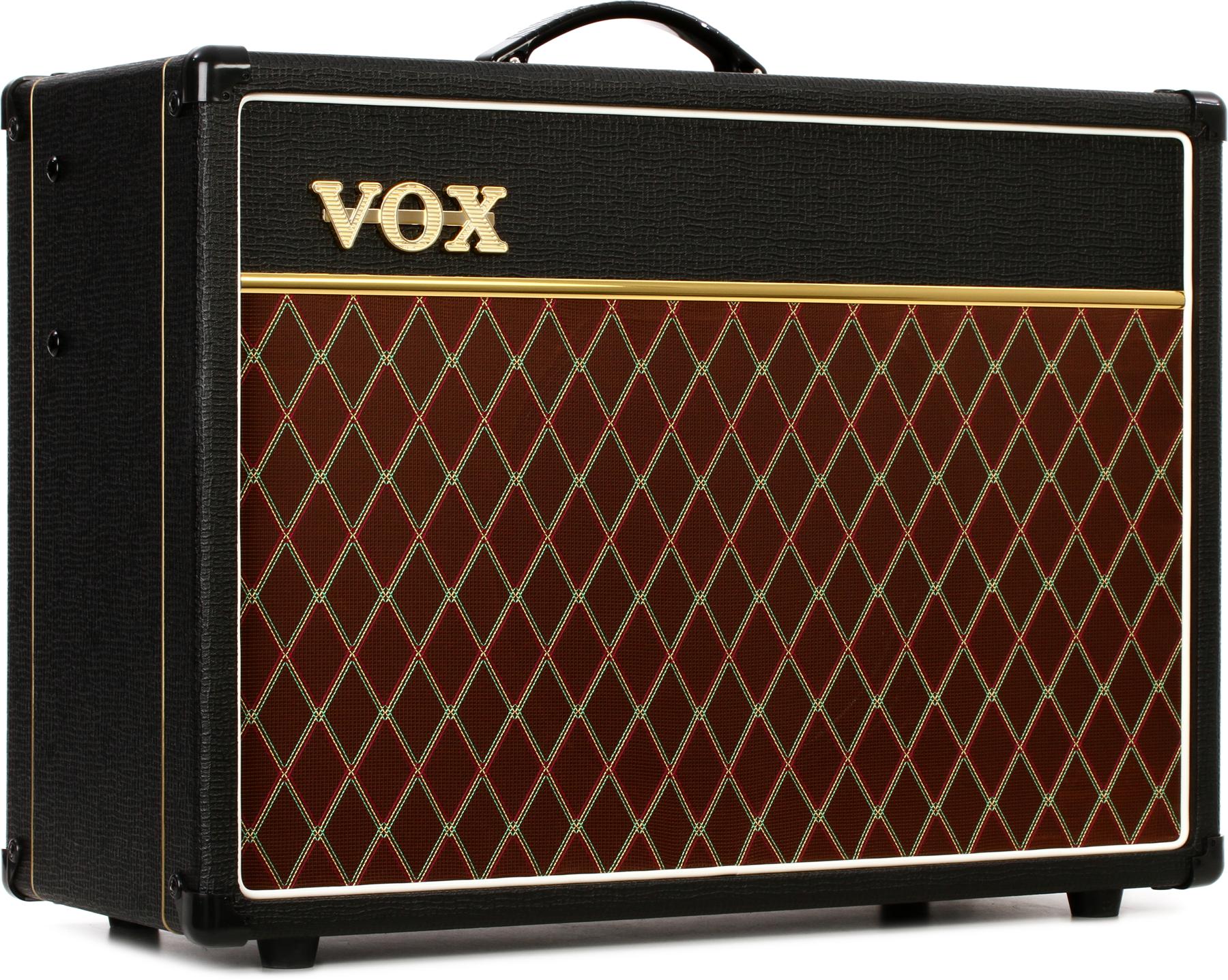 The VOX AC15C1 is another iconic amp that became a regular for British rock guitarists. Its capacity to deliver great tones, from chiming cleans to biting classic British crunch, makes it highly versatile. At the same time, with lower volumes, it gives the guitarist a blank page to fill with different pedal effects.
Pros
Great tones from chimey cleans to biting crunch
Iconic tube amp British rock tones
Top Boost mode
Used by many legendary guitarists
Cons
A bit pricey
No mid-control knob
Not for large concerts
Heavy weight
The amp has a very smooth, clean tone without being too bright or warm, striking the perfect balance. This is why it can take the pedal effects well without coloring the tone. If you also want a bit of crunch, you can turn on the volume to add some overdrive to catch the sound of legendary bands like Led Zeppelin, The Beatles, and The Rolling Stones.
With the Top Boost channel, you get the chiming treble sound, making your clean tones shine. There are also plenty of control options on the amp to shape your sound as you like, with the exception of a mid-control knob, which is a shame.
| | |
| --- | --- |
| Speaker | 12″ 16-ohm Celestion G12M |
| Power Output | 15 Watts |
| On-Board Controls | Master Volume, Master Tone Cut, Normal Volume, Top Boost Volume, Top Boost Bass, Top Boost Treble, Speaker Level, Tremolo (Depth, Speed) |
| Bonus Features | Extension and External speaker, Footswitch, Top Boost Input jacks |
Although the amp sits on the pricey side and is quite heavy, it is a great amp for practices, jams, and small live gigs. I would not recommend taking it to a large concert, but this amp can handle anything else successfully.
Roland JC-120 Jazz Chorus is the most powerful amp on the list, specially picked for guitarists who want high output power for big concerts. The amp has a great clean channel with effects such as the lush chorus and reverb that sound impressive.
Pros
Great clean tones
Good-sounding effects like reverb and chorus
Dual 12" speakers for stereo width
Sturdy construction
Highly powerful amp for big concerts
Cons
Large and heavy amp
Not great for heavy tones
Pricey
The amp's 120 watts of output power is enough for any concert, and the dual 12" speakers work well, delivering sweet tones. On the control panel, you get two different channels with the bright switch, three-band EQ, and volume knobs, as well as distortion, reverb, and vibrato-chorus effects.
The amp is quite large and heavy, as you'd expect from a 120-watt amp. So, it is not very portable, but it has a sturdy construction. Another down part is that the amp is not as successful with the heavy tones as it is with the clean tones. It gets the job done, but the tones don't shine as much as the clean ones.
| | |
| --- | --- |
| Speaker | Dual 12-inch "silver cone" |
| Power Output | 120 Watts |
| On-Board Controls | Channel 1 (Bright switch, VolumeTreble, Middle, Bass knobs), Channel 2 (Bright switch, Volume, Treble, Middle, Bass, Distortion, Reverb, Speed, Depth knobs, Vib/Chorus switch) |
| Bonus Features | Send jack, Return L-Mono, R jacks, Loop switch Series-Parallel, Level switch, Chorus-Vibrato, Reverb, Distortion Footswitch jacks |
In short, if you are after a powerful clean guitar amp to use in large halls and big concerts, the Roland JC-120 Jazz Chorus is a great power amp choice with its amazing cleans and nice effects.
The Supro 1968RK Keeley is the result of a great collaboration between two legendary manufacturers: Supro and Keeley. It is a great clean amp with huge headroom to squeeze anything from the effect pedals in the signal chain.
Pros
Ideal for using with pedals with its huge headroom
Sweet, bell-like clear clean tones
Great touch response
Unique design
Cons
Not very loud
Pricey
No mid knob
The amp features 25 watts of output power, a single Celestion G12M-65 cream back speaker, two ECC83S preamp tubes, and two 6V6GT power tubes. It has volume, treble, bass, and master knobs on the control panel, along with effects loop jacks.
The amp's tone is similar to the VOX AC15, as it has bell-like clear, clean tones on the lower volume levels, while the sound starts to break up after the volume knob is turned more than 60%. The overall volume is not very high, so better to use this one in lower volume levels as a blank page for the effects from your pedalboard.
| | |
| --- | --- |
| Speaker | Single Celestion G12M-65 Creamback |
| Power Output | 25 Watts |
| On-Board Controls | Volume, Treble, Bass, Master |
| Bonus Features | FX loop Send and Return jacks |
Although the amp sits on the high-end side, it is still a good price for an amp like this. If you are after a blank page to color with your effect pedals and other gear, the Supro 1968RK Keeley is one of the best choices you can find.
The Fender 68 Custom Twin Reverb is probably the most classic clean guitar amp in music history. It was used by many rock giants thanks to its outstanding clean tones that shaped many genres. In addition to being a clean amp, it also delivers classic gain tones.
Pros
Truly classic clean tones
Great gain tones
Two distinctive channels
Used by countless legendary guitarists
With dual 12″ Celestion G12V-70 speakers and 85 watts of power, this combo amp can handle anything from big concerts to small jam sessions. It also has 4 Groove Tube 6L6 output tubes and custom-made Schumacher transformers along with revert, tremolo, and a 2-button footswitch.
The Custom channel is better for fat tones, while the vintage channel provides the sought-after Twin Reverb sound. Both channels feature spring reverb and tremolo effect options. While the amp shines with clean tones and gives great headroom for effect pedals, it can also provide quite amazing high-gain tones when needed.
Many legendary guitarists like Eric Johnson, who is crazy about tones, use Fender Twin Reverb, which alone shows the quality and success of this amp.
| | |
| --- | --- |
| Speaker | Dual 12″ Celestion G12V-70 |
| Power Output | 85 Watts |
| On-Board Controls | Custom Channel (Volume, Treble, Middle, Bass knobs, Bright Switch), Vintage Channel (Volume, Treble, Middle, Bass, Reverb, Level, Intensity knobs, Bright Switch) |
| Bonus Features | 2-Button Footswitch |
The only letdown of this amp is that it is very pricey. Also, it is a very powerful amp, so if you are not going to use this one for a live performance, I would recommend you look for more affordable and portable options. However, if you are after the best sound possible in live settings and studio, Fender 68 Custom Twin Reverb is hard to beat.
What is a Clean Guitar Amp?
A clean guitar amp is a guitar amp type that provides you with pristine clean tones. As these amps have good headroom, they deliver crystal clear tones, which is great to use with many pedals to have your desired tone without the amp coloring your tone.
Which is better for Clean Sound: Tube or Solid State?
Often tube amps provide better sound quality, while solid-state amps are more versatile and affordable. But, for total pristine clear tones, solid-state amps do a better job. Because there is always a small grit in the tube clean tones. Also, tube amps provide beefier, warmer, more responsive tones.
Do all guitar amps have the same Clean Sound?
No, almost all guitar amps provide different clean tones. While amp type plays a big role, like tube amps and solid state amps, the model, the circuit, the tubes inside, and many other factors play a role in an amp's sound. So, all amps have slightly or significantly different clean sounds.
What to look for in a Clean Guitar Amp when buying?
The first thing to consider when looking for a clean guitar amp is the tone. You need a crystal clear tone as much as possible. Other things to look for are build quality, control knobs and switches, and price.
The tone is the most important aspect when looking for a clean guitar amp. If you are using the amp with effect pedals, you need the tone to be crystal clear so it does not color the tone you get from your effect pedals.
The construction quality is highly important as you need your amp to be as sturdy as possible. If you want to carry it around often, then this issue gets much more important.
The control knobs are important as they are responsible for the versatility of the amp. If the amp has any built-in effects, EQ, and different channels, you can do much more with the amp and reach different tones. So, if you are after versatility, control knobs are quite important.
Finally, the price is another crucial aspect. As tube amps are quite pricey, you may need to go for a small one or go over your budget to get a good clean tube amp. Otherwise, you can check out solid-state amps or smaller tube amps for your practice and jam sessions.
Summary
Clean guitar amps are great amps that are quite versatile as you can use them as they are for great clean tones, or you can use them as a blank page for your effects signal chain. Having a good clean guitar amp is a must for a serious guitarist.
My top pick is the Fender Blues Junior IV, a true tube clean guitar amp with outstanding versatility, crystal clear tones, and great construction quality.
My budget pick is the Fender Mustang LT25, a great solid-state amp with pristine clear, clean tones and a portable, compact design for an affordable price.