The 10 Best Busking Amps (2023)
Busking can be an invigorating experience, but without the right amp, your music will not be loud or clear enough. Busking amps have to be sturdy and loud, yet light enough to transport. You also need to consider if you want one with an internal battery or if you're happy to power it with an external one.
My main recommended amplifier is the Roland CUBE Street EX. With its compact size, battery-powered operation, and stereo speaker system, it delivers clean and punchy sound for larger crowds.
My second recommended amplifier is the Bose S1 Pro. This combination of Bluetooth speaker and versatile PA system boasts a rugged, lightweight design and a rechargeable battery that gives you up to 11 hours of playtime, making it great for on-the-go musicians.
I've got quite a lot of experience with busking amps. If you're just starting off, then I'd highly recommend getting one with an internal battery. It's a bit awkward to power them externally, and the price can add up when dealing with power supplies and inverters.
The Best Busking Amps (2023) – At A Glance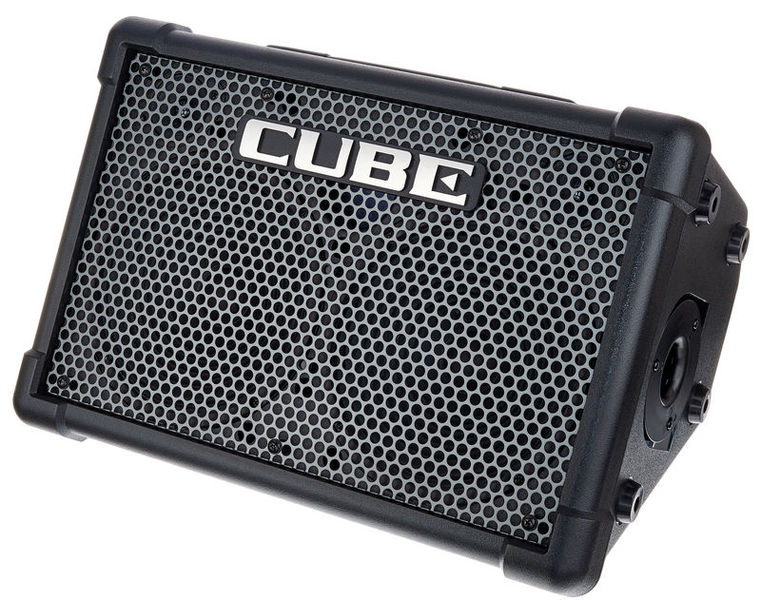 Let's see the full list: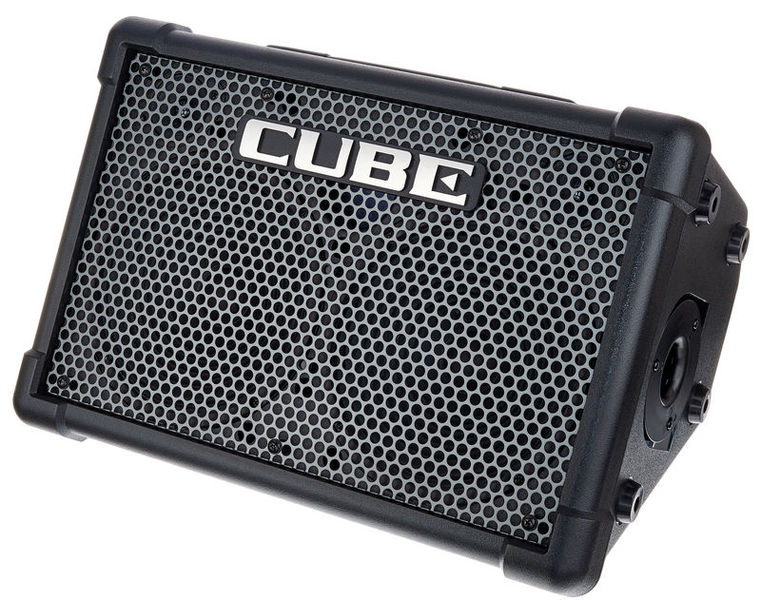 Top Pick - The higher-powered version of the hugely popular Roland Cube Street model, with more input options
A portable combo amplifier that provides a clean, punchy sound with four independent channels.
View Price at Thomann

(Europe)
Roland Street Cube EX is the latest of Rolands busking amps. The Street Cube is by far the most common amp I ever see buskers use. To be honest, the sound of these is certainly not world-class, but they are very decent.
This amp has switchable power (10, 25, and 50W) and is equipped with two XLR combo jacks and a pair of TRS inputs (which can be used for mono or stereo sound). You could use these for many different purposes. For example, you can easily hook up a microphone, a guitar, and an additional backing track all at once.
Pros
2 XLR inputs (e.g., for mic and guitar) and a pair of line inputs (e.g., keyboard or backing track)
Three built-in effects: Chorus, Delay, and Reverb
Ability to connect several of these amps together for better power
It's far louder than the regular Roland Street Cube (non-EX version).
It can run on batteries.
Cons
It may be more than you need—the lower-powered Roland Street Cube (non-EX version) can be good enough for smaller outdoor spaces.
Sound quality is not quite as good as pro amps by brands such as AER
It uses AA batteries (I would recommend getting rechargeable ones and a separate charge).
Slight background noise/hiss
A bit pricey
It can be powered by either an included power supplier or with 8xAA batteries, which can give you up to 20 hours of playing time. If you're going to use this regularly on the street, then I highly recommend that you buy a set of rechargeable batteries from a good brand. These can last for years, and they are way more cost-effective than buying disposable batteries.
You can also use reverb, delay, and chorus effects. As for the output, you have two mono ¼" jacks, headphones out, and two footswitch inputs. This is a great-sounding amp that has enough power to give you a clean and nice sound when you're on the street.
The amp uses innovative technology, like COSM Amp Modeling with Clean, Crunch, and Lead settings, and delivers a clear sound for acoustic guitars. This versatility is great for different types of performances. You can even connect an iPhone or iPad via i-CUBE for playing backing tracks or recording.
Specs
Power Output: 50 Watts
Battery Life: Up to 20 hours
Speaker/s: 2 x 8″
Effects: Yes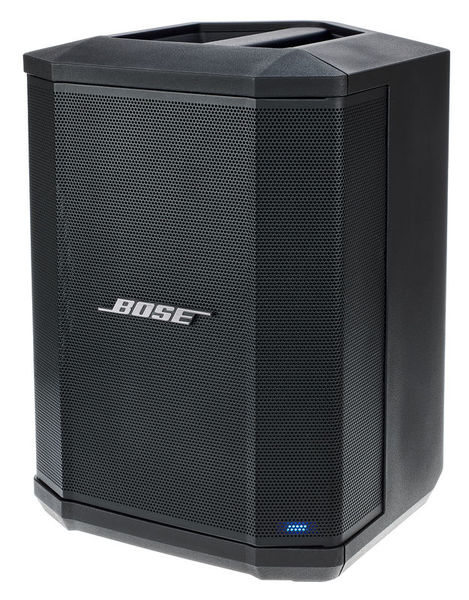 Runner Up - Lightweight and rugged PA system with optimal sound
A portable Bluetooth speaker and versatile PA system with wireless Bluetooth pairing, built-in sensors, and multiple aiming positions.
View Price at Thomann

(Europe)
The Bose S1 Pro is versatile with various input options for microphones, keyboards, guitars, and other instruments. Its stylish black design is perfect for solo and group performers needing powerful sound projection. The compact size and lightweight design make it suitable for any stage or area.
Pros
Highly portable and lightweight
Excellent sound quality and volume
Long battery life
Flexible positioning with built-in auto EQ
Bluetooth connectivity and compatibility with multiple devices
Durable and reliable
Cons
Bluetooth connection isn't the most stable
No EQ for Bluetooth input
A bit pricey
The Bose S1 Pro offers 11 hours of playtime on one charge. Its lithium-ion battery provides consistent power for long jam sessions without worrying about battery life. I really like the sound quality and portability of this amp which is excellent for musicians on the go.
This speaker includes ToneMatch technology, which can automatically even your tone and give you automatic EQ. You can set each channel to settings for voice or instrument. Additionally, with adjustable positioning, you can achieve the ideal sound wherever you place this device.
Specs
Power Output: 150 Watts
Power Source: Battery Powered (Lithium Ion)
Battery Life: Up to 11 hours
Effects: Yes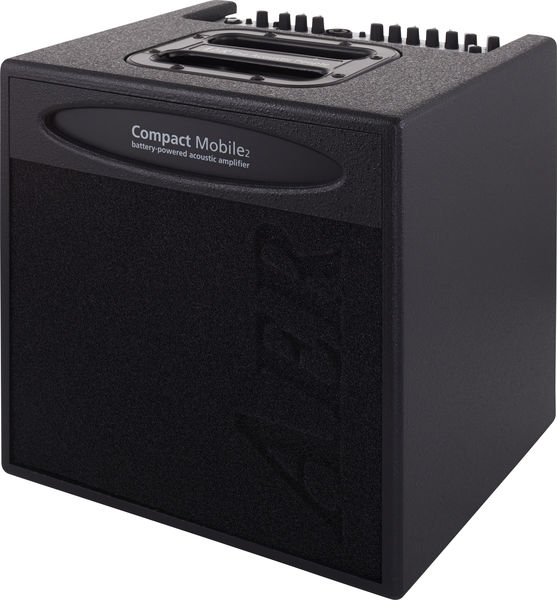 Pro Pick - High-quality 60W sound output, compatible with a variety of guitars
A 60-watt amp that is compatible with guitars and delivers excellent sound quality and has great features.
View Price at Thomann

(Europe)
I've been extremely impressed by the quality of AER amps that I've heard on the street. They're not cheap, but these guys really know how to make a great-sounding amp!
This 60-watt amp delivers big sound and rivals larger, heavier ones. Its higher wattage allows for better sound projection and control, making it perfect for small gigs and practice. Though small, the amp has clear, balanced audio that gives you confidence on stage. I think it's a great amp with an awesome sound.
Pros
Amazing sound quality
Rugged construction
Excellent features like Aux input, Effect loop, and Effects Processor
Battery and AC-powered
2 channels with EQ and effects
Cons
A bit on the heavy side
Battery power time is not amazing
Pricey
The Compact Mobile 2 improves upon its predecessor with new features for guitarists. Its stylish design is easy to use with accessible controls. The built-in effects and various amp models cater to different playing styles, letting you adjust your sound effortlessly.
This portable but sturdy amp is easy to carry to rehearsals and shows. Its durable construction and materials ensure longevity. The amp can run on battery or AC power, allowing for smooth transitions between practices and performances. All in all, this versatile amp offers great tone and functionality.
Specs
Power Output: 60 Watts
Power Source: Battery and AC power
Battery Life: 3-4 Hours
Channels: 2 Channels
No more tangled cables during events, thanks to the Pyle PWMA230BT's Bluetooth feature. You can easily connect and play music from Bluetooth devices like MP3 players, phones, iPads, and tablets. Its portability and multiple inputs make it a hassle-free option for all.
Pros
Bluetooth compatibility for wireless streaming
Portable with telescoping handle and caster wheels
Multiple inputs for microphones and instruments
Front control panel for easy sound adjustments
Rechargeable battery with up to 10 hours of battery life
Cons
Not the highest-quality audio
Microphone quality could be improved
Not as loud as expected
This PA system is great for buskers, offering two 1/4″ microphone and two 1/4″ instrument inputs and you can even connect up to three microphones for a karaoke-like session. Additionally, it includes a 1/4″ to AUX cable, a wireless dynamic mic, and other useful cables.
A retractable handle and wheels make this PA system convenient and portable. The robust, compact design is durable and easy to store, making it suitable for any gathering, no matter the size or location.
Specs
Power Output: 400 Watts
Power Source: Battery and DC-powered
Speaker/s: 1 x 8″
Battery Life: Up to 10 hours
High-quality sound with a versatile input range
An all-in-one portable digital PA system with powerful high-quality stereo sound with built-in effects and four-channel configuration.
View Price at Thomann

(Europe)
The Roland BA-330 delivers excellent sound quality. With four 6.5″ speakers and two tweeters, this portable digital PA system delivers broad stereo sound for a large audience. It includes built-in effects like EQ, reverb, delay, and wide controls, making it ideal for any event.
Pros
High-quality stereo sound
Plug-and-play design
Built-in effects: EQ, reverb, delay, and wide
Four-channel configuration for versatility
Advanced Intelligent Anti-Feedback function
Built-in tilt-back stand for optimal monitoring
Cons
On the heavy side
A bit pricey
What I like about the Roland BA-330 is its louder sound output and improved mixer features. You avoid feedback problems with its advanced Intelligent Anti-Feedback function, ensuring clear and smooth audio. Its four channels allow for versatility: two for microphones and instruments and the other two for stereo sources.
Whether outdoors or in the studio, the Roland BA-330 provides exceptional flexibility. It operates on AC power and eight AA batteries, always ready to go. The easy "plug and play" design works with multiple inputs such as XLR, 1/4″ jacks, and RCA, making setup quick and hassle-free.
Specs
Power Output: 30 Watts
Power Source: Battery or AC-powered
Speaker/s: 4 x 6.5″
Battery Life: Up to 24 hours
Realistic tube-amp tones in a compact package
A compact amplifier with realistic tube-amp tones, and has new amp and mic models for a wide range of genres.
View Price at Thomann

(Europe)
The Yamaha THR10II offers a wide variety of sounds, with its 15 guitar amplifiers, 3 bass amps, and 3 mic models for acoustic electronics. This small, versatile amp is perfect for any music genre or playing style. Whether it's rock, blues, or jazz, the authentic tube-amp feel really impresses me.
Pros
Compact and easy to use
Great sound quality at low volumes
A wide variety of tones and effects are available
Bluetooth support for audio playback and remote editing
Separate volume controls for audio and guitar inputs
Cons
App required to access all features
Limited effects in comparison to previous models
No battery power option
The Bluetooth feature on the Yamaha THR10II is very convenient. It allows wireless audio streaming, remote settings editing, and easy amp management using the remote editor/librarian app on desktop and mobile devices. The lack of cables and clutter makes for a more enjoyable playing experience.
The compact size and lightweight design of the Yamaha THR10II make it perfect for small spaces or a desktop setup. It's very lightweight, making it highly portable. Although it's not ideal for all busker scenarios, it is a portable option to consider.
Specs
Modeling: 15 guitar amps, 3 bass amps, 3 mic models
Effects: Chorus, Flanger, Phaser, Tremolo, Echo, Compressor, Noise Gate
Power Output: 20 watts
Power source: Corded electric
7. Fishman Loudbox Mini Charge
Rechargeable, portable, and battery-powered acoustic instrument amplifier
A 2-channel amplifier that is perfect for acoustic instruments and vocals with a built-in rechargeable battery and wireless connectivity.
View Price at Thomann

(Europe)
The Fishman Loudbox Mini Charge has excellent sound quality and loudness for a compact amp. Its 60W output ensures powerful and clear sound, so should have enough to work with in several settings and spaces.
Pros
High-quality sound reproduction
60W output provides ample volume
Portable and lightweight design
Rechargeable battery with power management
Built-in effects and feedback suppression
Bluetooth wireless connectivity
Cons
The battery may lose effectiveness
The Lead acid battery type is not as reliable as other types
A bit pricey
The rechargeable Lead Acid battery offers flexibility with 12 hours on average volume and 4 hours on full volume. Naturally, you can power it with an AC power adapter if the battery does run out. Additionally, it features a 3-band EQ for instruments and a 2-band microphone EQ which is a huge plus.
The Bluetooth feature on this amplifier is a great addition, removing the need for wires. Easily stream backing tracks and accompaniments directly to the amp. Experience a complete, wireless performance with this cutting-edge amplifier.
Specs
Power Output: 60 Watts
Battery Type: Lead Acid
Battery Life: 4-12 Hours
Speaker/s: 1 x 6.5″ woofer, 1 x 1″ soft dome tweeter
8. Fender Audio Passport Venue S2
All-in-one PA system with a 10-channel mixer
A portable PA system for amplifying voices, instruments, and background music anywhere, anytime.
View Price at Sweetwater
This powerful PA system comes with a 10-channel mixer and offers a variety of audio inputs for different devices, such as four XLR ¼" combo mic/line, two 1/4" instrument/line, two ¼" stereo, two 1/8" stereo, and even wireless music streaming through Bluetooth. It's versatile, convenient, and ideal for all users.
Pros
Excellent sound quality
Easy setup out of the box
Good for outdoor use and large groups
Bluetooth connectivity
13 input types and 600 watts output wattage
Cons
Needs a powered subwoofer for the full benefit
Heavy and challenging to transport
Pricey
With 600 Watts of power, the PA system delivers impressive sound projection. The sound quality is superb, clear, and balanced, leaving your audience captivated. The full-range speaker system ensures great audio and a dedicated subwoofer output can provide extra bass.
The Fender Audio Passport Venue S2 is designed for easy use and transport. Adjustable reverb settings and master sound and tone adjustments provide control over audio, ensuring you get the sound that you want.
Specs
Power Output: 600 Watts
Power Source: IEC AC-powered
Enclosure Material: Molded Plastic
Mounting Options: Pole, Floor
9. Behringer Europort PPA500BT
Ultra-compact 6-channel PA system for any occasion
An ultra-compact portable PA system with Bluetooth connectivity and 500 Watts of power.
View Price at Thomann

(Europe)
The Behringer Europort PPA500BT's 500-Watt power, lightweight design, and six integrated channels make it easy to transport and set up in different environments. I appreciate its great sound and power for its size, thanks to its 8″ woofers and 1.35″ aluminum-diaphragm compression drivers.
Pros
Ultra-compact and portable design
Powerful 500-watt output
Excellent sound quality
Built-in Bluetooth connectivity
Easy, quick setup and durable build
Comes with useful accessories, including a microphone and cables
Cons
No wheels for added portability
No headphone or recording output
A bit on the heavy side
A bit pricey
There's no need for messy wires and complex setups, as this PA system has wireless features. Bluetooth connectivity enables simple streaming from smartphones and tablets, and compatibility with a digital wireless mic system (sold separately) ensures a truly "wireless-ready" experience.
This PA system even includes an advanced FBQ Feedback Detection System. Additionally, the built-in Klark Teknik Multi-FX Processor delivers professional-grade vocal effects, and the 5-band stereo graphic equalizer lets you customize your sound perfectly. Enhance your performance by experiencing the benefits of advanced audio technology.
Specs
Power Output: 500 Watts
Power Source: IEC AC-powered
Speaker/s: 2
Frequency Response: 50Hz-22kHz
Rich, affordable stereo sound for mobile performances
A portable, affordable, and battery-powered guitar combo amplifier with built-in digital effects.
View Price at Thomann

(Europe)
The Boss CUBE Street 2 offers great sound while playing on the go, thanks to this small and lightweight amp. With its easy-to-carry size and weight, this amp makes it simple for traveling musicians to move and set up; perfect for gigs or unplanned jam sessions.
Pros
Good sound quality
Lightweight and aesthetically pleasing
Portable amp, easy to set up
Affordable speaker
Optional Bluetooth adaptor
Built-in digital effects
Cons
Battery life is not very long
A slight buzz in the sound
A great feature of this flexible amp is its use of 8 AA batteries. You can perform anywhere and anytime. There's no need to worry about finding power while playing on the streets or at outdoor events. For buskers, this is a must-have feature.
Boost your performance with built-in digital effects and features, such as Vocal Harmony and Loop Creation. Add beautiful harmonies to your singing using the Vocal Harmony option, and create exciting sound loops during live shows with the Integrated Looper. With endless ways to improve your sound, you can unleash your creativity and impress your audience.
Specs
Power Output: 10 Watts
Power Source: Battery and DC-powered
Speaker/s: 2 x 6.5″
Effects: Chorus, Delay, Harmony
Key Features and Specs to Look for in a Busking Amp
You should consider multiple things like portability, battery life, power source, sound quality, and durability when looking for the ideal busking amp. Luckily, the market is full of decent options that will get the job done.
Portability and Weight
Busking often requires a lot of walking, so you should only get an amp that's big enough for your needs. If the amp is still too large for you, you can always get a case with wheels or a trolley to help you move around with it and your instrument at the same time.
Portability and weight are crucial factors to consider when choosing the best busking amp, as traveling musicians need equipment that is easy to carry and transport. Amplifiers like the Roland CUBE Street EX and Fishman Loudbox Mini Charge strike a balance between portability and powerful sound quality.
Battery Life and Power Supply
There are two main types of batteries for busking amps. They can be either rechargeable built-in batteries, which are usually the best option, or disposable AA batteries. If you're buying an amp that uses AA batteries, you should consider getting rechargeable AA batteries and a charger, since it is much more cost-effective in the long run.
The main benefit of getting an amp that uses separate batteries is that you can have separate ones ready to go and power it for longer. You want to ensure the amp you choose has a reliable and good battery life to last throughout your performances and can be easily recharged or powered by an alternative source, if necessary.
For example, the Roland CUBE Street EX has an impressive battery life of up to 20 hours with just eight AA batteries, providing peace of mind for musicians while on the go. Similarly, the Fishman Loudbox Mini Charge also features a built-in rechargeable battery that maximizes output levels and playing time, making it perfect for portable performances without compromising sound quality.
Sound Quality and Output Power
When busking, you need good sound quality and a good volume level. This is because a lot of times you're out on the noisy street and you need to bore through the noise to get your music out. So, apart from being light, busking amps need to have nice and large speakers as well.
For example, the Roland CUBE Street EX offers a power output of 50W (25W & 25W stereo) and features onboard COSM amp modeling technology that provides various electric guitar tones, while the AER Compact Mobile2 boasts a 60-watt output power, producing a powerful sound without taking up too much space.
Durability and Build Quality
Busking requires playing in outdoor conditions, so the amp might get rained on or be dropped many times! To keep your amp safe from the weather, you can always buy a bag to keep it in and help you protect it.
Also, busking amps should be sturdy in build with thick walls ready to take the bumps and weather on.
Products like the Roland CUBE Street EX and the Fishman Loudbox Mini Charge offer rugged construction that ensures they can endure the challenges of a busking lifestyle. Keep an eye out for features like reinforced corners, sturdy knobs, and weather-resistant materials to make sure your busking amp remains in great shape over time.
Inputs and Additional Features
When considering the best busking amps, inputs and additional features are essential to making the best choice for your performance needs. For instance, the Roland CUBE Street EX offers four independent channels for connecting a variety of mics, instruments, and audio devices, while the Bose S1 Pro system features wireless Bluetooth pairing and inputs for microphones or musical instruments.
Buyers Guide
Busking amps play a significant role when it comes to delivering the desired sound quality and volume in outdoor spaces. This article aims to guide budding musicians and buskers in selecting their ideal busking amps by highlighting several essential factors and popular choices.
How To Power Amps Without Internal Batteries
If you don't have internally built batteries, you will need to buy a battery and an inverter such as the BESTEK 500W Power Inverter.
This is a machine that converts power from the batteries you put into it and gives it to the amp through a cord. The batteries it uses can be either a large lithium polymer battery or a deep cycle, sealed lead-acid (SLA) battery. You will also need a charger for the battery.
Types of Busking Amps
There are various types of busking amps available, including battery-powered amps, such as the Roland CUBE Street EX 4, Yamaha THR10II, and Boss CUBE Street 2, and portable PA systems like the BOSE S1 Pro, AER Compact Mobile2, and the Behringer Europort PPA500BT. These solutions cater to the needs of different musicians and performances, offering unique advantages and features.
Sound Quality and Effects
Sound quality remains crucial when selecting a busking amp, as it allows musicians to deliver a clear and appealing performance. Built-in effects, such as the Roland BA-330's EQ, reverb, and delay, or Fishman Loudbox Mini BT60's feedback suppression, contribute to the final sound output. Furthermore, amps with adjustable EQ settings let users fine-tune their sound, ensuring the highest audio quality for their performance.
Budget and Upgrades
It is important to consider your budget when selecting a busking amp. Seeking used amps can provide excellent options at lower prices. When upgrading, take existing gear compatibility and personal preferences into account to ensure the best match for your performance needs.
FAQs
What is a Busking Amp?
A Busking Amp is a portable and battery-powered amplifier designed specifically for musicians who perform on the street or in public places. It provides enough power to be heard over the surrounding noise and allows musicians to amplify their instruments without requiring access to an electrical outlet.
What is the ideal wattage for a busking amp?
An ideal wattage for a busking amp is between 20-50 watts. Anything less and you may not be heard over street noise, while anything more may result in unnecessary weight to carry around.
Should I opt for a battery-powered amp or one that needs to be plugged in?
If you plan to busk in locations without power outlets, a battery-powered amp is ideal. However, if you prefer a more powerful sound, a plugged-in amp is better.
What is the best type of speaker for a busking amp?
A speaker with a cone size of 8-12 inches is ideal as it provides good sound projection and is easier to transport than larger speakers.
Is it important for a busking amp to have multiple channels?
Having multiple channels is important if you plan to use different instruments or microphones. It also allows you to control the sound levels of individual instruments.
Should I invest in a high-end busking amp or opt for a budget-friendly option?
It ultimately depends on your needs. If you plan to busk frequently or professionally, investing in a high-end amp can provide better sound quality and durability. However, if you're on a tight budget, there are plenty of affordable options that are suitable for casual busking.
Conclusion
Whether you're just starting out or you're a seasoned pro, there's an amp on this list that's perfect for you. Busking amps have a lot to offer but always do your research to make sure it fits your budget and preference.
My main recommended amplifier is the Roland CUBE Street EX. It's compact, battery-powered, and has a stereo speaker system that delivers clean and punchy sound for larger crowds.
My second recommended amplifier is the Bose S1 Pro. It features a rugged, lightweight design and a rechargeable battery that gives you up to 11 hours of playtime which is excellent for buskers and different settings.