The 5 Best Beat Machines For Hip Hop (2023)
Hip Hop and beat machines are like bread and butter, as beats and loops are core elements for the genre. You can basically create a beat and a loop and start rapping immediately with a beat machine.
Today, there are hundreds of different beat machine models to choose from. So, you will have to consider various factors if you want to buy one that would ease the process of creating and realizing your ideas.
My top recommendation is be Akai Professional Force, as it is a top-notch standalone sampler with many high-quality features.
If you are after something more budget-friendly, then check out the Korg Volca Beats, which is an easy-to-use analog beat machine designed to be affordable, portable, and light.
The 5 Best Beat Machines For Hip Hop (2023)
Let's compare them in more detail.
Akai Professional Force is a pro-level standalone sampler with great features which allow you to create high-quality loops and beats even without a laptop. It has 64 backlit RGB pads along with 4 built-in synth engines, 10GB of sounds, the option to import your own songs, the ability to shift pitch and time while playing, and even some features that you would expect from a DJ set.
Pros
Fantastic features
Standalone and Hybrid use options
Plug-in Synths
Touch Screen
The control panel features a great touch-sensitive screen which makes it easier to control. It shines with its plug-in synths, which you can easily control with the 64 pad grid.
There is not much to say against AKAI Pro Force besides that it is a high-end product. It is not a very portable sampler, but you would not expect a standalone drum machine with so many features to be compact. Finally, it uses a different system than the MPC production process, so you will have to get used to it.
| | |
| --- | --- |
| Sound Synthesis | Digital |
| Pads | 64 backlit RGB pads |
| Display | LCD touch screen |
| Battery Power | No |
In short, AKAI Professional Force features all you would need, even more, from a drum machine. If you can afford it, you do not need to look elsewhere.
Korg Volca Beats is an affordable analog drum machine designed to provide the basics of a beat machine. It is equipped with 6 analog parts and 4 PCM parts, as well as a 16-step sequencer with 8 memory patches.
Pros
High value-price ratio, affordable
Easy-to-play
Great sounds for hip-hop
Cons
Does not have the sound variety of higher-end machines on this list
It is a highly easy-to-use beat machine without many features. It features 6 fully editable analog sounds and also has a decent built-in speaker to play music anywhere you'd like. Plus, it is a compact and portable device.
On the negative side, Volca Beats does not have the sound quality of digital machines today. It also does not come with hundreds of preset sounds. Instead, it features only 10. So in terms of sound versatility and quality, this is not the best beat machine. But, when the price is taken into account, it is a great beat machine.
| | |
| --- | --- |
| Sound Synthesis | Analog |
| Pads | 16 keys |
| Display | LED display |
| Battery Power | Yes |
Volca Beats is a great entry-level portable beat machine for musicians who want the essential feature in an analog spirit without breaking the bank.
Roland 808 is the most iconic analog drum machine in hip hop history. It was used by many artists for many famous songs, eventually became a legend among artists. That is why many devices were inspired by the legend. As one of those devices, TR-08 Rhythm Composer is the modernized version of 808 with a more affordable price and some digital integrations.
Pros
Modernized version of the iconic 808
Multi-channel USB audio
Authentic sounds and design
10 audio outputs
Cons
It takes a bit of getting used to!
The TR-08 can also be used as a standalone beat machine. It features a 16-step sequencer, LED display, battery or USB power supply options, a decent built-in speaker, 10 separate audio outputs, and a vintage analog design. But the best of all is that all these features come at an affordable price.
The letdown of the device is that it is not an easy beat machine to use. You will have to get familiar with the workflow and explore all the features the machine has. I must say that also it takes longer to set up this beat machine compared to other devices.
| | |
| --- | --- |
| Sound Synthesis | Digital |
| Pads | 16 |
| Display | LED display |
| Battery Power | Yes |
Overall, if you are a hip-hop enthusiast who likes vintage devices, TR-08 is ideal for you. The 808 follower is affordable, matches the sonic quality of its ancestor, and the modernized digital additions are great.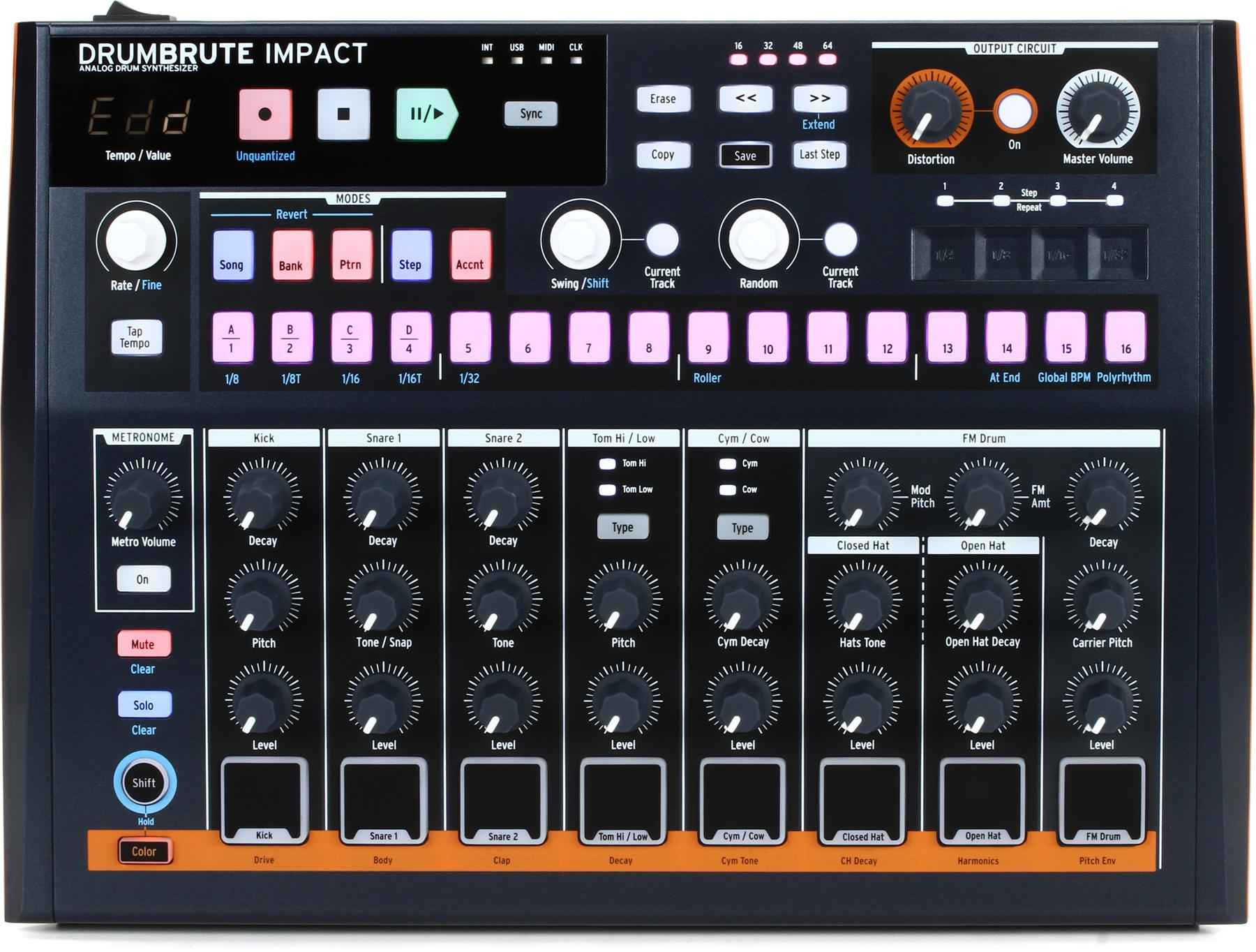 Arturia Drumbrute is an all-analog drum machine with great specs and sequencing options. It features a 64-step sequencer, 10 instruments with 8 touch-sensitive pads, and a wide range of control options. As with many analog drum machines, this one is also inspired by the legendary 808 with more features added for richer versatility.
Even if you haven't used any drum machine before, you can quickly get familiar with the Drumbrute sequencing workflow thanks to its intuitive user interface. The sequencer consists of 4 banks of 16 patterns lasting up to 4 bars each.
Pros
Flexible sequencer
Great low-end sounds
Intuitive user interface
Rich connectivity options
Steiner-Parker low pass to high pass filter
Cons
Do not have as many sounds as digital machines
Outputs are mini-jacks
Another feature that stands out is the low-end sounds of Drumbrute. Furthermore, it has rich connectivity options, including AUX, individual ¼" jacks for each sound, midi in-out-thru, and USB.
For live performances, the addition of Steiner-Parker, the 12 dB/octave dual-mode high or low pass filter, is great as it maximizes sonic possibilities by giving you the option to shape your sound with high control.
| | |
| --- | --- |
| Sound Synthesis | Analog |
| Pads | 17 light-up pads |
| Display | LED display |
| Battery Power | No |
As you would guess, Drumbrute does not have as many sound options as a digital unit. Also, I would prefer standard jacks instead of mini jacks as outputs. However, these are not dealbreakers as this analog drum machine shines with its flexibility and quality, especially for live performances.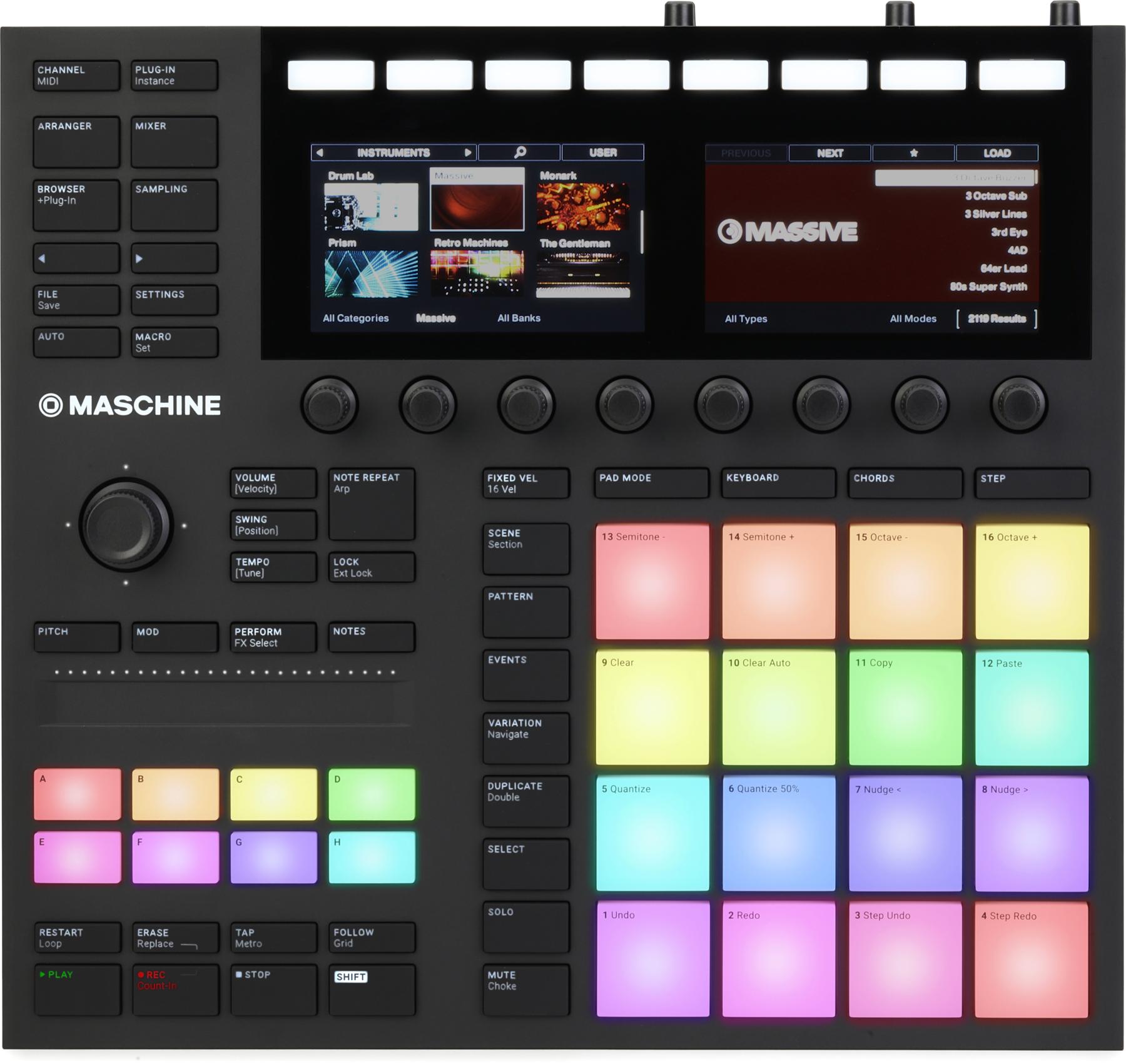 Native Instruments Maschine MK3 is an all-around music production machine with which you can easily record, sample, mix, integrate, and sequence your songs. It features a nice balance between physical tools with digital sounds, using both parts with maximum efficiency.
You can use MK3 as a hardware controller as well as a software instrument, depending on your needs. The versatile machine offers tons of different sounds right on the device itself. It comes with 8GB of sample content at your disposal.
Pros
Physical and digital tool
Big touch-sensitive pads
Wide range of sonic possibilities
Cons
The workflow is not for everyone
The large touch-sensitive pads are quite fun to play with, as they are really responsive to change in dynamics. Plus, it has a high sound quality with a 24bit/96KHz audio interface. Furthermore, it comes with the Komplete Select software. With the features of a DAW added to this versatile drum machine, you can conquer the world.
| | |
| --- | --- |
| Sound Synthesis | Digital |
| Pads | 16 touch-sensitive pads |
| Display | Yes |
| Battery Power | No |
The only letdown is that it may take some time for some users to get familiar with the workflow. It is not hard, but you have to get used to it. In short, if you are looking for an all-in-one audio sampler and a controller capable of doing anything, Native Instruments Maschine MK3 is the ideal choice.
Buyer's Guide
If you are a beginner in the beat machines world, you might feel lost between hundreds of models on the market. There are some things to consider before buying one, depending on your budget, needs, and preferences.
What is a Beat Machine?
Beat Machines are mostly box-shaped electronic devices with many different drum sounds used to create beats and grooves. There are 2 different devices you can use as a Beat Machine: samplers and drum machines.
Drum machines are electronic devices used to create beats and grooves with drum and percussion sounds by physically pressing touch-sensitive pads. They also feature a built-in sequencer to develop songs.
On the other side, samplers are electronic devices used for recording, customizing, and playing back digital audio. They feature digital samples of real instruments, parts of songs, or sound effects that you can assign to pads and start playing.
If your aim is to create simple drum grooves, you can go with a drum machine. However, if you want to create multi-instrument loops, you will have to go for an MPC-style sampler.
What features to look out for in a Beat Machine?
Before everything, you need to decide what type of Beat Machine you want. You can go with an analog or digital one, a small or a big one. Although, in my opinion, digital machines are more versatile and replicate the real drum sounds better, some musicians think analog ones sound warmer.
The key features you have to look for in a Beat Machine are touch-sensitive pads, built-in effects, and programming and editing features.
Touch-sensitive pads are crucial as you assign a percussive sound to each one of them and create your groove by playing the sounds with those pads. In order to create a more realistic sound, the pads should have good dynamic responses so they can reflect the nuances of your playing clearly.
Built-in effects are also important to elevate the versatility of sounds and your control over them. You need at least some of the effects like modulation, delay, compression, gain, enhanced tuning, and panning to keep things interesting.
Finally, you should look out for programming and editing features. These are the features used to record a sound and mix them with the drum machine's presets.
Are beat machines beginner-friendly?
Most of the Beat Machines are easy to play, but you need some time to get familiar with each one's workflows. All the brands have different workflows but do not worry about it as you can get used to them pretty quickly.
How does a beat machine sound compared to real drums?
Beat machines use either drum synthesis or actual drum samples, which are actually single-note recordings of real drum parts like snares, kicks, toms, and cymbals.
Although some musicians, especially drummers, do not like the sample sounds, beat machines produce quite realistic sounds nowadays. However, they're never a full replacement for live drums.
Verdict
Whether you use them in the studio for recordings or live performances in different settings, beat machines are great music production tools for entry-level musicians as well as pro producers. It is the essential piece you will need for many genres like hip-hop or dance music. So, you can go for any of these pick-up-and-play boxes or fully-featured, all-in-one production tools without hesitation.
My top recommendation is the Akai Professional Force, as it is an all-around music production powerhouse with many great features.
My recommendation for beat makers with a tight budget is the Korg Volca Beats Analog Drum Machine as it is affordable and has all the essentials to get you going.