The 10 Top Music Sync Licensing Companies
Music sync licensing companies provide content creators with the right to use a given piece of music in their production. The vast majority of music that is used in media is copyright protected. Consequently, creators must pay a licensing fee in order to incorporate a specific song in their work.
Music licensing companies make it easy for content creators to obtain the necessary sync license to incorporate a track in media productions, such as films, TV shows, advertisements, and online videos. Many licensing companies also provide custom music and remixes of well-known hits, as well as sound effects.
Let's get into the list of the top 10 music sync licensing companies.
1. Artlist
Artlist operates an all-inclusive platform where the best music is curated, allowing filmmakers to easily find the ideal melody for a given scene. Operated by filmmakers themselves, Artlist seeks to make the process of music licensing affordable and straightforward. Clients that have used the company's services include big names such as Google, Intel, Volvo, Calvin Klein, and Adobe.
An annual subscription fee gives users unlimited access to the entire catalog, allowing them to find the right music without impeding the creative process. At the same time, musicians are paid generously for their music. By simplifying the process, the company hopes to help both artists and filmmakers succeed. Apart from music, Artlist also provides sound effects, stock footage, video templates, visual effects plugins, and editing software.
2. Epidemic Sound
Headquartered in Stockholm, Epidemic Sound is a global music licensing company that has over 550 employees working in offices in New York, Los Angeles, Amsterdam, Hamburg, and Seoul. They seek to help content creators make more impactful and engaging productions through the use of high-quality music and sound effects. Users have to pay an all-inclusive license fee for unlimited use on online platforms.
With over 35,000 tracks and 90,000 sound effects, content creators have ample opportunity to find the appropriate soundtrack for their material. They can search by vocals, temp, genre, and mood, or browse through personal recommendations. The platform's creative tools can also be used to customize the sound further. Epidemic Sound owns all economic rights to its music, so users don't have to worry about paying any additional fees.
3. Premium Beat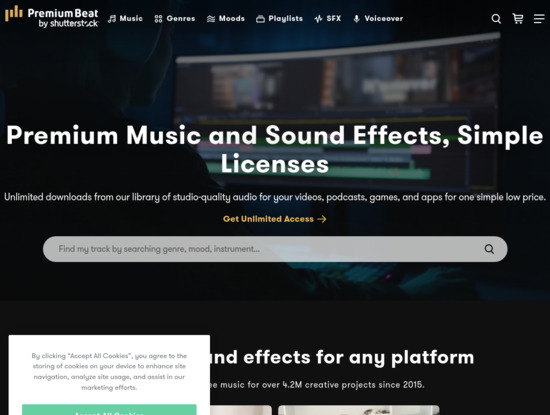 A Shutterstock company, Premium Beat offers a vast library of music and sound effects that cover a range of styles and genres. The world's finest composers are selected and their best music is handpicked for inclusion. Users have access to exclusive tracks of the highest quality. With clients such as Vogue, Billboard, Amazon, Google, and National Geographic, Premium Beat offers production values that rival big studios.
A simple licensing process makes using their music convenient and hassle-free. A standard license allows customers to use a given track for most web-based projects while a premium license is required for music used on TV, DVD, radio, apps, and games. A subscription provides 5 standard licenses a month.
4. Music Vine
Music Vine was founded in 2015 in the UK to make the process of music licensing and finding the right track accessible and straightforward. The company has a catalog of over 6000 tracks made by some of the finest composers and songwriters in the world. They also have an intuitive interface with advanced thematic playlists and search tools for finding the perfect music.
Music Vine's platform is designed to serve the needs of diverse clients, ranging from international brands to independent content producers. They pride themselves on curating quality, expressive music that is at the forefront of the latest trends. The company's clients include Amazon, Tesla, LG, Dell, and Adidas. A variety of subscription and pay-per-use licenses are available to serve different requirements.
5. Musicbed
Musicbed's goal is to provide filmmakers and content creators with access to relevant, quality music at an affordable price. From modest beginnings, the company has grown over the past 10 years and now has over 1000 artists on its roster and provides licensing in 167 countries. Musicbed is used by some of the world's biggest brands, including NBC, Amazon, Google, 20th Century Fox, Netflix, ESPN, Samsung, Tesla, Lamborghini, Nike, and Spotify.
Apart from providing sync licensing, Musicbed also allows clients to collaborate with their roster of composers and producers to create custom songs. Covers of well-known hits can also be produced with the company taking care of the licensing side of things. Their expert staff can also help creators find the perfect song for a project.
6. Marmoset
Marmoset is a one-stop shop for music licensing, artist collaboration, and music production. Apart from choosing music for licensing from their carefully curated library, creators can customize or remix an existing song or make a new one. Clients can also collaborate with the company's composers and producers on special projects.
Marmoset's exclusive catalog includes everything from obscure vintage records and rare finds to the latest radio hits and most popular songs. With a diverse and eclectic selection, users can easily locate the perfect music for their productions. Finding the right music is hassle-free, as Marmoset's staff will search for the right song based on the client's budget and requirements.
7. Sound Stripe
With over 8000 label-quality songs, Sound Stipe has the catalog to meet the needs of most creatives. The music includes work by grammy-winning artists and users also have the option of just using part of a song to get just the right sound. Clients can filter by over 37 different categories, including genre, mood, bpm, and key to easily find the perfect song.
Hundreds of handpicked playlists are available to help creatives take their work to the next level. Workflow extensions are also supported to enable music to be directly included in the timelines of applications, allowing faster collaborations and saving time. In addition, 60,000 studio-grade sound effects can be used to enhance any scene.
8. Audiio
Audiio was founded with the vision of bringing together the best storytellers in the world. They collaborate directly with publishers and independent musicians to curate the best music which is added daily to their catalog. Having licensed music in over 80 countries, the company has been involved in a range of projects, including global advertising campaigns, nonprofit fundraisers, and online media.
Toyota, Wrangler, Netflix, NBC, BET, and Adidas are some of the leading companies that have used their services. With over 6000 songs that have been used by more than 80,000 filmmakers, Audiio can meet the needs of a very diverse clientele. Different subscription models ensure that there are packages that provide value for money for different users.
9. Jingle Punks
One of the biggest music licensing companies, Jingle Punks boasts a library of almost 500,000 songs and has provided sounds for top global brands and award-winning films. They have offices in New York, Los Angeles, London, and Toronto, offering best-in-class customer service and providing innovative solutions that meet any requirement.
As an award-winning audio creative agency, Jingle Punks employs highly talented staff composers and music producers who can create custom music to enhance the most unique projects. They also work with top international artists, ensuring that their extensive and eclectic catalog contains the right track for any occasion.
10. Hooksounds
Hooksounds believes that normal stock music is generic and boring, which is why the company employs in-house artists to create highly original and creative tracks for media projects. Unlike other music licensing companies, Hooksound relies only on their own creations, giving them exclusive rights to the music. This gives the company's clients access to the original content and also makes licensing easy.
With big names such as Disney, Microsoft, Amazon, Google, and Samsung on their client roster, they have quickly grown to become the preferred choice for many content producers. Their library includes a diverse selection of music, sound effects, and intros and outros collections, providing the ideal soundtrack for any type of production.
Conclusion
The right soundtrack is essential for the effectiveness of a video or audio production. By simplifying the licensing process, music sync licensing companies make it easy for creators to concentrate on their work without being distracted by protracted legal requirements.
Many licensing companies offer a convenient subscription model, making it easy for producers to select the music they want, whether it is a famous hit or an obscure track. By providing a diverse catalog of music, these licensing companies play an important part in the work of many clients, ranging from global brands to social media influencers.