The 7 Best Compressor Pedals for Guitar (2023)
Compressor pedals are frequently used guitar pedals that level out the dynamics of the guitar sound. For level performances and smooth, consistent guitar sound, compressor pedals are the go-to for many guitarists. Almost every pedalboard is likely to have one compressor pedal.
Modern-day guitarists often rely on various effects pedals to reach their desired sound. That is why pedalboards are so common in the music world. Naturally, a compressor pedal is a must as it balances the dynamics of the guitar sound and allows for a smooth performance.
My top recommended compressor pedal is the Keeley Compressor Plus. It's a popular choice for many guitarists with a somewhat modest price tag and superb performance.
My second recommended compressor pedal is the MXR Dyna Comp M102. This is an affordable compressor pedal with a no-frills design, good sustain, and decent tone.
The 7 Best Compressor Pedals for Guitar (2023)
Let's compare them in more detail: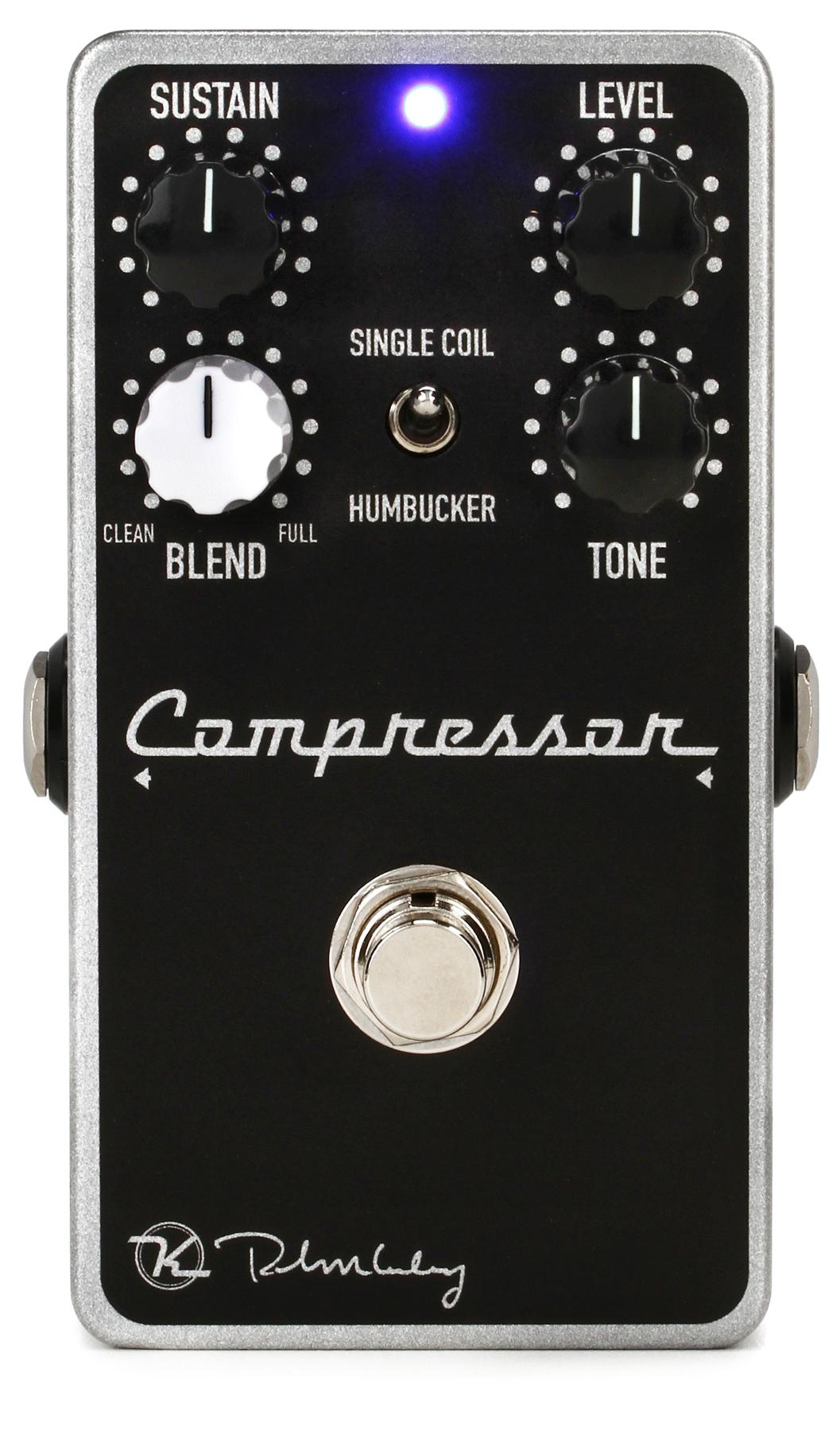 The Keeley Compressor Plus is a go-to for many guitarists. This well-rounded compressor pedal features a cool, black design with superb sound-shaping and level capabilities. The price range for this pedal is modest and the value for money is unbeaten.
Pros
Simple, easy to use
Durable and aesthetic design
Good settings and controls for sound
Excellent value for money
Cons
Full sustain muddies the sound a bit
This Keeley pedal is a popular choice due to its simplicity regarding ease of use. It features 4 control knobs for sound-shaping which include Tone, Blend, Sustain, and Level. Although, do be careful with the sustain as it tends to muddy the sound if turned all the way up.
The Blend dial, along with the single coil and humbucker release switch, is the MVP with this pedal. You can easily blend control clean-to-full sound compression as well as switch between tone preferences. Naturally, an aesthetically simplistic design is something everyone wants.
| | |
| --- | --- |
| Type | Analog |
| Power | 9V DC adapter, 9V battery |
| Inputs/Outputs | 1 x 1/4″, 1 x 1/4″ |
The Keeley Compressor Plus is a well-rounded, capable compressor that boosts performance with evening-out guitar dynamics. It features good controls, a no-frills design, and sports a modest price tag.
Budget Pick
Affordable, simple, and decent-sounding compressor pedal with sensitivity control.
View Price at Amazon
The MXR Dyna Comp M102 is a budget-friendly compressor pedal for those looking for something decent yet capable. It features a very simple design with sensitivity control and has an eye-catching, red, stylish look.
Pros
Very affordable
Sturdy, durable construction
Low-noise nature
Good sustain
Cons
Cannot adjust attack
Could use more controls for shaping
This compressor features a hardwire bypass design that has been on the market for a long time. Its affordability does not take away from the fact that it is incredibly popular among guitarists and goes to show that good compression does not have to be pricey.
Naturally, there are some benefits and drawbacks to any device. For example, while the output and sensitivity controls are great, you still can't adjust the attack. And this is probably the biggest con with this pedal as it could maybe use some more sound-shaping controls. But, the value-for-price ratio is still one of the best.
| | |
| --- | --- |
| Type | Analog |
| Power | 9V DC adapter, 9V battery |
| Inputs/Outputs | 1 x 1/4″, 1 x 1/4″ |
What makes this affordable juggernaut of a pedal among the best compression pedals is the simple design yet satisfying tone. It has a good sustain, despite not having a sustain option, and delivers clean tones.
The Cali76 Compact Deluxe has all the great functions from the flagship model – the Cali76 Standard. Due to the increased functionality as well as the compact design of this pedal, the Cali76 Compact Deluxe is one of the best compressors out there for pro use.
Pros
Superb, transparent, and natural sound
Good controls for further shaping
A high-end device in a compact form
This Studio-grade FET compressor is a favorite among bass players. The breadwinner is the dry blend control knob that pumps up those mids and adds sustain to improve the dynamics of your sound. You also have the Attack and Release knobs for further shaping.
Not only is the Cali76 Compact Deluxe a great compressor, but it also has a very minimalistic yet aesthetic design. The hand-polished brushed stainless-steel enclosure makes it even more pleasing. Of course, it is a pricey pedal, however, the value is still great for a pedal like this.
| | |
| --- | --- |
| Type | Analog |
| Power | 9-18V DC adapter, 9V battery |
| Inputs/Outputs | 1 x 1/4″, 1 x 1/4″ |
Overall, the value you get from this superb compressor is still one of the best on the market. The transparent, natural, and high-quality tone you get, along with an aesthetic, durable design is what makes this a pro-choice among musicians.
Boss pedals are among the most-used ones on the market and the CP-1X compressor is no different. Hailing from a reputable company, this compressor is a classic among guitarists. As with all Boss pedals, the simplicity and ease of use make them that much more appealing to musicians.
Pros
Easy to use
Gain-reduction indicator with visual feedback
Amazing tone without discoloration
Durable construction
Cons
Drains battery somewhat fast
Lacks some high-end controls
When it comes to headroom, the CP-1X does not disappoint. Handling various guitars and tones, it is capable of fine-shaping even the most difficult of guitar settings with the 18-volt internal electronics.
The gain-reduction indicator is a welcomed feature that provides visual feedback. It is extremely easy to use and the Multi-Dimensional processing comes together to make an all-rounder of a compressor pedal. The only issue is that it drains the batteries somewhat fast.
| | |
| --- | --- |
| Type | Digital |
| Power | 9V DC adapter, 9V battery |
| Inputs/Outputs | 1 x 1/4″, 1 x 1/4″ |
When it comes to classic pedals, Boss is a reliable, durable, and great-sounding option to consider. The CP-1X is a classic among compressors with high-headroom performance and good features. It's also worth checking out the Boss CS-3 compressor sustainer.
If you're after simplicity and effectiveness, the JHS Whitey Tighty is a great choice. This cool-looking pedal has a blend knob that allows for fine-tuning and finding that sweet spot of compressed and natural tone.
Pros
Good, transparent sound
Unique, cool design
Blend knob for fine-tuning your sound
Easy to use, simple, effective pedal
Cons
Not as durable as other options
A bit noisy
Not battery-powered
The JHS Whitey Tighty is a very capable and effective pedal if you're looking for something easy to use yet provides great-quality compression. The compact design is not that durable as it focuses more on portability than durability. However, the transparent sound it provides is all that matters.
The straightforward design on this pedal features a 3-knob design that includes Volume, Compression, and Blend. You can control your volume, control the amount of compression, and can find the balance between compressed and unaffected/natural tones with the Blend knob.
| | |
| --- | --- |
| Type | Analog |
| Power | 9V DC adapter |
| Inputs/Outputs | 1 x 1/4″, 1 x 1/4″ |
It's worth noting that the pedal is a bit noisy when it comes to function but nothing major in comparison to the pros in this situation. This easy-to-use, cool-looking, and great-sounding pedal is a great one to consider!
The TC Electronic HyperGravity is a versatile and modestly-priced compressor pedal with a compact and simplistic design. This studio-quality multiband compressor offers buffered or true bypass compression through an internal switch.
Pros
Versatile pedal with great sustain
Portable, compact, and simplistic design
Great controls for an amazing sound
Cons
Requires some fiddling for the right tone
Needs careful tweaks so as to not overpower certain tones
The pedal has three compression choices that include Spectra, Vintage, and custom TonePrint. The Spectra setting offers transparent and clear compression for everyday use while the Vintage mode gives a bit more depth and color.
The breadwinner here is hands down, the TonePrint setting. You can customize your compression to how you want it or load a sample from TC's compression library to try out different compressions. You can also upload your own customized sample for others to use. This adds so much versatility to this device.
| | |
| --- | --- |
| Type | Analog |
| Power | 9V DC adapter, 9V battery |
| Inputs/Outputs | 1 x 1/4″ TS, 1 x 1/4″ TS |
The only negative side to this pedal is that it needs careful tweaking so as to not overpower certain tones. But, all that time and effort you put into customizing will surely pay off.
The Xotic SP Compressor is a mini compressor pedal that is extremely easy to use and offers pristine, transparent sound. This true bypass compressor by the famous 'Ross' compression circuit has 3 compression settings that include hi, mid, and lo.
Pros
Small, compact compressor for any pedalboard
Good quality compression
Good control for a mini-pedal
Cool, minimalistic, and durable design
Cons
Controls are a little cramped
Maybe too small for crowded pedalboards
The Xotic SP is ideal with its compact, small size that won't crowd your pedalboard and will do the job superbly. The only issue is that the parameter controls are a little cramped and if you use a big pedalboard, it can easily get lost among other pedals and could be hard to reach.
Aside from that, this compressor offers really good compression sound with internal dip switches and a Blend control that boosts your audio and adds the unaffected tone within the compression. Lastly, it is also a battery-powered device so you won't have to tangle any cables for this mini pedal.
| | |
| --- | --- |
| Type | Analog |
| Power | 9V DC adapter, 9V battery |
| Inputs/Outputs | 1 x 1/4″, 1 x 1/4″ |
All in all, the Xotic SP compressor which has the same OTA (operational transconductance amplifier) technology as the Ross Compressor, balances our frequencies with excellent quality and improves your dynamic range.
What does a Compressor Pedal do?
A compressor pedal balances the dynamics of your guitar sound so that any spikes in sound, such as rough strumming or very low-volume tones, get evened out. Most compressor pedals have a sensitivity knob with which you can control the dynamics and balance.
Where does the Compressor Pedal go in the Signal Chain?
As a general rule, the compressor pedal should be first in your signal chain on your pedalboard. Since it plays a major role in your guitar sound, it should be the first one you use, usually located on the left side before any overdrive, distortion, delay, and other effects pedals.
What is True Bypass on a Compressor Pedal?
True bypass is basically a direct route between your pedal's input and output signal. This means that the signal does not go through the effects circuitry but travels directly from your pedal to your amp. This results in a much clearer sound and unaffected tone.
What to look for in a Compressor Pedal when buying?
As crucial things to consider before buying a compressor pedal go, the first and most important is the performance of the pedal, then you have the durability, and lastly, the price of the device.
The performance is by far the most vital. Since a compressed signal and sound are crucial for a guitar player to avoid spikes in sound and get a balanced tone, you want a compressor that offers true bypass and delivers pristine, clear, and transparent sound.
Set aside the aesthetics and design and try out a compressor pedal live, if you can. Hearing the compression for yourself is the best way to determine if the sound matches your preference.
Next, you should always go for durable pedals. Since pedals go on a pedalboard and most live performances are followed by an adrenaline rush from playing live, you want something sturdy that can withstand even a more aggressive press/stomp.
Lastly, the price is always a good consideration point. Luckily, most compressor pedals (good ones) are affordable so you won't have to devastate your pockets to get a decent one. When it comes to high-level compressor pedals, I advise only pro guitar players or studio musicians to purchase them as the most affordable ones can get the job done for live performances.
Verdict
A compressor pedal is one of the most important pedals you can have on your guitar/bass pedalboard. It is in charge of balancing out the dynamics of your guitar sound and delivering an evened-out tone without any spikes. Luckily, the market is full of great compressor pedals for a modest price tag.
My top pick is the Keeley Compressor Plus, a popular choice for many guitarists with a good price tag and delivers superb performance.
My budget pick is the MXR Dyna Comp M102, an affordable compressor pedal with a no-frills design, good sustain, and a decent tone.