The 6 Best Analog Delay Pedals (2023)
No pedalboard is complete without a good delay pedal and while today's guitar world is mostly about digital units, there are also many great analog delay pedals with a classic design.
Those units are designed especially for sound enthusiasts, those who appreciate the warmth of the analog sound. That's why I present you with some of the best analog delay pedals you can buy today.
The catch with analog delay pedals is in the sound quality. Yes, digital delay units are far more flexible and give a huge range of options. Moreover, analog delays generally have shorter delay times but sound enthusiasts don't care much about this drawback, as it's all about the natural delay and decaying echo.
Despite the analog design, these pedals are quite competitive in terms of price, mostly because pretty much all of them rely on bucket-brigade units, which is a relatively cheap technology. On the other side, classic tape echo pedals are really hard to find because they are complicated, expensive, and not exactly pedalboard-friendly.
Therefore, I will focus on solid-state units in this article. A great thing to know is that these pedals are part of the regular offer of pretty much every pedal maker. You may count on products from proven manufacturers, such as Boss, MXR, Seymour Duncan, Electro-Harmonix, etc.
My top recommended analog delay pedal is the Boss DM-2W Waza Craft Delay Pedal, the modern version of the legendary Boss DM-2 pedal from the '70s.
My second recommended analog delay pedal is the Behringer VD400 Vintage Delay Pedal. If you're looking for something affordable with decent sound quality, the VD400 will not disappoint.
Check out our guide on how to setup a guitar pedalboard.
The 6 Best Analog Delay Pedals (2023)
Let's compare these in more detail.
Although Boss is primarily known for its amazing DD series of digital delay pedals, the Japanese company once produced analog units as well. The DM-2 is one of the most iconic analog delay pedals of all time and enthusiasts have been waiting for its comeback for more than three decades.
The new version isn't just a reissue of the original 1977 pedal. The new version has been rebuilt and now comes not just with the original sound, but with a couple of upgrades as well.
There are two modes now – the original one, as well as a new custom mode. While the first one delivers the authentic DM-2 echo, the custom mode makes it more flexible, as it increases the delay time from 300 to 800 milliseconds. Also, it adds a little bit of clarity, to sound more like a modern analog delay pedal.
The original mode has been upgraded as well. The recognizable sound is there, but Boss engineers solved that clock noise, which was the main issue of the original. For added flexibility and versatility, the new DM-2W Waza Craft also comes with split outputs, so direct and delay sounds can run separately. Also, you can connect this unit with an expression pedal and control the amount of delay in real-time.
Behringer engineers are true masters when it comes to making decent-sounding products with super-affordable price tags. The VD400 is a perfect example, as we are talking about a true analog pedal, which is designed in the manner of legendary bucket brigade units.
First of all, the sound quality is really good and those who are looking for dark and brooding delays will definitely like this pedal. Furthermore, the engineers have added a little bit of clarity, so the pedal can be used for modern styles as well.
The only limitation is the fact that we are talking about a genuine vintage pedal, which offers just 300ms of delay time.
The thing you will definitely like about this pedal is the easiness of use. This unit comes with just three knobs, typical for these kinds of pedals. Of course, we are talking about Repeat Rate, Intensity, and Echo controls. A bit of a modern touch can be noticed from the side, as this pedal comes with two outputs, so you can send delay and direct sound signals separately.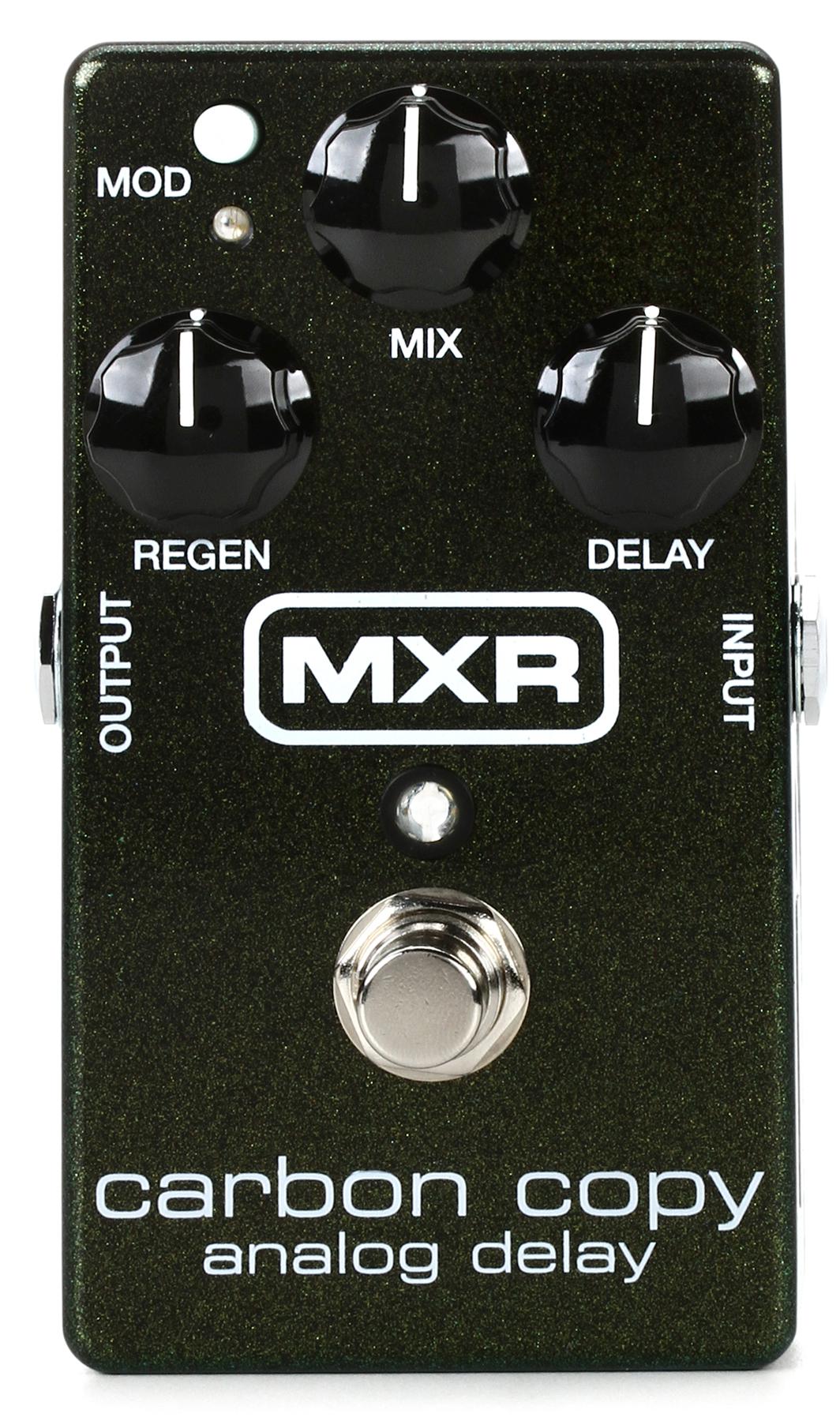 For many guitar players, the MXR M169 is everything they need from a delay pedal. Simply, this unit delivers a lot of features and all of them are packed in a compact housing. With just a couple of knobs, you can dial terrific delay tones, in a quite impressive range.
Of course, we are talking about a classic bucket-brigade technology, though the pedal adds a little bit of a modern touch, so the sound is pretty clear even for modern standards.
The delay time goes up to 600ms.
Probably the biggest quality of this pedal is its ease of use. You will find just three knobs – Delay, Mix, and Regeneration. Also, there is a small modulation switch, so you can conveniently add a little bit of a chorus effect. The pedal is compact and will fit any pedalboard. Also, you can run it either on batteries or a power supply.
When you combine vintage and modern, you get a pedal like Seymour Duncan Vapor Trail. On one side, this pedal offers a classic vintage delay, while on the other, you may count on a lot of tweaking options and a high level of flexibility.
When it comes to sound characteristics, this is a typical bucket brigade unit, with a max delay of 600 milliseconds. Still, you may count on extended flexibility, as the pedal comes with five knobs in total.
There are Mix, Repeats, and Delay controls, as well as a couple of smaller Rate and Depth knobs for added tonal diversity.
Speaking of flexibility, the highlight of this pedal is the FX loop, so you can put your wet sound through other effects on the pedalboard. Furthermore, you can also use this loop to split the signal into two amps. That's something you'll hardly find on any other analog delay pedal.
If you need a good delay pedal in a super-compact package, or you just want to keep things simple, this is the pedal for you.
As a part of the company's Mini series of pedals, this unit packs the classic analog circuit in a housing that is so compact it will fit even the smallest pedalboard. At the same time, you may count on a full-analog circuit and if you like the classic AD9 pedal, you will certainly like this one.
The overall layout is extremely simple. You can see one big knob that allows you to dial delay time, which goes in a range from 20 to 600 milliseconds. Also, there are two small knobs – Repeat and Blend, which are also quite common controls of a delay pedal.
Another thing I should mention is that this pedal features a true bypass, so your amp tone will remain intact when the pedal is not engaged.
The Supro Delay is a high-quality analog delay pedal that stands out in many ways. First of all, it offers a pretty impressive vintage delay tone, with added clarity and a pretty impressive delay range, which goes all away up to 1000 milliseconds.
Another thing you will certainly love about this pedal is the impressive signal-to-noise ratio, as well as plenty of headroom.
Speaking of the pedal's functionality, one of the key trumps is that you can connect it with an expression pedal.
Moreover, you can control different parameters in real-time, as there is a small toggle switch that lets you assign Level, Time, or Repeats control. Also, the pedal features true bypass, so you don't have to worry about the tone when the pedal is not in use.
What is the difference between Analog and Digital Delays?
Analog delays use a Bucket Brigade Chip or BBD Chip for short, this system gives the analog delay a distinctive sound so to speak. It has a more dark tone nature and compared to a digital delay, the analog delay has a shorter max delay time.
Digital delays use a Digital Signal Processing Chips or DSP Chips for short to achieve their delay effect with that echoy essence. Apart from the longer delay time and warmer nature compared to the analog delay, digital delays are more modern technology like tape echoes and similar, however, the analog delay is more battle-tested.
What to look for in an Analog Delay Pedal when buying?
A few key things to consider when buying an analog delay pedal is overall delay time, quality, features, and the price, of course.
Delay Time
Delay Time is the first thing that you should focus on. As the internet offers a bunch of video content on these pedals, it's best to do the research and check some reviews to read or hear the sound of the delay before purchasing it. Your best bet is the local music store in your city, check it out live and see the overall delay time as well as other features.
Quality
The quality of a delay pedal depends on the manufacturer, as well as the sound capabilities of the pedal. As delay time is crucial, the successful and clear reproduction of sound is vital.
Sturdy metal construction is most common and preferable, also, you want a pedal that does not sacrifice the sound quality of your instrument and preferably from a well-known and respected brand. Naturally, brands like Boss, MXR, and the like are always the go-to choices.
Features
The more features the better! The more you can tweak your delay, the more sonic capabilities it will help you produce. More versatile and feature-packed options come to mind where you can easily prolong your delay as well as add some taste to it.
Another useful feature is the modulation of the repeats of the delay. You have ping-pong effects, reversing the delays, or even adding a bit of reverb to your sound which will add more of an ambient feel.
Price
Lastly, the price is always great to consider. If you're starting out, a more budget-friendly option like the VD400 is a great starting choice. For more veteran players, a good and quality delay like the Supro is preferable.
Summary
Despite talking about a decades-old design, analog delay pedals still play a significant role in the guitar world. Digital units may be versatile and flexible but when it comes to the sound quality, nothing beats a good-old analog circuit.
As you can see, analog delay pedals aren't that pricey, which is usually the case with vintage old-school effects. Price tags are pretty much on par with digital delays, so it's all about your preferences – whether you want more flexibility or more natural sound for the money.
My top analog delay pedal pick is the Boss DM-2W Waza Craft Delay Pedal. A modern version of the well-known and legendary Boss DM-2 pedal from the '70s.
My budget analog delay pedal pick is the Behringer VD400 Vintage Delay Pedal for those looking for something decent while also budget-friendly.